feature-aug-2013-3
Sole Desire offers a mix of the leading women's comfort brands.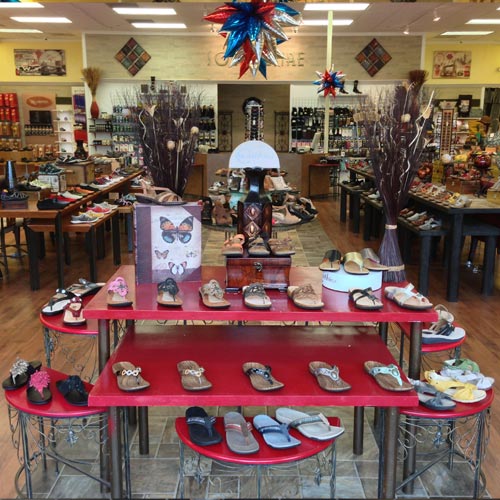 Sole Desire
Click to view gallery.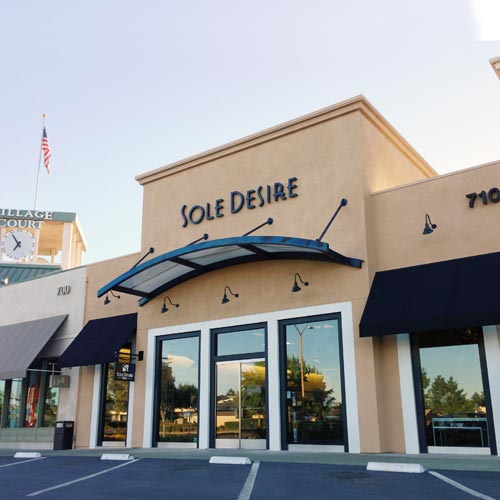 feature-aug-2013-2
In their element: Danny and Dave Astobiza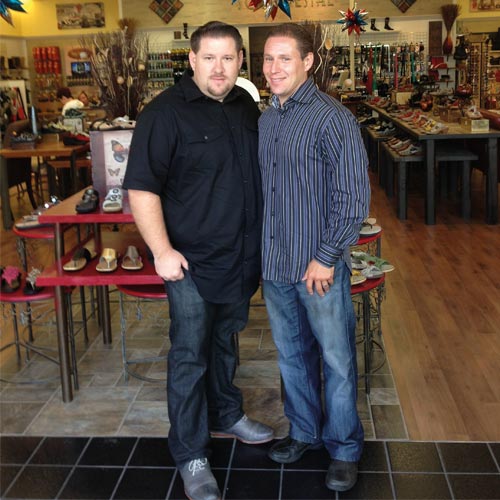 Although born into the business, the Astobiza brothers are carving their own legacy with Sole Desire – now more than 20 years old and consisting of 12 outlets sprinkled throughout California wine country.
By Brittany Leitner
Dave Astobiza, co-owner of Sole Desire, has a few cardinal retail rules of thumb that he and his co-owner and brother, Danny, live and are thriving by since taking over their parents' business in 2005. No. 1.: Sole Desire has no plans to ever sell shoes online. Most anyone in retail today would surely ask, why? Or, more aptly, how could you pass up that opportunity in this day and age? While Astobiza admits it's a "tough call," he reasons, "In my honest opinion, it's really hard to make money as an independent selling on the web." Astobiza believes the Internet retail tier is not a fair playing field as it's hard to "compete with the big boys." Once you offer free shipping, which is a must in order to satisfy consumers, you are pretty much losing money, Astobiza explains.
Minus the online platform, Astobiza knows he and his brother must work extra hard in every aspect of the business—from ensuring employees are trained, motivated and, above all else, happy, to making sure merchandise appeals to the ever-changing tastes of its on-trend clientele, to establishing meaningful and trusted wholesale partnerships, to making sure Sole Desire stores are conveniently located so that customers feel welcome to shop.
That brings us to Sole Desire's second cardinal retail rule of thumb: Never be afraid to change. "As the world changes, that's our biggest strength," offers Astobiza, advising retailers to never get stuck in their old ways. Take Sole Desire's dramatic action regarding its merchandise mix. "We've carried men's shoes in every single store for 15 years and we recently decided to take them out because they weren't as profitable as women's," he says. "I don't think my dad would have ever done that," he adds with a laugh. Since making the change, however, Sole Desire has been able to better carve out a specific customer niche, focus on maximizing sales in that segment and—as an added bonus—have been able to pay their employees more due to the increase in overall sales.
Astobiza says price isn't the main issue for the Sole Desire customer, which generally ranges between 35 to 70 years old, and seeks high-end comfort footwear ranging from $80 to $300 retail. Specifically, Astobiza says 80 percent of them are between the ages of 45 and 60, and they aren't looking for orthopedic options. These women are looking for on-trend styles first and expect comfort second. Current top-selling brands include Arcopedico, Taos, Spring Step and Reiker. Harkening back to rule No. 1, he adds that customers who see price as the most important buying factor tend to shop online. In contrast, he believes customers willing to pay in the hundreds for footwear are usually looking for the total service package: selection, atmosphere and fit experience. "Putting customers first is one of the main advantages we have over the Internet," he adds.
Another advantage over the Internet: location, location, location. Along those lines, Astobiza recently noticed that many women were turned off of the Sole Desire stores located in large shopping malls. His customers, serious about finding the right comfort shoe, no longer wanted to deal with the younger crowds flooding shopping malls just to hang out. Sole Desire's target customer didn't feel comfortable shopping in such a setting. "The malls are getting younger and scary," Astobiza says. "Some of our customers are afraid to go in them."
Even though Astobiza admits he used to be a huge advocate for shopping malls, he held true to his second retail rule of thumb and closed Sole Desire's two shopping mall locations. "If they're not your customer, the amount of traffic doesn't matter," he says. All 12 Sole Desire stores are now located in free-standing, lifestyle shopping centers, which are located next to other high-end boutiques that Astobiza believes benefits Sole Desire, since their ideal customer is already shopping those establishments.
Hire Smiles
Cardinal retail rule of thumb No. 3: Happy employees are loyal and good employees. Once Astobiza finds an employee with potential (a key trait is their predisposition to smile often), he and his brother work hard at keeping them happy and motivated. "Most people who work for us stay for a long time," he says. He credits Sole Desire's loyal workforce to the company's reward systems. If a sales associate sells two pairs of shoes to a single customer they receive $5 off a pair of shoes and an extra $5 on each additional pair sold. Employees are paid a flat base and don't receive commission to ensure every associate has a chance to make a living. Employees are also instructed to push accessories sales, with a 10 percent gain from every sale, which Astobiza views as more along the lines of a reward than a commission. Employees are also given flexible hours and managers receive full health benefits. "That's where my brother and I are good at what we do," Astobiza says. "We make money on the back end so we can support our people on the front end."
Cardinal retail rule of thumb No. 4: Always dazzle customers with selection and service. Similar to reward programs for the staff, Sole Desire implements incentives for customers to keep them coming back. For example, for every $500 a customer spends he or she will receive $30 off their next purchased pair; If they spend $1,000, they will receive $100 off. Sole Desire avoids seasonal sales and, instead, frequently hosts in-store events such as shoe parties on weekends or ladies night out socials that include complimentary wine and cheese as well as a prize wheel that customers can spin for coupons and deals. "We give them a reason to come back and shop with us," says the savvy owner.
By the NUMBERS
Sole Desire has 12 shops in Northern California. The most recent location is a 5,550-square-foot space in Santa Rosa. Currently, all store locations are within 2 hours drive of each other.
For 8 years the Astobiza brothers have co-owned Sole Desire and have since opened 9 stores—5 in the last year alone.
Astobiza claims he and his brother can open a new store within 30 days. "All of our stores have similar themes, so we're not starting from scratch," he says. The brothers also paint and install shelves themselves, which cuts down on opening time.
Thanks to a successful business track record, the Astobizas have been able to negotiate the last 5 spaces at low have 5– to 10-year leases. One store's lease was signed on Nov. 15 and opened by Dec. 1. The rent was cut a hefty 25 percent because the place would have sat vacant otherwise.
2 of a kind: Astobiza says he and his brother "think like twins" although they handle different aspects of the business. Dave handles operations; staff, hiring, etc. while Danny is the head buyer and in charge of finances. The
1 disadvantage of working with family is that you're always talking about work. A fact compounded by each of their wives being in- volved in the business, taking care of accounts, marketing and Sole Desire's growing accessories busi- ness, which includes handbags, scarves and insoles.
Sales are up 15 percent. With more stores comes more sales, but Astobiza credits the recent sales surge to accessories being added to the mix during the past 2 years.
—B.L.
To ensure that customers are well attended to, sales associates are required to bring out at least four pairs for each shopper. Sole Desire also measures each customer's foot, something Astobiza says is not widely practiced, even in many independent locations due to cuts in the number of employees and training as well as the itch for a speedy sale. "You have to set a standard of service and be on that like crazy," he says. He also makes sure all sales associates thank customers extensively for their time, especially if they purchase something.
Cardinal retail rule of thumb No. 5: Build solid connections with vendors. "We don't carry a brand we don't have a meaningful vendor relationship with," Astobiza maintains. He adds that the key to strong vendor partnerships is being upfront with them from day one. "Then we can create a plan to make it work for both sides," he adds. Along those lines, Astobiza looks for vendors who will help enhance Sole Desire's marketing efforts. For example, key vendors often sponsor the in-store shoe parties, help with sales training techniques and provide in-store displays. At the same time, Astobiza advises retailers not to get too cozy with any one vendor. A friendship must never get in the way of the ability to evolve with the market if a brand is no longer working. "You never know what the next 10 years is going to be like," he says.
The Road Ahead
Cardinal retail rule of thumb rule No. 6: Change is a constant. Despite the tremendous success Sole Desire has experienced over the years—the dynamic duo has opened nine stores (five in just the last year) and sales the last two years were the best in the company's history—Astobiza remains cognizant of an ever-changing industry and retail landscape. "Traffic overall is way down and it's not coming back," he says, referring to the market since the financial crisis. "Brick-and-mortars have to be special; there's just no room for error." Astobiza believes, for example, retailers can no longer rely on a hot brand to sell itself the way they once could. "Even Ugg is getting a little tougher [to sell]," he says. It's precisely why he believes strongly in being able to continually adapt as a business owner. To that end, Astobiza not only knows what kind of styles and brands his customers are interested in before they even know in many cases, he also understands their unique shopping traits and preferences. "If a customer is 50 she's dressing like she's 40," Astobiza offers. Thus it entails looking out for the latest relevant trends and providing the correct assortment of styles and add-ons for his customers.
Cardinal retail rule of thumb No. 7: Parents know best. Astobiza's parents, David and Mary, opened the first Sole Desire store in Santa Rosa, CA, in 1990 while his mom was the sales manager for Birkenstock and his father had 20 years of wholesale experience with Brown Shoe Company under his belt. Their timing was ideal: Birkenstock was at the precipice of a major revival thanks largely to the onset of the grunge and green movements that swept through the '90s and helped make the hippie-era staple fashionable again. The original store did so well, in fact, the Astobizas took the space next door, turning their 1,300-square-foot location into a 3,500-square-foot Euro comfort mecca complete with faux columns and European paintings. Soon after, a second and third store opened in 1994 and 1995, respectively.
In addition to learning the importance of a strong selection and enticing décor, the Astobiza brothers adhered to many of their parents' other retail rules of thumb. No. 1: Provide top-notch customer service. "My parents were always in the stores and treated all their customers like family," Astobiza says. He also credits them for teaching him and his brother to never be afraid to change and have always been advocates for shopping carefully for new vendors and constantly networking. "They went to a lot of shows and always looked for what was up and coming. I think that's still important today," Astobiza says, noting that he and his brother are proud to continue their parent's retail legacy. It's a "motivating factor" in honoring the business they created. Full disclosure: Astobiza confesses that neither he nor his brother ever planned to enter the shoe business. Even though growing up, the Astobiza household had shoes everywhere, often stacking on the dinner table at meals, the interest failed to transcend to the sons. It wasn't until sales took off and the brothers began helping their parents on the sales floor did they realize "what a great business they created." The brothers loved connecting with customers and discovered that they were good at it. Selling shoes ran in their blood, after all. They were natural salesmen, in fact. The rest is Sole Desire history.
That brings us to the last cardinal retail rule of thumb (No. 8): Never say never. Astobiza says they don't have a set goal of how many stores they may open, but they aren't looking to expand outside the Golden State—yet. "Finding really good [employees] is hard," he says. He notes that running a shoe business is the easy part about opening a new store. It's much more difficult to find good associates and managers who they can trust will help the business grow in the right way and for the long term. More stores also means more responsibilities and being spread that much thinner. Expanding beyond California would be more difficult for the Astobizas to stay on top of things and ensure their signature customer service is maintained. "If I ever think about opening a store, it's never really so much about the money," he says. "It's always about making sure we can get the right people." To that end Astobiza insists Sole Desire is still open to expansion in California "if opportunities present themselves." Because, well, the Astobiza brothers say it themselves, "never say never" and "don't be afraid to change." "We're businessmen before shoe people," Astobiza surmises.