Abakus Takeout
Out of the box decor at Abakus Takeout.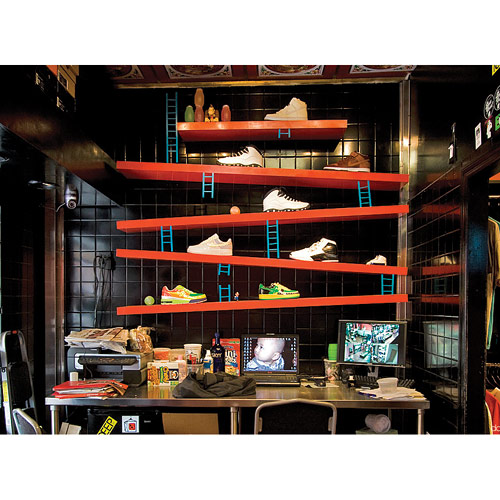 Abakus Takeout
Sneakers swing next to roast duck replicas (above) at Abakus Takeout.
Abakus Takeout
Shoe laces are served up in deep fryers at Abakus Takeout.
Burn Rubber
Burn Rubber in Detroit tempts buyers with a colorful array of kicks and classic hip-hop tunes.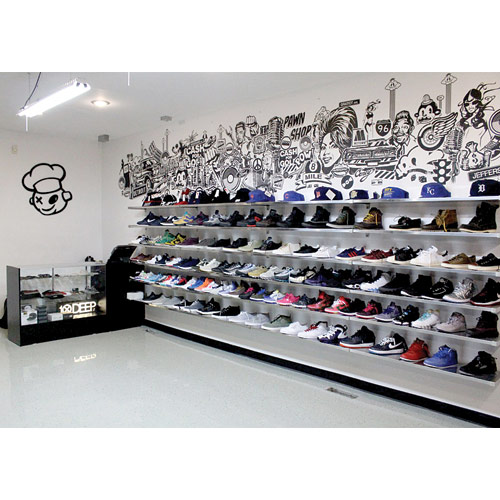 Burn Rubber
Rick Williams (right) and Roland Colt, also known as rapper Ro Spit, stay in tune with the Detroit hip-hop scene.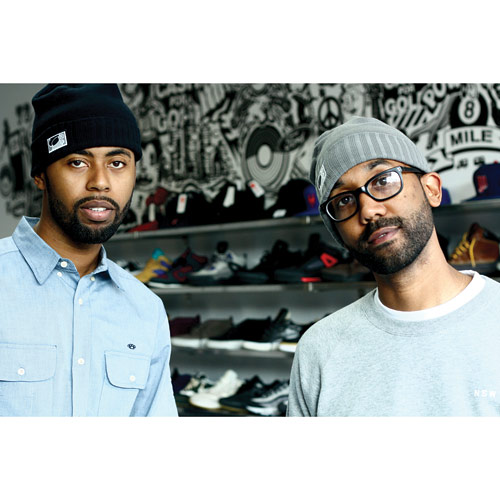 Flip Flop Shops
Flip Flop Shops lure customers with the sweet scent of coconut suntan oil.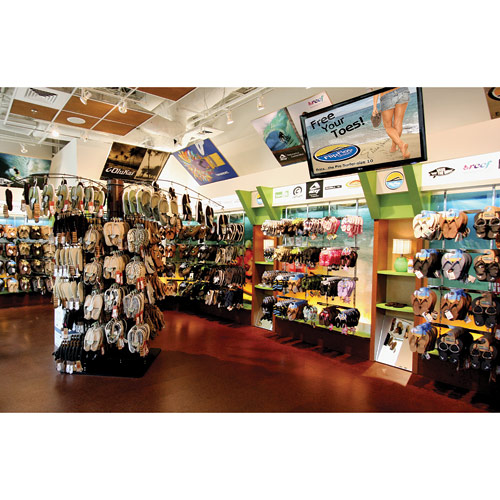 The Chocolate Shoe Box
The Chocolate Shoe Box in Seattle dishes out shoes and sweets.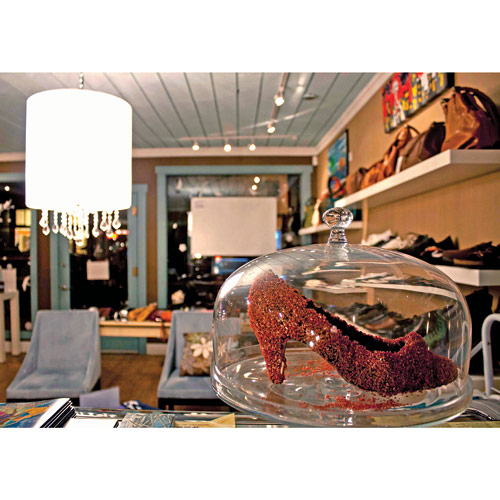 The Chocolate Shoe Box
Vegan shoes and chocolate make a perfect pair in Seattle.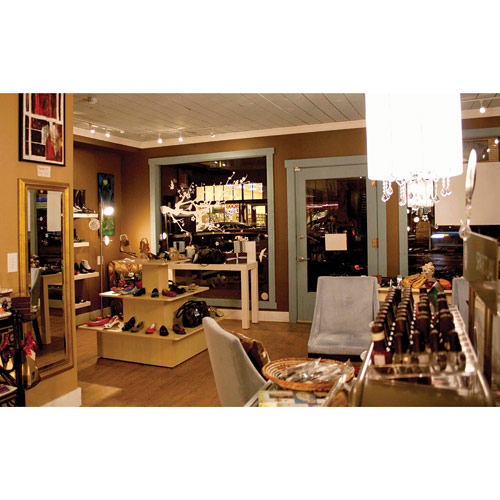 Abakus Takeout
Sneaker fiends in Philadelphia head to restaurant-themed Abakus Takeout.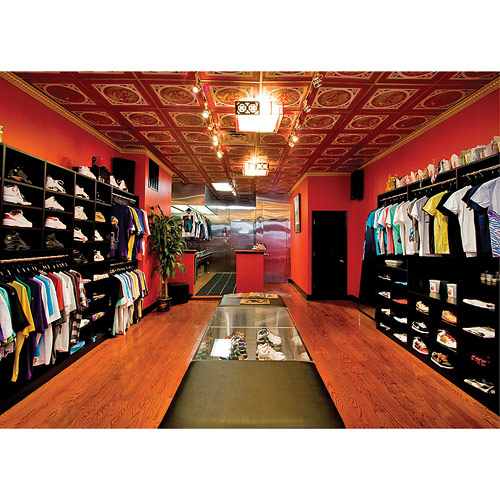 Forget dusty old shelves. Shelve generic displays and bland elevator music. Listen to your customers and customize a space perfectly in tune with their tastes and desires: It may sound like new age mumbo-jumbo, but marketing and retail experts agree that today's shopper is seeking something more than just the actual purchase. "Consumers are looking for experiences that connect with them on an emotional level," explains Brian McKinley, vice president of marketing for DMX, a company that specializes in creating customized scents and playlists for retailers—including Reebok, Adidas and Foot Locker. Sue Phillips, president of custom-scent company Scenterprises, agrees: "Because the economy has been so bad, consumers are looking more for an experience. Because they are watching their disposable dollar, if retailers are able to offer these wonderful experiential aspects, people will stop by and stay longer."
Not to mention, today's shopper is frequently seeking an escape from the frenetic pace of everyday life and the impersonal world of the Internet. Retailers that create a "full sensory experience," as McKinley's company calls it, build brand loyalty and keep their customers coming back for more. "Consumers use their experiences to draw conclusions and make judgments about a store, and this determines whether or not they want to make the store a part of their lifestyle and become a loyal consumer or choose someone or something else," McKinley explains.
So what makes for a memorable shopping experience beyond knowledgeable and courteous salespeople as well as a terrific selection of merchandise? What stimulates the senses beyond everyday low prices? As the footwear shops featured here show, unique décor, tempting aromas, the right tunes, delectable treats and putting the product at your customers' fingertips all help lure shoppers and boost business. These retailers intrinsically understand exactly what their customers are looking for­—and that's the key to keeping them happy, says Marc Elfenbein, president of Mood Media, which helps retailers create customized in-store audio, video and media. "We basically develop a prototype person we're trying to appeal to and build a program around that specific persona," he says of the company's methods for creating the perfect ambiance. These five retailers have mastered the art of identifying their customers' desires and have created unique ways to please with an immersive, multi-sensory experience. Dive in.
Seeing is Believing: Abakus Takeout
Located in the heart of Philadelphia's Chinatown, Abakus Takeout appears at first to be exactly what its name implies—a tiny Chinese takeout shop. It's even got the obligatory Chinese characters on its bright yellow awning and roasted ducks swinging in the window. So newcomers to the neighborhood stop in their tracks when they notice multicolored sneakers swinging next to the ducks.
"Even while we were opening, everybody around the neighborhood was curious," says co-founder Jackson Fu. "They were like, 'Oh no, not another restaurant to compete with us." So it came as a surprise to locals to discover the store wasn't serving up lo mein, but vintage sneakers.
"We felt that just having a plain old wooden floor, white walls and normal display rack didn't add to the whole retail experience. You have to have some type of concept," Fu explains. He and his co-founder Ky Cao were inspired by famous stores like Dave's Quality Meat in New York and Johnny Cupcakes in Massachusetts—sneaker and T-shirt shops that were set up resemble butchers and bakeries, respectively.
Just like those stores, Abakus Takeout's unique theme doesn't stop at the door. Inside, bright red walls and golden dragons on the ceiling transport visitors to a Shanghai noodle shop, while the back of the store is a dead-ringer for a takeout kitchen, down to the industrial mat, stainless steel wall paneling, deep fryers and woks—holding tennis shoes and laces, of course. "You're really experiencing everything as a whole: shoestrings in the deep fryer, red and yellow laces in ketchup and mustard containers and takeout boxes with laces inside," says Fu, who was so meticulous, the store's website even looks like a takeout menu.
Abakus Takeout's funky décor is perfect for its clientele, who don't mind paying top dollar to sport some of the shop's hard-to-find vintage Nike, Adidas, Reebok and Puma kicks. "In Philadelphia, no one would ever catch themselves going into Chinatown to shop, so our shop kind of brought a different type of crowd into the neighborhood."
Listen Up: Burn Rubber
The Motor City hasn't gotten much credit for music since the Motown days, but locals will tell you Detroit has a very active hip-hop scene. That's why it's so important that owners Rick Williams and Roland Colt only play the latest and greatest hip-hop at Burn Rubber, the 680-square foot sneaker boutique they took over in 2007.
"We're all big fans of the music, and we have to be playing it in the store because that's what the kids come here looking for," Colt says. Picking a playlist to please their customers is never a problem, since Colt and Williams are already tuned into the hip-hop world. As popular local rapper Ro Spit, Colt has opened for national acts Wale and Talib Kweli, and regular visitors to the store include everyone from singer Mike Posner to rappers Big Sean, Rick Ross and Wale, who held an in-store meet-and-greet before his concert last July.
The duo also makes sure to support local musicians by hosting in-store events, posting promotion posters and sponsoring concerts around town. "The bottom line is we stay completely in tune with the music scene, and not just hip-hop," Colt says, noting it's a necessity for keeping customers coming back. "It gives them that extra sense of security that we represent them, that we're cool and that we're up on the things that they're up on. We relate to our customers and they relate to us 100 percent."
On the Scent: Flip Flop Shops
Think of flip flops and you think of warm sand, bright sun and cool ocean breezes. But Flip Flop Shops CEO Darin Kraetsch and President Brian Curin knew that recreating the beach experience would take more than evocative visuals when they rebranded and took over their chain in 2008. That's why every visitor who walks into a Flip Flip Shops (now at 87 stores and counting) is greeted by the sweet scent of coconut suntan oil.
"It's fun to see them smile and actually see that memory recall happen on their faces. It just recreates a memory of a beach vacation or tropical experience," Kraetsch says. "We really believe [scent] is one of the most significant parts of our branding," he adds, noting that the beachy aroma is a perfect fit for the brand's laidback vibe and "free your toes" motto. "When we were designing Flip Flop Shops, we paid attention to all the different senses. Believe me, if they had an edible flip-flop, we'd have it."
Tastemaker: The Chocolate Shoe Box
Women love shoes and women love chocolate, so why not combine the two? That was Sadaf Hussain's reasoning when she opened The Chocolate Shoe Box in Seattle's Phinney Ridge neighborhood last April. A vegan, Hussain had always dreamed of opening a vegan chocolate shop, but she noticed that Seattle—full of quality chocolate options—was seriously lacking in vegan footwear.
The 650-square foot boutique caters to locals and tourists seeking a guilt-free indulgence, offering many local, organic, fairly-traded sweets and a wide array of women's and men's vegetarian and vegan shoe brands, including Novacas, Birki's, Neuaura, Jambu, Cri de Coeur, Autonomie Project, John Fluevog and Beourgeois Boheme.
Hussain often lures visitors into the store with free samples of the shop's tasty chocolates, caramels and cookies. "To me, shoes and chocolates are the perfect pairing, just like a veggie burger and French fries," she says. "These are passions for many women and unlike dress sizes, you can eat as many chocolates and goodies as you want and it won't affect your shoe size.  It's the perfect pick-me-up, and people often come to our store to celebrate good times or to give themselves a lift."
A Touch Above: Roxanne's Birkenstock
With over 50 comfort brands in stock, Roxanne's Birkenstock in Fresno, CA, never has a hard time matching visitors with seriously comfortable shoes. But getting busy clientele in the door isn't always easy—especially when locals work 20-hour shifts at nearby hospitals.
So when the shop was approached by a local hospital and asked to bring some shoes, it seemed like a perfect solution to manager Shawna Trujillo. The busy hospital staff would get a chance to relax and shop while on the job, and Trujillo would get the opportunity to convince a new crop of customers that her shoes were the perfect solution for their aching feet. The first event was so successful, the shop's employees soon found themselves visiting up to 15 hospitals a year and traveling as far as five hours away to Mission Viejo, CA.
"We're providing healthy footwear that people may not otherwise have a chance to get. It's rewarding for everybody," she explains. By reaching out to the community—and giving customers a chance to feel their shoes firsthand—the shop cultivates lifelong customers. "They can't believe they lived without the shoes for so long," Trujillo says of the folks she converts to comfort wear. —Audrey Goodson