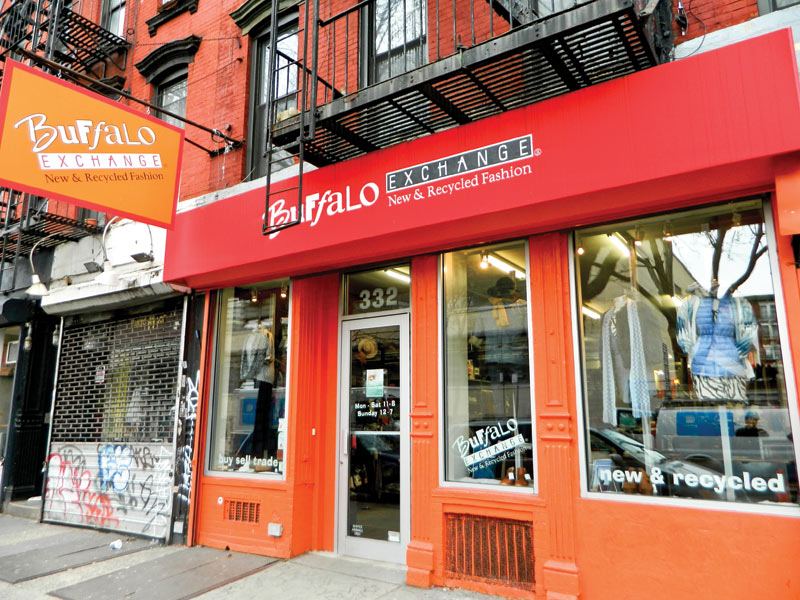 At A Buffalo Exchange in Brooklyn, NY, a store that buys and sells secondhand clothing, the footwear selection tells a story about the customers who provide the inventory: a pair of cycling shoes belies a lost interest in a fitness pursuit while a sculpted mixed-media heel from All Saints was a twisted ankle waiting to happen. As for the black lace, thigh-high, stiletto Sergio Rossi boots showcased behind the register? Use your imagination. The basis for resale is this: An item that was once cherished has ceased to fit, inspire or serve a purpose. But, rather than have it clutter a closet or meet its ultimate demise in a landfill, why not try to make a few bucks or trade up for something new(ish)? As the saying goes, one man's trash may be another's treasure.
Secondhand shopping is not new; the first Buffalo Exchange opened its doors in Tucson, AZ, in 1974, and thrift and consignment stores have been around for decades. But, in a world of Uber and Airbnb, the "sharing economy" is red hot, and resale is right in stride. Experts point to several macro factors contributing to the surge in secondhand retailing. For one thing, there's a growing eco-consciousness that believes gently worn shoes, for example, are better on someone else's feet than in a garbage dump. There's the less-is-more minimalist movement, where followers eschew the mass accumulation of generic items in favor of fewer, better-quality goods. And finally, the rise of mobile e-commerce is helping to fuel the second-hand retailing boom. What was once a slow hunt-and-pick process through dusty thrift shops can now be done instantaneously with a few taps on a smartphone. Discovering that elusive and lusted-after find is streamlined, and the thrill is immediate. Plus, the ability to de-clutter and make a few bucks at the same time (or replace something old with something new-to-you) is tempting to millions of consumers.
The Internet has given the market for buying and selling pre-owned duds a bionic boost, as evidenced by a number of fashion-oriented startups that have entered the space over the past few years and put a unique stamp on the concept. While eBay may get most of the credit for moving the marketplace for secondhand stuff online, these companies have improved on the format, making transactions a breeze. California-based Twice, founded in 2012, brings a level of efficiency and curation that eBay lacks. "What sets Twice apart from other online secondhand marketplaces is our high emphasis on convenience for both the buyer and the seller," says Chris Luhur, director of marketing and community, noting that 92 percent of people who shop on eBay never sell anything because the process is too much of a hassle.
In contrast, Twice sends a potential seller a shipping kit and pays to have their goods sent to its warehouse, where they are inspected and processed. Twice then makes the seller an offer based on factors like brand, quality and condition. If the seller accepts, payment comes via store credit, check, Venmo, PayPal or a Target gift card. For the seller, there's no taking photos from all angles, no writing lengthy descriptions and no dealing with complicated auctions and shipping costs. "Twice takes all the heavy lifting off of the consumer and makes selling as easy as shopping," Luhur declares. Though the typical Twice customer is female and between the ages of 25 and 34, the site caters to both men and women; menswear accounts for 5 to 10 percent of sales.
Taking convenience a step further—straight to   users' smartphones—is Poshmark, a mobile fashion marketplace that recently announced $25 million in new funding. Co-founder and VP of merchandising, Tracy Sun believes the popularity of resale is part of a trend that empowers consumers to "use what [they] have to purchase something new," and she sees no signs of a slowdown. In fact, Sun believes the trend is indicative of a new type of consumer "who [doesn't] really feel the need to own things and to build a massive inventory of stuff." She explains that this generation of shoppers prefers to experience things rather than own them. It's an ethos that's not limited to fashion, as Sun points to the runaway success of ride-sharing apps like Uber and Lyft that make buying cars superfluous. Similarly, Poshmark aims to make selling clothes and shoes nearly as easy as booking an Uber. Just snap a few photos with a smartphone, write a quick description and with a few more taps, you're in business. When an item sells, Poshmark e-mails a prepaid shipping label with the buyer's address. Pop the package in the mail and receive payment within a few days. As the middleman, Poshmark takes 20 percent of the item's listing price (or a flat rate of $2.95 for sales under $15).   
Man Power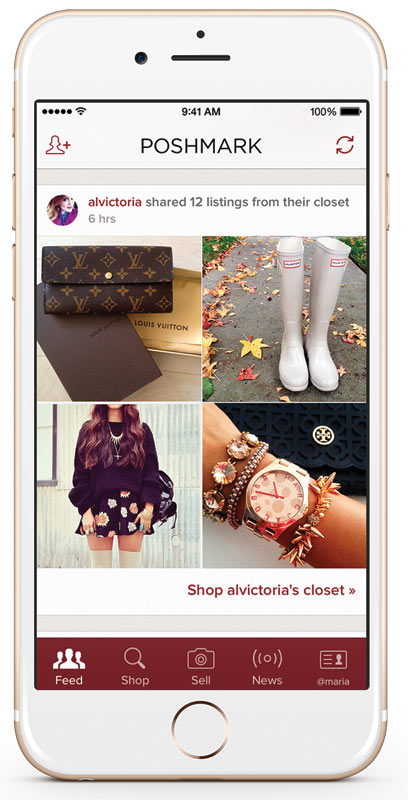 While many online resale marketplaces are geared toward women, Grailed caters to guys. The site actually got its start in footwear, when founder Arun Gupta found himself lusting after a pair of rare (and pricey) Visvim FBT boots. Grailed has since become a hub for high-end, pre-owned menswear. Marketing director Jake Metzger describes the typical Grailed customer as "the savvy men's clothing enthusiast who wants to get the best value out of both his purchases and his sales." He points out that men have a "newfound and increased desire to dress well and experiment with different types of clothing and shoes" fueled by the Internet, which exposes them to fresh brands and styles. The secondhand market lets the apprehensive male fashionista take a risk on a new look without paying full retail. While Grailed is still in the early startup stages, Metzger affirms sales are growing monthly and new site features, as well as an app, are on the horizon.
Men are also largely helping fuel another consignment retail category: sneakers. Any sneakerhead worth his salt is well aware of the resale value of classic kicks and limited-edition collabs. Sneaker consignment shops—as well as the newest iteration in the form of mobile apps like Slang—cater to this demographic, providing a more convenient alternative to the individual selling his shoes online. For example, Chicago's Air Gordons stocks more than 750 sought-after styles and offers the ever-changing inventory true collectors crave. Owner Jordan Lovis says his customers span "the younger kid getting his first pair of Jordan retros up to the dad who had all of the original releases and is rebuying a classic." As for why customers sell at Air Gordons, Lovis says that while some are just trying to bank some extra cash, many simply "have too many shoes and want to make some space." Lovis was an early adopter of the online sneaker consignment trend in 1999 and opened his brick-and-mortar shop in 2014 because it was the logical next step. "Chicago didn't have anything like it," he says.
Shu Cheng, manager of Image in Queens, NY, compares the culture of sneaker consignment boutiques to another niche shopping experience: comic book shops. In both cases, he notes, aficionados go to great lengths to hunt down and procure that perfect addition to their collection. At Image, the inventory is more or less a 50-50 split between new, unworn sneakers that customers bought specifically to flip for a profit and pairs they grew tired of and decided to resell. Cheng says sellers come to Image because "we do all the legwork for you," like taking professional product photos. Plus, sellers get the benefit of Image's large in-store and online audience.
Still, research shows women dominate social media. Appropriately, Poshmark's unique selling proposition is its social aspect—buyers and sellers interact directly with each other online, forging friendships through shopping each other's closets just like real-life friends. That's part of the reason Poshmark is limited to women's inventory; Sun says she saw room for improvement in the female shopping experience. "Women shop very differently from men," she asserts. "Men tend to be much more search-focused. I'm not even sure they're worried about finding [things] for the best price. To us, this was not a problem that needed fixing." Many women, on the other hand, take pleasure in the act of shopping. "[It] may start with search but it often leads to a meandering path…it doesn't have to end in a purchase." On Poshmark, users don't just shop—they chat, negotiate and even style and shop for their "Posh friends" by tagging them in posts for items they think they'd like.
Poshmark's business is booming. Sun reports that the company recently hit $100 million in revenue and is on track to double that figure within six months. Millions of users post over 2 million items of inventory each day and shop from 700,000 closets, resulting in an item being sold every 5 seconds. Sun says the company's new financing will help them "focus on scaling the business to work closely with designers and brands in the marketplace, expand our services beyond women's fashion and eventually expand Poshmark's services outside of the U.S."
Buying the Dream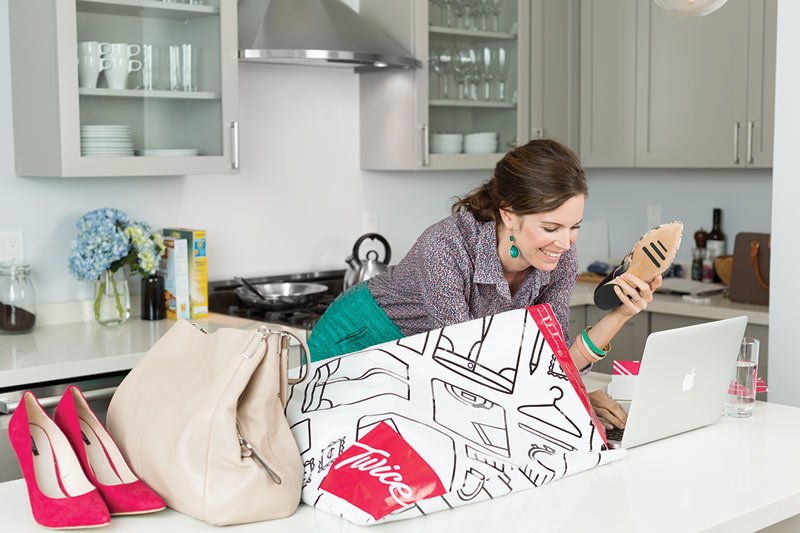 Designer fashion is out of reach for many consumers, but the secondhand market can make the loftiest shopping dreams come true. Sun says Poshmark has a contingent of "aspirational luxury shoppers" who can't quite afford a new pair of Christian Louboutins, but are thrilled to snap up a lightly worn pair for 30 percent off on the app. "Consignment makes expensive brand-name items more accessible to a larger demographic and elevates the exposure and value of these traditional retail brands," adds Twice's Luhur. She points out that high-end items have a strong resale value since they are crafted to last rather than mass-produced.
Overall, the resale market seems to have shed its "used" stigma. Once a distribution tier primarily for the budget-minded, it is increasingly becoming a market of savvy, sophisticated shoppers who know a good item when they spot it. A sweet secondhand score is like a badge of  honor: Not only did one find a coveted item, he or she didn't pay full retail. And there's more nuance to the resale market today. After all, there's no mistaking a Goodwill for a curated designer consignment boutique selling Chanel and Valentino. Similarly, modern resale marketplaces have various methods of curation to strike the right merchandise balance of desirable and affordable. Twice, for example, regulates inventory to emphasize quality by only accepting items from an approved list of brands (think J. Crew and Coach, not H&M or Old Navy) and requesting that sellers learn their ABCs—Age, Brand and Condition. A summery pair of gingham Stuart Weitzman wedges, for example, was recently up for grabs for $90.95 (compared to its $325 retail listing) while Dolce & Gabbana kitten-heel mules were a steal at $211.95 ($850 retail).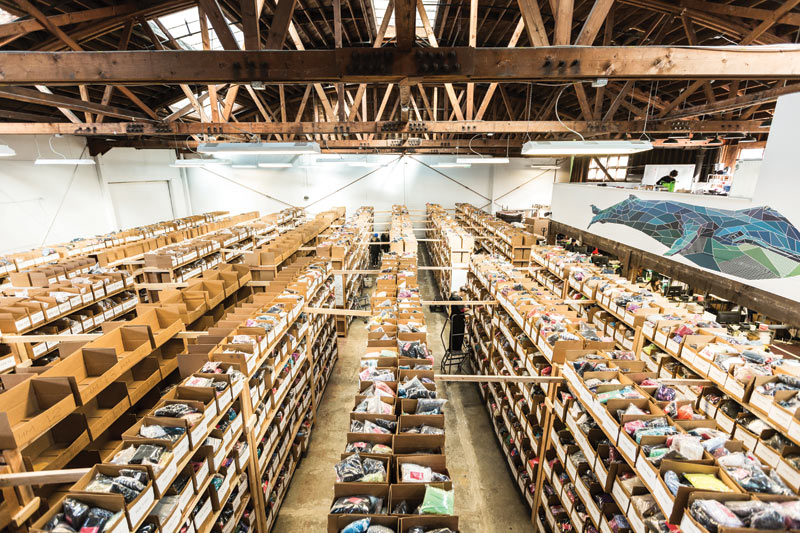 Similarly, at Buffalo Exchange, sellers are encouraged to bring in current styles in like-new condition. That second part is especially true when it comes to shoes; pairs with too much wear can be a tough sell because of the highly personal nature of fit and hygiene concerns. A rigorous training process for store buyers, which includes studying the latest trends and learning about materials and construction, as well as what sells at their particular location, helps achieve the right inventory mix. That mix includes a portion of new merchandise—20 percent of the inventory—to ensure current trends are reflected on the sales floor. For this spring and summer, new offerings include glittery jelly sandals by Bamboo for $21.50, groovy wooden platforms by Soda for $22.50 and on-trend comfort footbed slides by Breckelle's for $16.50. On the resale side, brands and styles vary greatly from store to store; a recent trip to Buffalo Exchange's East Village outpost in New York turned up men's Marc Jacobs loafers for $55, a fresh pair of men's Adidas skate shoes for $36, some vintage women's grosgrain Ferragamo flats for $40 and barely-worn heels by Rachel Zoe ($55) and Sam Edelman ($38).
Poshmark features about 20 percent new and in-season merchandise, some of which is purchased wholesale. Sun says this attracts shoppers who aren't keen to buy pre-owned duds—at least at first. They often end up "crossing over and learning to appreciate secondhand through our ecosystem," she says. And unlike regular stores where consumers are usually limited to the current season, at Poshmark, they have access to past styles. "The opportunity for discovering something you didn't even know existed is definitely part of the Poshmark experience," Sun adds.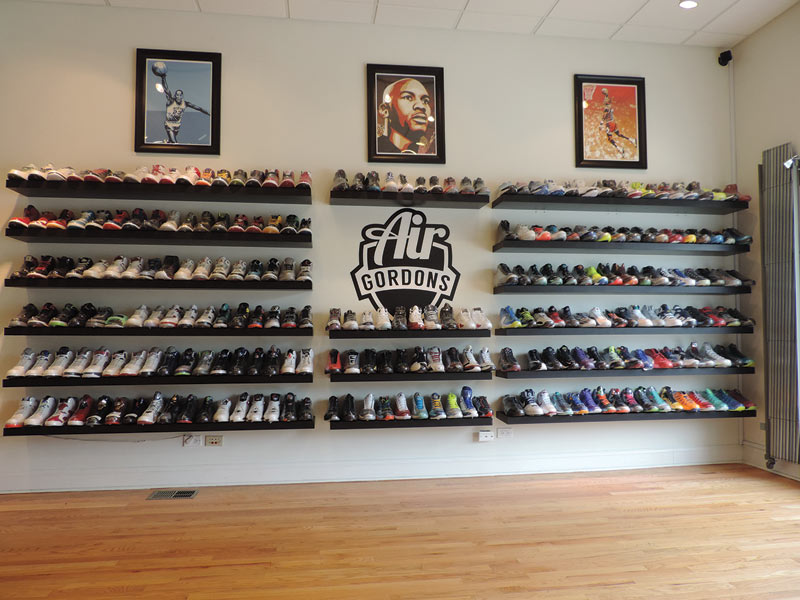 At the very least, the growing popularity of secondhand retailing presents a valuable learning opportunity. "Any time you're in the business of selling to a consumer and there's a change in their behavior, it will affect you," Sun offers. "If you're a savvy retailer or brand, you consistently seek to understand your customer and go where they are and learn more about them." She notes how five to 10 years ago, brands that were quick to look to social media to study the changing habits of their customers benefitted greatly. Similarly, she believes brand execs can see their current—and potentially future—customers in action on platforms like Poshmark. "This is not just commerce. This is deep engagement around brands and product," she states, noting that users spend an average of 25 minutes in the app each day and check it up to eight times a day. Metzger also believes traditional retailers can learn from platforms like Grailed "by seeing what's selling, what's not and at what price. This should help [them] plan their buying decisions in a more informed way," he says, adding, "it's positive for the entire ecosystem."
While consignment stores and services that let fashion-conscious consumers harness the sharing economy to stock their wardrobes are having a moment, it's not likely they'll replace traditional retail entirely any time soon. Rather, the trend may point to shifting relationships among different retail formats. "We will always need traditional retailers—they are the biggest supporters of our business, albeit indirectly," explains Metzger. "They are our base of supply." Plus, Sun acknowledges, "There are instances where you might want to unwrap a brand new pair of shoes, and there's something wonderful about that. It will never go away." •