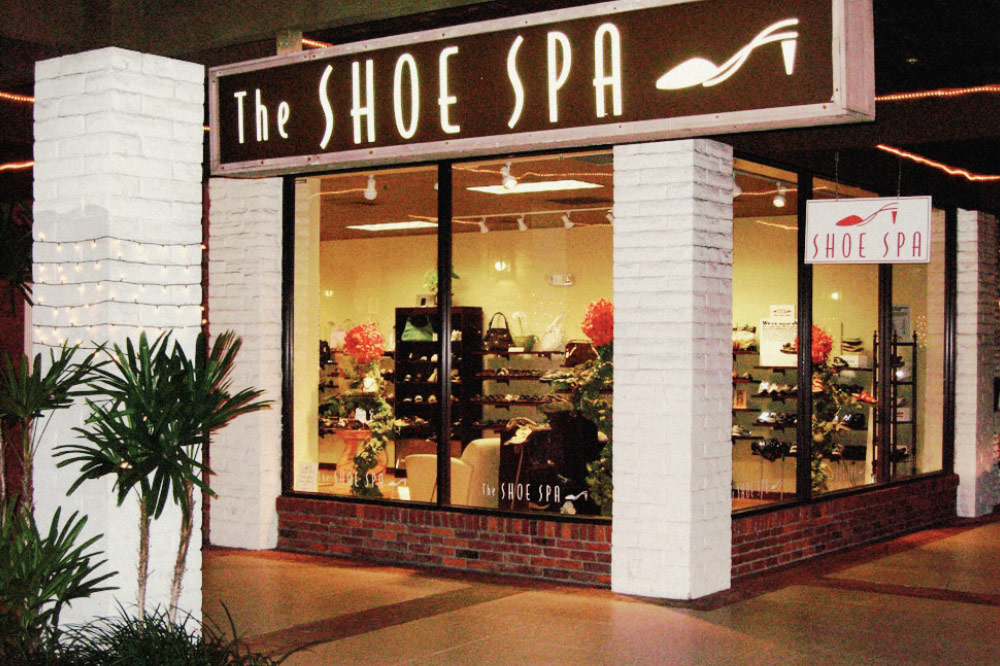 Not only did Beth Weingarten enter the retail game later in life than most—in her mid 50s—she had no intentions of ever doing so when she settled in Palm Beach Gardens, FL, in the mid '90s. She and her husband, John, had moved to the Sunshine state to retire, but a few years into their life of leisure the seed to open a shoe store was planted—first by their son, Brent, a sales rep for Naot, and soon after by another industry rep and friend of his who lamented that there were no good shoes stores in the area.
The entrepreneur gene in Weingarten was awakened, plus retailing ran in her veins. Her mother had started a jewelry store out of their family home when Weingarten was two years old, and it's still thriving today under the stewardship of her nephew. Growing up in a store (literally) rubbed off on Weingarten as she, along with her husband and son Michael, have created a luxury comfort shoe shopping experience where top-notch service, a cozy living room setting and unique selection blend together seamlessly. Now in its thirteenth year and sales north of $1 million annually and growing, the 2,400-square-foot women's boutique and online component (shoespausa.com) features, as its home page states, a selection spanning "classic to modern, sophisticated to funky and a little bit of whimsy" and drawing an equally eclectic clientele. What customers won't find, Weingarten assures, are shoes that may look great but aren't practical, or ones that may be super comfortable but are just plain ugly.
The Shoe Spa sits at that elusive crossroads of style and comfort.  Weingarten's basic buying philosophy is that every shoe must feel as good as it looks, and it's on her to find them for her customers. It's a process that involves a blend of learned-on-the-floor acumen and gut instinct. Customers, she says, offer the best feedback. To ignore it is to buy blind. In addition, her eyes are always peeled, looking for design influences that could be translated to shoes—like scouting the furniture market for up-and-coming colors and traveling the globe for inspiration. But practicality remains at the forefront of all her buys. "When I look at high-end magazines, I rarely see anything I can buy," she says, mindful of her target demographic that ranges in age from thirtysomethings to over 100. "It's all a fantasy and none of it translates well to streetwear." Her customers, in contrast, live in the real world. They must be able to wear the shoes often, meaning they must fit properly. But they should also want to wear them.
The key is finding styles that feel as good as they look. "You've got your 8-hour shoes, 2-hour shoes and the infamous 35-minute shoes," Weingarten says. "But most of the shoes you count on to be comfortable are collecting dust in the back of your closet—a monument to designers and buyers that just don't get it." What they are missing is that comfort doesn't have to be ugly. Even addressing a variety of foot issues like neuropathy, bunions and hammer toes, Weingarten says shoes can still be pretty. In fact, it's part of The Shoe Spa's mission statement: "Providing comfort both to feet and to the soul with the best edited collection of shoes that are both beautiful and comfortable."
Buyer's Guide
Like any retailer worth his or her salt, Weingarten is all about the product—and offering plenty of it. The selection currently spans about 40 brands, including comfort stalwarts like Naot, Gabor and Taos as well as L'Amour Des Pieds, Fly London and Salpy. Top sellers of late include Naot, BeautiFeel, Paul Mayer, Thierry Rabotin and Salpy, with Arche quickly climbing the ranks. In the last year, Weingarten has added niche players like U-Dot out of Japan and Ilse Jacobsen, whose comfortable, affordable styles are some of the most copied in the market, she says. "They're at a lower price point, comfortable and adorable," she says, noting the Tulip, a lightweight, perforated slip-on, has been on fire. Weingarten adds that while many of the labels carried by The Shoe Spa aren't commonly known, that's okay because it's their job to educate shoppers why they are worth wearing.
Actually, Weingarten has reined in her buys. She's pared it down from the "insane" 950 SKUs the store carried a few years back. "I literally had everything," she says, having combed through every trade magazine for the latest styles and designers. Weingarten has even created a "What Was She Thinking?" photo collage on the store's bathroom wall featuring her worst choices of the season to remind herself—and anyone else who pays a visit to the restroom—that not every shoe is a home run. The first style to make the wall of shame? A French designer's $450 loafers she stocked in three colors. "You could have used it as a weapon because it weighed a ton," she says. "We had red size 11s that fit one of my sons, who paraded around the store in them one day. We were cracking up."
Experience has taught Weingarten that a little less merchandise is still good and plenty. "I've learned to control myself, and that I don't have to buy every color," she says. "It's a case now of how much can I fit in the store without making it look cluttered. It's still a huge selection, but in a very curated way." At the same time, Weingarten views the merchandise mix as a work in progress—as it should be. How else do you discover what works if you aren't at least willing to try something new, she says. And you can't be afraid to fail, which Weingarten isn't. "When I first started, people asked, 'Well, aren't you afraid?'" she says. "I said, 'Of what?' Life is to be lived and have fun—and be comfortable walking in your shoes."
That's not all that Weingarten heard at the onset. Her friends were not enthused by the idea at all. As in, "Ew, you're opening a 'comfort' shoe store?'" But a typical sit-and-fit comfort store has never been the Weingartens' intention. "The Shoe Spa is not your grandmother's comfort shoe store," she says, proudly.
Here to Help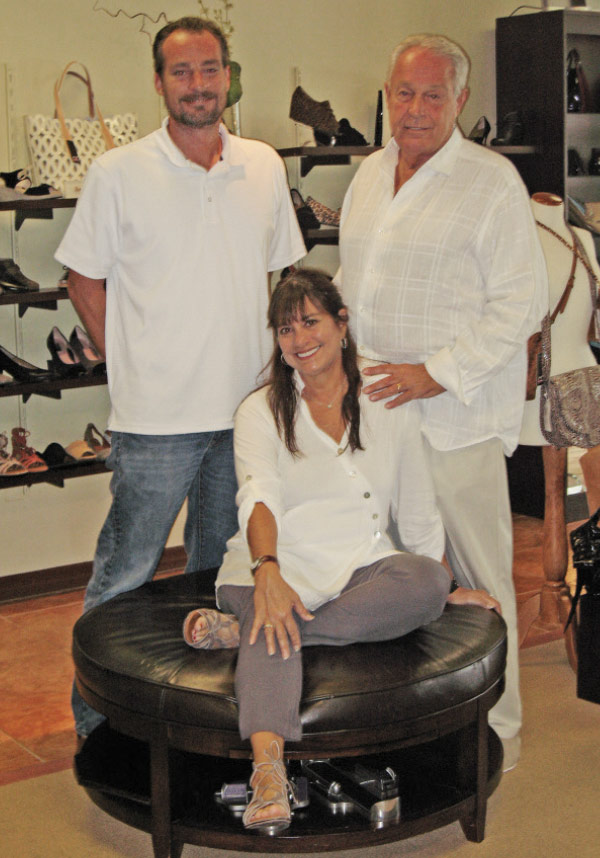 About the only aspects that are traditional about The Shoe Spa is its inviting atmosphere and knowledgeable service. Customers are treated like family, an ability that Weingarten says is helped by being on the floor nearly every day. Regulars are on a first-name basis and newcomers are welcomed just as warmly. Take the 103 year old who stops in around her birthday every year with her granddaughter to buy a new pair of shoes. Or the three women from the nearby retirement community who swing by often for outings where they insist on squeezing together onto the store's plush loveseat for try-ons. Another regular lives in France and comes to the store straight from the airport to stock up. Then there was the time cousins reconnected by happenstance in the store. The stories are endless, and Weingarten believes the inviting atmosphere helps foster the connections and comradery. "There's a lot of hugging in this store," she says. "It's like our living room and it's an extension of our family. We want everyone to feel comfortable, and that goes far beyond finding the right pair of shoes. It includes the atmosphere, the culture of our staff and the way we do business."
Weingarten tells the story of a customer who, at first impression, seemed would be very difficult. But as she worked with her, Weingarten discovered she wasn't uptight, rather upset. The more they talked and the more Weingarten listened, the more she opened up. She then shared something very sad, and Weingarten asked if she could give her a hug? "She said that's what's wrong. I don't have anyone to hug," Weingarten recalls. "She then reached out and started to cry."
That's what Weingarten believes makes The Shoe Spa special. "This isn't just an opportunity to sell shoes," she says. "It's an opportunity to connect with people, and that's my philosophy on life as well as running this store. This is a rare and wonderful opportunity to help people other than just with their feet."
Along those lines, Weingarten instructs her staff, despite the fact that they work on commission, that it's better a customer leave without making a purchase if the alternative is buying a pair that doesn't fit properly. "You can't be driven just by money. You have to make the sale the right way—you have to sell the person what they need," she says. Similarly, if a customer buys a pair at full price and needs an adjustment, the store will send it to a shoe repair shop and have the alteration done at no charge. "We really try to make shopping here a special experience," she says.
Weingarten believes The Shoe Spa's service-oriented approach provides a much-needed point of differentiation, particularly compared to online dealers. And while Amazon and their ilk aren't going anywhere, she isn't overly worried about the things she can't control. She prefers to focus instead on the one she can. "The biggest component missing from buying online is that no one is really listening," she says. "With comfort, that's key and that's what we do best." To her point, Weingarten reports a steady stream of customers who are frustrated at having to repeatedly return ill-fitting purchases made online. Free shipping aside, it's just not convenient or efficient, especially for people who have foot issues. Weingarten says it's best to be fitted in person by a trained expert. "Bunions and arthritis are issues we deal with on a daily basis," she says. "You can't see or address those needs online. Every foot is different."
The Shoe Spa staff knows the fit tendencies of its entire stock and takes pride in measuring and recommending the right pair of shoes. Ayelet Levy, president of Naot USA, who has worked closely with the Weingartens for years, says The Shoe Spa's service is a refreshing blast from the past. "It reminds you of old time Main Street," she says. "They even call customers when new products come in that are specific to their size. They're always willing to go the extra mile."
The Road Ahead
Where does Weingarten envision The Shoe Spa in five years? For starters, in the capable hands of her son. She's comforted knowing he has the social media marketing skills and online retail savvy to grow the business further. (Currently, online represents 10 percent of overall sales.) And while she has no immediate plans to exit stage right, Weingarten could see herself having transitioned into a semi-retirement role by then.
Just don't expect additional stores any time soon. "I don't want 22 stores," Weingarten says. "I don't even want two. I want one that we do really well." In the meantime, she plans to continue to grow as a buyer to do right by her customers. "I want to keep up with all the new, great designers coming into the industry," she says, adding that, at age 66, the thrill of the chase helps keep her young. "I'm just grateful to be a part of this industry. Who could have guessed that this idea of ours would have ever become successful? I was in my 50s when we started. I'm still a novice, but I love what I'm doing and have the best time with my customers."
Weingarten also loves working alongside her family and "incredible" staff each day. They are the heart and soul of The Shoe Spa and source of its longevity. "I like to think we don't really have any competition, because The Shoe Spa is a truly unique experience," Weingarten says. "We genuinely listen and care what's going on in our customers' lives. We're ethical and honest, plus customers like what I buy. Hopefully, they all have a great experience and will want to come back."