Macy's
Macy's Herald Square flagship: home to the Western Hemisphere's largest shoe department.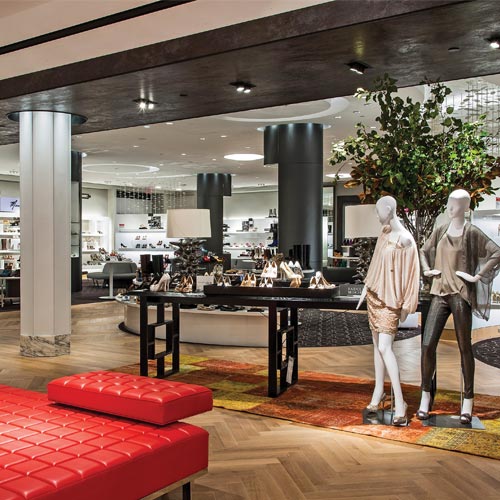 Bergdorf Goodman
The Shoe Library at Bergdorf Goodman.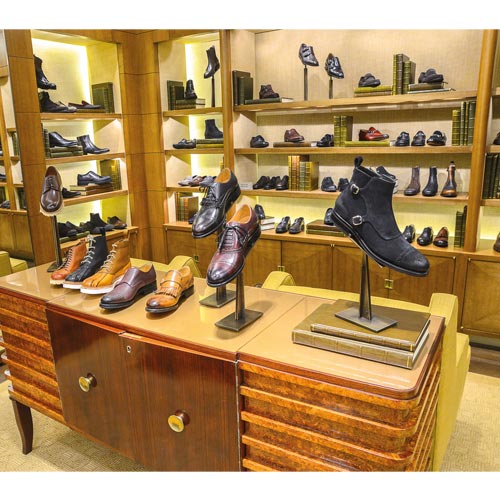 Saks
Saks has added more contemporary shoe labels to its flagship.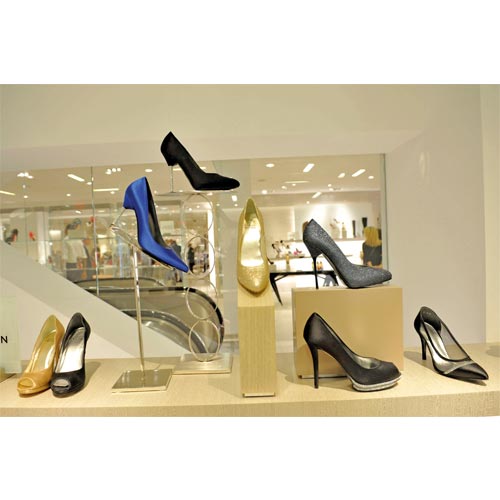 Department stores reignite an intense rivalry with explosive, over-the-top footwear emporiums in their New York flagships.
By Lyndsay McGregor
Blame it all on Carrie Bradshaw. When it was estimated that the Sex and the City character owned roughly $40,000 worth of designer shoes (regardless of the fact that it's fiscally impossible to do so—and still make rent—just by penning a weekly column about her life) women worldwide didn't shake their heads at her silliness—they aspired to achieve it. Today women's fashion footwear boasts gross profit margins as high as 50 percent, and market research firm NPD Group reports that sales grew 1.1 percent to $21.9 billion in the 12 months ended in June. "Footwear has been doing well for many years, even through the recession," points out Poonam Goyal, senior retail analyst at Bloomberg Industries. "But because we're in a recovery period it makes it easier for [department stores] to grab another piece of the wallet." So New York's top dogs finally got to thinking: Shouldn't we give the city's shoe addicts what they really crave?
In August, Macy's began rolling out its 63,000-square-foot women's shoe department with more than 250,000 pairs in stock at the flagship with claims it would be the world's largest. (For the record, it has since been trumped by the 96,000 square feet of Level Shoe District in Dubai.) A month later Saks unveiled 7,000 square feet of added shoe-selling space at its main store on Fifth Avenue. And Barneys New York opened a unisex designer shoe floor that is more than 40 percent bigger and features 350 more styles than its formerly separate offerings for men and women in its Upper East Side flagship. And the ball doesn't stop there: Lord & Taylor is embarking on a massive renovation that could cost around $75 million, dedicating the second level of its Fifth Avenue flagship entirely to footwear, and Nordstrom will reportedly open a 285,000-square-foot space on West 57th Street in the coming years, which will no doubt stake its claim in the city's department stores' game of top this when it comes to shoe presentations.
"Space in department stores is highly competitive and to have the opportunity to grow that space says a lot," says Matt Priest, president of the Footwear Retailers and Distributors Association (FDRA). "For several years now footwear has really been a growth opportunity for retailers, especially for department stores, so if they see an opportunity to create buzz for the industry and product and attract consumers, they will." Blame it on the recession—in a good way, says Courtney Albert, consultant at boutique strategy and management firm, The Parker Avery Group. "[During the recession] consumers slowed down on their spending overall, but were sporadically still willing to splurge on certain categories, predominantly investment pieces," she says. "For example, shoes."
Extreme Makeovers
Macy's
The Lowdown:
Spanning 63,000 square feet, the ladies-only footwear space is the biggest in the Big Apple and North America.
The Names: Sleek shop-in-shops from Calvin Klein, Coach and Michael Kors join 29 new vendors, including Juicy Couture, L.A.M.B. and French Sole.
The Decor: Heritage marble is accented with modern wood and dramatic lighting to add a touch of warmth to the custom-designed Herald Square Café.
Barneys
The Lowdown: A 22,000-square-foot unisex space that is more than 40 percent bigger and features 350 more styles than its formerly separate offerings for men and women.
The Names: Big shots include Narcisco Rodriguez, Balenciaga and Pierre Hardy.
The Decor: Architecture firm Yabu Pushelberg with Barneys' Creative Director Dennis Freedman designed a gallery-like aesthetic with white Italian marble walls, translucent brass-mesh glass figures and stainless steel tables.
Saks Fifth Avenue
The Lowdown: The shoe floor with its own zip code grew to 32,150 square feet to bring together the store's entire women's footwear assortment.
The Names: Alejandro Ingelmo, Brunello Cucinelli, Jason Wu and Tabitha Simmons join Prada, Chanel and more.
The Decor: A 70-foot-long curving wall of hand-blown Murano glass bubbles makes for an impressive centerpiece, while at the floor's perimeter, tall, undulating walls create a flow of brands rather than a row of individual shops. And the adjacent café is a must meeting place for the shoe-obsessed.
Elizabeth Kanfer, senior fashion and co-brand director of women's accessories at Saks Fifth Avenue, agrees. "Over the last five to eight years, footwear has seen a tremendous growth in popularity. Footwear is a focus—from the fashion customer looking for a statement shoe to the working woman in search of the perfect pump," she says. To meet those demands, Saks chose to amp up its 10022-SHOE strategy by bringing together a balanced assortment that's less dependent on big brands and formal offerings, and added more contemporary options to its merchandise mix. At the floor's perimeter, undulating walls create a flow of brands rather than a row of individual shops. The fluid layout is designed to encourage browsing and ensure flexibility for the store as collections expand. "It's a wonderful excuse to offer the best of fashion as well as the opportunity to test and market emerging brands," Kanfer says. "The only drawback is that we have to be extremely focused on the footwear market and industry trends to ensure we are best in class."
Labels that hit the floor at Saks for the first time include Alejandro Ingelmo, Tabitha Simmons, Pierre Hardy and Joseph Altuzarra. Meanwhile a VIP room (complete with plush seating, refreshments and an adjacent fitting room) and an expert shoe repair and refurbishing service add a touch of luxe. And to make the shopping experience all the more seamless, customers can now go straight to the eighth floor via the 10022-SHOE express elevator and associates can check inventories on state-of-the-art computer terminals placed throughout the floor.
Eleven blocks north of Saks, Barneys has blown out the fifth floor of its Madison Avenue flagship where, for the first time, men's and women's footwear live together in a gold and marble accented home designed by architecture firm Yabu Pushelberg. Avant-garde brands like Narcisco Rodriguez, Balenciaga and Pierre Hardy have moved into the gallery-like space with Prada, Chanel, Christian Louboutin, Manolo Blahnik and more, while iPad stations sprinkled throughout offer access to barneys.com and its blog, The Window.
But Macy's Herald Square location takes home the title for Manhattan's largest shoe department, with a revamp of its second floor boasting twice the amount of previous stock. "[Macy's has] seen the success at Saks," Goyal notes. "Sometimes when you're the first you question whether the investment will pay off. When you've seen predecessors pay off, you have more certainty that yours will." It's a far cry from the Macy's of yore. Now 430 shoes-only employees wield wireless devices for on-the-spot transactions and quick product retrieval to reduce shopper wait times, and a 45-seat in-salon café serves signature coffee, champagne and chocolates. "Macy's has very much emulated the higher-end shoe boutiques and it makes sense," Goyal adds. "Before when you would allocate a small section, you were stacking shoes, whereas now you're displaying them in a boutique fashion. By spacing shoes out and showing more of them, you're increasing your sales and the sales of that brand."
Sleek new shop-in-shops from Calvin Klein, Coach, Michael Kors and Cole Haan enhance the boutique experience and prices across the floor range from $49 to $1,600. "It will be interesting to see if there are, or will be, any major spikes in other categories because of the increase of foot traffic in-store," Albert notes.
With all this money being pumped into ladies-only shoe floors, you'd be forgiven for thinking that most men wander the city streets in socks. Not so. To coincide with its 111th anniversary last September, Bergdorf Goodman expanded its men's shoe section and re-named it, The Shoe Library. Previously housed in a small area towards the back of the store, the new space is three times larger, having taken over what was once the grooming section. Its shelves are lined with styles from Tom Ford, Salvatore Ferragamo, Prada, Giorgio Armani, Alexander McQueen, Jimmy Choo and more.
"New York is the retail capital of the world, and for the footwear industry it's the capital," Priest says. "A lot of these brands and exciting designers are headquartered in New York and department stores have flagship stores there. What better way to make a splash than open a brand new expanded footwear space in New York?" Goyal echoes his sentiment: "If you're going to make such an investment and statement you're going to make it in your largest department or flagship and, for these stores, that's in New York." And while Albert points out the possibility of over saturating the market, she adds that no one wants to be the one player who missed the opportunity to win big. "So far, I think that each shoe floor has a very distinct consumer, experience and product selection," she notes. "But these differences could start to become slighter if one floor begins to noticeably outperform the rest and the reaction is to assimilate to the leader's model." Watch this space as the Manhattan games of top my shoe department have only just begun.