By culling from the past with heritage styling and looking to the future with daring tech innovations, outdoor brands are creating footwear that is completely of the moment. Whether designed for serious trekking, a walk in the park or a winter work commute, companies like Source by Naot, Danner, Rockport, Wolverine and Gore-Tex are delivering products and components that embed cutting-edge technology into stylish, time-tested silhouettes.
Perhaps nothing is more au courant than a commitment to high manufacturing standards, and brands are delivering in spades via handmade construction, made in the U.S.A. cred and premium materials. Lightweight fabrications and innovative insulation solutions help brands effortlessly transition their designs from wilderness paths to city streets, embracing consumer's desire for wearable technology in a stylish package.
Danner
:
Hometown Hero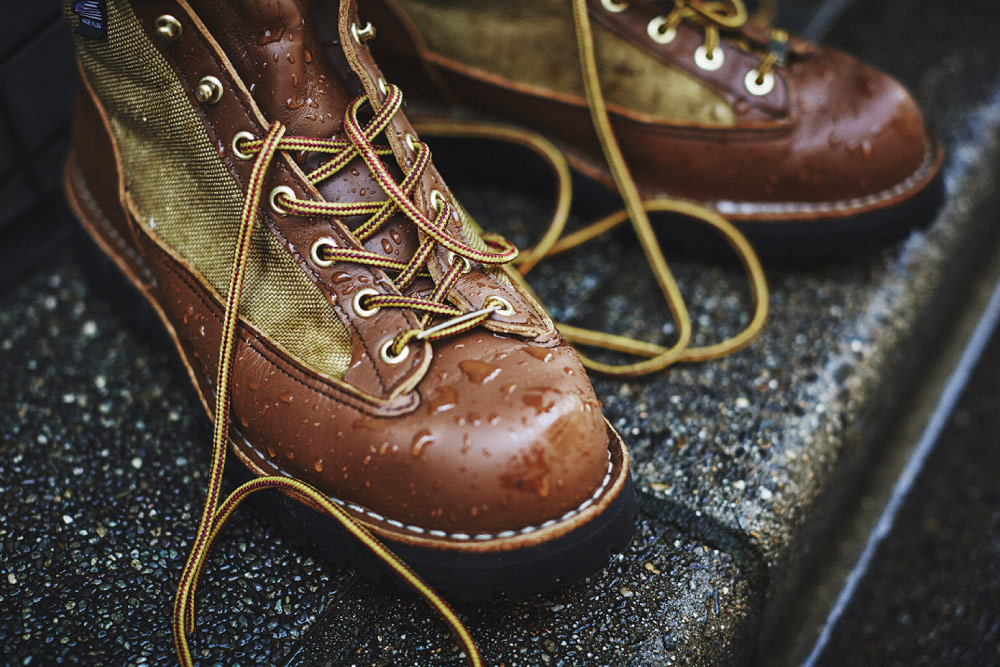 As rugged outdoor styling—think traditional hiking boots, raw denim and well-worn flannel—continues to look equally at home on the streets of New York as on the mountain trails of the Pacific Northwest, Danner Footwear is poised to deliver on-trend, premium boots for men and women for Fall '18. Celebrating an 85-year history of U.S. manufacturing, the brand is presenting its Portland Select Collection, which draws from its heritage and offers a modern take on classic Americana.
"Today's consumers want footwear for multiple situations: hiking in the mountains, trekking in the city and everything in between," says Will Pennartz, senior marketing manager. "With roots in the Pacific Northwest, we build boots to withstand the most rugged conditions and terrain, but we realize people want to wear their boots in the city as well."
Danner aims to deliver that crossover appeal by combining timeless outdoor, work and military looks with performance features that make boots light enough for everyday use. New products include the Danner Ridge, which is 20 percent lighter than its Danner Light boot, from which it evolved. The Danner Ridge comes in sleek dark brown leather with green canvas siding and tan leather with gray canvas. Both the Danner Light and Danner Ridge integrate stitchdown construction, Vibram Kletterlift outsoles and breathable Gore-Tex waterproof liners.
Also new for Fall '18 is a re-release of Danner's Feather Light Revival. Introduced in the early '80s as one of the first fully waterproof Gore-TEex light hiking boots, the style was taken out of the line in the U.S. less than 10 years later. However, it stayed strong in Japan and gained a cult following in Tokyo as a fashionable hiker. "The new version is very true to the original, but it incorporates more premium leather and abrasion-resistant textiles, along with improved midsole materials and a rugged Vibram outsole," Pennartz says. In a nod to the brand's commitment to quality, if the sole wears down or the shoe needs repair, it can be re-crafted by Danner's team in Portland.
According to Pennartz, the Portland Select collection, which first launched for Fall/Winter 2016, has been well received at retail partners like Kith, Nepenthes, Huckberry, United by Blue, Westerlind, Topo Designs, Ball and Buck, Tanner Goods, Paragon Sports and Backcountry. In addition, over the past year Danner has opened up distribution in the U.K., with accounts including End, Kafka and Outsiders, and created a pop-up shop at Huus Hotel Gstaad, a high-end chalet style hotel in the Swiss Alps. He believes the line, which retails for between $300 and $400, is successful largely because, "The world is tired of disposable footwear, and we feel the Portland Select collection offers consumers a viable alternative."
Danner intends to continue expanding its U.S.-made offerings while growing distribution worldwide. Pennartz believes it's about giving the people what they want: "He or she appreciates premium craftsmanship, timeless style and USA-made manufacturing," he says, noting its women's Mountain Light Cascade has been a top-seller since Reese Witherspoon's character sported a pair in the film, Wild. "The Portland Select collection creates an opportunity for our designers to celebrate our rich history manufacturing footwear in the United States," Pennartz says. "To say making boots in the U.S. is important to Danner is an understatement; it's part of our identity."
Source by Naot
:
A Love Story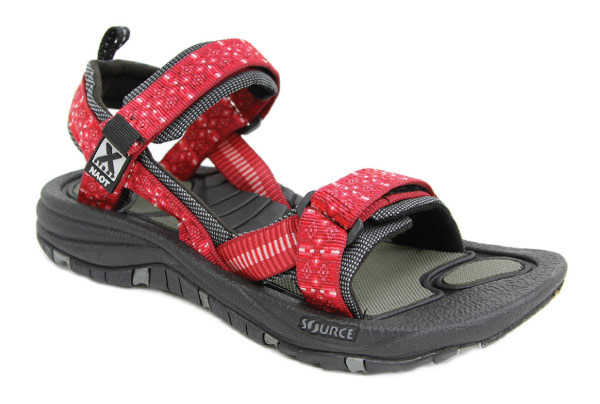 Taking it slow may just be the best advice for growing a healthy relationship. At least the old-adage holds true for two beloved Israeli brands, Naot and Source, which have recently turned a 25-year flirtation into a robust partnership. Stemming from a shared passion for technological innovation and handmade craftsmanship, the new Source by Naot platform promises to deliver high-tech outdoor shoes to the U.S. market. The partnership is entering its first season for Spring '18 with amphibious sandals designed by Source and distributed by Naot, to be followed by co-designed winter collection that draws from the strengths of each brand.
"This has been a love affair of mine for the last 25 years," says Steve Lax, CEO of Naot. After first meeting at Outdoor Retailer over two decades ago, Source approached Lax about becoming the brand's U.S. distributor. However, at that time Lax was representing 75 percent of Naot's business, posing a potential conflict. That dynamic changed in 2014 when Lax purchased Naot. When Source approached him again in 2017 about partnering, he was eager to finally make it work. "I think the brand has incredible tech advantages over everything else in the market, and every third Israeli owns a pair," Lax says. "In Israel, Source is almost as synonymous with footwear as Naot is."
Naot offers some 700 styles of fashionable comfort shoes, sandals, boots and clogs, all defined by cork and latex insoles, yet this marks the first time it has ventured into the outdoor performance market. "At Naot we have a shoe for every part of your day, and now we are covering another part of people's lives," Lax says. Source will also offer a new price point. "When you are dealing with cork and latex it raises the price," he says. "Here, we can compete at lower price point."
Retailing at $60 to $125, the vegan, handmade, fully traceable Source by Naot sandals are designed to stand up to every kind of terrain whether hiking, climbing, river crossing or navigating city streets. Among a bevy of technological innovations, the soles are tested to be "twice as strong as the best U.S. tire on the market and three times as strong as the competition," according to Lax, who adds, "We are 100-percent sure that unless you run them over with a lawnmower, the sole will hold up." As long as a green dot on the three-ply outsole is present within two years from date of purchase, defective shoes can be exchanged. Similarly, Lax says Source uppers are guaranteed to hold up. Instead of gluing, the straps are sewn attached. What's more, they are made from ultra-quick drying polypropylene webbing and hold over 1,200 pounds of pressure. "Source has had people doing chin-ups hanging from the sandal straps," Lax says. "The strapping is so strong that you can't rip it apart." The straps—available in a range of patterns including purple triangles, retro green and tribal red—are connected through a patented X system with six anchoring points that hold feet in place and prevent ankles from turning.  As compared to other outdoor sport sandals, Lax says Source may look similar but it's like comparing a "jet engine to a Model T."
In addition to cutting-edge tech, Naot and Source share a deep love for manufacturing in Israel—a love that fuels their factories. "We have people from every race, religion and color working together as a family in both of our factories," Lax says. "We're trying to support peace through our shoes."
Rockport
:
Walk This Way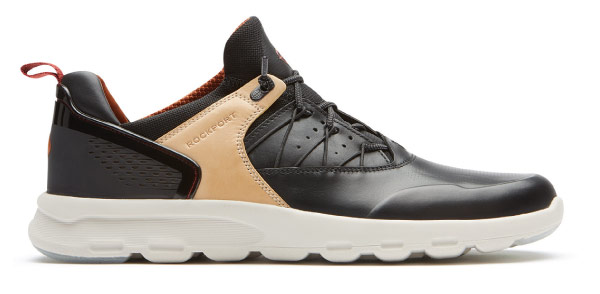 Rockport, the brand that created the walking category in the '80s, is now inspiring a new generation to get walking. While its latest franchise, dubbed "Let's Walk," is brimming with technological innovations, these revamped walking shoes bear little outward resemblance to the classic brown lace-ups that solidified Rockport as a leader in the comfort realm decades ago, not to mention the poster child for dad style.
Let's Walk, a modernization of Rockport's acclaimed Pro Walker line, was created to "shake up the market," according to John Daher, senior vice president of product development at The Rockport Group. "They are really well designed inside and out, with a look that works across many wearing occasions," he says.
The chic, dual-gender collection debuting for Fall '18 speaks to customers' demand for style and use versatility. The slip-ons and lace-ups reflect the ongoing strength of athleisure, with pops of metallic leather; rich suede in shades of blue, tan and gray; high-tech upper detailing; and rubber outsoles with translucent pods that reveal the comfort technology within. "We wanted to incorporate athleisure, which as we all know is a growing trend in the casual business, but we didn't want the shoes to look like something you'd wear to the gym," Daher says. "We wanted them to be something you could wear all day long, whether you are walking, using them casually or going to work. The look is so relevant in today's age."
Let's Walk is built upon Rockport's proprietary "Integrated Motion Technology," a seven-layer system with a nested spring chassis at its core. The chassis has an interlocking dome architecture designed to absorb and return energy in every step so that walkers can go that extra mile. It is coupled with a TPU center plate encapsulated in a lightweight rubber sole with OrthoLite memory foam insole. "This makes for a really comfortable, all-day walking shoe," Daher says. "It's also fully leather lined from toe to heal, so it encompasses the foot in a wonderful way and offers a climate control system that works really well."
The commitment to technical innovation is nothing new for Rockport. The company was founded more than 40 years ago with a vision of using sports technology to create ultimate comfort in dress and casual shoes. Daher notes that when The Rockport Group became a stand-alone company again two years ago, the team wanted to "harken back to the days of our innovation," and Daher has created a business unit exclusively devoted to innovation that works outside of the normal product calendar. "We are tasked with developing programs like 'Let's Walk' in order to make an impact in the comfort shoe industry," he says.
The Let's Walk collection will retail for $140 to $150 and will be sold at Rockport's premium retailers worldwide. According to Daher, "It will be a big play for comfort specialty dealers in the States." Beginning in August 2018, Let's Walk will also be available online with select accounts and available at all of Rockport's direct-to-consumer (DTC) channels. Let's Walk will be a focus in Rockport's branded environments and the company plans a full-fledged marketing program next fall that Daher says will, "inspire consumers to get out and walk again and enjoy the journey."
Gore-Tex
:
Fashionably Warm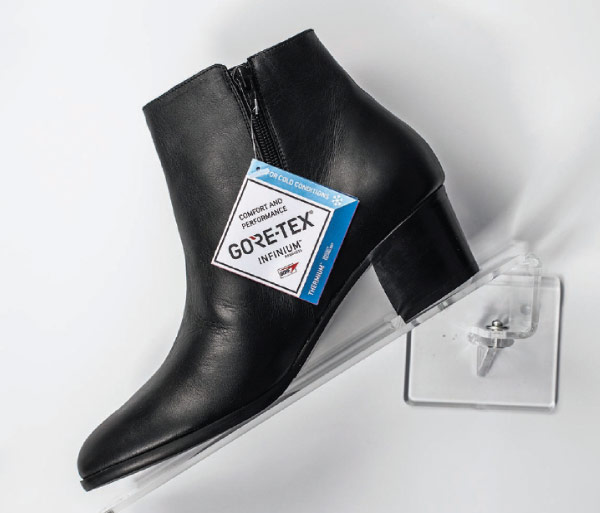 As winter winds pick up and temperatures plummet, there arises an age-old dilemma most women can understand: whether to wear bulky boots that weigh down the feet and are sweltering indoors, or stylish shoes that leave toes freezing during the morning commute. Gore-Tex has sought to end this conundrum and make its mark in the women's casual shoe market. For Fall '18, the company is introducing a new class of ultra-thin footwear insulation dubbed Thermium as part of its recently unveiled Gore-Tex Infinium program.
Expanding beyond Gore-Tex's "waterproofness" base, Infinium represents a burgeoning focus on comfort and protection. "The idea is that we're moving beyond waterproof, and coming up with different products that people can use in their everyday lives," says Farra D'Orazio, spokesperson. "We're moving from outdoor to outside."
According to Steve Rosenberg, Gore-Tex global product manager, Infinium is a new brand architecture that allows the company to expand its market base and focus on needs like better insulation in stylish everyday footwear. "It's great to talk technical but at the end of the day style matters most, and many women won't compromise it," he says. "If you can give them style with warmth and comfort, that's a really great sell."
An innovative insulation that is seven times more efficient than a comparable amount of loft insulation and as thin as typical footwear leather, Thermium has a unique ability to provide superior warmth in slim silhouettes. "We were trying to find a solution where insulation isn't big and bulky and can be fit into the wardrobe you have," Rosenberg says.
To create Thermium, Gore-Tex leveraged its deep knowledge about how to use expanded polytetrafluoroethylene (ePTFE), and combined the polymer with Aerogel technology. Developed by NASA for uses like helping shuttles re-enter the atmosphere, Aerogel is an incredible insulator, but without the added element of ePTFE it is brittle and difficult to manipulate. The result is an even, pliable and compression-resistant insulator that can be cut and treated like leather and applied to shoes in a way that doesn't compromise style. Through advanced thermal-mapping, Gore-Tex confirmed that toes are the first area to feel cold, and realized that by concentrating insulation in the toe box, it is possible to warm the entire foot without sacrificing a shoe's silhouette.
While Gore-Tex first began looking into this technology more than a decade ago, it was only within the last three years that the company delivered on the concept with Thermium. In addition to extensive testing in its advanced climate chamber at its Maryland-based biophysics lab, the company conducted on the ground trials in the Midwest and Europe. "There's nothing like getting the response from women on a cold day who say, 'This absolutely made a difference in my life,'" Rosenberg says.
Gore-Tex plans a limited introduction of Thermium, rolling out with Ecco this for Fall '18. It will also launch specifically in Italy with Frau, which has been a development partner throughout the process. "Working with fashion-forward companies during development made sure we could integrate our technology into not only the basic ankle boot, but into really fashion forward shoes," Rosenberg says, adding that the technology is incredible yet nearly invisible. "I can't overstate how revolutionary this approach is," he says. "We are going to make you feel better without changing the look of your shoe."
Wolverine
:
Extreme Innovation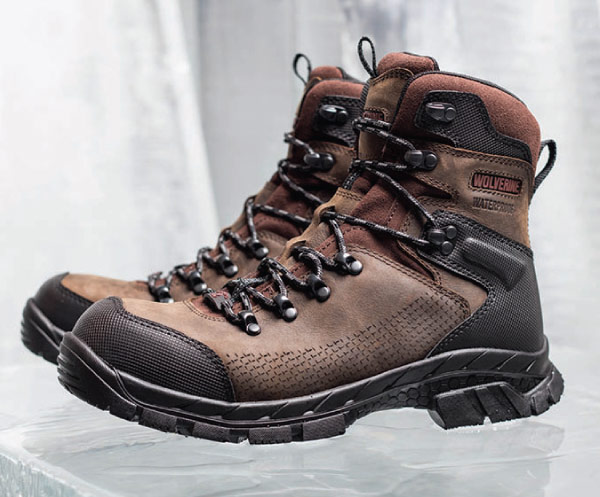 For Fall '18, Wolverine continues its 130-year tradition of crafting intrepid outdoor boots for people who work hard, play hard and, through it all, brave the elements. Now, with the integration of new cutting-edge technology into the mix, consumers won't just brave the elements, but may even welcome cold, wet days, according to Yahn Lebo, product line director.
That includes the incorporation of PrimaLoft Aerogel insulation in the Glacier Xtreme and Crossbuck Xtreme hikers. Aerogel technology offers heightened levels of warmth and breathability by using millions of air pockets to form a thermal blockade that provides comfort in both extreme cold and heat. "PrimaLoft Aerogel is almost weightless and is the best insulator on the market right now because it is non-compressible," Lebo says, noting that traditional insulations, when compressed, minimize the warming capabilities, particularly around the toes. "Even in the face of pressure from active use, the Aerogel insulation maintains 96 percent of its original thermal performance over time." Lebo adds that both styles boast 360-degree insulation around the entire foot, as well as under the footbed for extra cold protection.
Built for extreme weather conditions, the Glacier Xtreme is a tall hiker available in waterproof premium full-grain black or brown leather with pops of suede and an encased heel counter and toe. Its Vibram Arctic Grip Pro outsole is resistant to the slickest conditions, including oil, water and chemicals. The Crossbuck Xtreme, which is replete with a Vibram Arctic Grip outsole and a moisture wicking mesh lining, is available in a black and brown premium waterproof full-grain leather combo. "We wanted to continue the Arctic Grip story, because we've received positive consumer feedback," Lebo says, adding that being light weight is essential, not only for hardcore hikers, hunters and adventurers, but for urban dwellers who want iconic outdoor styles that can be worn throughout the day. "The Glacier and Crossbuck Xtreme (suggested retail is $220 and $210 respectively, and backed by Wolverine's 30-day comfort guarantee) are both great boots because they can fit the needs of many people. Serious outdoor enthusiasts will be able to capitalize on all the benefits of the technologies in the boots like warmth and traction, while city dwellers have a boot with rugged styling and performance features. Simply put, these are the warmest work and hunting boots for their weight."