One of a Kind - Joe Salzano
One of a Kind - Joe Salzano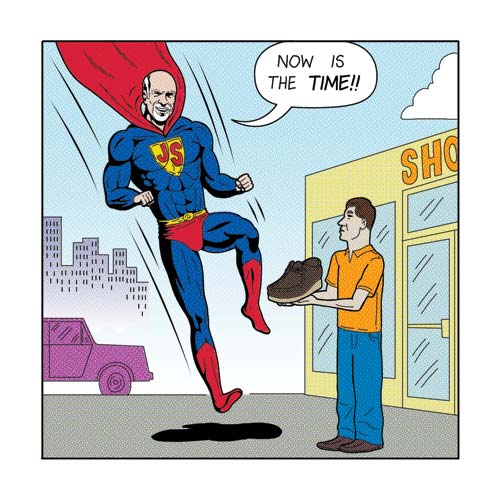 One of a Kind - Joe Salzano
One of a Kind - Joe Salzano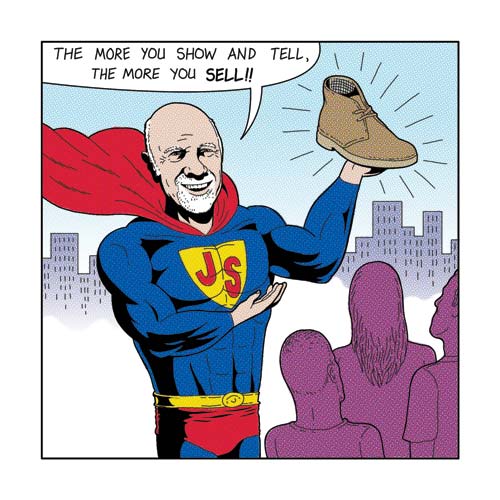 One of a Kind - Joe Salzano
One of a Kind - Joe Salzano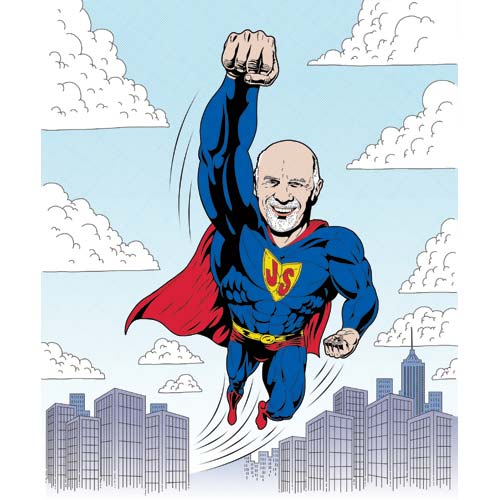 If you haven't by now actually heard Joe Salzano speak, it's a good bet you have heard of his passionate message about the art of shoe retailing. A career that now spans more than five decades, the vice president of sales for The Clarks Companies, N.A. continues to crisscross the country delivering his inspirational wisdom and leaving an indelible imprint on the footwear industry.
By Greg Dutter | Illustrations by Ben Marra
Ask most anyone who knows Joe Salzano personally—or even those who sat through just one of his retailing seminars—"What's the word that best describes Joe?" It's almost guaranteed that "passionate" will rank as the most popular adjective regarding the man who exhibits more energy than the Energizer Bunny and more hustle than the legendary "Charlie Hustle" himself, Pete Rose. Salzano doesn't just lecture on ways to improve your store's comp sales or motivate your sales team; he gives you the religion on how to achieve those goals and why such devotion to that mission—to be the best shoe retailer one can be—will reap rewards far greater than a healthy sales jump.
Salzano's teachings are as much about the finer points of shoe retailing as they are about valuable lessons in life. Sure, all the critical how-to and blocking and tackling strategies delivered in his seminars and frequent in-store visits are there for the taking, but Salzano also offers intangibles that are equally valuable. He gives listeners the heartfelt message that a life lived with purpose, passion and gratitude can garner rewards beyond providing for materialistic wants and needs. Salzano wants every retailer to become better, and that's for the benefit of their business, their personal lives and the company he has loyally worked for over the past 19 years (and the company his son, Jim, now runs in the U.S.).
You'll often hear people say that Salzano is a real throwback. That they don't make them like that anymore. That he's the Vince Lombardi of shoe retailing. That he never sleeps. That he's a mentor, a coach, a catcher, a competitor, a motivational speaker, a gifted musician, a good husband, an incredible father, a doting grandfather and great-grandfather (four times over!), and, lest anyone forget, a diehard New York Yankees fan. Regarding the latter attribute, Salzano is a fan passionate—or crazy—enough to sit in Boston's Fenway Park wearing full Yankees regalia and root for his team. Yet he survives because, as Bob Infantino, Salzano's former boss at Rockport and Clarks, describes, "They can see his enthusiasm is genuine and he's not offensive. He's contagious," adding, "There's not another one like him anywhere."
Infantino, now the president of Drydock Footwear, describes Salzano's approach to life as 24/7 enthusiasm. "He's passionate about the business, but Joe's passion is in the way he wakes up every morning," he offers. "If it's the Yankees, music or the shoe business, he only knows one way to look at things, and that's with full-on excitement."
Jim Salzano, president of The Clarks Companies, N.A., agrees: "My dad is a very passionate person and is extremely committed to people he is working with," he says. "He gets involved with our customers and he loves to see their business grow." Salzano notes, however, that his father's enthusiasm isn't always met with equal gusto or understanding. As his son describes, "He's one of the only people I know who can meet someone who has been running a business for 20 years and immediately start telling that person how to run their business." As you can imagine—and many reading this article may well confess to having done so themselves—Salzano has been told to take a hike on occasion. But the truth is that while his criticisms might initially sting, they're usually spot-on. What also eventually comes across is Salzano's genuine commitment to helping improve the business and not just criticizing it. Being a critic is easy, but being a devoted teacher to the level of commitment that actually brings about change for the better is what makes Salzano special. "Pretty soon, people realize that my dad is very sincere and relentless in wanting to help out," Salzano says. "He just wants so badly for the people that we do business with to really do well."
Salzano's drive to be the best carries into his lifelong coaching of baseball that span many championship Little League teams to his 55-and-older men's softball team that has won numerous tournaments nationwide. "Winning is everything to him," his son confirms. "He's just passionate about all aspects of his life."
By the Numbers
Joe Salzano is a numbers guy. Like a machine gun, he'll fire off exact dates of memorable events from long ago, sales figures, projected growth estimates, lists, line-ups, win-loss records, SKUs, size runs, current batting averages, pitching ERAs and anything else that can be quantified. Infantino says it's all a part of his keen musician mind: Salzano can keep the beat and do the math like nobody's business.
Here's a brief sampling: 1955 (the year Salzano joined the U.S. Army); July 28th, 1958 (the date he left the Army); 20 (the age he had his second son); $1.50 (the hourly wage at his first retail job working at Kinney Shoes in his hometown of Rochester, NY); 1962 (the year he was named manager of his first store, part of the Altier Shoes chain); $300,000 (the store's annual sales within two years' time of his management and up from $90,000 upon his arrival); 30 (his age when his first wife passed away, forcing him to raise five boys on his own); 3 (the number of characteristics he looks for in a new hire, with enthusiasm being one of them); 2 (his morning rituals that involve reading the newspaper's obituary page to make sure his name isn't there and looking at the American League East standings to confirm that the Yankees are in first place). Two more statistics: 5 a.m. (the time he awakens each morning to hit the gym at least four days a week; on the other three, he goes for a walk, weather permitting) and 1 (the number of days he has called in sick in 54 years of working). Not bad for a guy who will turn 75 on July 6th.
The near-total recall and what these numbers represent are impressive. Specifically, his age when his wife passed away from cancer stands out. A lot of people might have crumbled under the enormous responsibility that Salzano faced: raising five sons, ranging in age from 2 to 13 at the time, on a retail manager's salary. What made him persevere? "I wasn't going to let them down," he says, noting the date of his wife's passing was Sept. 19th, 1971. "That day, I put each of my sons on my lap and told them, 'We are going to work together as a team and we are going to make it.'" And make it they did.
Of course, it wasn't easy and involved juggling acts that, in some instances, forced the boys into adult roles (Jim prepared dinners for the family most nights) and, in a strange twist of fate, resulted in Infantino becoming a part-time babysitter. Salzano hired Infantino as part of a college credit program at Altier, and the young Infantino also stepped in to watch the children when needed. "I trained and brought Bob onto the selling floor," Salzano says. "I got to know him very well and we became close." Salzano adds, "Who would have thought back then that I would have two future presidents of Clarks in my midst?"
Infantino and others weren't always able to fill in during a parenting pinch. On one such occasion, Salzano had to visit a store in Syracuse, NY, with two sons in tow. He plied both boys with popcorn, coloring books and blankets, left them with implicit instructions to stay in the locked car, and told them he would be back within the hour. "Well, I'm selling a pair of shoes to a woman and I look up to see my two sons walk in holding their blankets and saying they've got to pee," Salzano recalls. "I said to the lady, 'Are these your children?'"—the point being sometimes you have to laugh and do what you can in order to survive. "Life is not about straight. It's about peaks and valleys, bumps in the road and walls you run into," he says. "It's what you do to rise above those obstacles that matters most."
The Early Years
Salzano had no intention of ever entering the shoe business. Instead, he dreamed of becoming a professional musician. He's an accomplished saxophone and clarinet player. He even joined the Army in large part based on a recruiter's promise that he would remain stateside and play with some of the Army's best musicians stationed in New Jersey. But before he could whistle Dixie, Salzano was shipped off to Georgia for infantry training, and deployment to Korea awaited. Luckily, during a training layover at North Carolina's Fort Bragg, Salzano took a last-shot audition with its jazz band and delivered the goods. Instead of becoming potential cannon fodder on the Korean peninsula, Salzano sat in with the band over the next few years, playing for a general's retirement party and other military functions.
Upon being discharged, Salzano had dreams of pursuing his music career and looked into attending Boston's acclaimed Berklee College of Music while playing gigs at night. But parenthood got in the way. With one son to care for and another on the way, Salzano answered a Kinney Shoe store help-wanted ad. "I went down to interview at 11 a.m. and by 11:10, they hired me. At 11:15, they promoted me to assistant manager," Salzano says with a laugh. He was thrown right into the fire, since there was no one else to learn from or hide behind. "I pretty much worked the floor alone," he says. "I learned how to manage stock, trim windows, sell to customers, etc. And I grew to love it—fulfilling customers' needs became a great thrill for me." Salzano worked at Kinney for three months—six days a week from 8 a.m. to 10 p.m. Then a career-changing break came when Richard Altier, president of Altier Shoes, a respected four-store chain, hired Salzano, for which he is grateful to this day. "The Altier brothers (Ted was the chairman) looked at me in a different light than anybody else had up to that point in my life," he says. "They saw something special, which I never thought I had because I was a flunky in high school and only wanted to play my horn."
Exactly what the brothers saw, Salzano believes, was his being ready and willing to always go beyond expectations. It became a case of "don't bother asking Salzano the question because he already knows the answer." The Altiers sent him to night school for accounting and communications—both courses that would pay future dividends in Salzano's career. "I worked my butt off and I always did more than I was asked to do," he says, noting his first day at Altier Shoes was Oct. 3rd, 1958. He started in the stockroom, where he would spend the next six weeks, until one Saturday when they needed someone on the sales floor.
"I sold my first pair of shoes and it felt like I'd just hit a grand slam," he says, adding that Altier Shoes was a great learning experience. "I worked with a lot of older people at the time—people in their late 30s and early 40s, which was old to me at 21." Salzano quickly became the highest seller in the store and was soon bumped up to assistant manager. Then, in 1962, he was named manager of his first store. "I took pride in ownership," he says. Sales soon skyrocketed, and the Altiers moved Salzano to a bigger store and then, soon after, asked him to manage the biggest store in the chain. Salzano, a bit overwhelmed, declined the offer and instead took the job of sales supervisor of the chain's eight stores, which quickly grew to 16 stores. He was later promoted to vice president of sales, which is basically what Salzano claims to be doing now from a wholesale perspective. "I've been a career manager for 50 years," he says, noting that he still plays a few music gigs a year.
In fact, Salzano's musical talents are the main reason he often hired fellow musicians to work the sales floor at Altier Shoes. He deemed them great entertainers with magnetic personalities that drove people into the stores. "They were half crazy, but good crazy," he says. Salzano adds that he learned quickly how to grow sales and, as supervisor, his job involved recruiting, hiring, training and firing shoe salesmen—putting the best team on the sales floor as possible, as he puts it. "I loved all of it—working the floor on Saturdays, opening new stores and closing down old ones," he says. "I learned how to sell children's, women's, men's shoes and even clothing. They even let me run the warehouse for three months because they couldn't find anybody to do it at the time." Salzano says the Altier brothers were true mentors, noting the chain received industry awards nearly every year and was considered one of the most highly esteemed shoe retailers in the country. "I learned it from the best," he says.
What About Bob?
While Salzano introduced Bob Infantino to the shoe business during the Altier phase of his career, he's quick to credit his former hire with advancing his footwear career beyond his wildest dreams. As the story goes, Infantino left the Rochester area, after running his own shoe retail business, to eventually run marketing at The Rockport Company. Years went by and Infantino had lost touch with Salzano, but he decided to give him a call because he was opening the first-ever Rockport store and wanted his friend to lead a seminar on how to run a store for his new employees. Fortunately, Salzano was just at the end of a gig (he had been teaching retail courses part time at a local business college). "He was phenomenal. Basically, it's the retail seminar that he's been doing ever since," Infantino says. Soon after, Salzano came in a few days a week at Rockport. "I had to make him a VP of something because I couldn't let him get away," Infantino says. "I also told him he had to get out of his comfort zone and give it a try."
When Infantino moved on to head up Clarks, it wasn't long until Salzano followed his friend. It was 1993. Infantino pegged Salzano as the ideal candidate to run the company's independent sales force. While it was Salzano's initial foray into wholesale sales, he took to it splendidly. "Joe has a real genius mind for numbers and tremendous organization," Infantino offers. "And he's constantly on the phone talking to all of his salespeople." Specifically, Infantino says he earned the loyalty of his employees. "The people that work for him become fans," Infantino says. "They know that he will work harder than any other salesperson and that he walks the walk. So his salespeople never want to disappoint him. It becomes a family affair." Beyond that, it makes smart financial sense to follow Salzano's lead. "They can wind up with a great career if they listen to him," Infantino confirms.
Gary Champion, Salzano's immediate superior at Clarks for 15 years, describes his ability to win people over with a unique combination of traits as a key to his success. "It's his compassion, tenacity, honesty and work ethic," says Champion, now the president of Earth Brands. "His goal is to make you better at what you do. Whether you are a friend, a peer, a customer, a consumer or an employee, his goal is to inspire you to grow and succeed." Champion adds that what makes Salzano well suited for management is his decision to put people first. "This is a people business where you must maintain integrity and consistency," he says. "Joe has been exceptional in doing so over his long career."
While Salzano admits he thought his shift into wholesale would never happen, he's thankful for the opportunity both Infantino and Champion provided. "Luckily, I found something that I could do well and it was something that I loved," he says. "I owe a ton to them both for making me better at what I do. And as long as I'm able to educate, inspire and motivate, then that's what I want to do."
Salzano continues to do just that: travelling the country conducting numerous seminars and in-store training sessions that almost always pay immediate dividends. Store sales spike—for Clarks, as well as for brands storewide. "I love getting in front of an audience, particularly young people, and helping them," he says. "It's about creating a positive environment in order to unlock the potential of people. When morale is up, productivity goes up. When you have happy salespeople, you have happy customers," he says. And, he advises, personnel must never be overlooked in the business equation. "So often, companies turn to other avenues of the business, not realizing that people make the difference," Salzano says. "Give employees a challenging job, a chance to participate and the potential for upward mobility and it will pay huge dividends." Namely, creating employees who are willing to go beyond expectations, which brings customers—and their friends—back into the store.
Life of a Salesman
Salzano is the consummate salesman who lives and dies by the creed that the customer comes first—no matter what. "If you had to take one thing away from Joe's retailing gospel, it's that if you get that chance to be in front of a consumer, then you have got to make the best of it," Infantino offers. "Nothing ever gets by him in that regard."
Salzano has no plans to stop spreading his message. Approaching the age of 75, he admits to possibly cutting back in the coming years, but never to letting his mind become fallow. "I'd like to write a book maybe or go back to teaching," he says. "But I will never 'retire,' whether it comes to educating retailers, coaching Little Leaguers or playing my horn. I'm so energized by doing things that I love." Salzano adds, "I enjoy coming to work each day and coming home. I have a lovely wife, I take care of grandkids, I still play gigs—I love doing it all."
In the meantime, Salzano continues to expand upon what is already a lasting legacy in the footwear industry. "His legacy is going to be the impact he has had on all of these individuals," his son says. "You can line up hundreds of people who would say, 'Joe gave me a chance. Joe motivated me to do this.'" They include former Little Leaguers who are now running companies, as well as those who started out in Clarks' credit department and have become the company's top salespeople. "My dad is the person that, when somebody is telling their story of how they got to where they are in business, they will say, 'There was this crazy guy, Joe Salzano, who just pushed the buttons in me to do what I could do, as opposed to just getting along.'"
Infantino heartily agrees that Salzano has had a halo effect on many lives. "He's really helped a lot of young kids working in retail become store managers, as well as helped reps become regional managers and up," he says. "It's a countless number of young people that he has taken under his wing and made a difference in their lives." He adds, "Now many are running stores and, more importantly, raising families."
The legendary Ted Williams wanted his legacy to include passersby saying, "There goes the greatest hitter that ever lived." When asked what he wants his career legacy to be, Salzano says, "I want people to say, 'He inspired, influenced and mentored me. He taught me something that I didn't know the day before I met him. He took the time, patience and concern to help me be the best that I could be.'"
It's a mission that Salzano continues to accomplish day in and day out.