Keds for Opening Ceremony
"Any brand that partners with Opening Ceremony essentially gets a new lease on life—exposure to early adopters and lots of buzz on blogs that get excited about fashion." –edina silver, co-owner, bpmw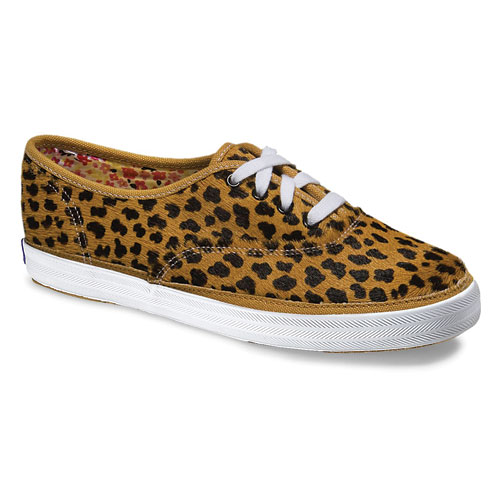 Olympic Achievement
Opening Ceremony Est. 2002

When it comes to fashion—and fashion retail—there's something to be said for skirting regulations. This is what makes Opening Ceremony, a fashion boutique with stores in New York, Los Angeles and Tokyo, such an of-the-moment retailer, declares Oona McSweeney, vice president of retail and special markets for the Stylesight trend forecasting agency. She describes the store's approach as "fearless": "We've all heard about the 'rules' in retail regarding price points, brands, visual merchandising… but I think they need to be rethought. Rules are meant to be broken." And this, she attests, is just what Opening Ceremony's founders, Humberto Leon and Carol Lim, have successfully done.
Fashion editors, trendsetters and retail followers have honed in on the duo's exciting approach since they opened their first store in 2002, and today Opening Ceremony frequently pops up in the credits of major magazine's fashion editorials and stories pinpointing celebs' favorite shops. Experts cite its uniquely curated product mix, hard-to-find labels, exclusive collaborations and a treasure hunt–like shopping experience as reasons for its fast rise to retail renown. As Edina Silver, co-owner of the New York-based fashion consultancy BPMW (producer of the Compass trade show) asserts, "Opening Ceremony has [done] in a relatively short time what many boutiques aspire to: to achieve cult status."
It is something of a cult when urban fashionistas will wait in a two-hour line for access to a sale, as Silver says was the case recently at the original store on Manhattan's Lower East Side. Leon and Lim, it seems, have shoppers willingly drinking the Kool-Aid. The pair, who met while attending the University of California, dreamed up their concept after a trip to Hong Kong, envisioning it as retail's answer to the Olympics—a place where customers could find the best brands from all over the world. But the result is not a global hodgepodge; rather they offer a carefully curated mix of cutting-edge fashions and emerging designers. According to McSweeney, that mix includes everything from avant-garde designers to emerging labels and a great offering of exclusive products. "As a retailer, they're very curious, and they always have their explorer hat on," she explains. In addition to sourcing brands and fashions from around the world, she notes Leon and Lim also study the activity of shopping in different countries and cultures, bringing over the best ideas and building their experience around it. Opening Ceremony is known for selecting one country per year to highlight (check out its current Parisian theme online at Openingceremony.us), and consumers have responded well to its, ahem, "foreign" methods. "It's the edit that sets them apart," Silver agrees.
The hugely positive response has let the retailer expand to new markets. Its West Coast locale was founded in 2003, followed by the Japan store in '09 and an outpost in New York's trendy Ace Hotel earlier this year. Along the way, Opening Ceremony sprouted a much sought-after house label, and the company now has a New York showroom where it highlights the wholesale collection as well as like-minded brands. Shoppers beyond these three markets can also shop the merch via an online store, and rumor has it the owners are sniffing around for their next retail extension.
So just how has Opening Ceremony landed on the top of the retail podium? A spin around the New York stores hints at the rule book Opening Ceremony is rewriting. On the Lower East Side, visitors will find a multi-level, loft-like space filled with product anchored by one key characteristic: the cool factor. From apparel and footwear to music and literature, the boutique offers high style and items that are tough to find elsewhere. Hanging garments line the walls, while footwear is sprinkled across tabletops and shelves. Jewelry is housed in antique cases that would be right at home in a museum. "The visual merchandising is fantastic; it's fun, fresh and unexpected," McSweeney notes. "It's so [surprising] to walk into a high-end retail establishment that's covered in, say, giraffe-
pattern carpeting and has cases with ostrich legs. It's a little unnerving, which I think is a good thing." Shopping nowadays can be a very "Groundhog Day" experience in which all shops start to look alike, she adds: "Any store that's different—that's visually stunning or maybe is playing oddball music—anything out of the norm is important. And Opening Ceremony certainly knows how to do that."
That skill is perhaps even more evident at the Ace Hotel store, where designer apparel brands like Comme des Garçons and Jean Paul Gaultier sit amid hipster labels like Band of Outsiders; Happy Socks are interspersed among footwear by Camilla Skovgaard and Alexander Wang; and the whole lot is broken up by high-end jewelry and funky novelties, such as Poloroid cameras, art and design magazines, Kiehl's skincare products and the complete set of Criterion Collection DVDs. Recent shoe candy has included choice styles from the designers listed above, plus a somewhat surprising assortment from Repetto, F-Troupe, Bass, Sperry Top-Sider, Red Wing, Timberland, Keds, PRO-Keds, Dr. Martens and more. Many of these have been exclusives created in collaboration between the retailer and the brands—yet another reason Opening Ceremony has consumers coming back time and again. "The footwear assortment is amazing," McSweeney attests, noting the retailer has a solid track record for working with heritage brands on capsule collections that put a slightly "left-of-center" twist on their well-known designs.
According to Tom Slosberg, vice president of premium and pinnacle sales for Keds and PRO-Keds, collaborating with Opening Ceremony was a fabulous way to give his brands fresh appeal. "A big part of our strategy has been to take the iconic Keds Champion and build premiumness and relevance around that American classic," he says. "Who better to do that than Opening Ceremony?" To date, the company has done three women's collaborations with the store and two for men's. Slosberg, who worked most closely with Leon, says the store owner's simply selects product he personally loves. "If he doesn't love it, it's not in his store," he reports, adding that because Leon enjoys reworking traditional styles for modern tastes, Keds is considering giving him full access to its archives for future renditions.
Timberland has also done several projects with Opening Ceremony; a new version of the TBL 30 water shoe, which the brand put out in the '90s, hit the stores last month. Ken Beaulieu, global category director for Timberland's classics, says the opportunity has given the boot brand a lift. "They give us exposure to consumers who may not shop in our typical channels of distribution," he explains. "They've created a very unique shopping experience and it's exciting to be part of that. It is helping us reinvent segments of our brand." And a further bonus for both retailer and vendor? "Opening Ceremony's customer is willing to pay for that special product—two or even three times what the classic product costs," McSweeney reports.
"Any brand that partners with Opening Ceremony essentially gets a new lease on life—exposure to a new, early-adopter segment of the market and lots of buzz on the blogs and Twitter feeds that get excited about fashion," Silver adds. "That new burnished image can… reinvigorate a heritage brand." Slosberg saw that effect with Keds and PRO-Keds. In fact, he says the co-branded line put the brand inside high-profile stores worldwide—like Colette in Paris—since Opening Ceremony sells its footwear line to outside retailers.
Beyond the co-branded product, the retailer's own shoe label is as edgy as its other fashion offerings might suggest, but it still covers all the style bases. For Fall '10, the footwear landed right on trend with chunky pumps, clog-style boots, oxfords and desert boot silhouettes retailing for approximately $280 to $630—roughly centered between the prices on high-end heels from Alexander Wang and lower-priced Gurkees rope sandals or F-Troupe kicks. Which exemplifies yet another reason McSweeney says the retailer is thriving: a great mix of price points. "At Opening Ceremony, you can buy a $48 T-shirt or a $1,000 dress—and the same girl would wear both," she says.
Becoming a must-shop spot for trendsetters may also have something to do with guest-designed lines from quirky stylistas like actor Chloë Sevigny, who has been known to step out on a fashion limb or two. And it's that willingness to experiment and reinvent that style insiders say should keep Opening Ceremony at the top of the boutique game going forward. "You never know what you're going to find when you walk in, but you always know you'll find something that makes you say, 'Wow, look at this!'" Beaulieu says, lauding Leon and Lim for not being afraid to be different.
McSweeney expects the store's popularity will continue thanks to the owners' endless curiosity and willingness to forego traditional premises about retail. Other retailers can learn from its example, she says: "Opening Ceremony strikes me as the kind of company that, if they see they're becoming repetitive or falling into a pattern, they'll shake it up. I don't think they'll become formulaic, because their philosophy is so not. They don't stand for one particular thing, but rather what's right for the customer at the moment." —Leslie Shiers