Mezzanine #9
Browns goes to the nines in design, décor and merchandise selection.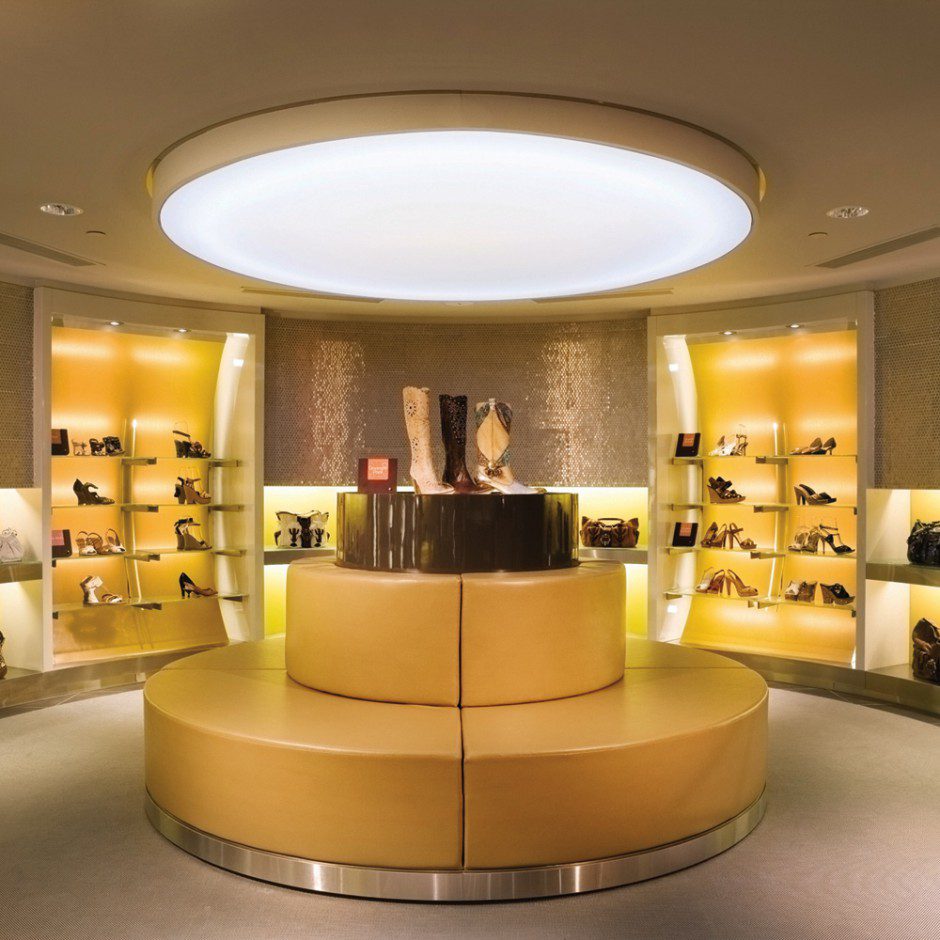 A complimentary espresso. A phone call when a shipment from your favorite shoe brand arrives in store. A free shoeshine. These might sound like perks for customers shopping only at the highest-end retailers, but it's happening at Browns Shoe Shops of Canada—a chain of 50-plus stores that offers fashion footwear for the entire family. That's not to say the Montreal-based retailer doesn't sell shoes fit for a ritzy cocktail party; it dabbles in brands like Manolo Blahnik and Casadei. But on the flipside, Browns also sells everyday, moderately-priced brands such as Keds and Steve Madden. Senior ladies' fashion buyer Julia Brownstein says this all-encompassing approach is something most retailers—whether in Canada, the United States or elsewhere—haven't tried. "There's no other place in the world where you can find such a wide range of product," she asserts. "That's what's made us so successful."
Not only is the store's breadth of product massive, so is its customer base. Brownstein notes that Browns carries a little something for everybody. "A grandmother can shop at Browns as well as her grandkids," she notes. Women's shoes make up the majority of the business, but the store also carries men's and children's footwear as well as handbags and other accessories. Brownstein declares the retailer's top brands are Michael Kors, Sorel, Stuart Weitzman and Ugg Australia (Browns bills itself as the largest Ugg dealer in Canada). The chain is also big on fashion athletic brands such as Converse, Keds, Nike and Adidas as well as designer brands including Tods, Gucci and Marc Jacobs. "It's a one-stop shop for shoes," Brownstein explains, noting Browns' prices range from $30 to several hundred. "We don't want someone to come in our store for something and go to another store for something else," she adds. Walking into a Browns store—or browsing online at Brownsshoes.com—shoppers will also find brands as widespread as Chie Mihara, Cesare Paciotti, Blondo, Chooka, Miss Sixty, Betsey Johnson, Aquatalia, Clarks, Hugo Boss, Geox, Ed Hardy, Miz Mooz, Naughty Monkey, Magnanni, Hush Puppies, Frye and more.
While Browns' name-brand business continues to prove successful, so does private label, which Brownstein says comprises approximately 50 percent of sales. That's a number the company looks to grow. "It's a key way to differentiate ourselves," she notes. The retailer's seven or so private-label brands span the comfort to all-weather to fashion categories. Alessandro Borrelli, buying director for the women's department, notes that private label used to comprise 75 percent of sales. "We'd like to get [back] there," he says. However, Brownstein admits, "People are more brand-conscious than ever before. It's a challenge."
The original concept for Browns, which has earned high marks among Canadian consumers for its customer service and selection, wasn't for it to become solely a footwear store. Brownstein explains that in 1940, her great-grandfather, Benjamin Brownstein, opened up shop as a general store in Montreal's shopping district on St. Catherine Street. In 1954, a fire gutted the business and Benjamin's son Morton Brownstein took over giving the company a new direction by focusing on fashion footwear. "There weren't so many [shoe] retailers in Canada at the time," Brownstein notes, adding that her grandfather built up the company from one location to almost 50. Today, Morton Brownstein is still involved in the business but works more on its charitable side, while his son, Michael Brownstein, serves as the current president.
As the company evolved, Michael launched a division of stores called B2, which carry much of the same product at Browns but entices "a little more street, fashion-savvy" consumer due to its modern metal décor. To date, the company operates 48 stores: 33 Browns stores, seven B2 shops and eight shop-in-shops located inside The Bay, the department store division of Canadian-based Hudson's Bay Co. The company plans to open three more stores by April. For now, the company's locations are all within Canada—stretching from British Columbia to Quebec—but it won't count out expansion beyond its home country. "We never know what the future holds," Brownstein says. "We plan to keep growing."
The stores range in size from 2,500 to 4,500 square feet and are merchandised according to gender and style—except for the high-end shoes, which have their own section and are categorized by label. Each Browns location has a different setup and interior design, but overall, they share a modern aesthetic, complete with handpicked upholstery and chandeliers. "We really pride ourselves on our décor," Brownstein says. "We hire an amazing architect and interior decorator." B2 follows the same philosophy, just with an edgier appearance.
Because women's is the largest category, the ladies' buyers are split into two teams. One group, which Brownstein heads, handles the trendier items. Although she certainly analyzes product history ("If we sell something very well the season before, there's a very good chance that we'll be able to sell it again," she notes), Brownstein says keeping tabs on what celebrities are wearing is crucial on her end. The second group, run by Borrelli, is to make the bread-and-butter styles modern each season and to offer iterations of Brownstein's trendier product in a way that makes sense for "la madame tout le monde."
While the teams may have slightly different missions, the overall goal remains the same: Choose product that is eye-catching, No. 1, because that's what gets people in the door. After that, Borrelli says price, comfort, fit, and quality all play equal roles. "We want to excite [consumers] with the windows and displays," he explains. His and Brownstein's team meet at least twice per week to make sure they're on the same page. Men's, children's and accessories each have a separate buying team.
Once in the door, customer service is king. Browns is keen on providing top-notch attention and recently launched a test program at select stores in which staff are going above-and-beyond by offering freshly brewed coffee, shoe cleaning and more to anyone who walks through the door. A customer relationship management team in the corporate office follows up with the chosen stores to gauge shoppers' feedback. But Browns locations not a part of the test program still go the extra mile on a daily basis: Staff will call customers when new merchandise arrives in their size, send them cards thanking them for their purchase and give them a heads up before a sale. For example, if a woman can't live without her Stuart Weitzmans, a salesman might put aside five new styles of flats and suggest she come check them out. "They feel so special that it often leads to a really big sale," Brownstein says.
Browns not only keeps the customer in mind, however; it also its plays an important role where philanthropy is concerned. The company donates 10 percent of its pre-tax profits to charities, spanning from the Jewish General Hospital to the Montreal Association for the Blind. In 2004, Morton Brownstein was recognized for his fundraising efforts when he was appointed to the Order of Canada, a merit honor that recognizes people who have made the world better by their actions. In addition, the company sponsors an annual $3,000 scholarship for students in Montreal fashion schools.
Employees recognize the store's affection for its customers, Brownstein says, noting that a large chunk of the staff has worked for the company 30-plus years. "A lot of staff invite their families to come work with us as well," Brownstein says, noting her grandfather, Morton, considers that one of the ultimate compliments. "We're obviously doing something right," Brownstein laughs. Overall, an estimated 600 full-timers and 400 part-timers are employed at Browns. To ensure all are well-versed on the brands Browns carries, the company schedules a "shoe fair" one night each season, where representatives from eight to 10 of the company's most important vendors meet with employees to discuss their products' key features. Borrelli says everyone leaves the fair with a load of information, giving them an advantage over the competition. He's one of those employees who has worked at Browns for 30 years and notes he has no plans to leave: "I wouldn't change my job for anything," he affirms. —Melissa Knific