Footloose & Fancy
The suburban location, built by hand by Matt Stricker, won a 'Best New Store' award from WSA.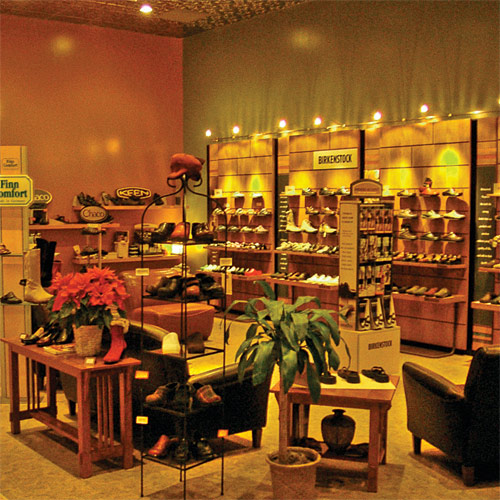 Footloose & Fancy
Footloose & Fancy's original downtown location opened in 1975.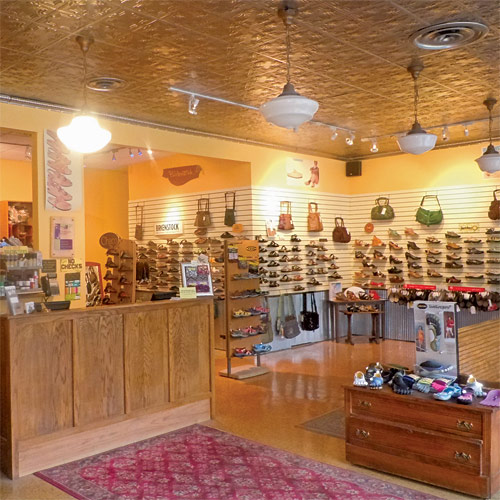 Footloose & Fancy
The Footloose & Fancy family: Matt and Jane Stricker with retailers-in-training Maizie and Cruz.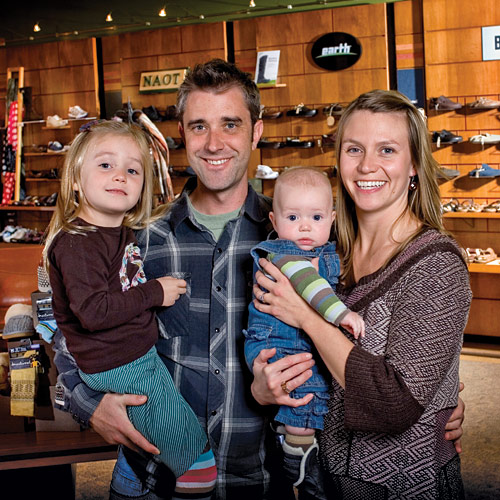 In a way, it's fitting that a 12-foot-long train station bench greets visitors to Matt and Jane Stricker's traditional sit-and-fit, Footloose & Fancy. The boutique often serves as a central hub for both fleeting visitors and fifth- generation Huskers in its prime downtown location, steps away from the University of Nebraska. A Lincoln institution in its own right—the shop has been meeting the comfort footwear needs of its customers for more than three decades—Footloose & Fancy has stood the test of time, much like its weathered bench, even as competitors have cropped up across the city in the past five years. And for co-owner Jane Stricker, the shop has served as the launching post for her 15-year-long journey in the footwear industry— something she never would have imagined when she was hired on the spot at age 18 by the shop's former owners, Jim and Marla McCabe.
"Out of high school, I just needed a summer job, and a friend of my mom's said they were hiring," Stricker remembers. A shoe horse, she liked the idea: "I've always loved shoes, and it started from when I was tiny and would wear my grandma's high heels everywhere." Stricker worked at the store all through college, and during her senior year in 2001, she knew the McCabes were getting ready to retire and sell the store. "I was like, 'How could somebody who didn't work here run it?' Encouraged by her husband Matt, Stricker told Marla she was interested in buying the store. Long story short, she and her husband became owners of the venerable boutique in March of 2002, three months after she graduated from college.
The couple turned out to be a perfect pair when it came to selling shoes: "I love being on the sales floor; I love the interaction with people and finding out their problems and figuring out how we can help them," Stricker explains, adding that, "Matt's totally the numbers guy." While both Strickers handle buying at the Outdoor Retailer and WSA shows, she credits her husband with ensuring all runs smoothly on the business end. "He works with an inventoryconsultant so we have enough boots and clogs, which are going to be hot this fall, in stock. Matt loves making sure the business runs as best as it can. So we're a good team."
Learning Curve
The transition from salesperson to store owner wasn't without its challenges. "It's strange how much times have changed since we bought it from them," Stricker muses. "Marla was old-school; she did everything by hand, from writing orders to payroll and entering bills." Bringing the store up-to-date meant more than just entering the electronic age. As a slew of new heavyweight competitors popped up online and in town—including Brown's Shoe, Von Maur and Scheels—the Strickers knew they had to "be on" at all times. "One of the biggest struggles when you run a retail store is competition," Stricker says. "I think a lot of big box places are coming into small towns, but you can't really compete against them. With Dillard's, they don't pay for product until they sell it. We don't get those benefits," she notes, adding with an edge of determination, "but competition can only make you better."
The first step in outpacing their rivals was to reposition the boutique, which had changed very little since it inception in 1975 as the third U.S. Birkenstock retailer. Still known around town as "the Birkenstock store," the Strickers made sure to continue to carry the shop's bread and butter brands like Dansko, Finn Comfort, and, of course, Birkenstock, while bringing youthful, innovative names to the mix as well. They also added an array of accessories, from scarves to handbags. "We really had to reinvent ourselves and start carrying more brands, being more of a lifestyle store—that no matter where you're going, we can fit you," Stricker explains. Part of that strategy was adding footwear brands that were hard to find anywhere else in town. Footloose & Fancy is one of only two Lincoln stores carrying Toms and Vibram FiveFingers—now one of its bestsellers, along with Ugg, Naot, Keen and Sperry Top-Sider. "We're aggressive," Stricker explains. "We go get brands that Lincoln needs. We go to the shows, and we show brands why they should be in our store."
The changes paid off, and the Strickers were able to open a suburban location in 2004, built by hand in theevenings by Matt—usually after putting in a long day at the downtown location. Even though the new shop boasted sleek lighting and leather chairs, the Strickers made sure it maintained the same welcoming Midwestern vibe of the downtown location—including matching tin ceilings. The hard work earned the couple an award for best new store from WSA. The Strickers also found that having two locations helped with inventory control, as well as establishing the new chain as a local staple. "People like that we're locally owned; Lincoln is still a small town in that sense," Stricker notes, adding, "We know our customers. If there's a problem, they're in our customer history and we can get them a replacement immediately."
That knowledge is another reason the store stands out from the crowd, and why the Strickers require all employees to go through a rigorous training program. "We do a lot of employee role playing in the store. For example, if the person has a certain foot ailment or is a difficult customer, we want our staff to feel very comfortable," she notes. This know-how is especially important in a college town, Stricker points out. "Everyone thinks that being so close to campus would be awesome because of the students, but it'sactually the faculty that are really good customers," she says. "Our customers are well educated; they have done their research."
Social Media Savvy
Even with the shop's loyal clientele, the Strickers still struggled like most retailers when the economy bottomed out in 2008. Instead of retreating into recession-induced frugality, they decided to become aggressive in recruiting and retaining customers. In addition to direct mailings sent out to 25,000 homes, the Strickers began advertising twice a week in the local paper and on a local radio sports channel, and they also began interacting with their customers through e-blasts, Facebook and Twitter. But the biggest boost in sales came when the couple took a gamble on Groupon, a daily deal site offering deep discounts in local markets. "I can't tell you how many new customers it's driven into our store," Stricker says. Footloose & Fancy even broke a Groupon record at the time, selling 752 coupons—the most in the deal site's history for a locally owned footwear store, anywhere.
Stricker says Groupon has also given her hope that the store can beef up its online arm, which she admits has taken a backseat to the brick and mortar. "When the big dogs got even bigger, we just subsided," she acknowledges. But now the couple is working with Groupon on a nationwide promotion, which would drive shoppers to the Footloose & Fancy website. "Groupon has given us some light that there is potential to compete against Shoes.com and Zappos," she explains.
Despite the innovative measures, the Strickers know its their old-school commitment to customer service—the hallmark of a successful sit-and-fit— that ultimately keeps their customers returning again and again, sometimes long after they've moved away. Stricker's favorite memory goes back to her sales days in the summer of '97, when "a woman brought in her 2-year-old daughter Mariah, who had full leg braces on both legs and had to use them to walk." After fitting the little girl into a pair of Birkenstock Rios that could be worn over her braces, "I asked if she could try them without the braces just to see how they really fit her foot—and she was able to walk without them,"Stricker says. "Her Mom was stunned, shocked and cried. Mariah's parents never thought that she was going to be able to walk without the braces. Now, Mariah is my longest running customer. They have since moved to Minnesota but call every spring to order a new pair."
Now that the Stricker family has grown to include a 4-year-old daughter, Maizie, and a 9-month-old son, Cruz, Stricker can't spend as much time on the sales floor as she used to, but that doesn't mean her commitment to the shop has declined a bit. "I don't know if it's the way I was raised, but I just want us to be the best shoe retailers that Matt and I can possibly be," she says.
The Strickers' rugged determination has paid dividends: "We beat our forecast for 2010, and we're forecasted to do even better for 2011," she notes, adding that they have their sights set on Omaha for their next Footloose & Fancy location. Despite the success, it's not the profits that make Stricker smile when she lists the favorite parts of her job. "I love the interaction with other people and making them happy, especially because if their feet hurt, then everything hurts," she says. "I also love the interaction with our staff. And I love seeing what's new and hot." Stricker adds, "It's just perfect for me. It's what I was meant to do." —Audrey Goodson