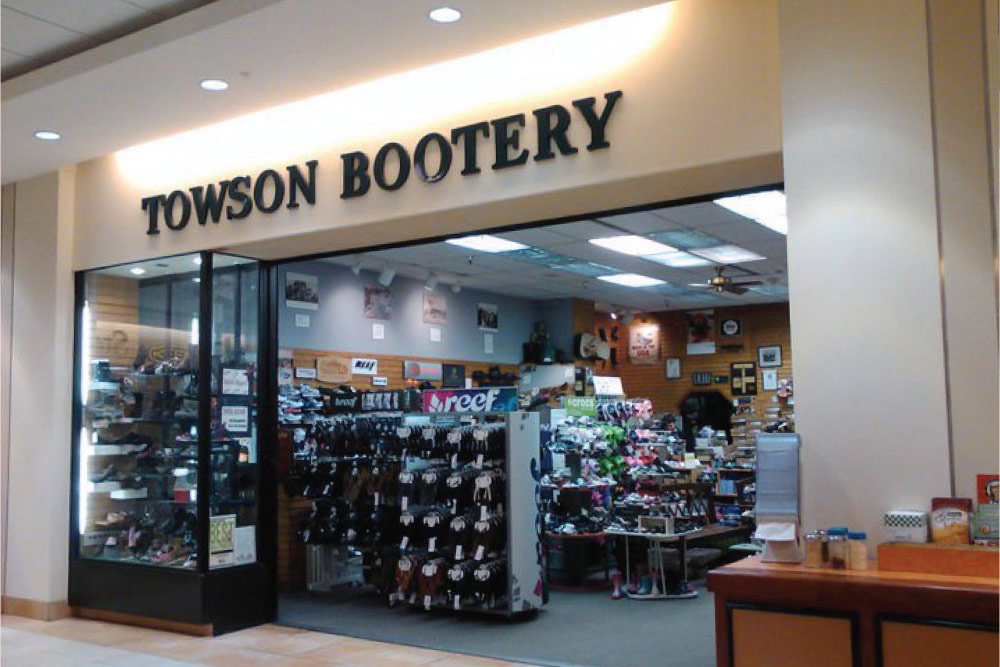 Peer in the  front window of Towson Bootery, and you'll see a genuine stuffed polar bear rearing up on its haunches amid the latest family footwear fashions. Unexpected and memorable, with an interesting history, the bear is a lot like the store itself.
At a time when independent retailers are almost an endangered species, this 68-year-old, family-owned stalwart in Baltimore County, Maryland's Shops at Kenilworth mall is still going strong. In fact, father-daughter team Alex and Stefanie Rudolph are in the midst of a major renovation that will contemporize decor and streamline layout in the 2,000-square-foot store. The bear stays, of course. As the Rudolphs know, some things are worth preserving. Among them: personalized service, fitting expertise and a bit of history.
"At first, mall management didn't want us to take our polar bear with us, but then they realized it's our signature," explains 34-year-old comanager and buyer Stefanie Rudolph of the bootery's temporary move to the second floor. The relocation is part of a mall-wide revamp that's underway at Kenilworth as the 30-store shopping center prepares to welcome a Trader Joe's later this year. "Everybody knows the polar bear. Kids look for it and parents remember it from when they were little. It's been with us since we were in our first location on York Road," Stefanie explains.
R. Richard Rudolph—father to Alex and grandfather to Stefanie—opened his York Road shop back in 1948, when the street was the bustling downtown center of Baltimore County. Even then, Towson Bootery was the little shop that could, opened on a shoestring and flourishing thanks to the dedication and diligence of the gregarious Rudolph family patriarch, who earned himself a reputation as the unofficial mayor of Towson.
"Back when my dad was running the business, people would come in and say, 'I can't pay you, Mr. Rudolph, but can you let me take the shoes and I'll send you a check?' He kept records of who owed what. It was a different way of doing business. My father was very personable. People gravitated to him," remembers 68-year-old Alex. In those days, young Alex would often board one of the streetcars that trundled along York Road to his dad's shop, where he'd spend Saturdays cleaning, polishing, running stock and repairing shoes. His biggest fear as a 12-year-old was waiting on customers.
By the 1970s, York Road was falling on hard times. Busses replaced streetcars and parking grew scarce as office complexes encroached. Then a mega mall opened with a Nordstrom and a slew of other footwear stores a mile away, recalls Alex, who began managing the business when his dad went into semi-retirement in 1980. Towson Bootery moved across the street in 1976 as the nation celebrated its bicentennial (the sight of a polar bear crossing York Road stopped traffic, the Rudolphs recall), but even this wasn't enough. By 1996, it was time to go. Alex chose The Shops at Kenilworth as his new site for its small scale and family-friendly vibe.
"The [mega] mall hurt everybody, and I saw our business slipping away slowly. I was the last merchant to move, and it was a very tough decision, very scary, because we liquidated the store," Alex says. "We took what we could from the old location, but it was like starting all over again."
Moving forward
Happily, the move paid off. Loyal customers sought the store out in its new location (perhaps recognizing the bear in the window) and usually found three generations of Rudolphs on hand to welcome them. "Pop-pop said he was retiring, but he didn't really," remembers Stefanie, who, like her dad, grew up in the family business, stamping checks, sweeping and doing odd jobs. "He would hang out in the mall with his friends. Everyone knew him. He was very giving, very generous," she adds of her grandfather, who was known for supporting local charities, donating food to the needy and giving shoes to those who couldn't afford them. Though he passed away in 2002, Richard Rudolph's legacy lived on.
Nowadays, second and third generations of families show up at Towson Bootery's Kenilworth location to continue the tradition of having their first shoes fit by a Rudolph family member. "About 60 percent of our business is in kids' shoes," Alex estimates. "Parents and grandparents bring in their babies and first walkers to get measured and fitted because they trust us and feel comfortable here. They know we've been in business all these years, we're honest and we know what we're doing. The children's sales drives our men's and women's business because adults end up buying, too, when they're in our store." Among the bestsellers in kids' are See Kai Run, Pediped, Stride Rite and Josmo. (Adult sales are strong in UGG, Cole Haan, Rockport, Bass, New Balance, Asics and Bogs.)
A bevvy of popular private schools in the area also brings Towson Bootery a healthy dose of kids' footwear sales to complete school uniforms, Alex adds. (Sperry Topsiders are a popular choice in this category, he says.) Ballet, jazz, character and other dance shoes round out the store's children's sales.
"Back when my father owned the store, he had what looked like a real miniature tree with branches cemented into a big pot. He drilled holes in the branches and stuck lollipops in them," Alex says. Today, they keep things simpler, with a container of lollipops and a gumball machine holding prizes to reward pint-sized shoppers.
While Towson Bootery was building a clientele in its new location, its once-formidable competitor—the mall—began to face struggles of its own. "Things changed," Alex says. "The area got a little rough around the edges and people were afraid to shop there. They put a curfew in at the shopping center. Nowadays, being located where we are feels more comfortable for shoppers, especially for moms with babies in strollers who don't want to deal with a parking garage. The Shops at Kenilworth have become more and more popular. I've survived all that."
Adding to the small shopping center's appeal are seasonal events like store-to-store trick-or-treating, which draws about 300 kids every Halloween, and festive model train displays around Christmastime and other holidays.
With the Shops at Kenilworth already a draw for families, Towson Bootery is a logical stop for parents. "We give very personalized service, and that one-on-one connection with customers is hard to find these days. Moms and dads come in because they want their kids to have that experience," says Stefanie. "I never end up sitting on the benches when I work with little kids. I sit on the ground because it's easier for them to communicate with me."
"I grew up in this business, so I've met all these different families through the years. Now I see their kids getting married and new generations coming in and trusting me and my daughter and my girlfriend, Beth Hankin. I see them leave the store feeling good about their purchases, and that makes me feel great," says Alex.
Going social
Admittedly, there are some challenges to pleasing a multi-generational clientele that includes everyone from toddlers to college kids to their grandparents. For example, older customers still enjoy getting catalogs in the mail, Stefanie points out. And many of them loathe social media. Younger shoppers, meanwhile, love it. "The biggest change for us is definitely the digital age," she says. "When I started in 2003 full-time, everything was different, from styles to pricing to materials, but the move to online was huge."
Stefanie decided to build the store's social media presence, creating a website two years ago and then adding a Facebook page and a Twitter account. "I realized word of mouth online was bringing people in, so I started to do social media to keep people up to date," she explains. "Instead of calling to see what's in, they can check online. And they can get in touch with me through email or through Facebook Messenger."
She uses analytics to find out how many people are viewing her posts, as well as who and what times of day to figure out what posts generate the highest levels of interaction. The strategy has helped her connect effectively with moms of young kids—women around her own age—who tend to use their smart phones in the mornings and at lunchtime and appreciate being able to ask questions and find out about the store's latest offerings while they're on the go. They help Stefanie keep up on the mommy brigade's needs and wants, and spread positive word of mouth online to their fellow parents. "I enjoy the social media part of my job," Stefanie says. "I get to be a little creative and take photos."
She also promotes the store on local online community sites for parents like Mobtown Mommies and connects with The Shops at Kenilworth's Facebook and Twitter accounts. "If I post something, the mall will share or retweet it, and they have a huge social media following," she says.
That's not all that's changed through the years at Towson Bootery. Trends from x-ray machines to dyeable shoes have come and gone. The store still offers shoe repair, with the majority done by an expert offsite, but the Rudolphs keep a close eye on what sells and what stays on the shelves. "Trends change all the time," says Alex. "If it's not hitting, I'll buy less or jump off. I'm always looking for new things to try and introduce to freshen things up.
"With the big hitters and the Internet, surviving isn't easy," he admits. "And some companies are tougher to deal with than in the past. They only care about volume. They can sell thousands of shoes on Amazon, and you're just a little pea to them. There's no loyalty anymore with some companies in the shoe industry. But I'm hanging in there."
His advice for fellow independents trying to do the same? "Location is key, and you've got to be willing to work hard. Do more than most people," says Alex. "You can't come from nine to five and expect it to work. I'm here seven days a week because people come in and expect to see me. They come here for me."
Right now, Alex feels "rejuvenated" by the redesign. "After 20 years at this location, it's time for a facelift," he says. Plans call for new display cases, metal shelving to replace old wooden shelves and a switch from carpeting to hardwood floors to achieve an uncluttered look that will make navigating the many brands the store carries easier for customers.
Towson Bootery's walls have long been lined with a visual history of Towson and other nostalgic touches, including a collection of antique shoehorns and vintage shoes from the 1800s to the 1970s. "Mall management wanted us to get rid of the old-school feel, but we told them that's one of the things people like. People come in just to read the history," says Stefanie. "It's what my grandfather started and part of what we're about. Now they're realizing that history is part of what's cool about us."
Which brings us back to the bear. Legend has it the specimen was brought back from one of famed explorer Admiral Byrd's arctic expeditions. From there, it found its way to a furrier, a nightclub, a car dealership and even to the set of the early 1950s TV show Arthur Godfrey and His Friends before Towson Bootery's founder gave it a permanent home in his store in the 1960s. Apocryphal or not, the story adds to its allure. "There's a lot of history with this bear," says Alex. The same could be said of Towson Bootery.