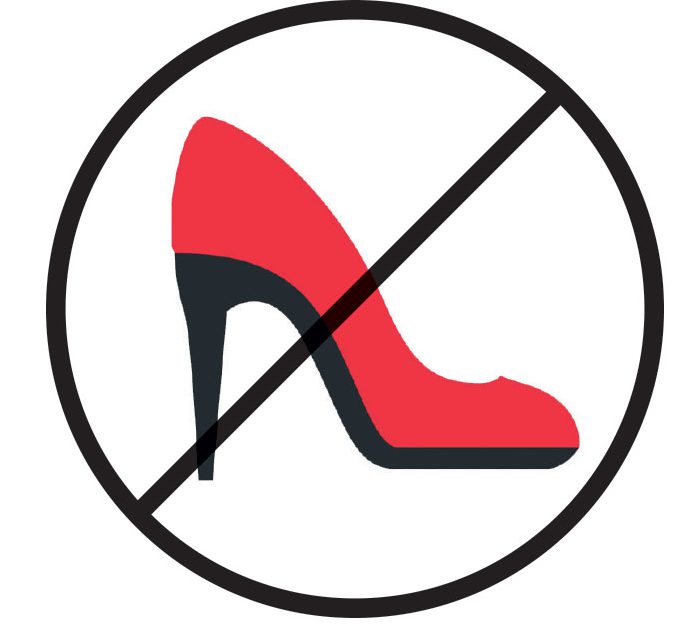 Kristen Stewart caused a stir in May when she ditched her Louboutin high heels on the Cannes red carpet after her photo op. While it wasn't clear if she was making a feminist statement (again), the actress had previously criticized the film festival's mandatory high heels policy in 2016 when she told The Hollywood Reporter, "If you're not asking guys to wear heels and a dress, you can't ask me either." That same year, Julia Roberts went barefoot in low-key protest of an incident at Cannes in 2015, when several women were turned away from a screening for wearing rhinestone flats instead of the obligatory heels. Even Wonder Woman star Gal Gardot sported flats (for health and balance reasons) throughout her recent press tour, and Serena Williams paired her wedding gown with custom Nikes.
Amid the #MeToo era, the backlash to high heels is only picking up steam. One recent online survey of 270 women revealed that about one third claimed to wear high heels mainly because of social expectation rather than choice. Many women see the silhouette as gender discriminatory (sexist) rather than flattering (sexy). It probably doesn't help matters when high heel king Christian Louboutin recently told The New Yorker, "The core of my work is dedicated not to pleasing women but to pleasing men." He must be right, since few women would argue that the silhouette is comfortable or even healthy. Layer in the athleisure and wellness movements plus massive workplace shifts (think mobile and dressed down), aging baby boomers (former high heel devotee Victoria Beckham spoke for the demographic in 2016 when she stated, "I can't do heels anymore") and millions of Millennials raised in sneakers, and it's not hard to see why the popularity of heels has taken a huge hit.
The NPD Group reports that over the last two years, women have been swapping high heels for lower and flat alternatives. The retail sales tracking agency noted that in 2017, sales of high heels declined 11 percent, while sneaker sales soared 42 percent. In addition, the resale site ThredUp found that since March, there has been a 38 percent increase in the number of heels sent in by sellers. It's a buyers' market with about 11,862 pairs of heels purged from closets for sale.
If the anti-heels momentum continues to snowball will the silhouette become the next whalebone corset? "Women's empowerment and gender equality are fueling the fire," says Beth Goldstein, a fashion footwear and accessories analyst for NPD. "When you have actresses protesting outdated dress codes at Cannes, it's going to have an impact."
It's not just celebrities, either. Back in 2016, a British woman drew headlines for refusing to wear two-inch heels to meet her office dress code. (She was sent home without pay, by the way.) But rather than conform, she started a petition calling for a law that would make sure no company could ever demand that women wear high heels at work. The petition garnered 150,000 signatures and the movement went viral with dozens of women posting pictures defiantly wearing flats. Her crusade culminated two years later with a law being changed to overcome outmoded and sexist workplace dress codes.
"Workplaces have become more casual, and athletic attire has become fashion," Goldstein says. "They're just so many options that are acceptable, and many of them are more comfortable than heels." Think kitten heels, ballet flats and mules, which are office-friendly yet versatile enough for drinks after work. The styles fit with busy, multi-tasking women who are on their feet for hours. "Women are responding to options that they can wear all day and in any weather," Goldstein adds. "They're going from work to running errands to picking up kids to dinner."
The growing popularity of sneakers cannot be underestimated, however. Lynne Commeau, co-owner and designer of Butter and Something Bleu, thinks the shift away from heels has much more to the rise of sneaker culture than any feminist-driven backlash. She cites the wave of innovative sneaker designs from talents like Philippe Model, Gray Goose, Zanotti, Yamamoto for Adidas and Comme des Garcons' collaboration with Converse as transforming the silhouette from utilitarian basic to uber-fashion statement. "Sneakers started to appear more and more on the runways paired with everything from denim to skirts and pants," she says. "Consumers started wearing sneakers because they became fashionable, and then noticed they were irresistibly comfortable. And here we are."
Now major designers like Louis Vuitton and Prada, who had never before had sneakers grace their catwalks, offer several iterations—the uglier, the better. In addition, limited-edition sneaker collaborations are worth their weight in gold. Copping a pair of rare kicks can bring the same renown and envy as a pair of red-soled Louboutins. "High heels were used to establish status as well as gender," says Elizabeth Semmelhack, senior curator at the Bata Shoe Museum in Toronto and author of Shoes: The Meaning of Style. "But that status can also now be achieved with a rare pair of sneakers." What's more, Semmelhack says we live in the age of Fitbits, yoga pants, juice bars and kale chips. Being fit, not just thin, is the new black. "People want to get in their 10,000 steps, and the shift toward athleisure plays into the idea of the idealized bodies," she says. "The high heel will be hard pressed to remain current if this trend continues."
Then there's that red stiletto emoji that made news last winter. Florie Hutchinson, an arts publicist and mother of three, went on a crusade to change the emoji as the automatic substitute for the word "shoe" when texting. She sent a proposal to the Unicode Consortium's emoji subcommittee (yes, there is one), recommending that they add a blue ballet flat—a shoe she believes reads as female but isn't seductive or sexualized, as was reported in The New York Times. Hutchinson's emoji-gate is just another flashpoint in the macro movement of women seeking to abolish outdated and constricting norms, and heels are a (not so) innocent casualty.
So the question begs: Are high heels going the way of the Dodo bird? Surprisingly, in the face of such mounting evidence, the general industry sentiment is absolutely not. Like most fashion trends, the drop in popularity of high heels is viewed merely as cyclical, says Robert Schwartz, owner of Eneslow Shoes & Orthotics in New York. "In the second half of the '90s, we had the Dotcom and Euro comfort revolutions happen at the same time, and casual and athletic exploded," he says. "The same question was asked then." And back heels came—big. Sex and the City, anyone? The popular HBO series made Manolo Blahnik, Jimmy Choo and Christian Louboutin household names during the early aughts.
Dave Levy, owner of Hawley Lane, four specialty comfort stores based in Connecticut, agrees that heel fashions are cyclical. "I don't think they are going away forever," he says. "It's like the cycle where Converse (canvas) is hot every seven years or so. The hot trend is comfort right now, but the pendulum always swings in our business." This go round, Levy notes, the pendulum has swung far to the comfort side. "When trends are at their peak, you never see them going away," he says. "But I've been in this business since the '80s, and once it swings one way, eventually it's going to swing the other, whether it takes three years, eight years, whatever." Still, Levy reports doing a "ton" of business with Ara and Gabor, which are "mostly two-inch heels, but still heels."
Leslie Gallin, president of footwear for UBM Fashion Group, believes any heels comeback will be boosted by technological advances that enable the silhouette to be more comfortable. "Until that happens and is broadly understood by consumers, that's when we'll see a swing back to women wearing heels more regularly," she says, adding that times have changed. "The idea that being well-dressed meant also being uncomfortable no longer applies," Gallin says. "With technology, there's no reason for a higher heel to not have cushioning similar to a sneaker."
In the meantime, some makers of high heels are, in fact, reporting strong sales of late. Nicole Brundage, designer of Marskinryyppy, says her best-selling styles for Fall '18 are stilettos adorned with bows, straps, satin and moirés—a far cry from sensible shoes. What's more, Brundage is not surprised. "Although the athleisure/streetwear trend is still strong, fashion is essentially all about change and a continuum of styles reinterpreted," she says, adding, "Heels will never go out of fashion entirely, and these chaotic times call ever-so-loudly for fun, fab party shoes."
Ditto for Roy Luwolt, co-founder of Malone Souliers. He reports the label's high heel sales have been strong of late. Moreover, he doesn't see the silhouette disappearing any time soon. "Heels aren't going anywhere," Luwolt says. "How many dinners can you attend in a dress and a pair of sneakers?"
Commeau also reports high heel style sales are up for Butter and Something Bleu. "We're experiencing high double-digit growth season to season," she says, adding that 80 percent of Something Bleu's line is still 70mm and above. "Everything is cyclical, sneakers will eventually slow down, become unfashionable and heels will come back—I think they already are," Commeau adds. As for a world some day extinct of high heels, she's not convinced in the slightest. "No. Let's face it, heels make us look and feel sexy, why would we want that to end? I mean, sneakers with fishnets? Nah." Brundage agrees on the prospects of a dystopian world without high heels: "What a dismal, most uninviting thought; don't depress me."