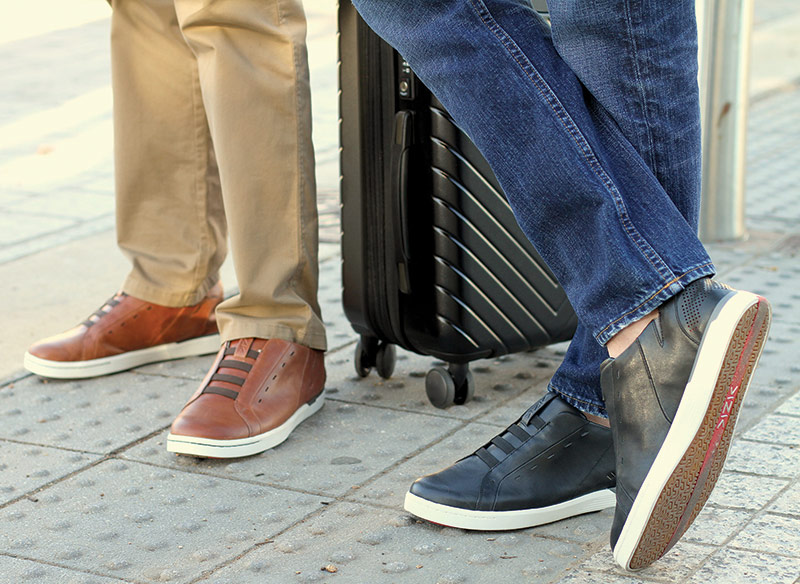 One of the beauties of the footwear business is that just when you've think you've seen it all—every silhouette, material, colorway, embellishment, breakthrough technology and gimmick—something comes along to dispel the notion that there's nothing new under the shoe sun. Kizik and its accompanying handsfree pop-in and go F.A.S.T. (Foot Activated Shoe Technology) construction is one such example. The shoes fit like a glove, and the titanium wire heel counter snaps back into place every time. No more stooping over, and no more tying laces—it's a breakthrough technology that has appeal to kids on up to senior citizens.
It's the "physics of Kizik," says Pat Hogan, president, that makes the brand unique. The proprietary technology provides an automatic fit, thanks to the titanium wire that creates exceptional rebound strength, longevity and flexibility. The retractable heel material is built to repeatedly collapse and instantly regain its shape. In addition, the customized fit is achieved with two Velcro strips on both sides of the tongue to accommodate a high or low arch. Hogan, an industry veteran whose resume includes executive positions at Tommy Hilfiger, Nordstrom.com, the former Brown Shoe Company (Calares) and Rockport, knew right away that F.A.S.T. was something special. "It's really a breakthrough in design, because there is no battery, no computer and Nike self-lacing shoes cost around $795," he says, noting Kizik's suggested retail for men's is $180 to $190 and women's, debuting this fall, will be $150 to $160. "This is the simplest form of construction that allows a foot into the shoe and then rebounding around the foot for a secure and comfortable fit," Hogan says.
Dave Levy, owner of Hawley Lane Shoes, a four-store comfort chain based in Connecticut, was sold on the concept at first try-on. "I got a pair of hand-me-down shoes from Pat and when I put them on, I was like, 'Oh, my God!"' he says. Levy and Hogan worked together on the launch of Tommy Hilfiger footwear back in the '90s. Hogan invited him to Kizik's Park City, UT, offices, a.k.a. "The Bunker," where inventor and founder Mike Pratt designed the original sneaker styles and is busily adapting the F.A.S.T. to a range of silhouettes, including sandals (next spring) and even boots down the road. "He's the smartest guy I've ever met. He's like an Elon Musk." Levy gushes. "This technology is real deal. You can put them on sitting down or standing up, and it just pops on. It's unbelievable."
Levy knows of what he speaks. Prior to his retailing days, one of his wholesale stints involved managing Converse's basketball division. The man has come across all sorts of "latest technologies," which he says are often (gasp!) gimmicks. Kizik is different. Levy considers its F.A.S.T. construction to be life-changing for a broad range of consumers. "For half of my customers, it's a cool convenience and for the other half, it's a necessity," he says. "It's a lifestyle and not just a trend. It's not like I might get a couple of years out of it and then it trends out."
The proof is in Kizik's early sell-through, according to Levy. Since bringing the selection of just two men's styles into his stores last fall, sales have been eye-popping. In fact, Kizik already ranks sixth in dollars for Hawley Lane, and its top SKU is out-selling all the SKUs of the stores' second-ranked brand. "Recently, we sold 71 pairs in one week," Levy says. "And men's is only 15 percent of my overall business. It's a huge boost to my bottom line, and with women's launching in September we're going to have an absolute field day with this brand." Once the assortment can support it, Levy envisions Kizik concept shops in his stores—something that he is very selective about doing. "I would never just say that as we've been approached by many brands to open concept shops, but with Kizik I wouldn't even think twice about," he says.
Bob Schwartz, owner of Eneslow Shoes & Orthotics in New York, is also bullish on the prospects of Kizik. The shoes have just arrived, and he reports the sales team is impressed. "The versatility and multiple-use applications can help make this a new category at a commercial level," he Schwartz. "[Kizik] has the potential to be an industry leader. All successful functional footwear brands understand it has to start with the fit, comfort, quality, durability and styling. If those are right, the concept has nine-figure potential and possibly more."
What might help make such growth possible and manageable, Hogan says, is the plan to license F.A.S.T. to other brands that fall out of Kizik's brand width. Rather than try to break into a new category with Kizik golf or kids' shoes, Hogan believes licensing the technology is the better way to go. "Kizik is the premium brand that houses F.A.S.T., which is our invention house" he says. "We're really two companies that, combined, are on a mission to design and innovate all categories of footwear to go and off your foot handsfree. We have patents and patent-pending inventions to achieve that eventually in every category."
Credit goes to Pratt, the brain trust behind it all. Like many inventors, Hogan says Pratt is an under-the-radar type that prefers to be working on the next breakthrough technology as opposed to being the front man. "Mike's mind works completely different than anyone I've ever met," Hogan says. "He has literally a garage filled with hundreds of inventions and materials. It's absolutely amazing."
Pratt made his mark in the luggage business. He was founder and chairman of Ogio, where he introduced a broad range of innovative bags, luggage and backpacks. He sold the company to Callaway Golf about five years ago to focus on his shoe inventions. It was about two years ago when he met Hogan, and the two got to work on building a shoe company. Like most great brands, Hogan says it all starts with a premise backed by a legitimate technology that delivers something new to the marketplace. "Mike asked why does a shoe have to be built like the way it has been? Why can't you do it this way?" he says. It's so revolutionary, Hogan adds, that it's allowed Kizik to open some of the best factories in the world, which is uncommon for a startup. "They've taken us on because of what they see," he says. "Some of the factory owners have told Mike that they have been trying to figure this out for 30 years."
Now comes the blocking and tackling to build a successful brand for the long-term. Distribution strategies, marketing programs, brand positioning are up and running, according to Hogan. "We're in about 40 stores now, mostly independent retailers to build our deep roots," he says, adding that Dillard's is also carrying the brand and Zappos has signed on to launch men's and women's this fall. "We've got an online strategy to build and protect our brand," he adds. A national marketing plan is also in the works, with ads having already been placed in USA Today and The Wall Street Journal  to support retail partners in addition to a national TV campaign in the works. Kizik will also make its trade show debut at The Atlanta Shoe Market and FN Platform shows next month. "The soft, under-the-radar launch is complete—we've tested the product and advertising in select retailers and now have a successful formula to move forward," Hogan says, noting Hawley Lane has sold more than 300 pairs to date.
"That's why I'm hungry for more categories," Levy says. "Once customers see how the shoes pop on and fit, they're sold. They're coming back asking for more colors and styles. I called Mike last week and said, 'All I want to know is, what's next.'"