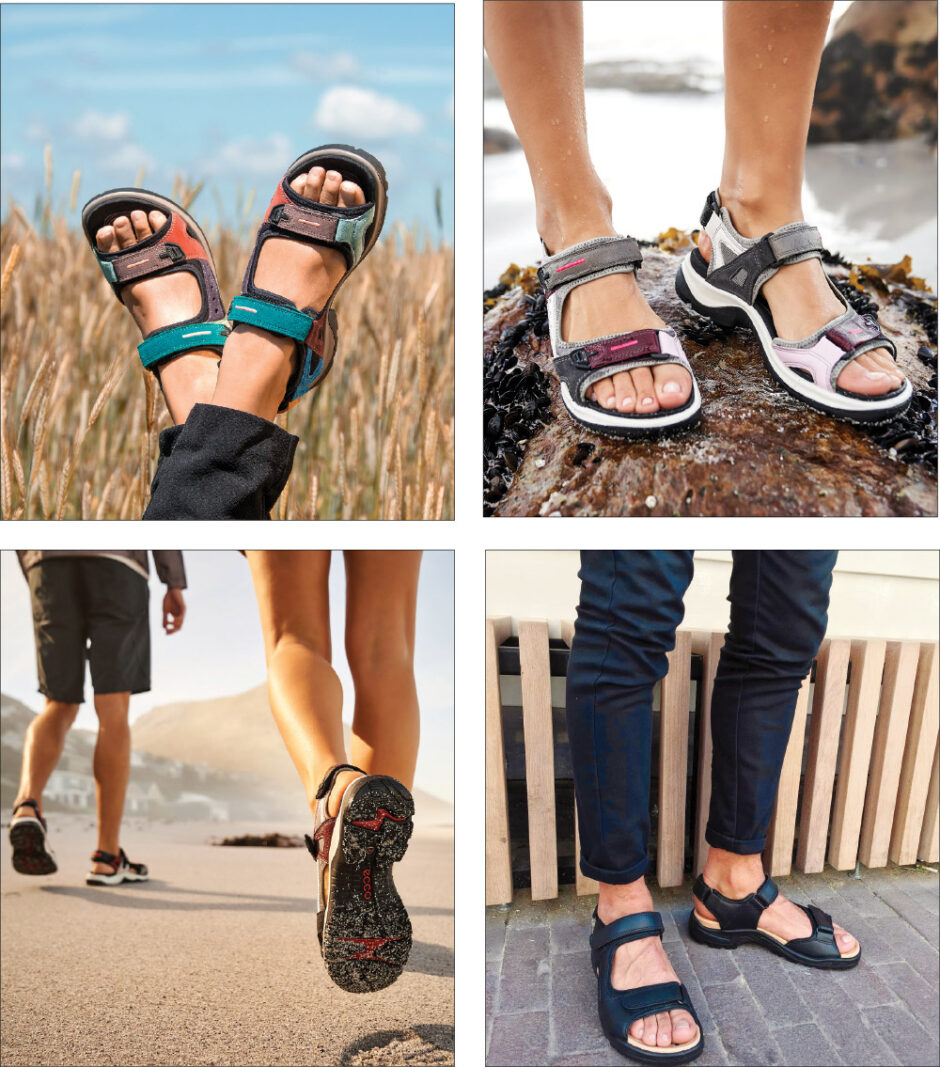 Back in 2006, the sports sandal category sat mainly in a retail price range well below $100, pulled down historically by a strong undertow of cheap flip-flops that flooded the market and passed off as good enough for traversing beaches and trails by many consumers—who didn't know any better. Anything priced over the century mark was pretty much unheard of. (Ecco's Cosmo style, introduced a few years prior, was perhaps the first at $110.) But when the company debuted its Yucatan model, it came in at a ground-braking—and eye-popping—$130 retail.
It was a bold move for the Scandinavian comfort company, and Felix Zahn, product director of Ecco Americas, admits everyone at HQ at the time was "super nervous" about the reaction it might receive. On the one hand, the team believed fully that its breakthrough design raised the bar on what a sport sandal delivered from performance, comfort and durability aspects. Thus, the team believed the higher price was more than justified. For sure, the Yucatan was no cheap, generic, drug store flip-flop with zero comfort features and might last a week before falling apart. Nor was it one of the many other sport sandal styles that proclaimed technical features and benefits, but really were glorified flip-flops with ankle collars.
The Yucatan was much different, led by Ecco's new anatomical Receptor technology that provided stability and support though a 20-degree heel strike angle, internal midfoot shank and dual flex grooves for forefoot flexibility and push-off. In doing so, it promoted a natural walking motion. This was no "sandal." This was and still is (the design has remained relatively unchanged) a walking shoe built in the silhouette of a sandal.
"The Yucatan was a true tiger's leap in terms of innovation," says Nikolai Rabaek Christensen, head of Outdoor for Ecco. "It's the first sandal where we combined three densities in injection in our factory. It's the most comfortable sandal on the market, and has been for the past 14 years."
Not only that, Christensen says the Yucatan came together in a hyper eight weeks' time, from start to finish. "All the innovation was driven by our inhouse design and our R&D departments—they pulled off miracles in the shortest time, which was truly ground-breaking back then," he says.
Off to the Races
The comfort aspects combined with the functionality are the reasons the Yucatan, named after the beautiful Mexican peninsula region, became an instant hit—and to a much broader audience than originally anticipated. The initial target audience was a niche premium customer of outdoor enthusiasts. The belief being that they'd be more willing to make the investment in such a technical sandal that would be put to the test on tough terrains. But it didn't take long to realize that the Yucatan's appeal was stretching far beyond the hikers and kayakers set.
"It's a great vacation shoe," says Jeff Gibson, co-owner of V&A Bootery, based in Kalamazoo, MI. "If a customer comes in and says they're going to Europe and plan to do a lot of walking…Boom, that's the shoe we show them because it's got good support, traction and shock absorption." Gibson adds, "When people first try them on, they immediately say, 'Oh yeah, these feel good, what great support.'" And as a sit-and-fit store, V&A Bootery draws a broad demographic, many of whom have foot issues and are in need of a proper fitting, not "people who buy something off the Internet and don't care," Gibson says, adding, "We take care of our customers, and they want shoes that enable them to comfortably do a lot of walking in." Gibson estimates V&A Bootery has sold 600 to 700 pairs of Yucatans per year for over 10 years. "It's a top dog as far as styles that we continue to sell, and it's definitely in our hall of fame," he says.
Gary Hauss, owner of the Valencia, CA-based J. Stephens chain as well as a few Ecco flagship stores over the years, also reports award-worthy sell-through figures since picking up the style 14 years ago. "In our Ecco Kierland, AZ, store alone, we've sold more than 13,000 pairs, between men's and women's," he says. "And in our former Ecco stores plus J. Stephens, it's probably close to 30,000 pairs to date." Even so, Hauss admits he, too, was skeptical at first about the Yucatan's potential, mainly because he was upset that it was replacing the brand's successful Cosmo sandal. "The Cosmo was great for us; we sold tons of them," he says. "But that all changed within the first month of having the Yucatan. Customers raved about how comfortable and supportive it was, and it was apparent Ecco had a winner."
"We weren't expecting the avalanche of pairs which landed on us within the first two years," Christensen admits. "But it was clear that we had uncovered a market gap—a premium sport sandal with a timeless design that wouldn't become disposal in mere months." Adds Zahn, "The Yucatan has definitely eliminated the convention that sandals have to retail below $100 in order to be successful."
Early adopters on the retail side included Dillard's and an array of leading outdoor and comfort specialty independents. To this day, Zahn says Dillard's offers the widest selection of Yucatans in men's and women's in the brick-and-mortar world. "Being located in the Southern parts of the country, they are managing to sell this sandal year-around," he says, noting that its store in Albuquerque is one of the top addresses when it comes to the Yucatan selection and overall sales. "We did a fashion show in that store in 2014 and dropped 40 pairs of a limited-edition collection in a chili green (New Mexico's favorite dish), and it sold out during the event."
A unique trait of the Yucatan is its strong crossover appeal between men and women, which is a rarity outside of sneakers, according to Zahn. Again, the comfort and style versatility are key factors. "The Yucatan is always a popular choice for Americans when they go on international trips, cruises or just to Disney," he says. "The variety of different wearing occasions is what makes this sandal so great." Zahn adds, "We've sold millions of pairs to date, and the majority are actually repeat customers getting a second pair or in the latest color." Hauss confirms the strong repeat sales aspect of the Yucatan. "It's been the easiest sale for staff members as customers come in to replace their old ones and/or buy another color, because they now know exactly what they're getting," he says. "This is especially true with women, and the addition of more colors has really driven these sales."
Color Rocking
One of the best-selling Yucatan styles of all time is a multi-colored version, introduced in 2016 to celebrate the style's 10th anniversary. Ecco has rolled out a handful of special editions over the years, but the "craziest" version has been the most successful in the style's history, according to Zahn. "The Yucatan upper has exactly 10 pieces of leather, and for anniversary edition every piece was made in a different color," he says. "It looked like a clown sandal, but the success of it has been mind-blowing. We've kept it in the range to this day."
Along those lines, what started out as a "pure outdoor" sandal, as evidenced early on by its earthy color palette, has since expanded into a broad array of colors and materials, Zahn says. It's further proof of the Yucatan's broad appeal. "We've had several funky fashion combinations ranging from fancy metallics, pop color combinations and even animal prints," he says. "And in 2018, we launched a more fashionable, premium version with full leather uppers and linings that retailed at $150, and it was a big hit." Christensen adds that while the special editions have been exclusively Ecco projects to date, the Yucatan's popularity may warrant outside collaborations. "We haven't come across a relevant collab—yet," he says. "But that might change in the very near future—stay tuned!"
In the meantime, the Yucatan continues to soldier on as a dependable, profit source for thousands of retailers worldwide. This year has been no exception. Like a lot of outdoor styles, the Yucatan has seen a bump in sales as the pandemic has worn on. "The moment we got closer to summer and people were trying to escape their homes and rediscover the local outdoors, we saw an increase in sales," Zahn confirms.
The Yucatan, like the peninsula it was named after, isn't going anywhere, any time soon. Christensen says it remains the No. 1 style in the collection for over a decade and has blazed a trail for Ecco's expanding Outdoor category. "It's the OG outdoor sandal," he says. "It stands out because of Ecco's 50-plus years of shoe-making knowledge packed into this specific last. Today, it's synonymous with premium sandal comfort in the global footwear market."
Gibson whole-heartedly agrees, noting that the Yucatan's higher price has never been an obstacle because V&A Bootery can sell a more expensive model—if it's right. "And that sandal is right," he says. "It's a walking shoe in the form of a sandal. That's what people love about it. It definitely has a lot of things going for it."