Hear the Ecco
The Danish brand is calling out to a new generation of consumers and reintroducing itself to previous ones.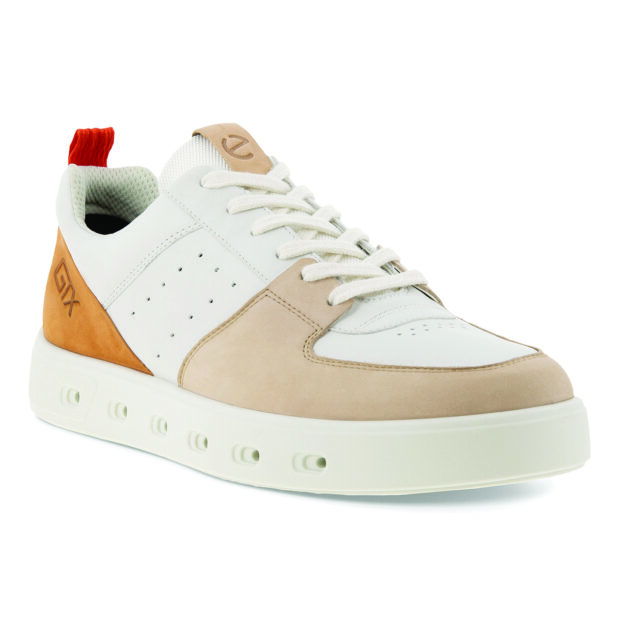 Tom Berry, president and CEO of Ecco US, is on a mission to get the brand's story across to customers. While many may know aspects of Ecco's 50-plus years history as a pioneering Euro comfort brand, the exec believes not enough know the full story—one that he believes is even more relevant in today's marketplace. That story, Berry says, is a combination of genuine comfort technologies and Danish values that make for a compelling brand proposition in a post-pandemic landscape.
"Ecco is a 'comfort and' brand," Berry offers. "Ecco is comfort and timeless Danish design, which is better for the environment and wallet. Ecco is comfort and durability, again better for the environment and wallet. Ecco is comfort and support, which is better for the body and wellness. And Ecco is comfort and responsibility-driven by our unique farm-to-foot vertical supply chain where we operate both our factories and our tanneries, which is better for everybody."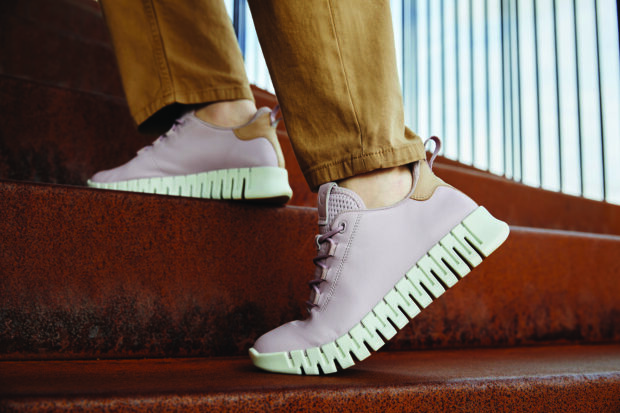 For Spring '23 that story is led by the new Gruuv walking collection. The visual and technical highlight is the two-way flex rubber sole that bends with every step, providing traction and comfort across a variety of terrain. There are also expansions of the Street 720 series, Phorene midsoles and dual-fit comfort insoles. "The Street 720 series features a FluidForm breathable midsole, which creates a cooler environment for the foot and provides increased comfort for all-day wear," says Evan Weygandt, sales director for Ecco US. "Our ultra-light Phorene midsoles provide increased cushioning and energy return, which reduces fatigue over time." Phorene will now be available in men's and women's casual and dress collections. The dual-fit comfort insoles, made of 98 percent recycled material, enable consumers to customize the width for a more tailored fit. They will be available in the Gruuv, S-Lite Hybrid and Helsinki 2.0 collections.
Ecco's overriding marketing message for next year celebrates walking. Areas of focus include the Ultra Terrain outdoor collection ("Walking All Over Winter"), Gruuv casual styles ("Walk on the Wild Side") and the second iteration of Cozmo casual sandals ("Walking on Sunshine"). "We want our customers to be inspired by the walk, no matter where they are," Weygandt says. "The journey is what really matters, and Spring/Summer '23 is an invitation to reengage with the everyday luxury of walking and make every step a celebration, e.g. to 'Walk the Walk.'"
Berry believes it's high time for Ecco, not to mention the brown shoe sector, to tell its story to consumers. How else will the segment recapture casual shoe purchases that athletic brands have commandeered of late? The time is right for Ecco, he believes, because consumer values have shifted since the onset of the pandemic. "In the prior era of fast-fashion and disposable athletic shoes, maybe investments in getting our story out there wouldn't have made a difference," Berry says. "However, in today's era, timeless design, genuine comfort, authentic sustainability and long-lasting durability are exactly what the consumer is demanding—and they are all Ecco values."
Aerosoles on a Roll
Under new ownership, the brand is branching out.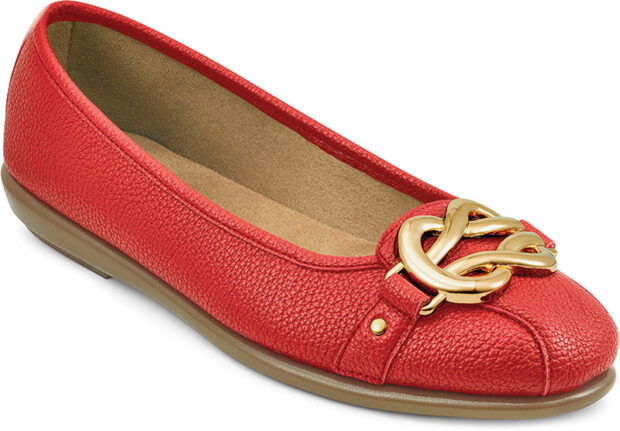 Aerosoles marked its 35th anniversary this year, and a highlight was its acquisition by American Exchange Group, a multi-branded fashion house spanning shoes, apparel and accessories. The new ownership has big plans for the brand. In fact, Alen Mamrout, CEO of American Exchange Group, says the party is just getting started.
"Our focus is on expansion into new product categories and international growth," Mamrout says. "We're introducing a new kidswear collection this fall and launching men's and women's flip-flops, men's socks, slippers and roller skates for Spring '23 with our licensing partners. We also plan to showcase a new cold weather capsule collection for Holiday '22 that includes women's scarves and hats to tap into gift giving season."
Mamrout believes Aerosoles has the elasticity based on its deep roots as a leading comfort lifestyle brand. "Over the past 35 years, Aerosoles has become synonymous with innovation and comfort," he says. "We have strong brand recognition and a loyal customer base. These product categories are a natural extension and will make Aerosoles accessible to a wider audience."
As for Spring '23 footwear, look for a well-assorted offering, including best-sellers reimagined in luxe summer materials like raffia, woven leather and embroidered linen. The hardware is modern in brushed brass and soft gold tones, while the palette is rich summer hues of rust, orange, golden ochre and tan. "Our fashion capsule collection is focused on elevated constructions with unexpected comfort features," Mamrout adds, noting those include proprietary technologies offering cushioning, flexibility and arch and heel support—without compromising style.
Comfort is entwined in Aerosoles' DNA. "For over three decades, we've stood by a mantra to deliver premium comfort, style and quality to our customers—without the premium price," he says, believing this formula is even more in demand today. "People are leaning into casual dressing and comfortable shoes, and as more people return to offices after working from home for two-plus years, the need for comfortable and stylish footwear that takes you from desk to dinner is a top priority." 
So far, so good as Mamrout reports Aerosoles' latest collections have been received well. "We've had an unbelievable reaction," he confirms, citing partners Macy's, Nordstrom and TJ Maxx, among others. "Buyers are excited to expand on our existing relationship and reintroduce a brand with such a rich history to their assortment. What Aerosoles represents is a miss on a lot of floors right now."
The Bare Facts
Xero Shoes' minimalist premise is gaining in stature.
Steven Sashen, CEO/cofounder of Xero Shoes, has taken the comfort road less travelled since launching the brand with his wife, Lena Phoenix, in 2009. Namely, he's anti-cushioning.
"Cushioning is less stable, which causes fatigue over the course of a day," Sashen says. "That's the opposite of comfort."
Xero Shoes' minimalist design, in contrast, enables feet to bend, flex and move naturally, which leads to stronger feet and less fatigue, according to Sashen. A Masters All-American sprinter and one of the fastest men over age 50 in the U.S., as well as a former All-American gymnast, he's not just the CEO, he's a customer. "Our customers are health- and fitness-minded men and women, ages 18-95," Sashen says. "Anyone looking to feel and perform better fit our target market."
Here, Sashen reveals what's new on the product front and why the brand is poised for continued strong growth.
What's new for next spring? One aspect of comfort is light weight, and with Xero Shoes' new Michelin Fiber Lite rubber compound outsole, we've removed weight in our new Scrambler Mid hiking boot. While still a rugged, technical boot, it weighs  10.8 oz (men's size 9), which is lighter than our waterproof mid-height hiking boot, the Xcursion Fusion (13.2 oz). The boot is as technical as it is simple. The Michelin sole gives unparalleled flexibility with sculptures designed for multi-directional traction and ground penetration.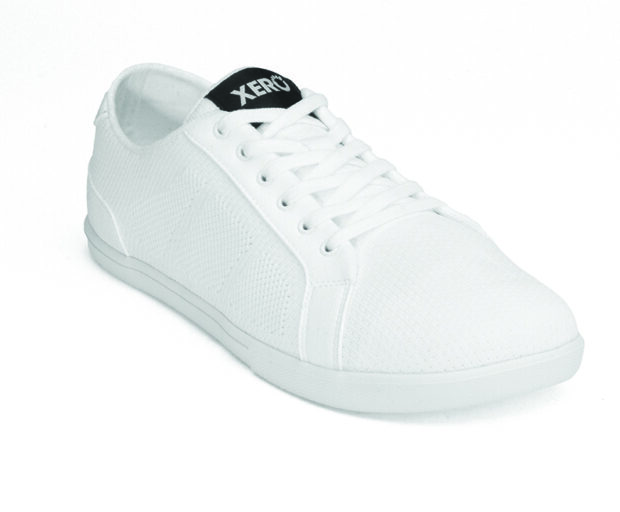 We're also introducing the Road X Sport, a breathable, running version of our Aqua X Sport adventure shoe. It weighs 6.4 oz. compared to Aqua X Sport's 7.2 oz. It features a moisture-wicking lining, breathable mesh upper, a road-gripping tread, speed laces and a flexible 5.5 mm sole that gives ground feedback. Also new is our Prio Perform training shoe. We took our best-selling Prio and made it sleek, elegant and lighter at 9.6 oz. It features a moisture-wicking lining that keeps you cool and our tensioning system holds you securely during training.
New on the casual side is the Dillon, a classic sneaker that's lighter (9.8 oz) than our Kelso court sneaker at 10.4 oz. Features include a breathable knit upper, wider foot-shaped toe box and new cup sole that may look "normal," but  wearers will discover the flexible, natural feel and fantastic ground feedback.
How are you getting the word out about Xero Shoes? Some people are skeptical of barefoot/minimal footwear—until they experience our wide toe box, lightweight feel, flexibility and zero drop sole. So, our goal is to provide opportunities to get more people to feel the natural comfort of our shoes. That means a focus on live events with try-on activations. We're also working on grassroots marketing initiatives that highlight our customers of all ages, who love all types of movement—from running to hiking to MMA to strongman competitions to travel and everything in between.
How's business? Like many, we've dealt with supply chain issues. Despite that, revenue for January-June rose 60 percent to $22.4 million in 2022. Growth was driven by expansion in styles and our new European website. We've also invested in new staff, an expanded warehouse, product development and marketing. Key hires include Shaun Araham, director of Product Management, Tom Curran, director of sales and Jody Eichler, VP of Digital. Looking ahead, we expect to rapidly expand distribution nationwide and in Europe. We've also launched a new website. We're also excited to work on a co-branded project with Christopher McDougall and Eric Orton for their new book, Born to Run 2: The Ultimate Training Guide.
Giddy Up
New Twisted X collection revolutionizes traditional Western boot comfort.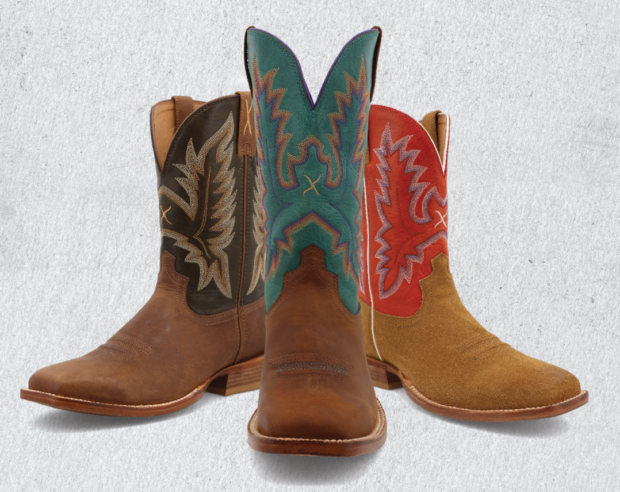 It can be done—finally. Twisted X claims to have revolutionized the comfort of traditional, leather-soled cowboy boots with the incorporation of its patented CellStretch technology. The new Tech X collection, debuting this fall, offers enhanced comfort and stability in a traditional Western boot profile.
"This has never been done before: the traditional low profile and aesthetic of a classic, leather-soled cowboy boot with a patented comfort technology," says Twisted X CEO Prasad Reddy, noting that CellStretch provides customized comfort. "The cell technology housed in the outsole compresses, stretches, rebounds and distributes weight evenly through 100 individual pressure points. Each step gives the ball and heel customized and unparalleled support that's now built right into the outsole without altering the profile at all."
Four years in the making, Tech X was first released in 2021 in a Western work boot collection that featured CellStretch in the midsole. The next iteration of Tech X boots featured a low profile but combined with a rubber outsole. The third version, Reddy says, is a charm: CellStretch engineered directly into a leather outsole, and it's high time for it, he says. "The era of the cowboy boot has seen little to no comfort upgrades over the last 25 years as compared to ever-changing athletic styles," Reddy says. "Western boots are primarily built for function, and Tech X marks the first product to address the need for improved comfort."
Reddy says the new Tech X collection is aimed at the classic Western boot wearer. Think men and women who live and breathe the Western lifestyle. "It's durable and comfortable enough to keep up with even the busiest of days and the most rugged of lifestyles," he says, noting that Twisted X, founded in 2005, has strong ties to this consumer base. "Western is our heritage, and we're proud to continually innovate our offerings as this category is about more than footwear—it's a lifestyle."
The latest collection includes four men's and three women's styles. Each features a wide square toe and a walking heel. The collection also furthers Twisted X's commitment to sustainable design with the incorporation of Blend85 footbeds made of 85 percent recycled foam and leatherTWX, which consists of 80 percent recycled factory scrap leather that would otherwise end up in landfills. The upcycled material is crafted in a way that gives it the look and feel of traditional leather. One of the women's styles also features an iconic rose design by artist Olivia Bennett. The collaboration, Reddy says, blends Twisted X and Bennett's mutual love of the environment through sustainable materials and nature-based art.
Reddy reports the response to the latest Tech X collection has been strong right out of the gate. Buyers at the recent round of shows loved what they saw, he says. More precisely, they loved what they felt. "The goal was to make boots look as good as they are comfortable, but feeling is believing," Reddy says. "Buyers were encouraged to try on Tech X boots to feel the difference. Many expressed a desire to make the switch, as well as appreciated the wide range of colors and designs in the collection."
A Real Item
Kelsey Jayne, design director for Dansko, on why its latest sandal looks to be next in line in a recent series of successful item-driven launches.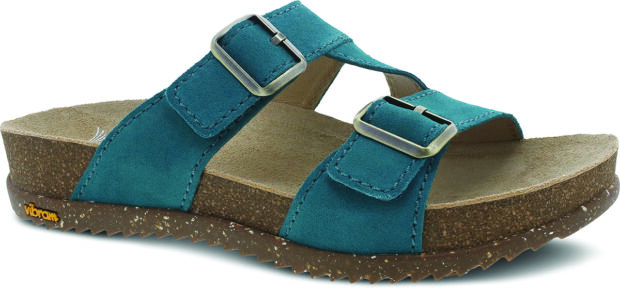 What's new and noteworthy for Spring '23? Our new Dayna sandal, which features a new footbed with all the upgrades. It has a softly cupped, cork/EVA blend, dual-density, contoured footbed that frames the foot along with a Vibram Ecostep EVO rubber sole made with a minimum of 30 percent recycled rubber.
How is the construction an upgrade over what's currently on the market? Our dual-density footbed provides support in all the right places and cushioning where it's needed. It's a kinder under-foot experience than what is currently in the market, with no break-in time needed. The Vibram sole also gives it that extra nod to performance with rubber that is highly durable and offers an improved grip.
Who is the target audience? Any woman looking for everyday comfort with adjustability and without sacrificing looks. The Dayna will appeal to current Dansko consumers and those just discovering our brand and the legendary comfort we deliver.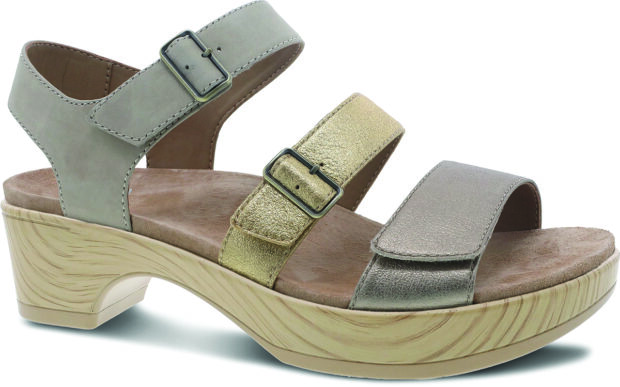 How has the reaction been from retailers? We've had great success recently with item-driven launches—like our Livorno Pace performance walking shoe, Kane clog and Larissa slip-on flat styles. The Dayna is no exception. Our customers love color, and launching it as an item allows us to feature a broader palette.
What else is new and noteworthy on the comfort front for this spring? We are sprinkling little improvements throughout our line across all categories as we continue to innovate with new materials. Soft and firm support, which includes extra cushioning where needed and support with memory foam, are just a few details we're highlighting across our spring line. Examples include our Mapleton collection of casual styles that feature a dual density, super plush EVA footbed, and the Joliette & Adelaide sandals with full-grain leather wrapped dual density footbeds with built-in arch support and hand burnishing for a vintage look. The overriding theme is offering versatility in end-use with no sacrifice on comfort, but a desire for style, too. Customers need to be able to wear their shoes to more places. As for the spring color palette, neutrals are a strong theme—we're loving all the new brown tones!
Rock On!
Alegria hitting a high note with Rok n Roll collection.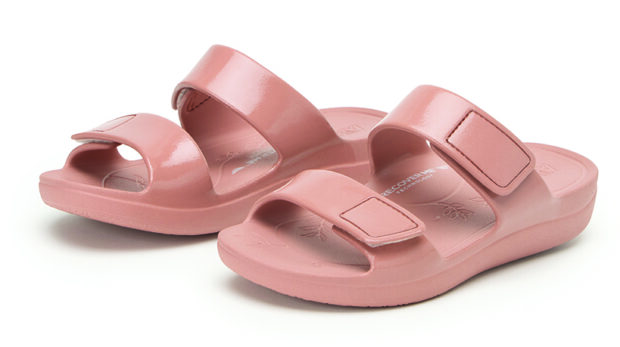 Call it an encore. On the heels of this fall's highly successful debut of Rok n Roll—athleisure-driven styles featuring Alegria by PG Lite's next generation rocker sole construction—comes the spring collection. Scott Cates, president of sales, reports that orders are already exceeding those made for this fall, which he says is a rarity for new lines.
"In today's competitive and transparent world, it's logical for retailers to wait and see what sort of response they get from a new line," Cates says, noting that 99 percent of Alegria's retail base participated in the launch of Rok n Roll. "But Spring '23 has booked even stronger. We see that as amazing."
What's to love about Rok n Roll? It starts from the sole up. Namely, Alegria's proprietary cushioned footbed that's nestled in a durable rocker bottom outsole with built-in arch support. The combination reduces pressure under the ball of the foot, providing pain relief associated with long hours of standing or walking. (Think teachers and healthcare professionals.) There's also plenty of wiggle room in the toe box to accommodate natural expansion of the foot, which often occurs after long hours of standing or walking. A unique rubber outsole provides slip- and trip-resistance for added safety, while the gentle heel-to-toe rolling motion aides in walking.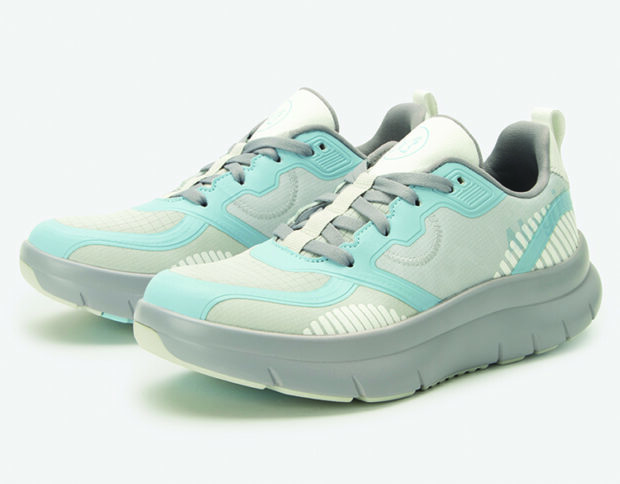 Then there's Rok n Roll's athletic-inspired looks. Cates says the aesthetic is in line with the current style preferences of Alegria's target audience. "With athletic-inspired footwear dominating the purchases of medical and professional consumers, our design team brought color and material interest to enhance the spring collection," he says. Design Director Megan Gold adds that athletic styling has overtaken the scrub world. "We've worked hard to pivot into a product that has the best features of what Alegria is known for, which is great comfort and arch support for long shifts, in styling our customers desire," she explains. "Rok n Roll is an evolution of a true rocker sole in an athletic construction." Rok n Roll SRP is $149.95 and is available in European sizes 35-43 in medium and wide.
Also new from Alegria for this spring is a lightweight EVA slides collection featuring the brand's RecoverMe rocker outsole with molded arch support that promotes balanced pressure distribution and enhanced surface grip. In addition, the two-strap slide features hook-and-loop adjustability.
Cates says a goal for next year is to recreate the buzz Alegria generated when it first introduced its rocker-soled shoes, beginning in 2008. "Our story is simple, but it must be told to a new generation," he says. "We need to get Rok n Roll on the feet of young healthworkers, teachers and service professionals. It's one pair at a time, and it all starts with great product and great retailers to help tell our story."
Good to Great to Grateful
Sam Spears, president of Ara USA, on the German brand's latest comfort upgrades and prospects for continued growth.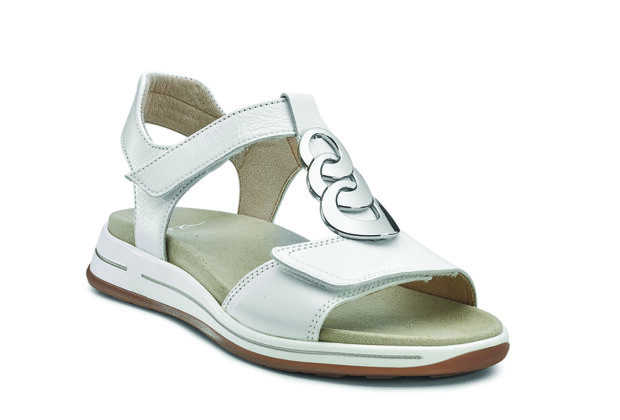 What's new on the tech front from Ara? We continue to build on already great technologies, such as our new athleisure Fusion4 styles, Leena II, Lilly II and Lynn. The woven stretch uppers conform to individual foot shapes, while our HighSoft technology, now featured throughout the line, combines highly flexible outsoles, a supple and padded insole, and a foam insert under the ball of the foot for an incredibly comfortable walking experience. Some of our athleisure styles are fancy enough that they're being worn for special occasions. We've also added more sandal styles with removable and washable footbeds, like the Oregon and Danya. Removable footbeds are a no-brainer, as consumers always complain that they get dirty. Pop them into a washing machine and problem solved!
Anything else? Subtle and sustainable technology improvements have been expanded throughout the line with bamboo linings, Lyocel laces and olive tree-tanned leathers. Bamboo is an amazing renewable resource material offering a wide range of benefits. They include antibacterial, moisture wicking, insulation (keeps feet cool in summer and warm in winter), softness and hypoallergenic. Lyocell is used primarily in our laces. It's a sustainable fabric made of wood that's 100 percent biodegradable in a couple of months. In addition, Lyocell is a closed loop manufacturing process that doesn't create harmful byproducts. Its production time is also quite short and simple compared to man-made fibers. That means less water and energy are required. Similarly, oils extracted from olive tree leaves has made way for a new tanning system that's extremely healthy for the planet.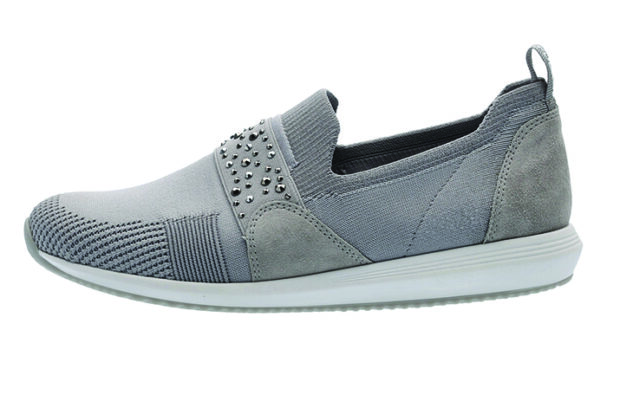 What are some leading style themes for Spring '23? Colors are neutrals and earth tones, like sand, nude, dune, thyme and oyster. Materials are puntikid, linokid, metallic leathers, twinkle and bamboo stretch. Popular silhouettes include sneakers (with and without zippers), Mary Janes, slingbacks, wedges, ankle straps, chunky soles, loafers, driving mocs and casual and dress flats.
Who is the Ara consumer? Men and women of all ages love our shoes. They span the Greatest Generation to Gen Z girls, particularly on the West Coast, who are buying our shoes because "they're cool looking and not everyone has them yet!"
Anything else noteworthy? We've recently hired a head of global marketing from Nespresso. Even before I started drinking coffee two years ago, I was always tempted by Nespresso's elegant branding and incredible visual merchandising. Needless to say, we're extremely excited about what's to come. We have such exceptional product, and now we have the right person to help us tell our exceptional story.
How's business? Extraordinary! To see where we are today compared to the heat of the pandemic is humbling. In 2020, like many companies, we cut expenses to the bone. But we never canceled a single order with Germany. We knew the U.S. market would recover, and we had to be ready for it—and we were. Fast forward to today and we're thriving. We have more people working for us than before the pandemic and we're continuing to hire in our warehouse to service the surge in business we are experiencing.
Goals for next year? Most important: improve delivery performance. That said, our product comes from Europe, and the challenges Europeans are facing are very difficult—like eat or heat. So, when I find myself complaining about the cost of gas, rising interest rates, etc., I remind myself how much harder it is for many Europeans right now. So, my challenge to deliver shoes on time is something I count my blessings on every night. Sometimes we all need a little perspective.