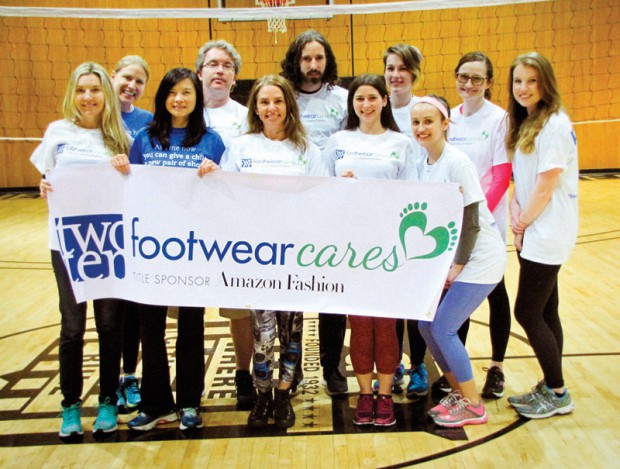 Neal Newman, president of the Two Ten Footwear Foundation, has been quoted on more than one occasion saying that the footwear industry is naturally philanthropic. Since its inception in 2013, the organization's Footwear Cares initiative has proven just that in its ability to mobilize thousands of industry members to contribute their time, skills and enthusiasm to better their local communities.
"It is real that [many participants] are in competition with one another, but when Two Ten calls, they're able to take off that competitive hat and put something else on," Newman says. "It's a very people-oriented and customer-facing industry, so it's natural that people in footwear are community oriented. They want to do good things, and it's not something we have to sell very hard."
If the results of the latest Footwear Cares effort, title sponsored by Amazon Fashion, are any indication, Newman's theory is spot-on. This spring saw more than 125 companies—a 20-percent increase from 2015—and thosands of participants across more than two dozen states join together for group and individual events across a six-week period. Sam Edelman volunteers prepped rooms at Ronald McDonald House, Marc Fisher employees handed out fresh veggies to 500-plus families in the Bronx with City Harvest, Rocky Brands cleaned up a public square in its hometown of Nelsonville, OH, and Footwear Plus (media sponsor of Footwear Cares) played volleyball with local kids at New York's Henry Street Settlement. Meanwhile, volunteers from Vans, Skechers, UBM Advanstar, Lacoste, Lou Earl and Robert Wayne came together for a group event benefitting the Compton Initiative, a non-profit organization committed to bringing hope and restoration to the impoverished Southern California city. In addition, more than 60 shoepeople from Weyco, Kohl's, Impo, Vida Shoes, Stan's Fit for Your Feet, Bon-Ton and Allen Edmonds joined forces to pack boxes of food with Milwaukee's Hunger Task Force.
A common Good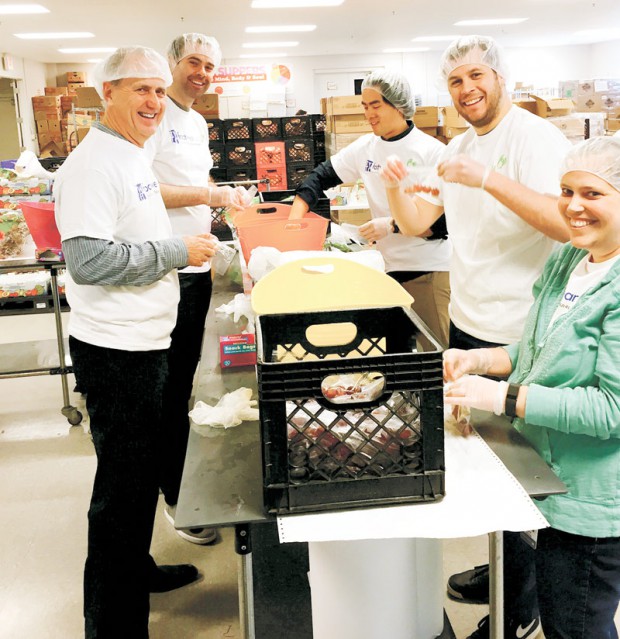 The good deeds kicked off at Two Ten's launch event in New York. During the evening, more than 100 backpacks donated by Under Armour were stuffed with school supplies in support of WIN, an organization designed to help the homeless and their children in the city. That effort set the tone for the movement's direction to help children in need across the U.S. "The reality is that one in five children in our country are living in poverty," says Terri Rawson, chief marketing officer of Two Ten, adding, "Benefiting disabled children became an amazingly unifying theme."
Under that umbrella, Two Ten was able to mobilize industry members to create new events with the organization as well as build upon existing traditions. One said tradition started in Milwaukee more than 10 years ago when Katherine Nelson, currently vice president of national retail accounts at Evolution Design Lab Footwear, was working with a buyer at Bon-Ton who suddenly became ill and passed away. According to Rawson, Nelson was able to connect with Two Ten, and the company put together support for the buyer's family in their time of crisis. So touched by this exchange, Nelson was compelled to pay it forward and started volunteering at the Hunger Task Force in Milwaukee along with a small group of other shoe executives (including Tracy Heldt with Impo, Keds' Jenny Gustafson and Jami Schiff of Steve Madden). When Footwear Cares came into existence in 2013, it aligned with the effort, which now incorporates about 90 shoepeople pitching in over the course of two days helping the charity provide a safety net of emergency food to a network of local food pantries and meal programs. It is the only food bank in Milwaukee that does not charge for food, delivery or network membership.
Kohl's was one company that jumped on board with the Milwaukee-based event. "It was a combined effort, which made it even more special," says Carol Baiocchi, Kohl's senior vice president, DMM footwear, of the day spent working with Hunger Task Force. Kohl's also holds a special drive in advance of its volunteer day. "We asked Hunger Task Force what's hard to get and found out that peanut butter is a precious commodity," Baiocchi notes. The company held a contest between different departments to contribute the most peanut butter so those who couldn't make it were still able to participate. "We collected more than a 1,000 jars of peanut butter," she reports.
When Schiff couldn't make it to this year's Steve Madden–affiliated volunteer day, she too found a way to participate. Rawson notes that Schiff has been making bagged lunches for the volunteers for the past 10 years, and even though she wouldn't be present, this year was no exception. "She cooked a hot lunch and made wonderful desserts, and Jenny [Gustafson] drove to her home—from a far distance away—picked it up and brought it to the Task Force." The meals must have done the trick as the group stocked 30 palettes filled with basic food supplies for underprivileged families in the area.
Michael Bohnsack, director of community engagement at Wolverine Worldwide, offers another example of a company launching its own campaign inspired by Footwear Cares. In addition to its yearly participation with Food Basket (a Grand Rapids, MI, organization that compiles healthy meals for impoverished children after school), the company created a second event inspired by this year's children-first theme. Recognizing the fact that babies of single moms and poverty-stricken families are most in need of essentials, Wolverine created a list of items—including diapers, pacifiers, baby lotion and blankets—that would create the ultimate baby shower for someone in need. Wolverine held a drive in each of its six office locations, collected more than 100 baby bundles and hand-delivered them in each community. "I personally delivered the bundles to the agency in Grand Rapids and they were thrilled," Bohnsack says, adding that this locality allowed each branch to feel close to the drive and have the ability to see the appreciation on the faces of the community organizations. He says Wolverine plans to hold the drive again next year. "It was a people-facing campaign with good team camaraderie," he notes. "Everyone felt like they were making a difference."
Washington Shoe Company reports a similar success story with regard to its first-ever Footwear Cares initiative. Mark Moehring, vice president of business development, says the company was able to join forces with two local Kent, WA, organizations—donating 86 raincoats and 24 pairs of rubber boots to 29 families with the help of the Kent Clothing Bank and spending a day packaging processed goods with the Kent Food Bank. "I went into both events a little apprehensive," Moehring confesses. His apprehension quickly dissolved seeing how excited kids got about receiving the rain gear. "Kids left the clothing bank in a playful mood because, all of the sudden, they were superheroes in our fireman raincoat or a pretty princess in a pair of pink light-up boots," he says. Excited and energized by the response, Moehring says Washington Shoe Company plans to host another event around back to school with a larger offering of rain gear.
Paying it Forward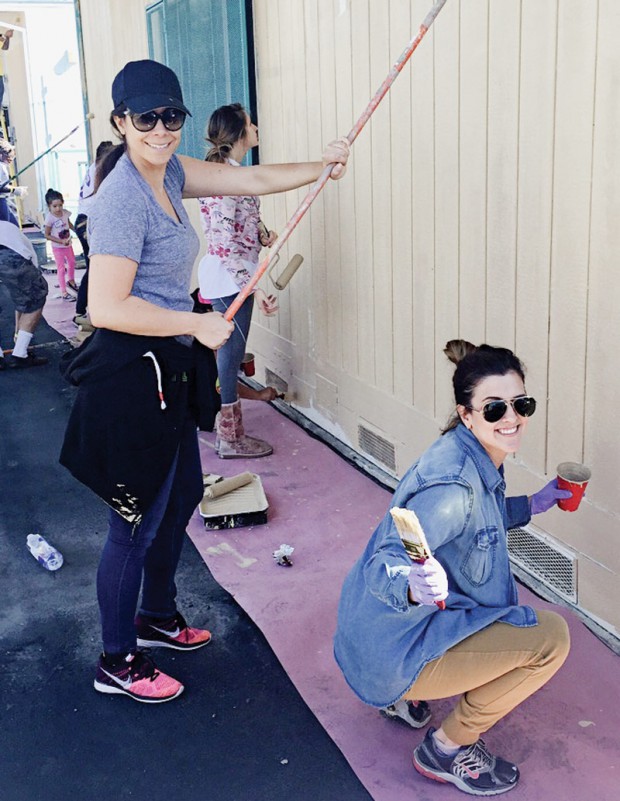 Therein lies the magic of Footwear Cares—its ability to inspire participants and propel action in communities across America for a greater common good. The feeling is quite contagious. "People in this industry have a great, big heart," Newman says. "They know bad things happen to good people all the time." 
Along with the benefits of helping those in need, team building and industry networking, that pay-it-forward mentality strikes a chord with many Footwear Cares participants who have endured their own personal struggles and received help from charitable organizations. Rawson cites a young woman with whom she scrubbed walls side-by-side during an event in New York with Sam Edelman at Ronald McDonald House. The woman shared that after losing her home in apartment fire, she turned to Two Ten for support and was able to have a place to live due to the financial assistance she received. "She said she would do anything that it took to reach back out to the community," Rawson says. "She understands what it's like to need that help."
Whenever Newman attends a Footwear Cares event, he often tells the story of an individual who leaned on Two Ten in a time of personal crisis, needing to escape an abusive relationship. Homeless for several weeks with her 10-year-old son, the woman finally admitted her situation to her employer's (a chain shoe retailer) human resources department, who contacted Two Ten. "We gave her some assistance, and she's now living on her own totally safe," Newman says. He adds that telling this story often gives others permission to share their struggles, like their times using food banks or needing community aid.
What's also special about Footwear Cares is the ability for companies to pick a charity that strikes close to their hearts. Vans, for example, participated in 10 events beautifying local parks, conservancies, sporting fields and skate parks across Southern California. "Vans is very proud of our efforts in assisting the local community and celebrating Earth Day at the same time," explains Jenny Lamott, office services and corporate responsibility manager for Vans. "We are also reminded of how fortunate we are to live in a truly beautiful part of the country and are glad we can contribute to keeping it in the best conditions for others to enjoy."
Traditions Born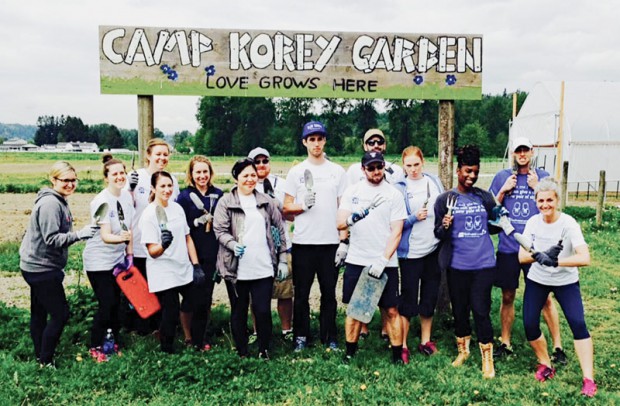 Celebrating Earth Day for years, Vans is among several companies whose Footwear Cares efforts that have become tradition. Michael Kors, for example, has volunteered since 2013 with God's Love We Deliver (GLWD), an organization providing nutritious meals to people with illnesses across New York's five boroughs. "Most of our team has volunteered at GLWD in the past, so we knew what to expect…chopping carrots, peeling onions, labeling meals, etc.," says Anna Bakst, president shoes and accessories. "It is inspiring to work side-by-side with other volunteers and dedicated staff—our team always looks forward to volunteering, whether in the kitchen or delivering meals."
With the all-inclusive theme of helping children having been such a success, Newman says Two Ten plans to make it Footwear Cares' signature theme going forward. "We've worked with wonderful local organizations like The Children's Trust, WIN and Shoes That Fit, and I think those partnerships lend themselves to continuing that theme," he says. "Oftentimes, these issues of child poverty and nutrition deficits at home are hidden. These are things we can animate with Footwear Cares."
Newman says there's plenty of "room to build" under the theme of supporting vulnerable children, and he and his Two Ten team are already planning on ways to expand the effort next year and going forward—after, he says, a "much-deserved spa holiday for the staff."
Part of the plan aims to turn Footwear Cares into a yearlong effort with a customary push in April. The goal is more than 10,000 participants active in all 50 states, and for Footwear Cares to be seen as a signature event in the volunteer world. This is one instance in the footwear industry where knocking off a great idea is encouraged and welcomed. In the meantime, Newman says, "We're the only industry in the entire U.S. that has a community service volunteer blitz like this. That speaks volumes for who works in footwear."