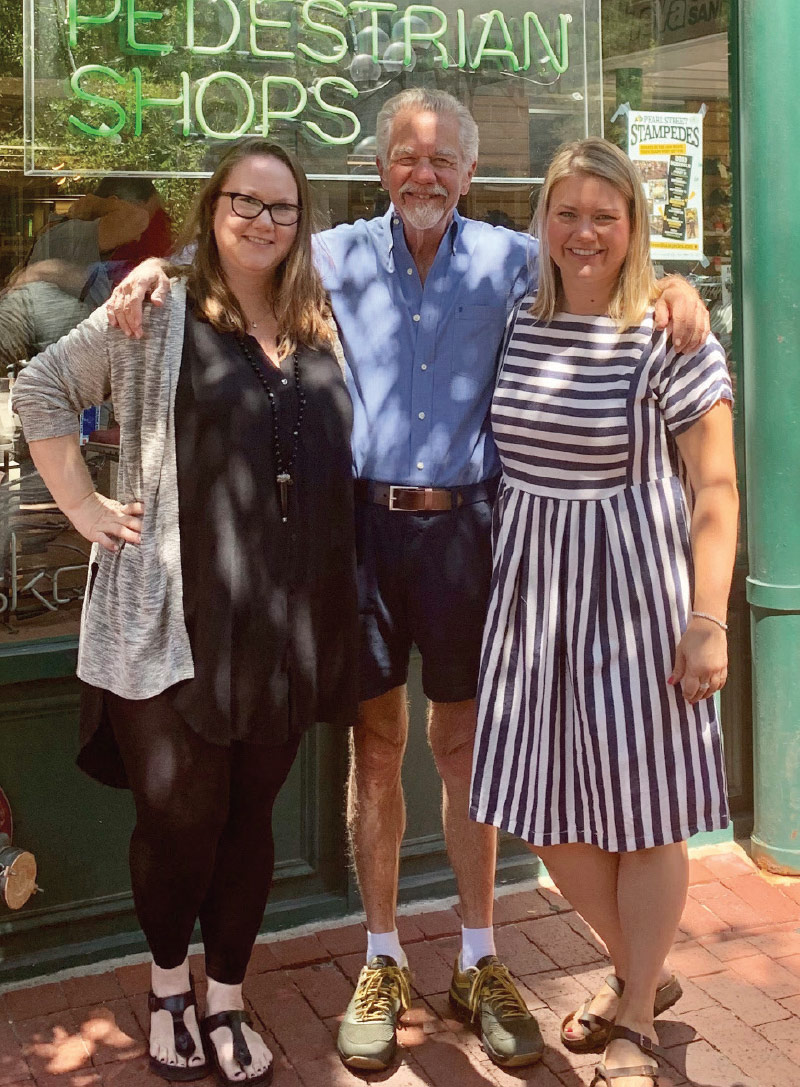 It was 1969, the year of Woodstock, and Richard Polk, fresh out of University of Denver, was unsure of what his next life chapter might be. While he hailed from a legendary Chicago retail family (Polk Brothers was once the largest dealer of name brand appliances in the U.S.) and assumed he'd wind up working in retail in some capacity because, as a family, it's "kind of who we were," becoming a comfort shoe retailer was the furthest thing from his mind. In fact, at that time Polk and a buddy, Tony Chirikos, along with their dates, had embarked on a "magical mystery tour," attending a friend's "crazy" wedding in a warehouse in Manhattan's Bowery district. But that's where Polk's career fate would be determined. That's where he met Ray Jacobs, who had recently begun distributing Kalso Earth shoes in the U.S. The three young men immediately hit it off. Chirikos, too, came from a successful Chicago business family and he and Polk were under pressure to carry the family flags into the future. Jacobs would be the catalyst. "We ended up in his living room. One thing led to another, and my buddy and I agreed to open the third Kalso Earth Shoe store in North America," he says. "And we did."
Little did Polk know that the chance encounter would kickstart a lifelong career during which he became one of the country's benchmark comfort shoe specialty retailers. Nor did he imagine that all this would begin in a converted bookmobile. (He and Chirikos drove the vehicle around the hippie/academic enclave of Boulder, CO, for about two years before opening their first location across the street from the town's courthouse.) Polk also had no idea that the business would evolve into the multi-branded Pedestrian Shops that eventually added a second Boulder location, the ecommerce site comfortableshoes.com, a store in downtown Denver (opened in 2018), and—his biggest mind-blower—his two daughters taking the reins of the family business 40-plus years later.
Polk's career journey is nothing short of a magical mystery tour, one chock-full of fate, fortune, vision, passion, compassion, love, hard work, ups, downs, political office and plenty of retailing ingenuity along the way. While much of the growth has been organic, the long-running success of Pedestrian Shops is no accident. The retail DNA coursing through Polk's veins is genuine. He possesses almost a sixth sense, excelling at the golden rules of location, curation, activation and service. On top of that is his willingness to embrace new ideas and dream big. Polk is an eternal optimist and, therefore, a retailer through and through. That was exactly his mindset during that chance run-in at his friend's wedding in New York 50 years ago. Anything was possible.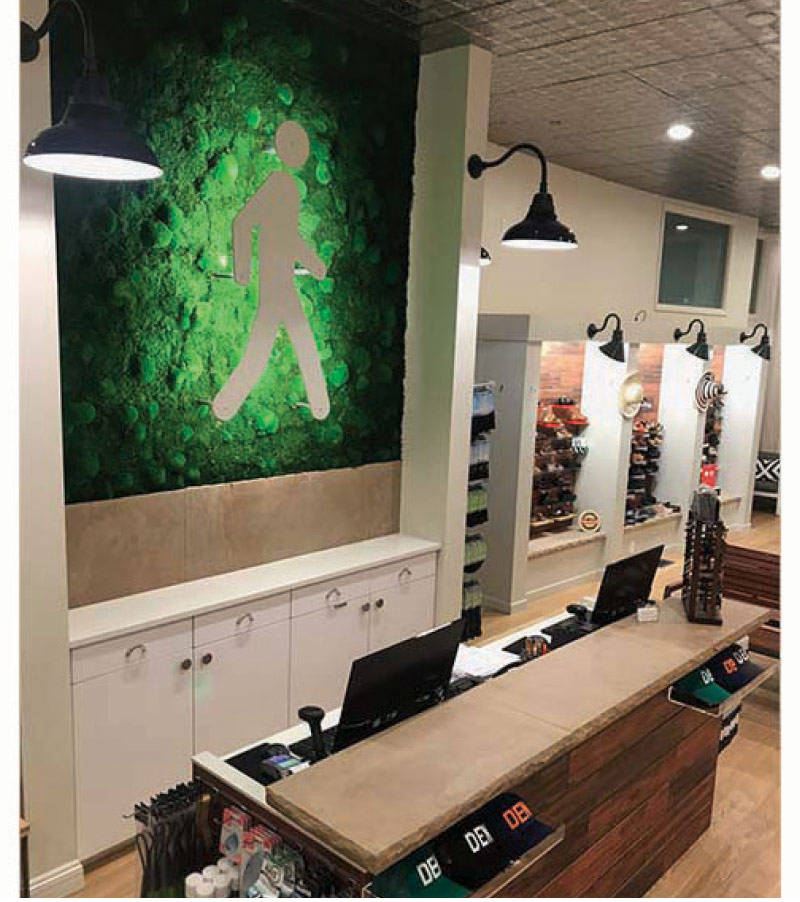 "It was a very exciting time; it was the heart of the 'let's create the Aquarian Age days,'" Polk says. "There was this spirit about doing it on your own, and doing something that had more purpose, and you did it in a way that was more egalitarian."
Polk has practiced and preached that philosophy throughout his distinguished career. Pedestrian Shops is renowned for its community outreach programs, including its long-running biannual shoe drives that have, to date, collected an estimated 50,000 pairs of reusable footwear for people in need. The stores are also a pioneer in eco-friendly business practices. In fact, Pedestrian Shops has operated a 10 kilowatt solar array for almost 20 years and is considered to be the world's first solar-powered shoe store. Polk, who was elected to Boulder's City Council (2005-07), proposed the city's Solar Rebate ordinance, which continues to fund solar power on affordable housing and non-profits today. He has also received numerous community service honors, including a Pacesetter Award from the Daily Camera for leadership in business, the Ron Porter Lifetime Achievement Award from Downtown Boulder Inc., the Boulder County Business Hall of Fame and the Franny Reich Local Business Hero Award from the Boulder Chamber of Commerce. Polk has also chaired The Dairy Arts Center board for 18 years. During that time the organization has raised $7 million for funding improvements to local art centers. Polk is also the creator and curator of the global Decarbonization, Innovation & Arts Network, which shares information and ideas worldwide about the arts and sustainability issues, like combatting climate change. 
Polk is a retail/Renaissance man. John Moran, a sales rep for Dansko who has called on Pedestrian Shops since 2006, sees Polk as a rare capitalist/hippie hybrid, which he believes lies at the core of the retailer's success. "Richard has embraced the specialness and creativeness of his customers while also doing his best to be a responsible human being of the planet," Moran says. "He's conscious of not only his customers' needs but of the needs of the town, the planet and its inhabitants."  
Polk, who wakes up 4:30 a.m. most days, loves every bit of his job(s). "The only thing you question is mortality," he says. "You only get so much of this fine wine, but I'm very grateful. I've got a great life and it was funded by footwear—that's at the base of all of it."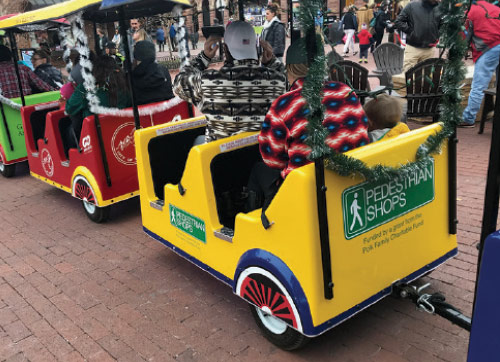 Polk is quick to credit his daughters, Lauren and Zoe, who joined the business in 2006 and 2013, respectively, for freeing him to further pursue his many passions now that they're managing the day-to-day operations. What's more, they've brought their own skills and talents, which Polk is confident will make Pedestrian Shops even stronger going forward. "It's not just their business acumen and carrying on the legacy; it's the values they hold," he says proudly, describing Zoe as a big ideas person and Lauren as very analytical. "It chokes me up to talk about it."
Polk's daughters say they've learned from the best. "He taught us to pay attention to the data and use it to make good decisions," Lauren says. "He's also big on 'magic moments,' which is about being ready to be successful—to jump and buy more when a product starts to take off. He's also taught us the importance of supporting our communities." Adds Zoe, "We put a lot of focus on people—our staff, customers and community. We try to run our business in a way that benefits everyone. We also prioritize the environment and try to operate in the most sustainable way possible. And we try to not take anything too seriously—we have fun!"
For his part, Polk hasn't fully separated from the business he founded. For starters, he believes retailing matters like concept, cash flow, community engagement and treatment of employees are all related to matters of sustainability. They go hand in hand, he says. "I think the emergency of climate change is providing opportunities to help the world become a better place, and it's very rewarding and exciting," he says. "And footwear is a part of that story, because walking is the original carbon-free mobility. Everything is related."    
Turning 70 this November and already twice the age of his father when he passed away suddenly, Polk, a survivor of a triple bypass surgery, views each day as a gift. Does he have a motto? "I'm just thankful when I recognize the guy in the mirror in the morning," he laughs. Kidding aside, he loves his life and the shoe business. "The other day I held a party at my house for all our employees," Polk says. "Summer is so busy for us and we just wanted to thank them for working so hard. We want them to feel like we care, which we do."
The Salad Days
Not long after Polk and Chirikos returned to the "hippest place within 30 miles of Denver" a case containing 12 pairs of Kalso Earth shoes arrived. The partners loaded them into the back of Polk's 1953 Ford pickup and headed straight to Brillig Works bookstore. "It was a very progressive crowd, somewhere between Beatnik and Hippie and very academic," Polk says. The partners chatted up a few customers about these cool new shoes, which Polk said immediately drew interest because, back then, the choice was pretty much limited between sneakers or hard-sole dress shoes. "This was biomechanical—a negative heel construction and an oblique toe," he says. "It was the perfect type of shoe for that crowd. We sold like three pairs that first day!"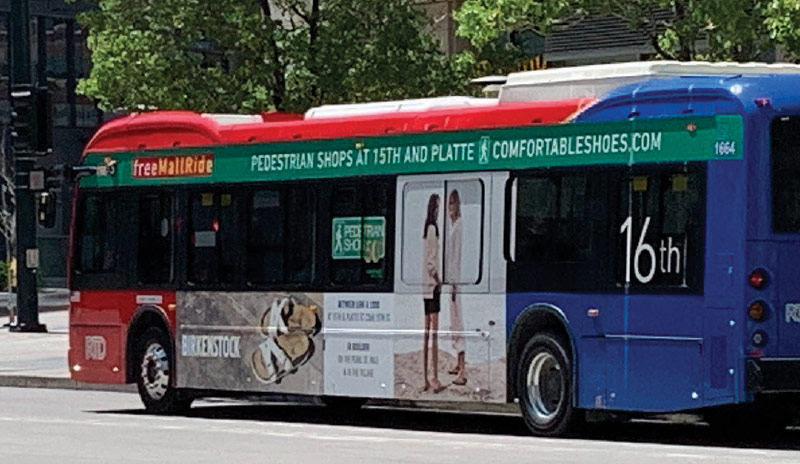 Word among the bookstore crowd spread fast and within days more pairs were ordered. That's when the burgeoning business partners reached out to an attorney friend to borrow his idle bookmobile. "He was a long-haired progressive, Harvard graduate who was teaching at the University of Denver," Polk recalls. "That became our first 'shoe store.' We could stock more shoes and get around town easier." A "great" day in the bookmobile meant selling four or five pairs. Polk says it might not seem like much, but it was a long time ago and they managed to get by. More importantly, he loved his new job. "It was a wonderful time to be a young entrepreneur—if you had the courage and willingness to get up early in the morning and go do it," he says. 
Polk's mobile shoe store startup would join good company. In the mid '60s, Phil Knight and Bill Bowerman sold waffle sole running shoes under their Blue Ribbon Sports label (the progenitor to Nike) out of the back of a station wagon at track meets around the Pacific Northwest. And Mandy Cabot and her husband, Peter Kjellerup, first sold Dansko clogs out of the back of their station wagon at equestrian events beginning in 1990. (That brand would become one of Pedestrian Shops' cornerstones.) Polk sees the vehicle launch similarities as reflective of the shoe business. Specifically, it's an industry that welcomes creativity and entrepreneurism. Not too many industries are as accessible, according to Polk. He believes food and shoes are. "You can become the next Justin's Nut Butter or Crocs relatively easily," he says. "You've got spend a little money, but it's not like trying to build an electric car. I think people in our industry historically have been able to pull the oars with modest resources, and if they are offering something that's right for the market—a better product and/or service and value—it can work."
Their startup was working well enough that, after about two years, Polk and his partner put down roots at 1334 Pearl Street. The small, former print shop featured displays cut from tree trunks by a local firewood businessman and a window display that included plants donated by a nearby greenhouse in exchange for a promotional sign. The store's early years were quite successful. "At one point, we'd have an allocation of 800 units and they'd all be pre-sold," Polk says. "It became a telephone business, basically."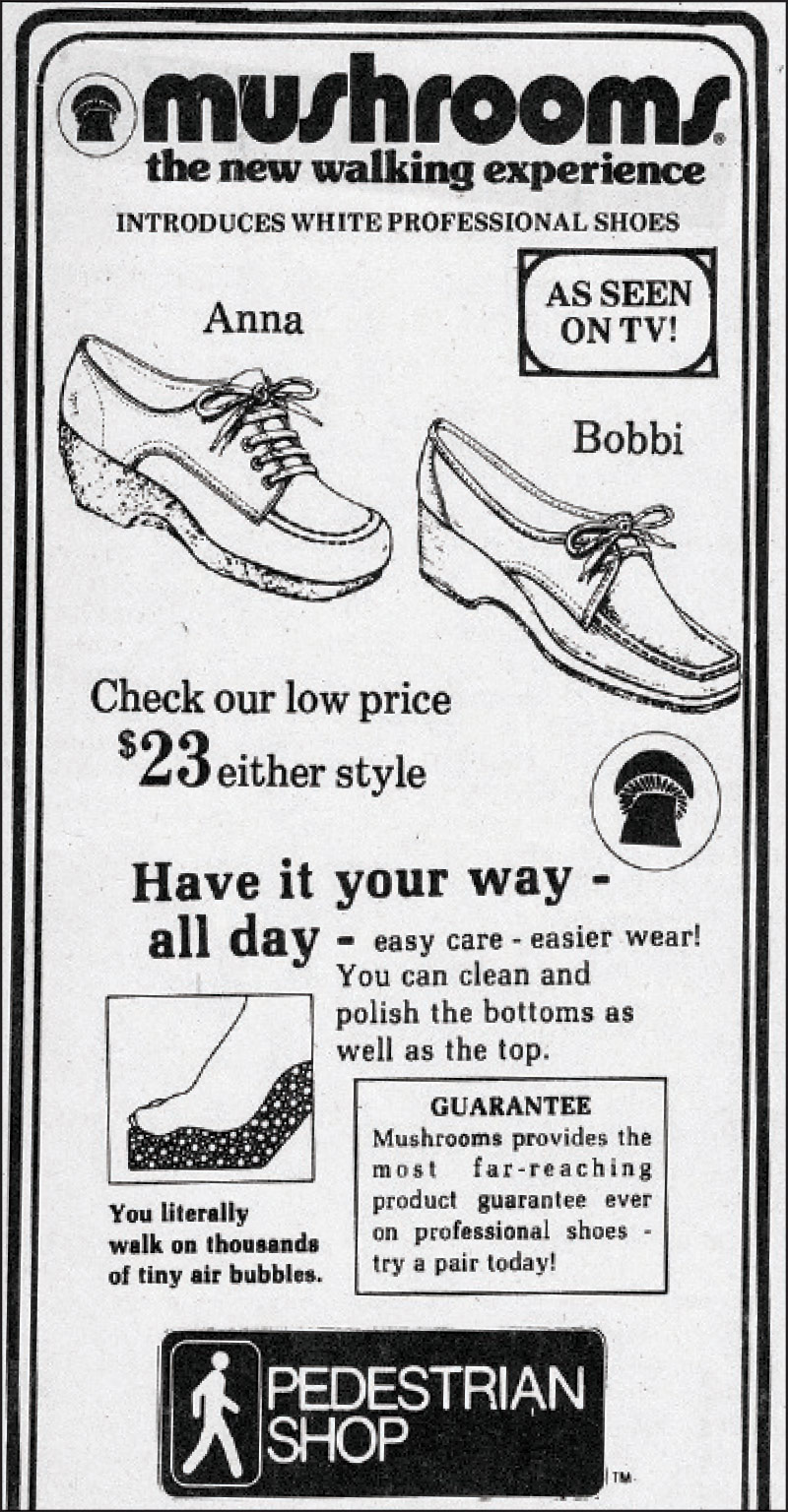 Then, in 1974, Polk saw the handwriting on the wall. If the business was to survive, he no longer could be reliant on just one brand, especially one struggling with fulfillment. His first target: Birkenstock. Polk knew it was an ideal match of Pedestrian Shops' biomechanical comfort shoe philosophy and its progressive clientele. But he needed a foot in the door, and then that door cracked open. Birkenstock's local Boulder account had run into some financial trouble and had marked the brand at a big discount. Polk's retail genes kicked in. He pounced, purchasing the entire inventory and then informed Birkenstock that Pedestrian Shops "didn't want your shoes to be part of this big half-off sale…can we can go forward together?" Birkenstock and Pedestrian Shops have been loyal partners ever since.
"Pedestrian Shops has been a great partner with Birkenstock for many years," affirms David Kahan, CEO of Birkenstock Americas. "They continue to think of creative ways to engage their local consumers and to share our brand messaging." Kahan cites a recent Denver electric bus wrap co-op campaign as an example—something the brand would never have considered doing before. "With Pedestrian Shops, we took a leap of faith and, lo and behold, it's become one of the most successful examples of local brand activation in the entire country," Kahan says.
The bus wraps are Polk at his retail best: dreaming big and making it a reality. Even though the wraps required funding beyond what a business the size of Pedestrian Shops normally rates, Polk's track record of success proved worth the investment for Birkenstock, as well as Dansko and Merrell. "We don't have a big enough pencil to justify those kind of investments, but on the other hand it's about the sizzle and steak," Polk offers. "Brands want to find the future and are learning whether buses are an effective advertising program—it becomes an opportunity, not an exploitation." He adds, "The bottom line is you have to get things in front of the eyes of potential customers, and these bus wraps do that in a major way."
Comfort Epiphany
By 1977, Polk had bought out his partner and changed the store's name to Pedestrian Shops. In his efforts to become a multi-brand format, he was doing a lot of sole/soul searching. Polk looked back on the success of Kalso Earth, asking himself what was so magical about those shoes? Then it hit him: "Why would you make, sell or wear a shoe that wasn't comfortable? Why would you do something that wasn't good for the person you're selling it to?" That comfort epiphany became the core of everything Pedestrian Shops would sell going forward.
As good timing would have it, there were a handful of "wonderful" comfort brands making inroads in the U.S.—Clarks and Rockport were two such early Pedestrian Shops success stories. The challenge, however, was convincing reps to sell to a long-haired, twentysomething running a small shop in the Rocky Mountain foothills. "We had to gain credibility, which wasn't easy," Polk says. "Most of those companies didn't identify themselves as progressive. This was a long time ago and business was a lot different."
Slowly but surely, though, Polk built up the merchandise mix. His genuine curiosity in technology as a (fashionable) solution coupled with his retail acumen led to an enticing assortment of innovative brands, many of which have become major industry players. Take Crocs, for instance. The foam-based brand had been the domain of beach shops and mall kiosks until Pedestrian Shops became its first "shoe" store account. Despite the price tag undercutting its merchandise on average by about $100, Polk saw something in the concept and reasoned the volume potential was worth the low-price gamble. He was (really) right. "There was a point in time we sold 100 units before lunch," Polk says, noting that trucks would drop off pallets of Crocs and employees would roll the inventory in as fast as they could. Pedestrian Shops' original location went under a 760-square-foot expansion for a Crocs Room. "Dads would come in at lunch and they'd be on their cell phones saying, 'I'm getting red for Billy, blue for Sarah and what should I get for Uncle Bill?' They'd leave with eight pairs. It was insane!"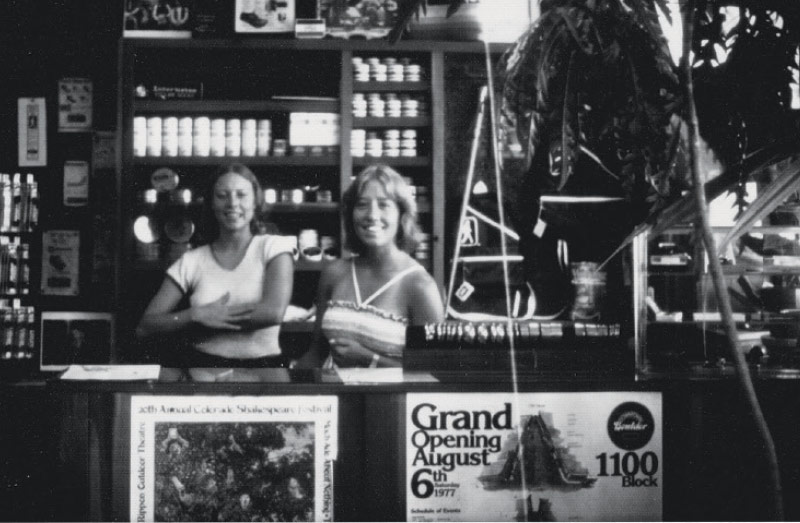 Polk estimates to have sold approximately 100,000 pairs Crocs signature Cayman clogs to date. Specifically, what he saw (and still sees) in Crocs is a breakthrough concept. The clogs are unique, lightweight and comfortable, which fit Pedestrian Shops' buying algorithm. "Our curation model has always been comfort for an active lifestyle," he says. It starts with comfort followed by fit, materials and quality. Polk believes shoes should live on people's feet, not under beds. "One of our mottos is: Life is short, longer if you walk," he says. "I think Crocs is a part of your closet. If you own 10 pieces of footwear, one of them is a pair of Crocs."
Polk used the same guidelines when Pedestrian Shops became one of the first stores to stock Vibram Fivefingers—another huge run for the chain. It was around 2005 when then Vibram Fivefingers CEO Tony Post (now CEO of Topo Athletic) met with Polk, his longtime friend and retail guru. Post, a native of Colorado, had a soft spot for Pedestrian Shops ever since he began calling on the store in the mid '80s while at Rockport. "It felt like going home," he says. More importantly, Post relished his visits for the unfiltered feedback Polk offered on product. "Richard has always been great about telling me what we could do better, but never in a mean way," Post says. "His feedback is always honest, super direct and sincere." What's more, Post says 99 percent of the time Polk is right.
Still, the FiveFingers concept was pretty radical, and Post remembers the early going as tough sledding. "I only sold 24 dealers nationwide that first year, and half of them were friends who bought it as a favor, usually saying something like, 'You'll take these back after we don't sell them, right?'" Post recalls. Polk wasn't one of those skeptics. "He wanted to try something new and different, and encouraged us to go for it," Post says. "Richard has always been known to have a good vision for new ideas, but more than that he has the courage to act on them, and he encouraged us to do the same." In fact, Post believes Pedestrian Shops is a must-stop for brand execs who want a lay of the land. "I would list him as one of maybe five dealers around the country that every brand owner should visit," he says. "The stores and Richard are Colorado institutions." Post adds that having worked for the past 10 years or so with Polk's daughters has been a seamless transition. The daughters possess much of the same retailing DNA, he notes. "Not only are they all great retailers, they're all great people," Post says.
Bruce Gordon, a longtime rep for various brands, including Vibram FiveFingers, Chaco and Smartwool, has called on Pedestrian Shops since 1993 and couldn't agree more. He credits Polk's long-running success to always being intellectually curious and believing that some of the crazy ideas can be grand slams. "He's been so amazingly right on so many occasions," Gordon says. "Richard's also fair and a good partner, challenging each party to support each other and making sure we truly work together."
It's no surprise Polk's product curiosity has extended to other areas of the business. Over the years, he's never been afraid to try new concepts and incorporate the latest technologies. "We did early cell phone advertising, and we were early to sell on the internet," he says. "We've always been fascinated by technology and data. We introduced sophisticated sell-through systems for determining how to best monetize busy seasons early on."
Data capture, Polk believes, ranks right up there with location and selection. "You've got to know what's working so you recognize what's not early enough to get out of it without red ink, which is bad for the brand and you," he says. Being right early, he adds, is especially important today because of smaller product runs. "You need to stake your claim to get inventory while it's still available," Polk says. "That's also why relationships matter with reps, because they'll tell you something your data might not show yet."
Colorado Rocks
Pedestrian Shops' continued success flies in the face of the overriding trend of consumers shopping online. They remain destinations even though consumers can find much of what it carries online. One reason the stores' are still worth the visit, Polk believes, is the curation factor. Pedestrian Shops takes out the hassle of searching the endless web. "You're going to find all one brand or every brand, like on Amazon," he says. "You're not going to find a curated collection that's selected for its functionality, excellent materials and integrity of manufacturers." In a world of fake news and consumer products, Polk believes shoppers are hungering for genuine experiences and authentic goods. He notes many now go to its website to pre-shop. "When they come in and touch, smell it and try them on…that's a huge advantage over just electrons, regardless of how good your photography might be," he says.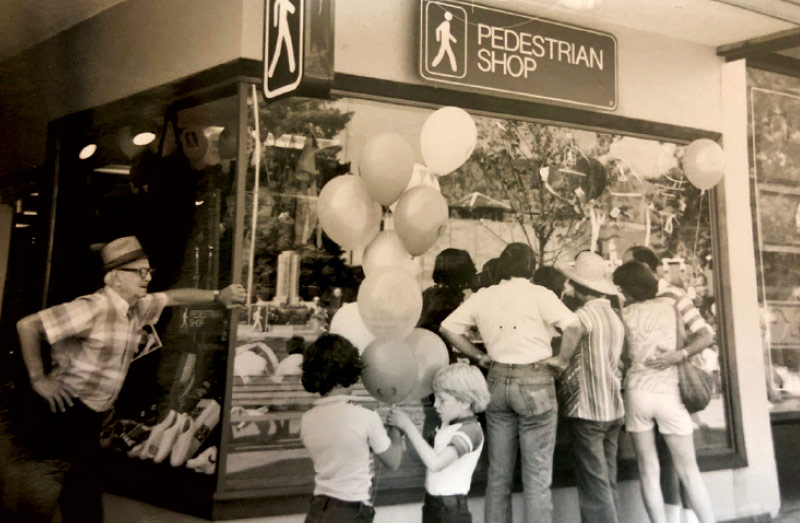 The same rule of thumb applies to location. Curation and customer service won't matter if the store is in a bad location. Take Pedestrian Shops' store in Boulder's outdoor mall, for example. It's a beautiful area that serves as the setting for art fairs and community events, drawing great traffic year-round. Location is also key to Pedestrian Shops' strip center success, which centers on convenience. "A percentage of our local population prefers quick accessibility (easier parking), and it enables us to be the area's market leader for our vendors," Polk says. "We don't have many competitors anymore. They couldn't replicate our culture, plus we have more freedom to curate and maneuver quicker."
A lot of planning went into the Denver location as well. One could even say its choosing was 49 years in the making. Aside from a mid '80s outpost in Longmont, CO, that ended after three years, Polk is meticulous about location. He believes his daughter Zoe has found one in a historic downtown building (built in 1887) located along the South Platte River. It's near a walking path, community gathering areas, an REI superstore and Union Station. The Polks' purchased the building and are using 1,400 square feet housed over two floors for its store and renting the remaining space. "It's a beautiful building," Polk says. "On one side is My Brother's Bar, the oldest saloon in Denver with amazing bar food, and on the other side is Be Kitchen, an incredible health food place." The location checks all the boxes for Polk. "People have to be excited to go there, but not so much an entertainment venue that it isn't a legitimate shopping venue," he says. "The art of location selection is extremely important, especially as people use the internet for everyday buying."
As for potential additional Pedestrian Shops, Polk says it's a possibility, but expansion is not on the front burner. "We want to get our Denver store right: amazing service, selection, vibe, etc.," he says. "My daughters are very hands-on right now and not anxious to over-extend ourselves. For the time being, Colorado is such a strong market that it provides us whatever opportunities we think we need."
Polk is content with Pedestrian Shops' past, present and future. Looking back on 50 years, he feels most of all fortunate. While he's earned every bit of his success, Polk knows he couldn't have done it without the help of his daughters, dedicated employees and loyal wholesale partners. It's always been a group effort as they've travelled together down this long, strange retail trip. Polk has cherished the ride. "I've been doing it for so long I remember introducing myself as the kid from Boulder. Now I'm not the kid from anywhere," he says. "But I have nice children, they received good educations and I'm still alive. I'm going to be 70 soon, and now I'm too old to die young!" Polk adds, "It's been a warped, wonderful trip. Anybody who tells you that the American dream is dead just isn't dreaming hard enough."
From the Hip:
Richard Polk talks shop
The Amazon Affect: It was a big threat for a while. We don't sell on Amazon anymore because we just don't want to feed them that way. But we're grateful that they exist. About three to six times a year, we'll buy a shoe off Amazon and sell it to our customer, even if it's at a couple dollars less than our price. At the end of the day, I believe it's everybody or nobody. It's important that people everywhere have the same shopping options. I believe there are enough people who prefer a sensual shoe shopping experience as well as those who prefer not to buy from Amazon for political reasons that there's no need to spend energy fighting with them.
Good Times: Business is good. Our sales are up this year, but not dramatically. When you've done really good business, sometimes pretty good means you're maintaining numbers. In Boulder, specifically, you can make a living with great marketshare with locals, but you can become affluent if you can add in tourists.
Help Appreciated: We've employed young, old and disabled people, and the best are the ones we've helped to be great. We've had great success, for instance, hiring overqualified people with babies at home who want somebody willing to schedule around what's important to them. We've also employed people who are serious about academics and need a job until they go onto their field of study. Although, those people don't have the best longevity. I like to have at least one employee with 10 years of experience. It helps maintain a sustainable culture. My daughters fulfill that criteria now.
What Retail Apocalypse? Certain portions of retail might be over, but not shoes. Retailers should think of themselves as an art gallery and curate the entire experience. It starts with a great location—one that people go to because it's activated with joyful experiences. If you get the location right, which is trickier and more expensive today, it's still easier than trying to succeed online. There, you must have a very clear niche. Just being a general shoe site is too hard to compete with Zappos. It's about creating that magic moment: when great service, location and curation converge into a sale. It's a lot of variables, but they must come together often enough to sustain your business.