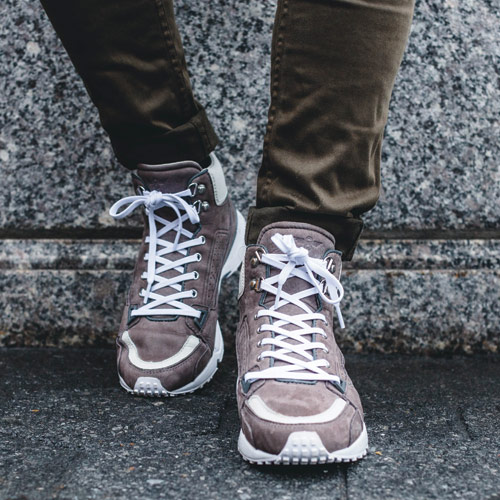 The sneaker is not just a fashion phenomenon—it's a social icon. Kanye West's Adidas Yeezy Boost craze is just the latest example of the power the silhouette holds over millions of people around the world. Everyone pretty much owns a pair these days—or two or three. Sneakers for the gym, for kicking around town and, increasingly, for making a fashion statement for a night out clubbing. But what about when those cold and snowy conditions hit and the sneaker just doesn't make the cut? That's where the sneakerboot has come into play to meet the needs of consumers who want to wear their kicks year-round, Mother Nature be damned. The part hiker/part basketball shoe combines the best of both worlds: sporty style and comfort with protection from the elements.
Some industry followers describe this hybrid as a lazy approach to design. Why not just create an actual boot? Others think sneakerboots are just plain ugly—too chunky to be a good-looking sneaker and too loud aesthetically for a hiker. But Nike has reaffirmed the validity of the sneakerboot with its recent collections. A marketing pitch for its Holiday 2015 debut stated: "Sneakerboots redefine cold-weather comfort, merging sneaker style, boot protection and enhanced reflectivity for the season." And when Nike affirms something, the rest of the industry takes notice.
Converse, Vans, Creative Recreation and New Balance as well as more outdoorsy lifestyle brands like Merrell and Timberland have dabbled in the category in the past few seasons, and experts agree that the style seems more substantial than just another passing fad. Customers love their sneakers, and they also love their boots. Why not combine the best of both? And, more so of late, demand is for original designs rather than just reinterpretations of old sneaker styles in winterized forms.
Chris Davis, strategic business unit manager for sport style at New Balance, says the company is doing exactly that. For the past five years, he says its sneakerboots have been largely retro throwbacks and now, in addition to these and more evolutionary styles, the brand is focused on creating sneakerboot-specific designs. For Fall '16, specifically, Davis says some styles are a bit "more sneaker than boot, while others are a little more boot than sneaker." But, he adds, this is the fun part. "The beauty of the category is that it's open to interpretation—each company can put its own spin on it, and that's why consumers have gravitated toward the trend." (Davis notes New Balance was an early pioneer of the concept and estimates that its history with this type of shoe runs around 30 years deep.)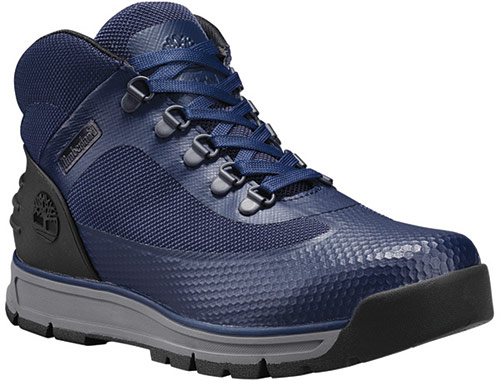 Indeed, customers are gravitating more to the style. Ashley Ahwah, senior global category manager, classics footwear at Vans, highlights the brand's All Weather MTE collection launched in the fall of 2014 as a popular seller. "We've definitely seen an incredible response from consumers across all of our regions," she reports. Ahwah believes the sneakerboot trend is "absolutely" growing, and she sees Vans' expansion to this style as an opportunity to branch out of its canvas heritage. "The customer is looking for newness, and we are seeing success when we add twists to our icons," she adds.
As to why shoppers are opting for sneakerboots rather than traditional boots? "The look is more versatile," Ahwah explains. "The consumer still wants the look of a sneaker, but with added features that speak to the elements. It adds some freshness to their wardrobe." Rich Cofinco, co-founder and creative director of Creative Recreation, a division of Rocky Brands, agrees on the versatility attributes. An alternative look and comfort of a sneaker vs. a bulky heavy-duty traditional look that everybody has, is a no brainer, he believes. Creative Recreation Director of Design James Hansen says there are also very practical reasons the sneakerboot seems to be increasingly on people's radar. "There is less of a break-in period with sneakerboots as well as being relatively lighter weight than traditional leather boots," he explains. And it seems like sneakerboots are a better economic bet, too. The style, he adds, tends to be "lower-priced than most traditional boots with similar functionality."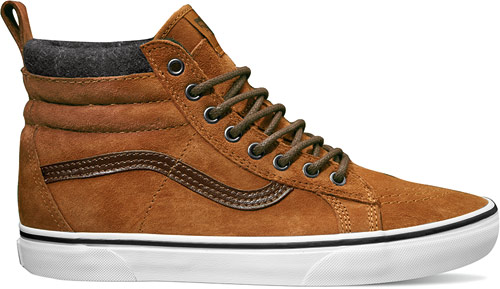 Davis points out another reason for the rise in popularity of the category is that it is easy to pair with the modern day wardrobe. The sneakerboot looks good with the tapered clothing that is fashionable now, he explains, because it tends to be slimmer than a more robust hiker or winter boot—and that is what consumers are attracted to these days. "[The sneakerboot is] the cross breed of today's active lifestyle mixed with the fashion of the streets,'" agrees Cofinco.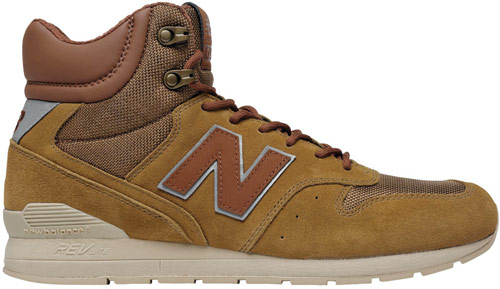 The lower price comes at a cost, so to speak. Hansen notes that sneakerboots lose the ability to be resoled if the outsole becomes worn. "Ten-year-old, welted hiking boots that have been resoled multiple times will always have an inherent value that, for the most parts, sneakerboots can't really give you," he says. Another disadvantage to the style? It may be too fashion-forward for some. Davis says the very high-style look of the product may appeal to a very specific consumer, and he describes this as is the style's greatest downside. He notes that the person buying the sneakerboot is more of a trend-relevant urban consumer rather than a truly mainstream one. "It may not be right for the 40-year-old man out shoveling snow," he jokes. Yet, sources seem to have different ideas about who is buying the sneakerboot. Ahwah claims Vans' MTE collection resonates across both genders as well as across many different regions of the country. "We are seeing just as much success on the West Coast as we are on the East Coast," she says. "The success has also spanned into kids." Davis, conversely, says his New Balance team calls the sneakerboot customer "the metropolitan explorer." He describes this explorer as a trendy city-goer or dweller who loves the outdoor lifestyle. He estimates that this character is probably about 18- to 35-years-old and goes hiking on the weekend, or just explores the cityscape. And that could be any city: "Cities all over the world are adopting this trend," he states.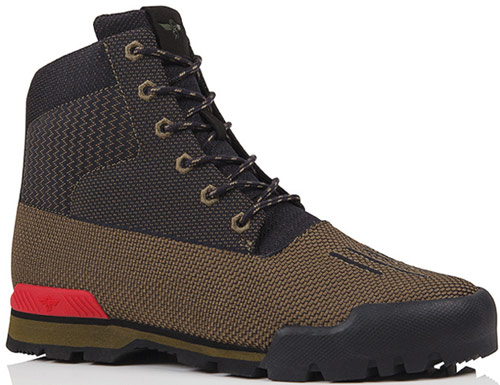 Men, in particular, seem to be at the forefront of the sneakerboot movement. It's the right double dose of macho—sport and ruggedness—that appeals to guys. But, as often happens with fashion, women are looking towards men's styles for inspiration. Plus, they want the same lightweight, hybrid versatility such designs offer. Davis notes that the style is unisex-friendly, and that New Balance had noticed last year that smaller sizes of its male sneakerboots were sold extremely well, which leads his team to speculate that more and more women were snapping up pairs. He says New Balance plans to launch more female-oriented sneakerboots in the future. "Come this fall you'll see a lot of women adopting this trend," he predicts.
To meet the expected growing demand, Timberland, Merrell, Creative Recreation, Vans and New Balance will feature sneakerboot options in their product lineups for Fall '16. What's more, a growing array of fashion brands are offering their take on the look, although minus some performance features. But their push into the look is affirmation the category has legs. In fact, sources agree the forecast for the sneakerboot category is a favorable one. "There's room for growth in this category as the athleisure style continues to become more relevant," says Hansen. Davis concurs: "It's occurring everywhere—this trend is going to be around for years to come."