Industry leaders such as Sorel, Merrell, Keen and Timberland have wrapped current fashion around their proven technologies, leading their products off the trail and onto city streets. The combination wouldn't have taken hold if the shoes leaked or failed to keep wearers warm. Nor would they have appealed to a broader audience if the category's general aesthetic had remained grounded in granola looks. In an era where all-day versatility is a coveted attribute by consumers, outdoor footwear brands are meeting the demand with new technologies (lightweight is a key trait) and widening the array of on-trend designs. The category has moved far beyond its earth tone-saturated and bulky hiker roots. Fall '16 sees a host of brands mixing materials such as suedes, wools and leathers, as well as incorporating sleeker silhouettes and a range of heel heights. It's a powerful fashion-meets-function story that spells opportunity for expansion within core markets as well as potential new audiences. The definition of outdoor footwear has become much broader, reflective of a macro lifestyle movement and mindset. 
Jambu: (Sub) Urban Adventure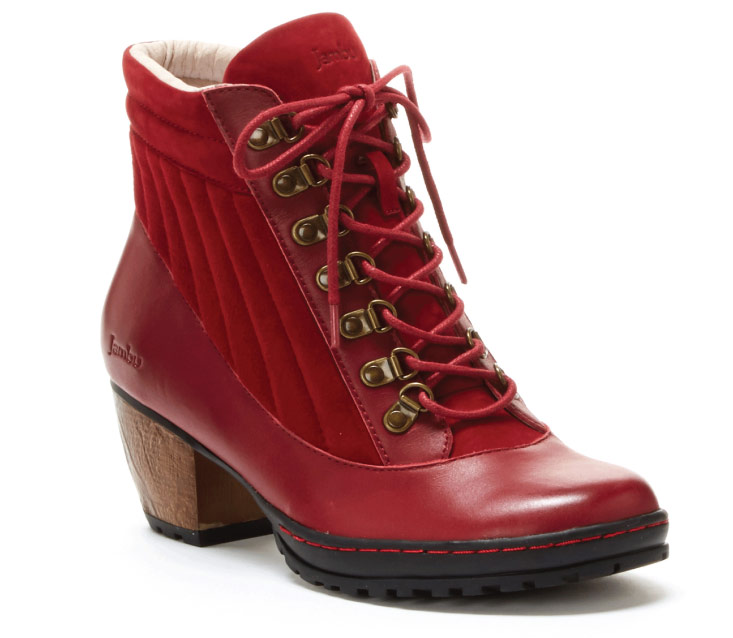 Rather than react to the outdoor market's growing fashion-meets-function trend, Jambu plans to continue on the very trail it helped blaze with another fresh selection of stylish and versatile footwear for men and women. In fact, David Jonah, general manager of Vida Group's Jambu, JBU and J Sport brands, believes the market needs to catch up with consumers who continue to transiton away from utilitarian outdoor concepts in favor of lifestyle and après looks that Jambu has become known for. "Consumers are way ahead of retailers here and conventional buying processes no longer work, especially in outdoor fashion," he says. "Buyers call it a white space and we call it our wheelhouse. Consumers are driving urgently to this white space, and Jambu is positioned to fill it."
Jambu will offer a variety of trend-focused styles imbued with cold weather performance features for fall. Highlights include the women's Mondo, a city-friendly hiking-inspired bootie that boasts a sophisticated mix of rich materials; the Williamsburg tall boot that combines a sleek quilted upper with a fleece-trimmed collar; and the Rosella chukka boot that has a leather and wool upper, a rubber outsole and a fleecy interior for added warmth.
To get its message across, Jambu will kick off an advertising campaign this year dubbed, "The Everyday (Sub)Urban Adventures." The gist of the message is that Jambu boots and shoes aren't limited to mountain hikes and camp sites. Rather, Jambu can be quirky and cool, allowing consumers to embrace everyday adventures in comfortable, functional and stylish footwear. The initiative will include grassroots, social media, digital, and traditional print elements, and the company is now working with social sharing platform Olapic. Jambu has also partnered with Travel + Leisure to provide consumers with a series of travel and packing-guide videos. Just as importantly, Jambu has signed its first-ever brand ambassadors, ultra marathon runners Mary Harvey and Hideki Kinoshita, both of whom view comfort as pure necessity in their off time.
"We are big believers in developing and executing thoughtful strategies to grow the Jambu brand in every way imaginable," Jonah says. "This ever-evolving singular goal focuses on communicating with consumers and potential consumers in the short- and long-term." Part of those efforts, of course, involves reaching consumers online. "The new commerce world is upon us, and Jambu will continue to evolve, adapt and appeal to how consumers shop," he says, noting that a challenge going forward will be to align conventional retailer buying habits with consumers' rapidly changing purchasing patterns.
Ecco: Millennials Mantra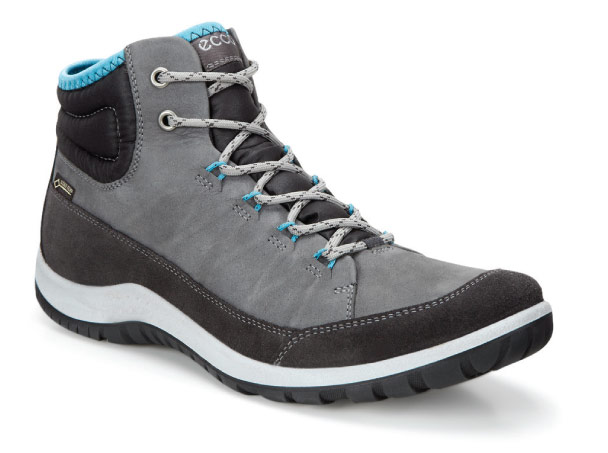 The focus for Ecco this fall is on outdoor lifestyle consumers, particularly Millennials. The Danish brand is working with different types of leathers and patterns that offer technical benefits along with stylish looks intended to appeal to the tastes of the millions of consumers born between the early '80s and '00s. These consumers, by and large, are trend-setters, highly influential and will soon account for the largest market segment. What's more, they love partaking in the great outdoors and seek versatility, performance and panache in their footwear when doing so.
"People want outdoor sport products that they can use 24 hours a day," explains Tom Dixon, Ecco USA's product manager. "They want to go on a hike or trail run and then use the same product to meet their friends for coffee."
To that end, Ecco's latst collection includes tall and warm-lined boots for women, with an emphasis on exposed fur and different materials for luxury appeal. "Women are much more influenced by the look of the boots or shoes," Dixon notes. "Using different materials and colors gets their attention." Dixon adds that this marks a big shift away from Ecco's more masculine aesthetics of the past, which lacked appeal off the trails. "We want to offer women products that are functional but look great as well," he states. Part of that effort includes expanding its transitional fall/winter business—what Dixon defines as the "time between when it gets cold but before there's snow on the ground." Think waterproof yet sleeker and shorter silhouettes.
With respect to the men's market, Dixon notes that functionality and versatility are key product attributes. Ecco's research shows a continuing transition away from heavy, bulky hiking boots and into trail running shoes and light hiking styles—ones suitable for done-in-a-day activities. The fact is Millennials are more likely to dabble in the outdoors, be it in the form of shorter, group hikes rather than multi-day, solo backcountry treks. This segment also includes plenty of urban dwellers who want to look the part, but do not want the bulk of traditional hikers. "We have some great hiking and trekking boots where we use the Boa lacing technology. It has appeal across a wide age group and makes it really easy to adjust how the boot fits throughout the day or hike," Dixon offers.
To help get the word out on Ecco's new products and its Millennials market focus, the company is working with a variety of ambassadors via social media. It's common sense to go where most Millenials eyes are looking on a daily basis. "It's good to get our products on the feet of these influencers from a credibility standpoint as well as for product testing and feedback," Dixon says. "We've had a lot of success to date and we have gotten great feedback from the outdoor community."
Cougar: Fashion Lifestyle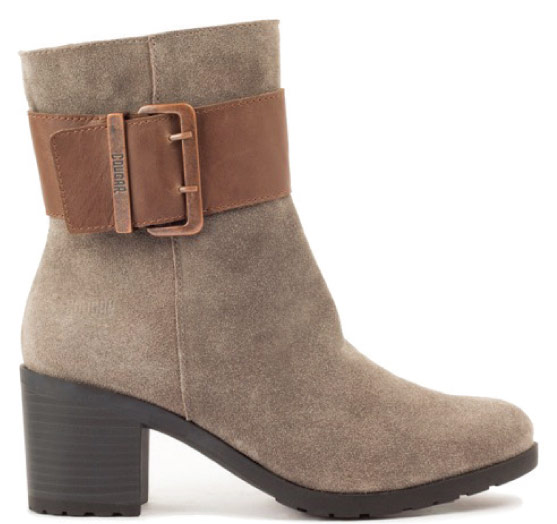 You don't need to invest in a trend forecasting service to confirm that today's consumer increasingly seeks a blend of functionality and style. Boots have to be able to battle the elements while offering elements of style. It's a one-two product demand that fortunately plays into a brand like Cougar's strengths.
For decades, the Canadian brand has made its bones offering waterproof and winter-tough boots for the most harsh conditions while always maintaining a level of fashion sensibility. In fact, Cougar has positioned itself as a fashion/lifestyle brand rather than strictly performance, according to Steve Sedlbauer, president. The unique positioning, he explains, not only reaches a broader audience, but the more style Cougar incorporates into its products, the less susceptible it is to benign weather conditions. [Think this past fall.] The performance benefits are there, but it's hidden beneath plenty of style.
The brand's Fall '16 collection is no exception. "We've improved our waterproof technology, but the brand doesn't really hype it," Sedlbauer says. "It's like an air bag in a car: It's great to have, but you don't need to see it."
The hybrid strategy has been paying dividends. Sedlbauer reports that Cougar has doubled its business over the past two years and expects continued growth in 2016. For now, domestic sales surpass those in the U.S., but Sedlbauer believes this market will take the lead in a couple of years. "There's lots of space to grow in the U.S., and our goal is to expand distribution," he says. "It's not about quantity—we want to position the brand by being in the right retailers."
In order to appeal to the right retailers, Cougar is focusing on two specific product initiatives for next fall. First is in step with a broader industry trend of offering shorter boots that feature combinations of leather and suede. The new designs provide up-to-date looks while also helping keep prices down. Suggested retail pricing for the collection ranges from $130 to $200. Second is a fashion approach to rubber footwear (retail prices range from $50 to $75) that incorporates a variety of prints and colors. "Rubber is a low-cost option to leather boots that can give customers a particular look without the added expense," Sedlbauer explains, adding, "It's not just about buying rubber to wear in the rain—it's affordable, cheerful fashion."
Sedlebauer reports that the reaction from retailers to Cougar's latest line at the FFANY show was excellent. "We had low expectations for the buyers' appetite given the warm weather," he says. "However, we were pleased by the reaction to the freshness of our product. Low booties on a range of heel heights and sole treatments were the hit with buyers."
Sorel: Double Play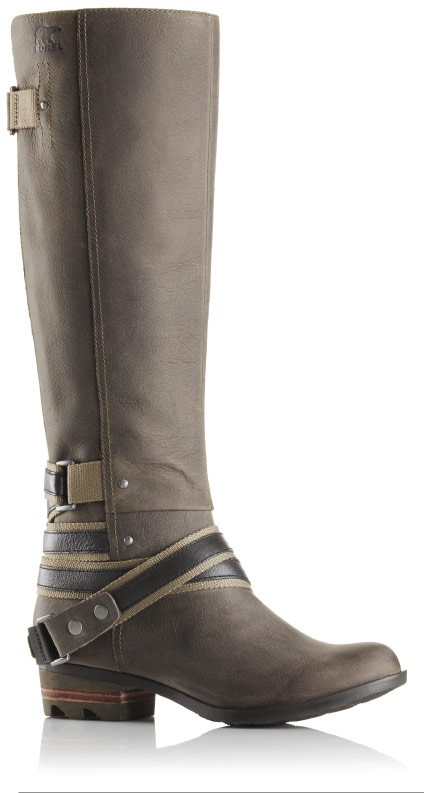 Sorel, a brand grounded in cold weather performance, continues its year-round product evolution in response to growing demand. In fact, the company's Fall '16 collection is its largest to date—nearly double the size of the previous season. That's what tends to happen after your boots, the Medina II in particular, become hot sellers in both outdoor specialty and boutique stores.
"Our extended fall line features styles that offer our take on market trends, including a variety of materials, boot heights and hardware details," says Kimberly Barta, senior global marketing director. "We continue to expand our line with compelling designs, materials and heights that are all-day versatile, everyday relevant, all year long." Barta adds, "Protection doesn't have to be devoid of style, and our fall collection takes this concept to the next level."
For women, Sorel is offering a wide array of city-proof boots—notably the new Lolla and Addington collections—that are feminine yet rugged with a sleek silhouette, varied heel profiles and waterproof full-grain leathers. The Lolla assortment comes in three heights, all of which blend equestrian style with feminine elegance. Key design elements include stacked heels, unique hardware and premium stitching. The Addington collection comes in tall boot, lace-up, Chelsea, strap and mule versions—all of which boast premium waterproof leathers in rich, neutral tones. Also new for the season are the Conquest Wedge, Joanie Sweater and Lea Wedge that incorporate Sorel's popular built-in wedge construction and feature premium leathers and mixed materials. Sorel's winter active lifestyle category is marked by lightweight constructions, bright color pops and range of temperature ratings. A highlight is the sporty new Cozy Carnival aimed at a younger audience.
On the men's side, Sorel is evolving its fall offerings with more stylish, everyday boots that still offer classic utility. For example, the new Madson collection, designed for all-day wear, consists of wingtip boots, chukkas and lace-up styles in rich colorways and waterproof leathers and suedes.
Barta cites Sorel's unique design identity, craftsmanship, functionality, protection and durability as its points of differentiation and reasons for success. "For Fall '16 and beyond, we will continue to drive expansion by providing bold, fashion-forward and highly functional footwear for all seasons," she says.
Merrell: Doing What's Natural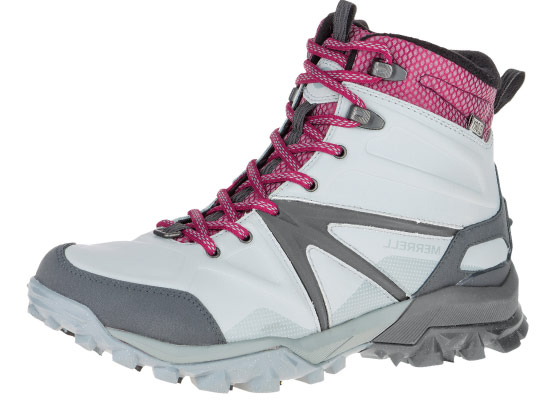 Merrell, celebrating its 35th anniversary, is launching a number of new initiatives in 2016, chief among them a new brand platform called "Do What's Natural." The premise being that nothing should get in the way of enjoying the outdoors, and the brand wants to encourage consumers to experience nature on their own terms. As part of the strategy, rather than target specific demographics, Merrell will reach out to what it dubs young-at-heart adventurers.
"Whether old or young there is a large group of consumers who share the same values that have built Merrell's existing consumer base," explains Sue Harvey Brown, marketing manager. "We call them young-at-heart adventurers. They view going outside not as a challenge, but as a passion and a choice. [Going outdoors] is an opportunity to turn off all the distractions of everyday life and find pleasure in active outdoor adventure."
To bring its new brand platform and key product stories to life, Merrell will roll out several marketing programs through print and digital advertising, brand ambassadors and strategic partnerships. These include being the official presenting partner for Tough Mudder and the new Tough Mudder Half mud run events and a partnership with Outdoor Nation to create the Merrell Campus Ambassador Program to encourage outdoor recreation among college students.
Accordingly, Merrell's Fall '16 collection is intended to suit a wide array of consumer needs and activities. On the performance front, the new Vibram Arctic Grip outsole technology delivers the most advanced cold weather gripping system ever created by Vibram, providing three-times more traction on slippery, wet and icy surfaces. Exclusive to parent company Wolverine Worldwide through 2017, Vibram Arctic Grip will be featured in Merrell's ICE+ Series, comprised of six patterns. Each model will include a thermochromatic lug that turns from white to blue at 32 degrees Fahrenheit as an indicator for icy conditions. Another performance initiative is the Moab FST, a multi-sport shoe that boasts a mesh and 3D-printed upper for protection and support.
In the lifestyle category, Merrell has moved the production of its classic Wilderness boot from Italy to its Michigan factories for added made-in-the-U.S.A. appeal. Additionally, the brand is bringing back its '80s-era Eagle/Solo collection of athletic hikers in a variety of original and new colorways. It will also launch the Waitsfield Collection that was inspired by Waitsfield, VT, the birthplace of the brand. The collection, featuring a nostalgic nod to the brand's past in the form of its signature  blue laces, is aimed at outdoor-minded city dwellers. "We've built a brand known for its comfort, durability, design and versatility and want to continue to balance authentic performance with down-to-earth playfulness," Harvey Brown says. "We want to continue making products that remove the barriers to enjoying the outdoors and, through this, we hope to continue to expand our consumer base to the next generation of young-at-heart adventurers."
Keen: Hybrid Fun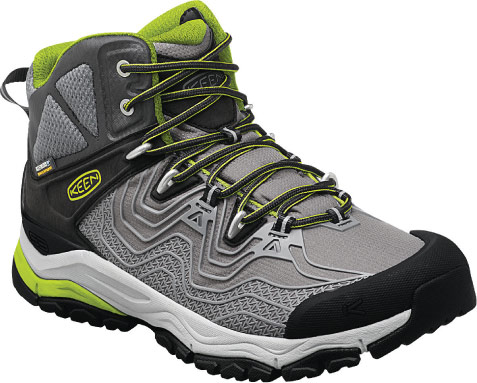 Keen has cemented its place in the outdoor market by offering fun, casual products imbued with performance technologies. Aesthetically speaking, the brand leans toward the quirkier side: The Uneek hybrid sandal featuring an upper made out of two climbing cords and its bubble toe guard come to mind. But the brand also offers an array of traditional silhouettes that boast interesting material treatments and lively colors suitable for a variety of active adventures in outdoor and urban settings.
"Consumers are looking for lighter, faster, versatile and style-relevant products, and our Fall '16 collection elevates these values to a new level," says Nol Gerritse, director of product and retail marketing. "We have a stronger focus on the consumer than ever before, and key consumer insights blended with fresh ideas, innovation and original products are at the heart of our development process."
Key initiatives include the aforementioned evolution of Uneek, the performance engineered A-Phlex hiker, the versatile and stylish Bridge City collection and the urban-inspired Citizen Keen. The brand is especially enthusiastic about the A-Phlex Mid (retail priced at $160) that's designed to be light, fast and stylish, and features proprietary S3 technology to enhance structure, stability and suspension for all-around comfort. The boot's PHlexoSkeleton contoured TPU armor works with a lightweight mesh upper for protection, and a Keen.Dry waterproof/breathable membrane rounds out the package.
The new women's Bridge City collection, inspired by the brand's hometown of Portland, OR (a.k.a. Bridge City),
shows off an eclectic assortment of artisan textures, stitching and intricate detailing. For men, the Citizen Keen collection delivers premium detailing on a modern, street-savvy silhouette. Meanwhile, the updated Uneek 02, which is 25 percent lighter than the original, has an enclosed heel panel and a Foam midsole with rubber pods in high-abrasion areas to minimize weight and increase comfort. It will be available in a variety of colorways for men, women and kids. In the winter boot category, Keen has expanded its American Built Performance Series led by the Durand Polar Shell (SRP $180) that provides 200 grams of Keen.Warm insulation and Keen.Dry waterproof protection.
As the outdoor lifestyle market continues to evolve and expand, Gerritse is optimistic about Keen's and the industry's prospects. "With energetic enthusiasts embracing outdoor experiences more than ever, we feel very positive about the outdoor industry going into 2016 and beyond," he says. "The outdoors is coming into the city and, likewise, fresh generations of urbanites are developing a strong urge to get outside. It's an exciting time with a lot of opportunity ahead of us."
Woolrich: Trail Mix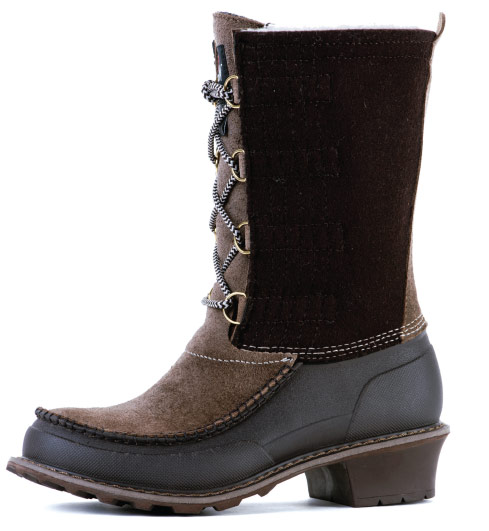 Woolrich Footwear, a licensee of Portland Product Werks, burst onto the scene two years ago with a street-friendly outdoor aesthetic that blended classic silhouettes with fashionable materials and prints. The brand gave nod to its 180-year-old apparel roots and embraced touch points such as authenticity, heritage and quality while offering a fresh take on what outdoor footwear could look like. The brand will continue to emphasize its outdoor-meets-fashion vibe for Fall '16, although with a more traditional trail tilt via its Euro-hiker-inspired Santiam, the Squatch and the Fully Wooly Slip and Lace models—all part of the brand's Fully Wooly winter collection of insulated and waterproof all-weather boots.
Technically speaking, Woolrich designed its Fully Wooly Analog insulation to encapsulate the entire foot with a "wool blanket" on the inside, which is then wrapped in waterproof leather on the outside, providing an insulated, water-resistant frost barrier in cold conditions. The combination of these two materials creates natural and sustainable insulation that breathes, dries quickly and wicks moisture—all organically and without the use of toxic or unnatural materials. Archival blanket wools featuring Civil War and Jacquard blanket patterns pulled from the Woolrich mill archives, and dramatic pull-up full-grain leathers and oily and distressed suedes figure prominently in the collection.
"We intend to move more towards outdoor lifestyle and performance and slightly away from trend and fashion," says Carl Blakeslee, creative director, Woolrich Footwear. "Woolrich, the original outdoor company, was founded on the principles of real gear for real outdoorsmen and women. We intend to honor that foundation as we see a more sustainable and authentic position is better for the longevity and accessibility to the brand." This means a slight shift in product direction and marketing message as well as a broader distribution strategy skewed more toward outdoor sporting goods and larger retailers that want to access this coveted American outdoor brand.
The strategy, Blakeslee believes, dovetails with consumers' growing interest in quick and easy outdoor escapes with friends and family, be it "glamping" (car camping), backyard get-togethers and more traditional family camping trips that exemplify the casual outdoor lifestyle. Blakeslee notes that these trends coupled with increasing concern for the environment and eco-friendly products are creating a "perfect storm" of sorts in the market. It presents an opportunity for traditional retailers to embrace these types of more versatile products. "Brick-and-mortar retail continues to struggle to find its new North Star. The state of consumer business is shifting more towards online, so these retailers are being forced to rethink the shopping experience," Blakeslee reasons. "Weather instability and unpredictable seasonal patterns are playing havoc with retailers nationwide, so it's more of a challenge than ever for brands to react to that with more versatile styling."
Quick Hits
Marquee product launches and marketing initiatives making noise in the outdoor world for Fall '16.
Asolo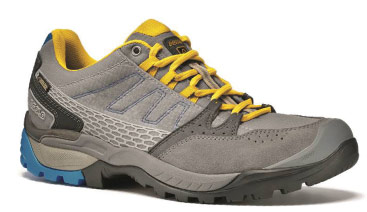 Special attention is being paid to the women's category. The Celerus offers a lightweight yet stiffer platform for heavier pack weights and more serious terrain. Bruce Franks, general manager of Asolo USA, says the shoe skews younger and is aimed specifically at the Rocky Mountain state markets where support, protection and lighter weight are strong demands. Franks is bullish on the women's market potential overall, despite it still being somewhat of a challenge to get retailers to concentrate more on the segment. "The women's market is there and can be vital," he says.
Columbia Sportswear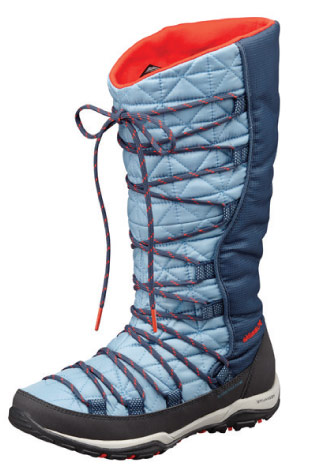 On tap is an array of women's styles. The Heavenly collection of insulated boots feature premium fabrics, faux fur trims, contemporary silhouettes and tech benefits such as Omni-Heat Thermal Reflective and Omni-Tech waterproof breathable linings. The Loveland collection features a snowboard-inspired aesthetic and includes a Techlite midsole for support and Omni-Grip multi-directional traction for stability. "People are moving away from traditional boots and seeking more lightweight and versatile options that can be worn in various environments," notes Brad Bischel, senior manager of footwear, adding that women's sales are not wholly weather dependent. "While a hard shell boot may have been appropriate for three months out of the year, our new lightweight, waterproof boots can be worn from the first signs of fall to early spring."
Timberland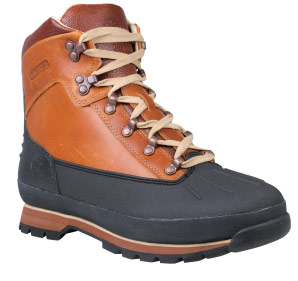 In a continuation of its "On the Modern Trail" brand platform, the company will focus on style, craft and versatility in both its performance and casual assortments for Fall '16. "Inspired by our original yellow boot, iconic silhouettes are re-imagined with subtle technology and style upgrades, while varying shades of brown born from the color wheat are incorporated throughout the line," explains Greg Duffy, senior director of outdoor performance. The men's Euro Hiker Shell Toe, for example, features a classic duck boot aesthetic updated with TimberDry eco-conscious waterproof membrane and SensorFlex comfort technology.
Hoka One One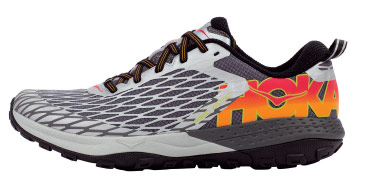 Anders Bergstrom, director of insight strategy, notes a highlight for fall is the Speed Instinct that features the new Pro2Lite protection and propulsion technology in which a soft heel density transitions into a firmer, more responsive forefoot. It makes the shoe both responsive and forgiving on the trail. Another noteworthy introduction is the Clifton 3, also part of the Speed category, that's aimed at performance-oriented runners and is designed to appeal to a wider range of women due to its updated fit and style and the inclusion of Pro2lite technology.
Oboz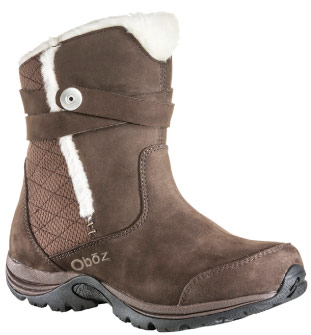 The company is rolling out a new insulated collection for men and women, featuring proprietary BDry breathable waterproof linings and 3M Thinsulate insulation. A highlight is the women's Madison Insulated BDry which delivers a waterproof nubuck and textile upper, a zipper opening and double straps and touches of faux fur trim. A BFit Thermal insole that incorporates wool and mylar adds warmth, and winter-specific silica-infused rubber increases traction.
Mishmi Takin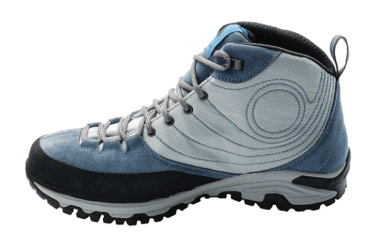 The new brand—the brainchild of M.I.T. graduate Kapil Dev Singh—is designed to breathe in wet environments and breathe faster in temperate conditions. Basically, moisture is an enemy in hot and cold conditions and the brand's eVent Dry venting technology transfers sweat instantly though the membrane. The line also features slip-resistant Vibram outsoles and water-resistant outer fabrics. Additional details include a stretch heel that provides comfort for descents and an engraved shank and high-profile cupsole to lend stability on uneven surfaces.
Vasque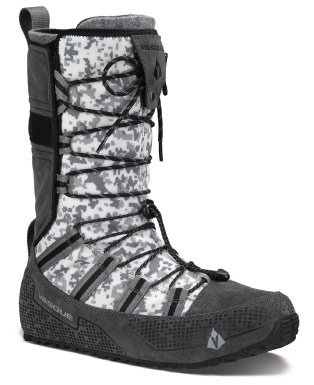 A push toward technical winter hiking styles is a focus for Fall '16. The Lost 40—named after the wild area in Minnesota—is a modern-day mukluk for extreme cold weather. It features a removable 7mm felted wool liner, 200g of 3M Thinsulate insulation and an internal midsole of Aerogel for warmth. A two-part zonal lacing system provides a snug fit and a Vibram Overland outsole with IceTrek compound delivers traction on frozen surfaces.