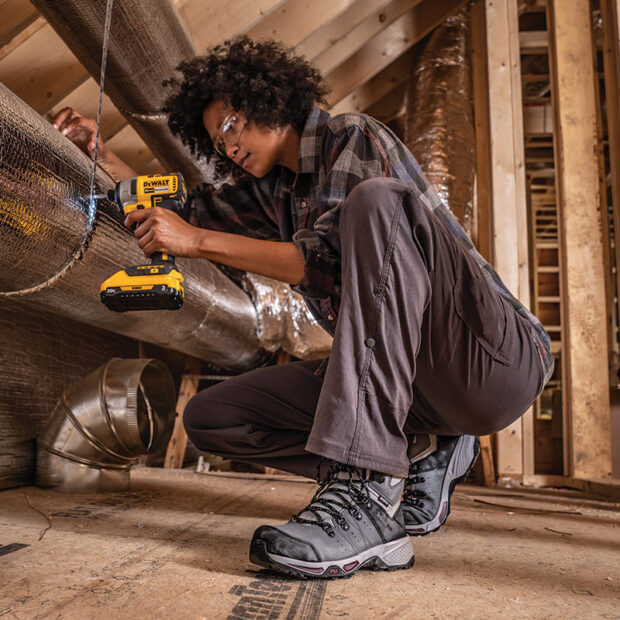 THE WORK FOOTWEAR market has fared relatively well through the pandemic. As essential gear for first responders as well as a growing legion of people working in the online shopping-fueled warehouse distribution and delivery sectors, sales have been solid over the past year or so. What's more, retailers selling such product were also deemed essential and stayed open. The main challenges have been having enough inventory to meet demand and, longer term, there being enough skilled workers to meet the growing demand to fill those jobs. One study noted that more than two million manufacturing skilled labor jobs will be vacant by 2028. That's potentially container ship loads of missed work boot sales.
This year alone construction companies need to hire 430,000 more workers than they employed in 2020, according to an analysis of U.S. Bureau of Labor Statistics data. Analysis by Associated Builders and Contractors also revealed that every $1 billion in extra construction spending generates an average of at least 5,700 related jobs. So, if President Biden's multi-trillion-dollar budget that is heavy on infrastructure projects gets passed by Congress…do the math.
Keeping pace with the demand for skilled labor is challening enough, but there's also the need to fill positions in all forms of employment as the great reopening commences. According to a recent Wall Street Journal article, businesses across America are desperate for workers, as evidenced by the Labor Department survey citing 9.3 million job openings in April—the most since it began keeping track in 2000. Job openings increased by 998,000, including 391,000 in leisure and hospitality, 108,000 in trade and transportation and 102,000 in manufacturing.
On the bright side, the work footwear market is very healthy, and trying to keep pace with growing demand is a good problem to have. Here, five brand executives discuss how they are meeting demand, what's new for Spring '22 and what their crystal balls are revealing about the market's future.
Jason Brooks
CEO, Rocky Brands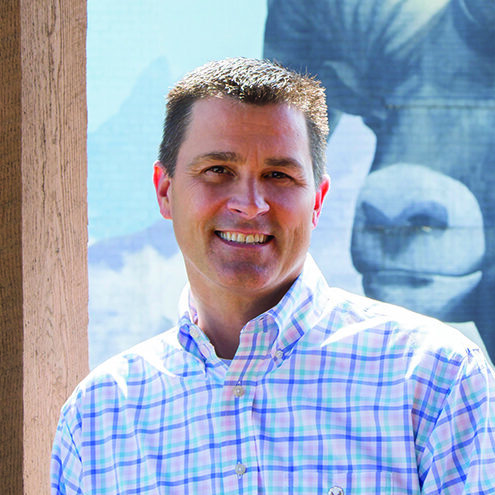 How's Business? Good! We came into 2020 with a very good balance sheet and were able to manage our business differently than had we not. We haven't furlough or let go a single employee during this crisis. Nor did we cancel one order with our factories. We postponed some, but our sales team still made calls when a lot of our competitors had furloughed their entire sales force. Plus, many of our retail partners stayed open as essential businesses. And when business started to really come back in Q3, our factory partners kept making our orders and we've picked up shelf space. And that's hard to get back, because we primarily sell black and brown work boots, right? If customers like our boots, they want to buy them again and again. The other advantage we have is our manufacturing facilities in Puerto Rico and Dominican Republic. We've been in those countries for over 30 years and there have been no shipping container issues there.
What's the outlook for the rest of this year? We don't issue a lot of forward-looking statements, but on our Q1 earnings call we gave guidance that the rest of this year combined would be about a 20 percent sales increase over 2020. Looking ahead to 2022, our approach is it has to get back to some normalcy. We've always talked about mid-single digit growth and we're pretty comfortable with that. Consumers and retailers are liking our product and therefore I think we'll hold onto that shelf space. It will also be interesting to see if President Biden's infrastructure bill goes through. That could certainly help us.
Might we be on the verge of a rebuild America renaissance—a potential Golden Age for work footwear sales? I think you can prepare for it a little bit, but I don't think you can count on it. If the bill passes, I don't think, all of a sudden, you'll see this huge boom. It'll probably be a slow burn over years. But the bigger question is: Do we even have enough people to do the infrastructure work that funding can support, let alone enough people who can pull a box off a conveyor belt in a warehouse? Right now, I need to hire about 50 people in my distribution center and I can't find anyone. Still, passage of that bill should be great for our business in the long run. Because, for starters, I think more people will see the opportunity to make a good living in those fields. Plus, we'll probably have to pay more to do those skilled jobs and that will attract people.
Why was now a good time to expand the portfolio with the acquisition of Honeywell's brands? There are really two ways to grow. 1. Organically. 2. Acquisitions. We've been growing organically, but it's two to four percent a year, which doesn't bother me but it's not terribly sexy to investors. Beyond that, the brands are amazing. Original Muck Boot Company fits our business because we deal with the same customer base, but it's not the same product. It's not going cannibalize anything we do because we focus on leather, Cordura-type product and they are all rubber/neoprene. Xtratuf is also all rubber, triple dipped, big in industrial fishing and works well in our model. NEOs, Servus and Ranger are smaller brands, but again all different than anything we are focused on from Rocky, Georgia Boot and Durango standpoints. We think it's a great buy.
Those brands will blossom further under Rocky's umbrella? First, the people who came with the acquisition have done a great job of positioning, marketing and product development. Where I think we can do a better job is in operations. Nothing against Honeywell, but this was the only division they sold direct to consumers and retailers. Every other category they have is sold through distributors. It just didn't fit their model—their distribution centers aren't set up to ship one pair of boots to a retailer or a consumer. We are. So I think that we can absolutely grow the brands just because they are going to be in a footwear company versus an industrial one. Many of the customers have told us that they can't wait for us to get that inventory in our DC so they don't get shipped the wrong stuff and they can get shipments in a timely manner. It should be really good.
Overall, business on the work front is looking up for Rocky Brands? Yes! Once we finish integrating the Honeywell brands into our operating system, over the next few years the focus will be on optimizing brand synergies to drive further growth. Muck, for example, has done a great job of expanding its distribution, especially during Covid, into niches around gardening and women's. I call those half steps away from the brand. I don't want to get two steps away, because I think you can screw your business up if you get too far away from what you are really good at. Finding half steps here and there for any of our brands is an opportunity for growth. The other growth opportunity is international. Right now, that amounts to about five percent of our business. There's a big growth opportunity internationally with all of our brands.
Bob Sineni
Vice President and General Manager, Timberland Pro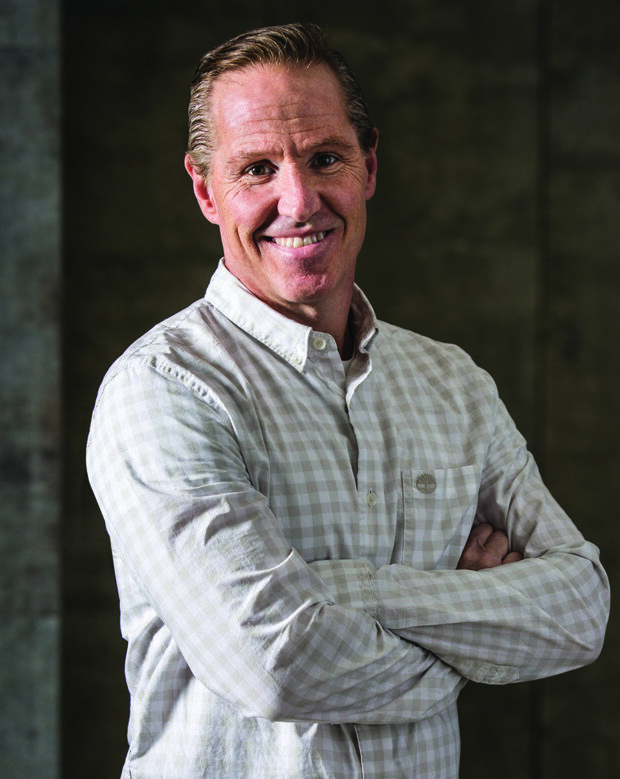 How's business? Despite the pandemic, last year was a very strong year for Timberland Pro and we're seeing that momentum continue into 2021. We're experiencing record growth in our digital channels and surges in brick-and-mortar as well with the return to normalcy. Many of our retailers were very successful at pivoting to an omni-channel approach; in fact, we had some retailers post record years because of how skillfully they evolved their business model. The beginning of the year was also marked by strong product launches, mostly notably our Radius safety shoes, our newest offering of work athletics. We also launched our first-ever Timberland Pro slide so that workers can experience the comfort of our signature Anti-Fatigue Technology on and off the job site.
What's new and noteworthy for Spring '22? We're launching two new families of work hikers: the Trailwind and Switchback. The Trailwind ($190 SRP) is a premium hiker made with full-grain, waterproof leather packed with innovation. It features a custom-designed Vibram rubber outsole, asymmetrical CarbonShield safety toe for a roomy fit, Anti-Fatigue Technology, StableStride technology for lateral stability on slanted and uneven surfaces, and our lightweight Hover Spring foam midsole for industry-leading underfoot comfort, flexibility and durability. It's waterproof and mutilation-free, so a great choice for everything from construction to automotive manufacturing. The Switchback ($150-$165 SRP) includes four men's styles and one women's style. It's offered in composite and soft toe versions, all with Anti-Fatigue Technology and a waterproof membrane.
The other launch we're really excited about is our Radius Knit family ($135 SRP), which is an extension of the Radius safety shoes we launched this spring. It's one of the lightest and most flexible footwear families we've ever introduced. What sets it apart from the original is its slip-on knit upper and stretch lace system to comfortably lock your foot in and provide support. It's highly versatile but will perform particularly well in warehousing and distribution environments, where we've seen explosive growth this past year. Because of its lightweight flexibility, which is powered by our Flex Technology (a platform we originally introduced in our apparel line), the Radius Knit is a great choice for workers who are on the go all day long. Features include our lightweight Hover Spring foam midsole, Anti-Fatigue Technology, composite toe and mutilation free. It includes five men's and two women's styles, in a broad range of color options from white to bright.
Is there a profession/category that you are expecting to lead sales growth? We've attracted a growing number of new consumers in warehousing and distribution, and with that our work athletics have become increasingly popular. We also continue to make strong inroads with both Millennials and women. We attribute that not only to the comfort, durability and performance that Timberland Pro is built on, but also to the thoughtful design and styling we've developed with those consumers in mind. Additionally, our women's footwear is designed specifically for women, where considerations include a more anatomical last, asymmetrical toe shape and a low profile, resulting in a more feminine aesthetic.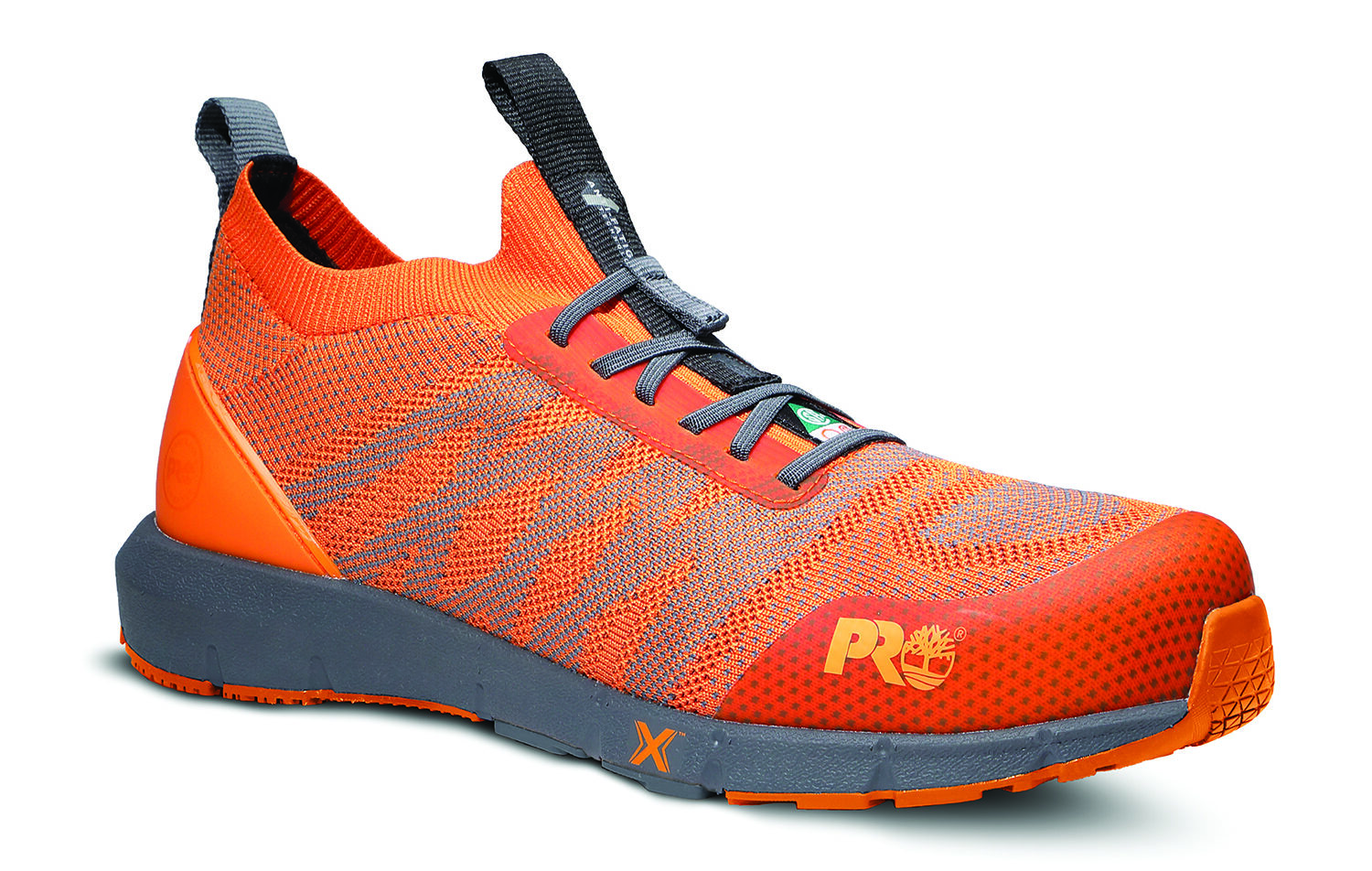 As the country emerges from the pandemic, might we be on the verge of a rebuild America renaissance? We hope so! The skilled trades gap in the U.S. continues to widen as baby boomers retire and younger consumers are drawn to other career paths. As a brand, our No. 1 priority is helping to change perceptions of the skilled trades by celebrating our consumers. For too long, these workers have not been given the attention they deserve. It's been one of our greatest privileges to use our platform to celebrate the incredible work that they do. For example, earlier this year we launched a Timberland Pro x Generation T collaboration, pairing our signature wheat Direct Attach work boot with the Generation T movement. Offered in both men's and women's, the goal of this boot is to raise awareness for the skilled trades gap and help inspire the next generation. We celebrated the launch with a donation to Girls at Work, an amazing organization committed to empowering young, female builders.
Now if we are headed into a rebuild America renaissance, we can expect to see employee acquisition and retention become more competitive, as companies vie for fewer and fewer employees. This dynamic may cause employers to bolster their benefits and incentives, with safety footwear and apparel programs being one potential lever. We're hopeful that more employers will offer these programs, leaning into premium brands like Timberland Pro to distinguish themselves and reward their employees.
This fall, we'll also be launching new brand spots that are a continuation of our Always Do. Never Done. campaign, which we built to challenge stereotypes around the types of jobs, people and locations that make up the skilled trades. Our latest campaign focuses on the next generation of these workers, showing that a higher education isn't always what you think it is and that some classrooms are bigger than others.
Lee Lemon
Vice President of Sales, Twisted X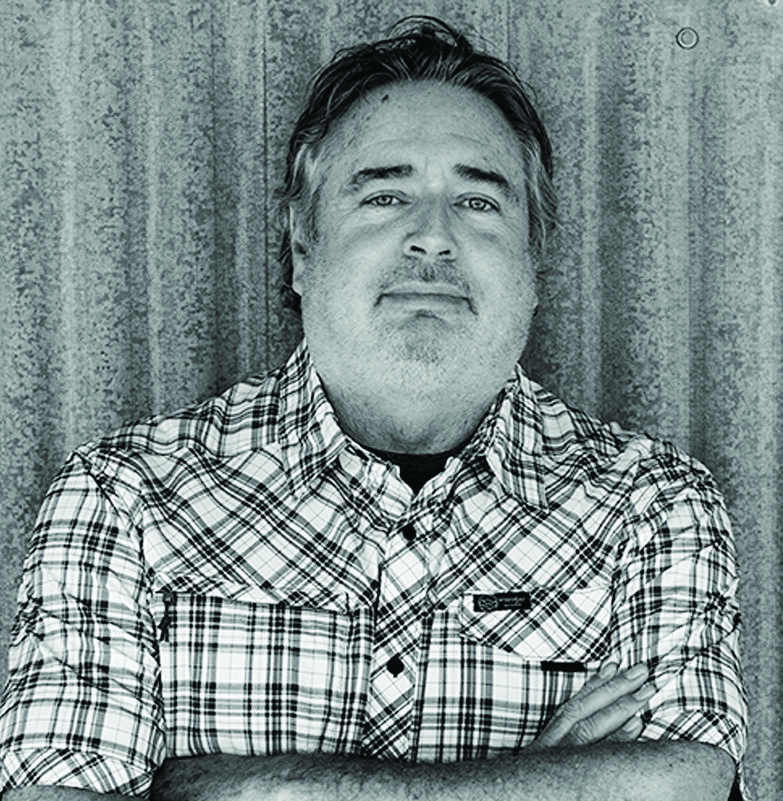 How's business? Pre-pandemic, Twisted X Work already had a strong business. When the pandemic hit, we had a short period of about two months with below average sales, but then we picked right back up. The Twisted X Work consumer base is made up of essential, mandated workers who had to be out on the job. We stayed on top of the curve and continued to grow the business, resulting in a 40 to 55 percent increase in our work category sales. The key has been listening to our consumers when it comes to updating our technologies. Collections like our Nano Toe lines were already lightweight, but adding in our incredible CellStretch technology reduces the weight by another 25 percent, making it the ultimate lightweight, yet durable footwear. We're also seeing a high demand from insurance carriers and safety directors trickle all the way down to footwear. When consumers walk into a work footwear store, they already have directives from their employer on what category and type of footwear they need for work, and they know Twisted X can provide it.
What's the outlook for the rest of this year? The work category continues to remain strong. Twisted X has maintained inventory while many others haven't, which helps us support our retailers and ultimately the consumer. Additionally, the styling and direction we have taken within the work footwear category in the last few years has made us stand out amongst others in the space.
What's new for Spring '22? There are a couple new categories we're venturing further into. One is a safety toe athletic collection. This is a fashionable running silhouette with durability and slip-resistance. The style pairs perfectly for work and after work activities. These consumers are typically warehouse employees or in a similar field and grew up wearing running shoes. They expect their work shoes to have a similar feel, so this style gives them that while still being composed of safety footwear essentials. We'll also introduce more footwear styles specifically designed for women and we are expanding our size range from 5.5 to 16 in men's.
As the country emerges from the pandemic, might we be on the verge of a rebuild America renaissance? Absolutely! We're already seeing our infrastructure facing hardships nationwide and it's going to require workers, and they will all need footwear that features safety and function. Twisted X Work is already seeing this trend coming to life as our business continues to rapidly grow. Our container business with retailers has also been growing, but now we are seeing those who originally didn't order container shipments ordering them for many reasons. One: Their volume is increasing. Two: Our styling and features are important for their mix. Three: We offer stronger margins than many of our competitors. The spans our national retailers to the small 20- to 30-door chains. As such, we've increased our production nearly two-fold. We're putting our money where our mouth is by making the commitment to our factories and our retailers to have the inventory on hand. We're also keeping our lines fresh and will introduce new technology every six months.
Tom Kennedy
President, Wolverine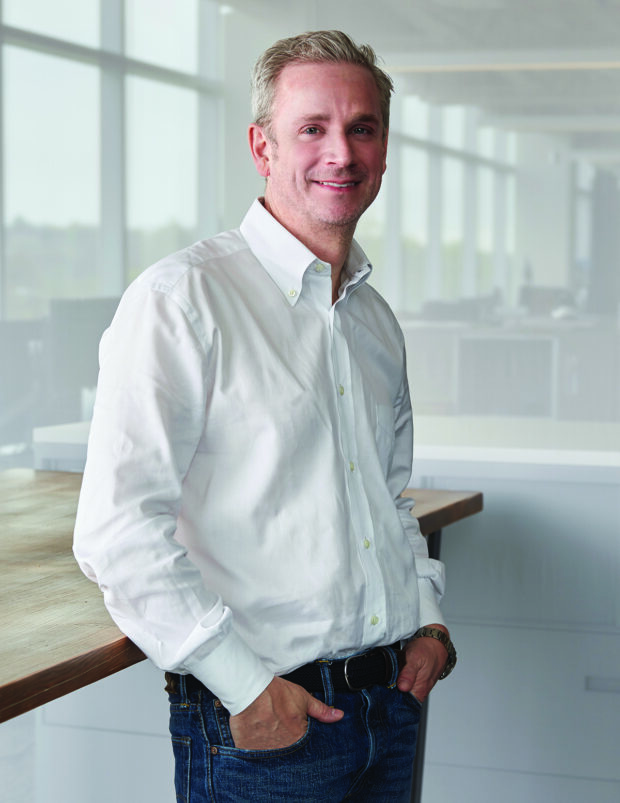 How's business? Despite the challenges presented by Covid-19, Wolverine ended 2020 strongly, launching our biggest product to date in the marketplace: the Hellcat UltraSpring, which includes the only performance cushioning of its kind in the work boot market. This momentum, created in the back half of 2020, is amplifying our success in 2021. The fact that the majority of our retailers stayed open also allowed our team to continue to invest and prioritize, with an increased emphasis on digital marketing and ecommerce efforts. Traffic and purchases increased across our sites and digital retailers. We anticipate this will remain a growth opportunity, especially in warehouse and logistics, and have launched footwear specific for that market, including the Bolt DuraShocks and Rev UltraSpring.
What's new for Spring '22? We're expanding the incredibly successful Hellcat UltraSpring franchise with the Hellcat UltraSpring Heavy Duty. It has a unique combination of classic work boot style, high performance UltraSpring cushioning and visually reinforced details to attract an incremental audience. Rugged details include triple needle stitching, a molded toe cap and riveted heel bumper for extra strength and protection in harsh environments. This product is broadly appealing across all age groups in consumer testing.
Is there a particular category receiving extra focus? Wolverine has seen continued growth in the soft toe work boot market and will emphasize this in coming seasons. The expansion introduces our brand to new consumers while at the same time allowing existing ones to have more versatility in how they wear their Wolverine boots. We'll also be expanding into the outdoor category, primarily through apparel and women's footwear, including the Torrent Duck boot launching this fall.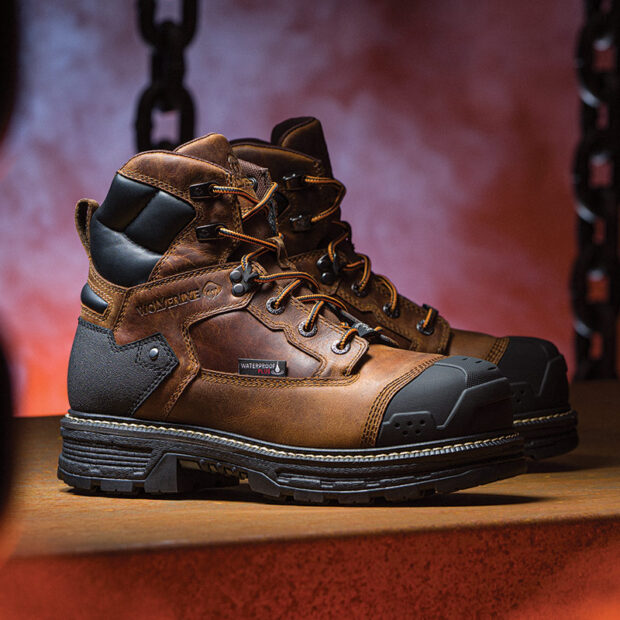 As the country emerges from the pandemic, might we be on the verge of a rebuild America renaissance? The pandemic reinforced what Wolverine has known for a while: essential workers are truly essential. As we emerge from the pandemic, we will continue to recognize the importance of these workers, support them with our products and celebrate them through donations to like-minded organizations. Over the next few years, there will continue to be an increasing need for skilled workers, and Wolverine is committed to shining a light on the importance and value of those jobs, as well as supporting the training of the next generation of skilled workers. Along those lines, Wolverine's Project Bootstrap was founded in 2014 to celebrate and thank people in the skilled trades. Throughout Covid-19, we have seen the essential nature of these jobs more than ever, and we continue to collaborate with partners, like mikeroweWORKS and Metallica Scholars, who recognize the importance of these jobs and support the next generation of skilled trade workers. We're always looking for innovative ways to reach new audiences with our signature products and technologies, like partnering with New England Patriots' Chase Winovich to showcase the performance and versatility of boots like the Hellcat UltraSpring.
Jeff Burns
President, Weinbrenner Shoe Company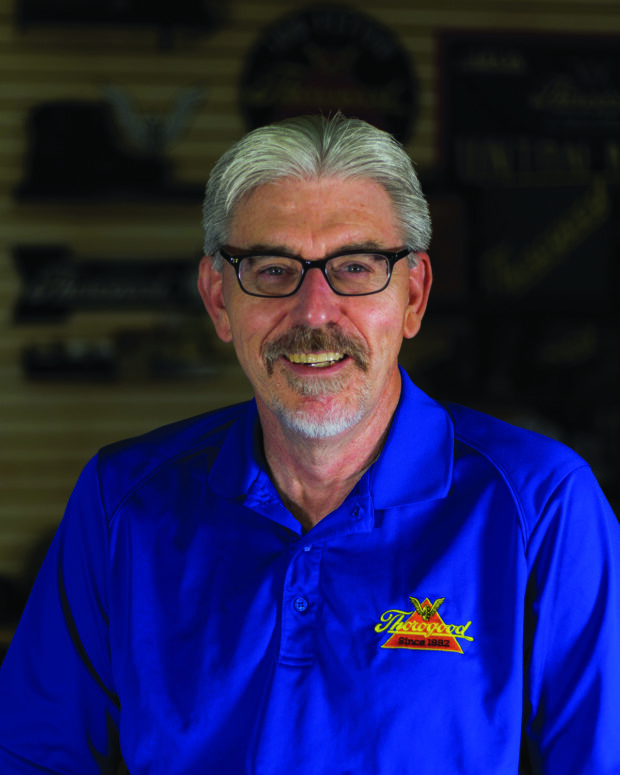 How's business? Demand for our Thorogood brand has never been greater. Our company is projected to end this year with sales revenue up 54 percent from where we were just three years ago. That's explosive growth, no matter how you look at it as we have been effective in taking shelf space from our competitors—many of whom shut factories down, laid people off and pulled back on advertising. We did the exact opposite. We kept our employees working.
Along those lines, we're in the process of opening our third domestic factory in Merrill, WI. This will add an additional 120,000 square feet of manufacturing and warehouse space. We also plan to expand capacity in our nearby Marshfield factory and are looking at opportunities outside of the state to expand domestic manufacturing. With these investments, we plan on doubling our U.S. production within the next four years. And while we have great overseas partner factories producing excellent product with some technologies that we can't produce domestically, the heart and soul of Thorogood is our made in the U.S.A. footwear.
What's new for Spring '22? We have a lot of really exciting styles developed, but our main focus for 2022 is expanding our production capacity to meet the unprecedented demand for our current styles.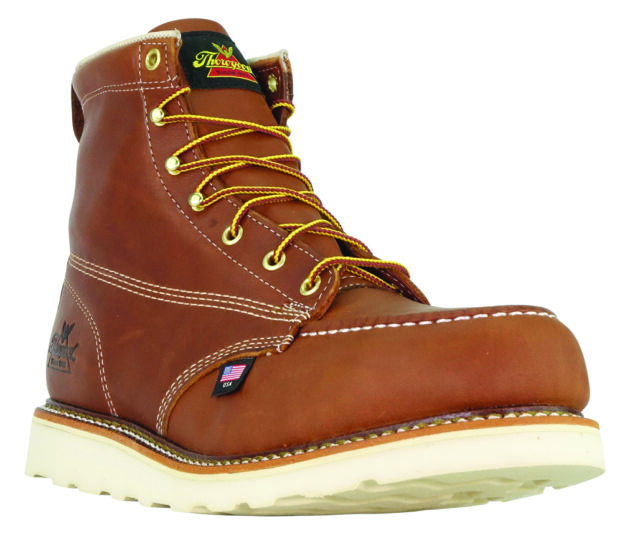 Where is that demand coming from most? The majority is from blue collar workers building America. They have been trusting Thorogood to provide comfortable, safe and durable work boots for 130 years. Once they find us, they like what they see and they tell their friends, family and co-workers. We've also seen an increase in people wearing our boots when they're off the job.
As the country emerges from the pandemic, might we be on the verge of a rebuild America renaissance? It really is an exciting time for our company. We're projecting a significant sales increase over the next three to five years as more people discover the quality and value Thorogood delivers. We're investing a lot of money to meet this demand and give our customers and dealers the quality footwear they have come to rely on. I see nothing but exciting things ahead for Thorogood. As explosive as our recent growth has been, there are still a lot of people who don't who we are. But when they do find us, they love our story and the quality we deliver. If we stay true to our values, we'll continue to gain market share.