Zooligans
Animal House Additions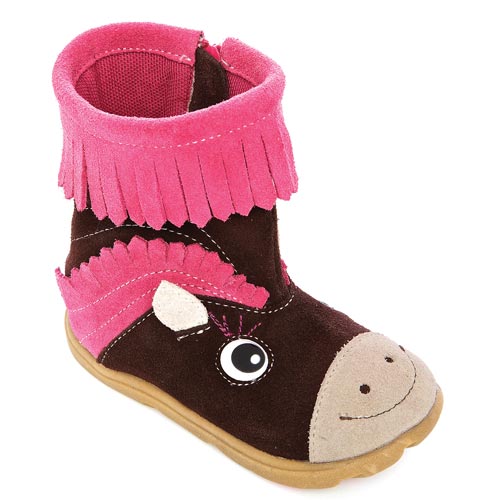 Zooligans
Animal House Additions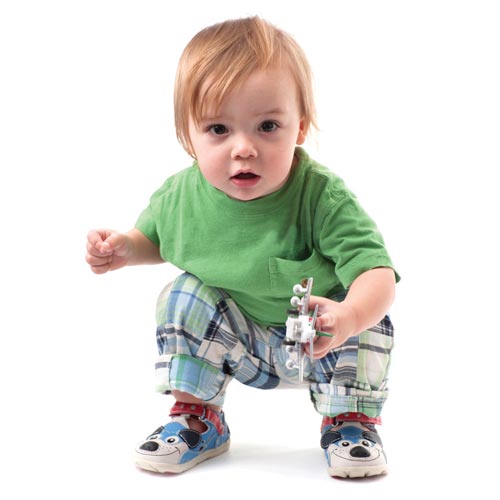 B.o.c. by Born:
School Rules
Primigi
Quality Control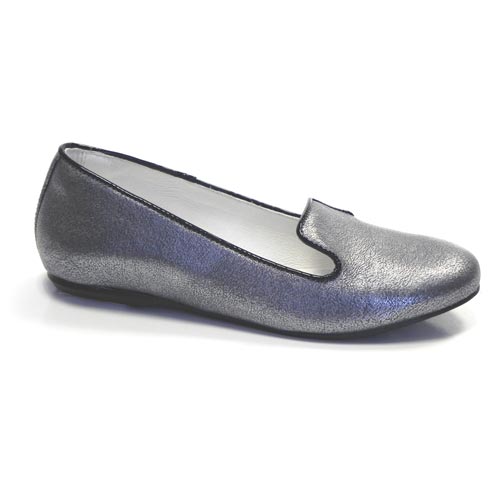 Stride Rite
Getting It Rite
Stride Rite
Getting It Rite
Evos
Back to So-Cal Cool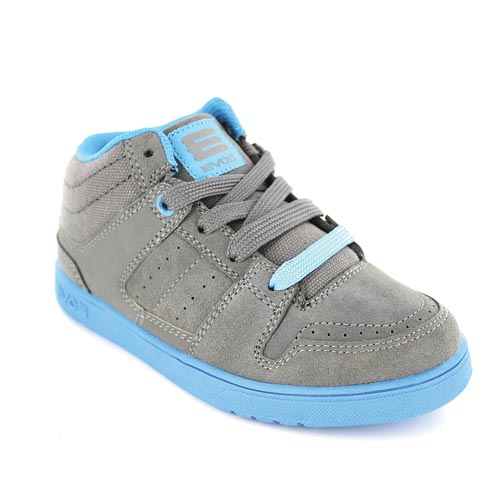 Yosi Samra
Elements of Ease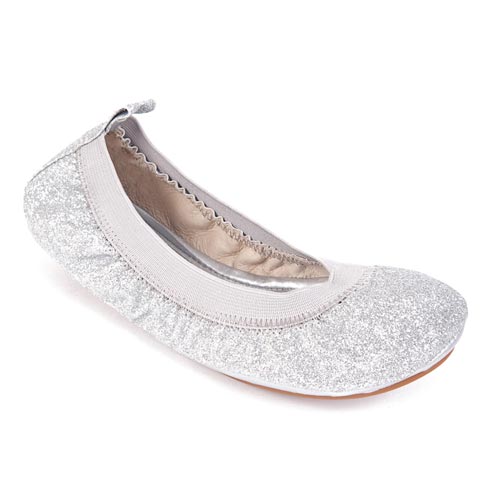 From lovable animals to classics like the Mary Jane, brands look to revamp and expand their high-quality offerings for Fall '13.
Yosi Samra: Elements of Ease
In a competitive market where designers might feel pressured to bend to consumers' every want and need so long as it results in a sale, designer Yosi Samra has stood his ground in traditional shoemaking by taking a unique—and more literal—approach to bendable footwear with his eponymous line of foldable ballet flats. Since 2009, Samra has carved a niche in the women's market with moderately priced packable shoes that make traveling a breeze. "I launched the flats more as an online concept store and then it took off overnight," he says.
That's putting it lightly. In the first season, Samra sold three times the amount of pairs he anticipated (approximately 50-60,000) and the line drew buyers from the likes of Harvey Nichols and Piperlime right out of the gate. Sold in more than 85 counties, Samra has since opened branded stores in Saudi Arabia, Korea, Turkey and the Philippines.
The enthusiastic response to the women's line and moms' demand for girls' styles, confirmed what Samra always believed: a children's line was a no-brainer. "Our women's customer likes a simple shoe that fits into all areas of the wardrobe and that is easy to wear. The same goes for kids," the designer explains. He tested first run samples with his cousin's 2-year-old daughter. "She was so excited to put on the shoes by herself and they were comfortable enough for her to run around the house," Samra recalls.
The line in sizes 5C to 4Y launched for Holiday 2012 with a girls' ballet flat modeled after the Classic in the women's collection. Trendy retailers like Kitson of Los Angeles and Lester's on the East Coast took a fancy to the collection's metallic, leopard print, pink pony hair and black and white cap toe styles. Fall '13 delivers a collection of ballet flats and Samra's latest additions—a bootie and an elastic loafer silhouette—both inline with the brand's premise of ultra-flexible, fold-up footwear. "We're using a lot of modern fabrics and textures," Samra says of the leather line accented with croc, cap toes, glitter bows and heart studs. The autumn palette spans midnight blue and jewel tone Bordeaux to bright pink, which the designer reports does exceptionally well. "We did a study recently and pink was a top seller even in the women's line," he adds. Other styles marry leather with suede accents to show off the silhouette's clean lines.
For now, Samra says the brand is staying true to how it launched and will continue to target specialty and high-end boutiques. "We get good attention at this level of retailers and we've managed to get great distribution," he explains.
—Angela Velasquez
Evos: Back to So-Cal Cool
The Chino, CA-based Evos, a division of CMerit, didn't have to look far for inspiration. The West Coast, with its lively skate culture and relaxed lifestyle, provides an endless amount of inspiration for the young line focused on sneaker silhouettes for toddlers size 10 to 4 and boys' 3 to 7 that blend street smarts with functional elements drawn from the legendary skate shoe houses.
"Kids on the West Coast are into skating, BMX riding and motocross and they like that look, too," says Rolando Garcia, director of marketing. The shoes may never step on a half pipe but they are fully equipped for school and the playground. Styles that toe the line between hi- and lo-tops feature padding on the sidewalls that, Garcia notes, is designed to take a lot of abuse. Other popular styles include the Sidewalk Surfer, a toddler hi-top in cobalt blue and gray.
In terms of colors and fabrications, Garcia says the boys' category is following in its men's collection footsteps, which is becoming increasingly adventurous and more fashion-forward, but he adds that the company is careful to not go overboard. "Too much neon turns boys off," he says, adding that they do a better business with gray and black uppers paired with blue, orange, lime green and even camouflage print soles—an Evos signature.
And where Gotta Flurt, the CMerit line geared for trendy girls, relishes embellishments, prints, color and sequins, Evos is focused on durable styles that can withstand boys' action-packed days. "If we use canvas, it has to be really tough, heavy canvas. Vulcanized styles have great flexibility, but we've found that they wear out faster than cup soles, so we use cup soles," Garcia explains. Other styles feature skater shoe hallmarks, like hidden eyelets that help protect laces, not to mention add a touch of skater coolness.
Garcia says boys might look up to an older brother or cousin for fashion cues, but he says there's a prominent niche of kids, especially on the West Coast, that are into action sports, race car drivers and X-Games and as a result these influences are found in their fashion. "Boys are really inspired by whatever they are watching," he adds, noting that East Coast kids tend to look towards musicians.
"You won't see a cowboy boot in the collection any time soon," Garcia quips, but the lifestyle brand is preparing to expand the breadth of styles and may dabble in hiking in the future. In the meantime, thanks to consistent sell through at a mixture of children's boutiques, DSW, Off Broadway Shoes and online, Evos is in development of building special collections for key partners and Spring '14 will bring another point of inspiration: the Pacific. "We're looking into more surf styles, lower profiles and casual, beach looks," Garcia says.
—A.V.
Zooligans: Animal House Additions
Koalas, monkeys and pandas—oh my! That's the reaction Joel Rusnak has received to his line Zooligans from parents and children alike since its debut in Spring 2012. Rusnak, formerly a design consultant, wanted to create a shoe that's both functional and fun for kids. "Zooligans is really something that connects with kids and moms as well. It's just a fun, playful product that is a little un-shoe like. It's not like other products out there; the shoes have a really strong personality," he says.
The collection started with classic styles from Mary Janes to sandals, and for Fall '13 is expanding to boots and soft-sole baby shoes. Other animals are also joining Zooligans' menagerie, including ponies, dinosaurs and penguins. "Retailers are excited to have more product, more characters and to have year-round products," Rusnak notes. He describes the leather-made shoes as "really flexible, soft and easy to put on and take off," adding that they are made to stay on the foot and have a roomy toe box for growing feet.
The co-founder and designer of Zooligans believes that the brand's success comes from its uniqueness, adding that retailers can profit from the line because it stands alone. "It doesn't really compete with mainstream brands," he says. "It's something that they can add to their mix and it won't take away from what they already have." And it doesn't hurt that children love the shoes and respond to the animals' big eyes and wide smiles. "They really develop a bond with these shoes; they become their little friends that they wear on their feet—they go places with them, explore with them, and have adventures with these shoes," Rusnak says. Each pair of shoes also comes in a "pet carrier" box that many children continue to use to cart around their pair of Zooligans or even a favorite toy.
Wholesale prices for the line range from $11.50 for the soft-sole footwear to $21.50 for the boot collection, and the footwear comes in sizes toddler 4 to 12 and youth 13 to 1. Rusnak plans on adding styles to accommodate various price points for Spring '14 as well as more animals and silhouettes. "If you have something that is fresh, stands out, is well made and functions perfectly for what it is, there's room for growth and success, and that's what we're doing," he says. "I have fun designing funny kids' stuff."
—Maria Bouselli
B.O.C. by Born: School Rules
Little ladies will always want sparkle and boys love their kicks, but basic black or brown footwear is the skeleton key to every kid's closet, especially if there's a uniform requirement at school. (And take note: The average American youth spends 900 hours per year there.) With that in mind, comfort and quality go hand in hand in girls' B.o.c. by Born school shoes, produced by BBC International. It all starts with the brand's signature Opanka construction where the uppers, sock linings and outsoles are hand-sewn together in a single process. Not only does this method make the shoes flexible, it also creates a natural cushioning effect. As a result, the under foot conforms and rebounds with every movement, providing a consistently comfortable environment for children's feet.
"We see a constant demand for quality- and comfort-based footwear. That market never goes away and we're seeing an increase in the younger audience," says Debbie Ouellette, brand manager at BBC International, though she's quick to note, "The challenge now is the 6- to 8-year-old girl who's becoming more fashion savvy and having a lot more influence over her purchase." And while fashion runways lately have been full of menswear-inspired oxfords and smoking slippers for women, the flat is falling out of favor with mini-fashionistas. But that's not to say the company is shunning it completely: a leopard cap toe with scalloped edges offers a fun spin on the style. "Overall we're seeing a downtrend in the ballerina business, which is an opportunity for us to grow our boots and booties," Ouellette offers. "The money that parents previously allocated for flats is being redirected to vulcanized athletic sneakers and while we don't do sneakers, we see the overall opportunity to grab and shift that redirection towards our boots."
For Fall '13 that means the Geneva, a western-inspired classic mid-calf boot with embroidery on the vamp and braiding and floral embellishment that stays true to the brand, and an update on its bestselling riding boot. Another addition is a short wedge Mary Jane with rosette appliqué on the toe. Available in both toddler and grade school sizes, the fall collection wholesales from $14 to $30. And when school's out, B.o.c. offers a collection of fun-to-wear sandals with generously padded insoles. "We have a very strong spring sandal collection so our goal is to continue to grow that segment as well as our boot collection to complement the depth of the brand and increase the market presence each season," she says. "Boots and sandals are where we've created a niche."
—Lyndsey McGregor
Stride Rite: Getting It Rite
With 95 years of experience in making children's footwear, Stride Rite knows a thing or two about fitting kids' feet and keeping customers happy. "Stride Rite has an unparalleled reputation for quality, fit and service that keeps consumers coming back," says Gillian Meek, vice president of product at Stride Rite, now a subsidiary of Wolverine Worldwide. "We are multi-generational and a rite of passage for those first steps, especially. Our service model focuses on education and provides consumers with a reason to return."
For Fall '13, the brand is expanding its assortment with boot silhouettes and new colors and prints. Stride Rite is increasing its offering in the Made2Play collection with a hiking boot for boys and a Mary Jane for girls. "Now no matter the occasion, kids can be ready to play," Meek notes. The brand is also giving additional options for kids in its light-up shoes, with a Darth Vader light and sound shoe for boys and a Disney Wish Lights collection for girls that features shoes changing from white to pink every 2,000 steps. "We are also inspiring kids to get active by delivering lighted shoes that release a strobe light the faster you run," she adds. According to Meek, the customer's request for more fashion helped to push the designs for fall. "This fall we feel we have the ideal combination of innovation and style from baby through big kids and we are also winning with the additional energy our co-branded partnerships provide," she says. Wholesale prices approximately run from $9.50 to $32 for sizes 0 to 8, $16.50 to $28.50 for sizes 8.5 to 12, and $16.50 to $32 in 12.5 to 5.
The brand, now a part of the Stride Rite Children's Group (also includes Sperry Top-Sider, Keds, Jessica Simpson and Saucony brands) will continue to focus on innovation while staying true to its customers. "Our consumers—moms and kids—are at the center of everything we do, and all seasonal trend inspiration that we apply to the line filters through a consumer lens," says Marc Loverin, senior design director at Stride Rite Children's Group. Adds Dawn Phillips, group design director, "We strive for perfection. We have a passionate group of people dedicated to making 'kid-rite' footwear and we plan on growing and evolving in the years to come."
—M.B.
Primigi: Quality Control
Bill LaRossa thinks things are starting to look up again. Coming off a successful round of fall market trade shows, the president of Primigi U.S.A. says he is "guardedly, cautiously, optimistic." The economy is improving and so is the willingness of consumers to invest in quality footwear for the children.
Since launching stateside 16 years ago, Primigi has become synonymous with high-quality kids' shoes in the premium tier. Maintaining a tight grip on the European brand's core values that made it a leader in the market has been no easy task amid the recession. Many consumers cut back wherever and whenever they could. They were forced to do with less or, worse, without. But that has taken a toll and, LaRossa says, has created a pent-up demand. "People are tired of junk and they're tired of paying a premium for poor quality, and I think that certainly bodes well for us and other companies that have kept their eye on the ball as far as quality goes," he says, adding, "Product is king and we decided to not cut any corners."
Known for classic Mary Jane and loafer silhouettes, Primigi is embracing an edgier look for Fall '13 that includes playful takes on motorcycle and equestrian boots. The reason? Necessity. "We were definitely listening to our customers this season," LaRossa says. "We've never chased trends and we've never chased fashion but for fall we looked at what our designers came up with for the European market and brought some of that to this market." He points to the smoking slipper as one example. "It's something you can do in nice materials like sparkle and kids love it," he says. "When we can produce something in that [trend] category that's really well made and soft, people say, 'Hey, this is worth spending a little bit more on.'"
A tale he's heard all too often from buyers of late is that they feel they're putting their hands in a lot of plastic shoes at the shows—an unfortunate byproduct of tough economic times. "Quality suffers and service suffers, and I think that's what sets us apart. We have the same team we had five years ago and people like doing business with us." LaRossa adds, "If you can show your customers that you understand the problems they're going through and work with them to overcome them, it definitely resonates," he says.
To that end Primigi continues to feature a broad selection that includes some price-sensitive options (SRP from $65 to $75) as well as sportswear and an expanded selection of its successful Gore-Tex licensed boots program. "We're one of the only kids' brands in the market with the Gore-Tex license—it's hard to get and hard to keep," LaRossa notes, adding the consistency in the line is another factor behind its success. "Given the way the economy has been in the past three years, anyone that has charted a steady course and has some of the hallmarks we have will do OK," he says. "And now with a little assistance from the economy, we're back on the path that we originally set out on."
—L.M.