Hot Lunch
Photography by Michael Brian.
Fashion Editor: Angela Velasquez; Hair and Makeup: JSterling; Creative Consultant: John Walker.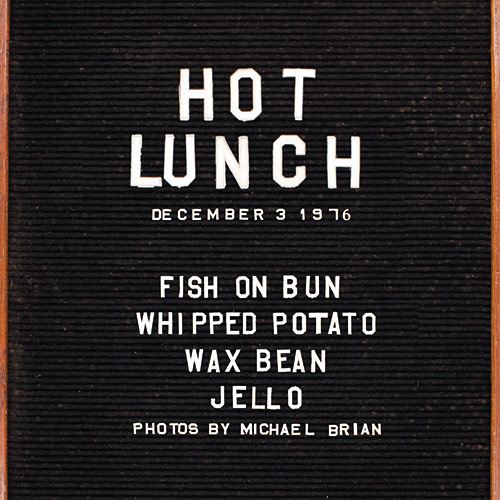 Hot Lunch
Betty: The Undercover Lunch Lady
Betty frequently drove past Langley Military Academy in her government-issued, white Buick Regal and what she saw deeply disturbed her: The children sluggishly walked out to recess following mess hall. Instead of trying to master the school's U.S. Marine Corps replica obstacle course, they drifted aimlessly about its firing range.
It called for an extensive undercover investigation where Betty—having graduated first in her class ('68) at the FBI Academy in Quantico—quickly gleaned that the nutritional content of the school's lunches was being sabotaged. Turned out it might not be a nuclear attack that America needed to be most concerned about, but rather the degenerative effects of bad cafeteria food. A steady diet of tainted meals could cause our great nation's children to fall behind in math and science.
But thanks to Betty's covert efforts, this diabolical plot was stopped in its tracks. She went undercover for months, fortifying the academy's food supply with all the essential performance-enhancing ingredients. While a few cadets had to be airlifted to a secret government hospital for nutritional transfusions, Betty's heroic efforts paid off. A year later, the academy's paintball team was undefeated and headed to the state championships. In addition, not a single cadet has slipped into a meatloaf coma since.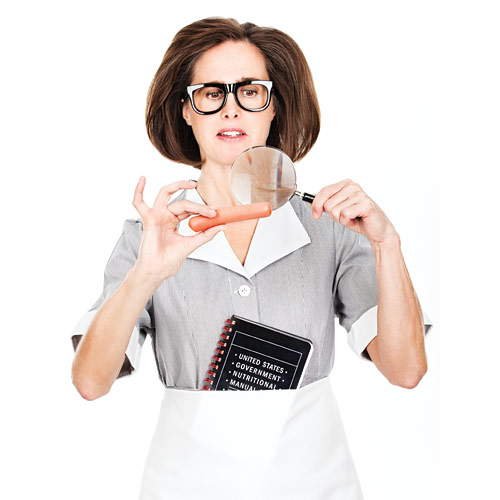 Hot Lunch
From left: Princess London leopard-print platform pump; bootie by Laurence Dacade.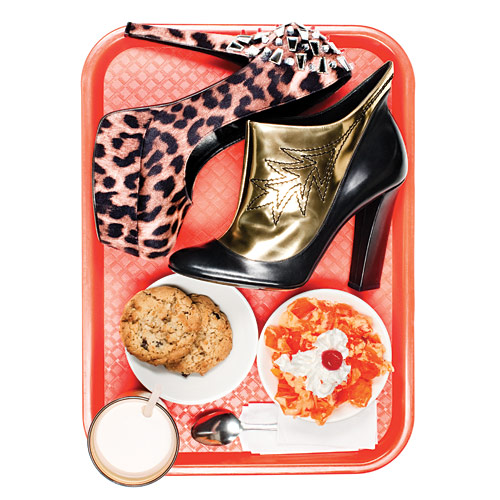 Hot Lunch
From top: Chie Mihara rosette-embellished sandal; ruby peep toe by Strenesse Blue.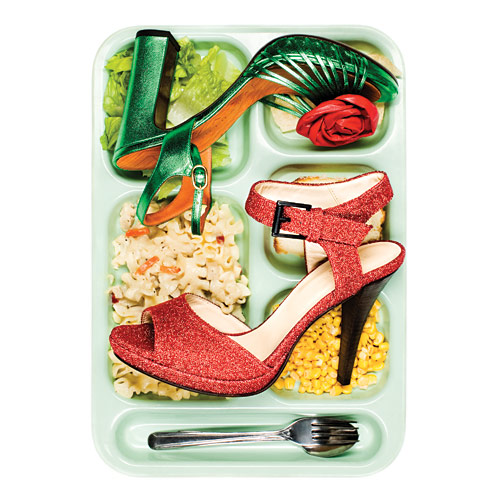 Hot Lunch
Mary: The Third Generation Lunch Lady
Mary O'Brien remembers the first time she saw "the uniform." Her grandmother had just worked a double shift at the Shrewsbury Elementary School. Even through the ketchup stains, it gleamed with a subtle grandeur. She knew right then that one day she would join the family tradition of keeping the town's school children well-fed.
For two decades, Mary's mother worked alongside her grandmother. The duo sculpted a landscape of wax beans and strained tomatoes and served towering mountains of mashed potatoes—the gravy cascading down like waterfalls. They worked in choreographed concert, pouring steaming cans of beef broth into bottomless cauldrons and managing the deep fryer with aplomb.
Mary had the pleasure to work one semester with the intrepid duo. It was an unforgettable experience and, to this day, when she presides over a new week's menu she often looks down at the locket around her neck that contains the pictures of her mother and grandmother—representing three generations of O'Briens that have faithfully manned this cafeteria, dishing out healthy lunches with servings of love.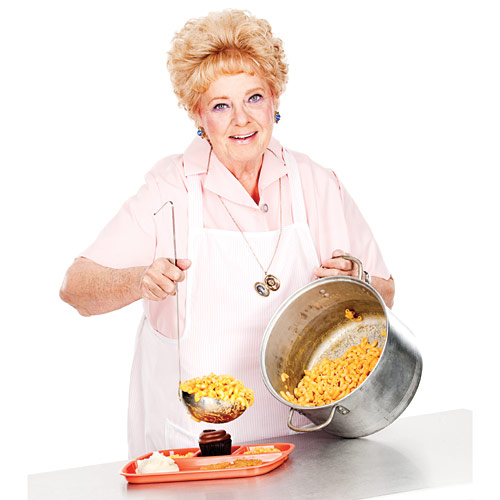 Hot Lunch
Ruthy Mae: The Bombshell Lunch Lady
Ruthy Mae Newton's diner served up the hottest chili in all of Sassafras County. But it all came to a fiery end one fateful day when a jealous hussy from across town accused Ruthy Mae of stealing her man. In a fitful rage, the woman burnt Ruthy Mae's beloved diner to the ground.
Ruthy Mae pleads innocence. She claims only to have a big heart—and a husband of 23 years that she married right out of high school, to boot. Townsfolk say the only thing Ruthy Mae could be guilty of is being the most charming gal in all the county. Men, boys and even tom cats have an instant connection to Ruthy Mae. Maybe it's her attentive service that always comes with a warm smile, or perhaps it's her mouth-watering comfort cooking that sends male hearts aflutter.
While saving to open a new diner some day, Ruthy Mae has been serving lunches at Sassafras County Middle School. Coincidently, for the first time on school record, every single boy has enrolled in the school's hot lunch program.
Tulle-covered platform heel by Gio Diev.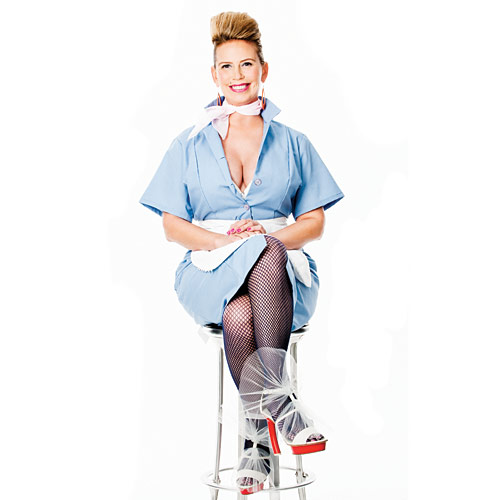 Hot Lunch
Joy: The New Age Lunch Lady
Joy wondered about a butterfly that recently passed by the Woodstock Alternative High School cafeteria window. Would the very flutter of its wings influence the course of human history, the structure of the universe or the texture of the tapioca pudding she had made for lunch that day?
Joy arrived at the school two years prior, having just returned from an ashram in the most remote corner of the Himalayas. Wearing only a backpack, organic cotton dress, several Native American dream catchers and Birkenstocks, her resume (scratched into a piece of bark) was chock-full of health food preparation and serving experience. Zero animal by-products or evil food additives ever find their way into one of her loving recipes. Her school lunches provide nourishment to the mind, body and soul. Rumor has it she swaps recipes with the Dalai Lama.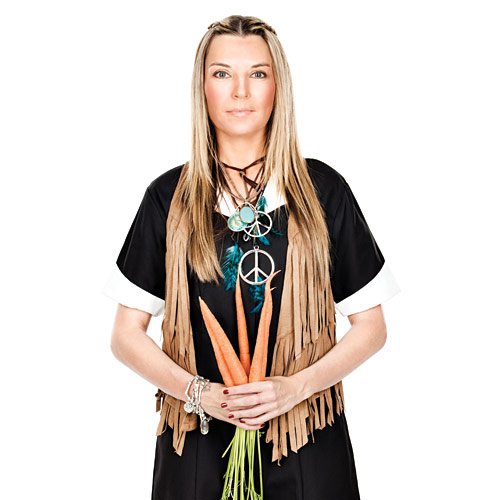 Hot Lunch
From top: Guissepe Zanotti platform stiletto; python peep-toe by Ugg Collection; zipper back stiletto by Tania Spinelli; Kate Spade floral embellished sandal.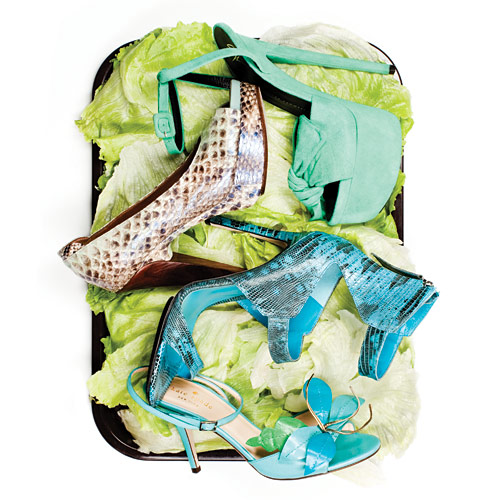 Hot Lunch
From top: crystal pump by Aruna Seth; Eric Rutberg Transparent metallic stiletto; Chelsea Paris suede platform with crystal-embellished heel.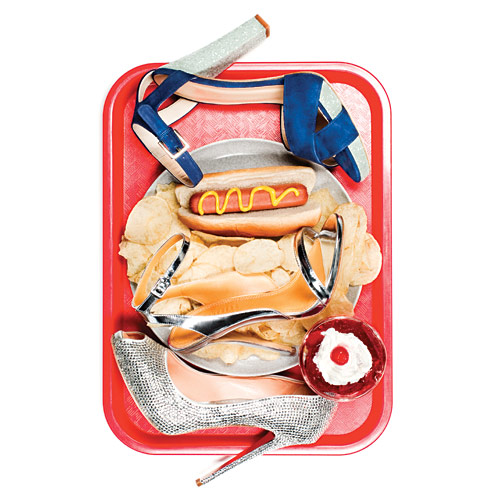 Hot Lunch
Helen: The Military Lunch Lady
Ten hut! Sgt.Major Helen Washington (ret.) has served 17 tours of lunchroom duty at Palmwood Grove Elementary School and has yet to lose a single child to hunger. Even during The Great Green Jello Revolt of '74, Helen valiantly fed all-comers, large and small.
Before becoming a cafeteria commander along the frontlines in suburban Tallahassee, FL, Helen loyally fed our nation's troops on five continents through many deadly conflicts. The soldiers under her mighty ladle were always well-nourished and ready for valor. Once, after one of her hearty All-American meals, Lance Corporal Pete Peterson ran 25 miles wearing a loaded rucksack, then swam across an icy river and single-handedly saved the U.S.A. from a rogue band of militant vegetarians.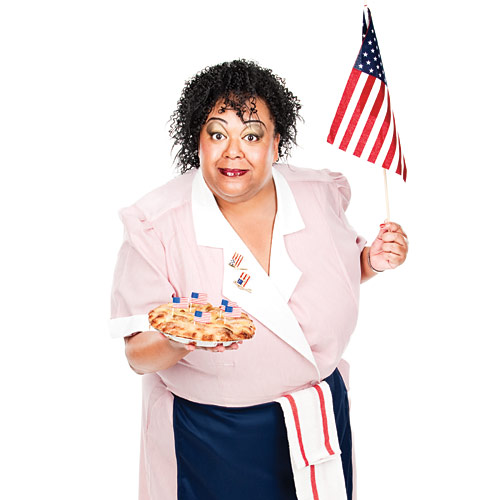 Hot Lunch
Doris: The Classic Lunch Lady
Doris hunts for antiques on the weekends and any other time she is not on lunch duty at Maplewood Elementary School. Many of her friends are into scouring junkyards and flea markets too, searching mostly for dainty old tea cups, doilies and Shaker chairs. Doris, however, is on the hunt for bigger finds—like the industrial mixer she scored recently. She had to have it. Doris and her husband Bob moved the great cast iron giant into their basement, where it went alongside dozens of other vintage lunchroom appliances. Legend has it that her steam trays warmed the food of George Washington's troops during the Revolutionary War.
Ruthie Davis crystal-and spike-embellished stiletto.