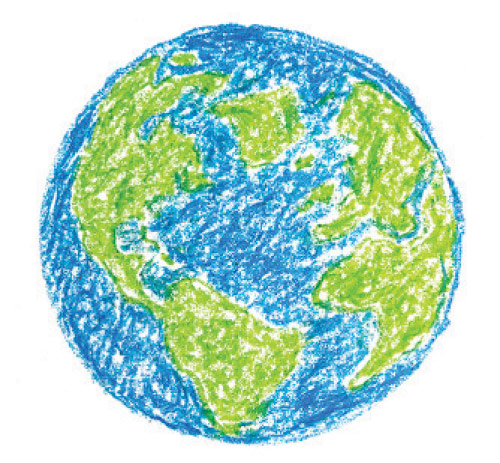 Over the past 17 years, my wife and I have had to administer just one little time out to our daughter. She was 3 and decided to pitch a fit about having to leave Hippo Playground for her midday nap. There was much cajoling, followed by begging. Finally, we brought in the heavy artillery with threats of no Winnie the Pooh episodes. Still, she didn't budge from that sandpit. As a last resort, I swung her over my shoulder and marched a squirming, fire-breathing, wailing child back to our apartment, where she got her first and only official time out. She emerged from the ordeal unscathed. (She claims to have no memory of it.) The time out was a good experience for all involved parties. I highly recommend it if you ever need to regain control in your parental universe.
This pandemic is like a time out, only on the most epic scale and with circumstances far more catastrophic. It's as though Mother Nature has sent us humans to our rooms to contemplate the negative impact our behavior is having on the planet and its inhabitants. We've been dirty, disrespectful, greedy and harmful for far too long. Our behavior is killing us. In addition to a novel virus wiping out thousands in mere weeks, the World Health Organization estimates air pollution alone kills 7 million annually worldwide!
Amid our much-earned time out, the air has become healthier than in decades, dolphins have returned to the now blue water canals of Venice and marine biologists report stress levels of whales have lowered dramatically since mega cruise ships ceased crisscrossing the seas. If we do right by the planet, it responds instantly by becoming a cleaner, healthier and safer place to live. Mother Nature is showing us in real time the benefits of changing our ways. One can only hope that once we get a hold on this pandemic that we won't revert to all our polluting and harmful ways. China banning consumption and trade of wild animals is a step in the right direction. Similarly, millions of consumers worldwide being homeschooled on the new three R's (reduce, reuse and recycle) could have meaningful, long-term benefits.
No doubt our industry has been thrown into absolute chaos and uncertainty during the big time out. It makes the Retail Apocalypse seem like a walk in the park. Shopping habits are likely to change dramatically, with values forever altered, and brand and product preferences upended. However, one area that looks to gain importance is sustainability. Consumers are hyper aware of the issue, and industry experts are steadily realizing that eco-friendly practices are not only a moral duty but also good business. As we seek a port in this perfect storm, sustainability looks like a potential safe haven.
Prasad Reddy, CEO of Twisted X and the subject of this issue's Q&A (p. 8), is a firm believer in the power of sustainable business practices. The company is in the midst of a green renaissance with the aim to be carbon neutral by the end of this year. Efforts include the launch of a potential game-changing eco-friendly collection this fall. Reddy's commitment to sustainability is genuine. It's just "the right thing to do," he says. The fact that it's helping fuel double-digit sales growth is a bonus. He also leads by example—down to the $10,000 interest-free loan offer to all employees who buy an electric car. He is an inspiration for anyone looking to up their company's eco-friendly efforts. He welcomes imitators.
Andy Polk, senior vice president and sustainability expert of the Footwear Distributors and Retailers of America, is equally passionate about finding ways for our industry to follow a greener path. He is a fountain of best sustainability practices, materials and strategies. In our feature, Win-Win (p. 16), Polk offers tips on getting a sustainability program up and running. From product to packaging to digital conferencing, his insights are digestible, doable and affordable. I urge you to use him as a resource.
On that note, guidance of any kind would be welcome right now. Nothing is normal, reliable or predictable. No one knows where the pandemic will take us, let alone who will survive and in what form. Sure, 9/11 was shocking, but stores didn't all close—even in Manhattan. The Financial Crisis of 2007/08 left a mark, but millions of jobs didn't vaporize overnight. The pandemic, in comparison, will impact everyone to some degree. The virus does not discriminate.
Many of you may know someone who succumbed to Covid-19. Unfortunately, I do too. My father in-law passed away in early April. He was almost 86. It cuts much deeper than dystopian death counts. It's made even worse because he urged my family to leave New York and stay at "Grammy and Granddad's" in Connecticut, where we would be safe. Protecting his only daughter and granddaughter was not open for debate. He was old school, ex-military. (Parajumper, no less.) He also had a PhD in Higher Education and Geology and was a leader in the field of groundwater contamination. (He was all about sustainability back in the '80s!) He was also an inventor, an award-winning watercolorist, an avid golfer and, at heart, a teacher. The night before he got sick, he was doing what he loved most: teaching my daughter precalculus. This is my daughter, mind you. Math is not her strong suit. But he was always patient and passionate about helping her. He did and he will be forever missed. R.I.P.