The Entourage
The 'Entourage' boys appreciate the finer things in life.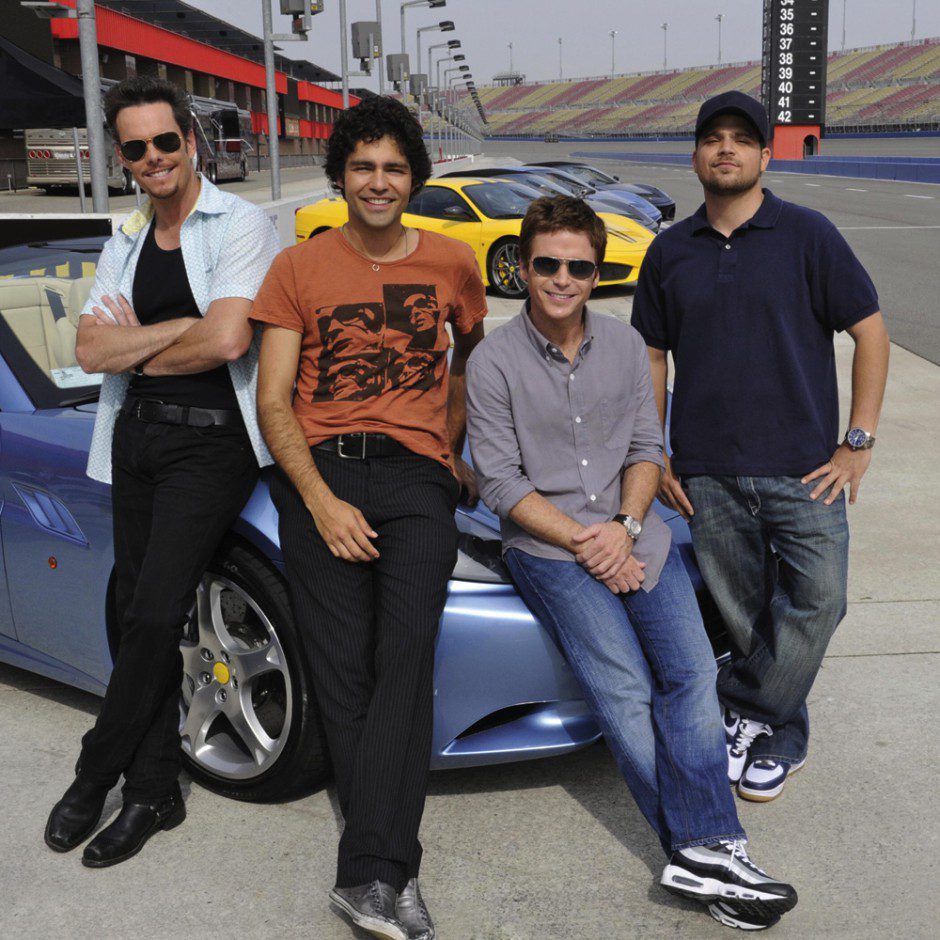 The Bernardo sandals featured in the company's latest ad campaign are "very rock 'n' roll" in design, asserts Dennis Comeau, head designer and president of the Houston-based line. And while that's a key reason the model is styled in a leather jacket, don't be fooled—that's not just any leather jacket. It was once worn by the late Dee Dee Ramone, legendary bassist for the Ramones.
Comeau, who was part of New York's emerging punk music scene as a member of The Hormones, considers the coat a piece of rock history. Around 1979, Comeau's band had an audition in New Haven, CT, where the Ramones happened to have a gig. As fate would have it, both bands ended up grabbing pies at a joint called York Pizza. "I was wearing a black leather biker jacket with lots of really cool studs and nail heads that I'd just bought in London," Comeau
recalls. "Dee Dee loved it, so we ended up swapping jackets."
Little did Comeau know then how influential the Ramones would become, musically and fashion-wise. "I knew [their] raw rock 'n' roll wasn't commercial, but the stuff playing on the radio bored me to tears," he says, noting that hearing the Sex Pistols in high school changed his life. "We were all protesting against radio stations that force-fed music to the masses." The Ramones fought that fight for decades. And while the band never scored a Top 40 hit, their sound and style was undeniably groundbreaking.
In Comeau's opinion, what makes the band so great is their "love 'em or hate 'em" quality. "No one thinks the Ramones are 'just OK,'" he says, noting that avoiding the middle ground defines his own approach to shoe design. "The left side of my brain is constantly telling the right that the most important goal is to stir people's emotions. I hate shoes and music that are 'just OK.'" In fact, Comeau and his design partner (and wife) Lynne believe mediocrity is lame. "Buying a pair of shoes is an emotional, impulsive experience. People buy way more shoes that light up their internal flame of 'lust, must have' than shoes they 'need.'"
Rock royalty appreciates the Comeaus' approach and their plays on Bernardo founder Bernard Rudofsky's original (then-radical) design concepts. Recently, Alice Cooper approached the designers' 15-year-old daughter to compliment her sandals—Bernardo's Must Stone style. "It's stuff like that that makes my day," Comeau says. —Greg Dutter
Relapse of Luxury
Over the past few years, the terms "mass," "attainable" and "accessible" have increasingly been used to describe an emerging class of luxury that is exactly that—goods deemed high end yet affordable to the masses. But let's be honest, these terms are all oxymoronic when paired with the word "luxury." By definition, luxury should not be easily attainable, mass produced or in reach of average Joes and Janes.
In the pre-financial crisis era when living beyond one's means was the norm, many luxury labels traded down their brand's image to tap into the exploding consumer segment of wannabe-wealthies. As it turns out, the strategy may have resulted in short-term gain but longer-term pain. Our economic pall has put the kibosh on faux-rich extravagance, and many upscale brands that watered down their conceits are now dealing with a backlash from their original consumers. Loyal followers never wanted to see Joe Public cruising by in an "affordable" version of their BMW, and the brands have paid the price in terms of lost cachet.
As a big fan of HBO's series "Entourage," I enjoy the smorgasbord of fancy cars, private jets, mansions and top-tier restaurants that the fictional Hollywood star, Vincent Chase, and his buddies indulge in each episode. The show is designed to make viewers drool over material possessions typically reserved for the world's elite. It's a fact made clear in an early season's story arc during which Vince's career takes a nosedive. Nothing better defined that fall from luxury than when Vince's manager (and best friend), Eric, was forced to trade in his new $100,000-plus Maserati for his prior vehicle: an old, beat-up Honda Prelude. But what if he had traded down for one of the entry-level Jaguars, Cadillacs and BMWs introduced over the past few years? It just wouldn't have had the same impact and viewers would've been confused—evidence that "attainable luxury" is sullying those brands' prestige.
Some have gotten the message. Jaguar's new owners, who took over in 2008, are returning to its upscale roots following a push of $30,000 cars. Get set for the
2010 XJ Sedan—Jaguar's most expensive model to date with a sticker price that tops out at $115,000. Jaguar only expects to sell 8,000 of these cars this year, compared to 30,000 of the mass-produced models. But the branding-180 should give luxury shoppers a reason to buy Jaguar again. Similarly, Oakley skews upscale again with its new C Six sunglasses, featuring 80 layers of carbon fiber that mold to your face. Price tag: $4,000—six times the price of Oakley's previous top-shelf eyewear.
Yes, the world has truly been turned on its head, but restoring luxury to its rightful place in the consumer-shopping pyramid is a step toward market correction. While many pundits have written off the segment as a permanent casualty of the recession (hogwash!), just consider Hermès: Some of its limited-edition bags—priced in the six-figures—have a two-year waiting list, and the company's third-quarter sales are also up 10 percent. Looks like there's still something to be said for a focus on quality over quantity, uniqueness over ubiquitousness and a "you can't own it if you can't afford it" approach. Welcome back, luxury. —Greg Dutter