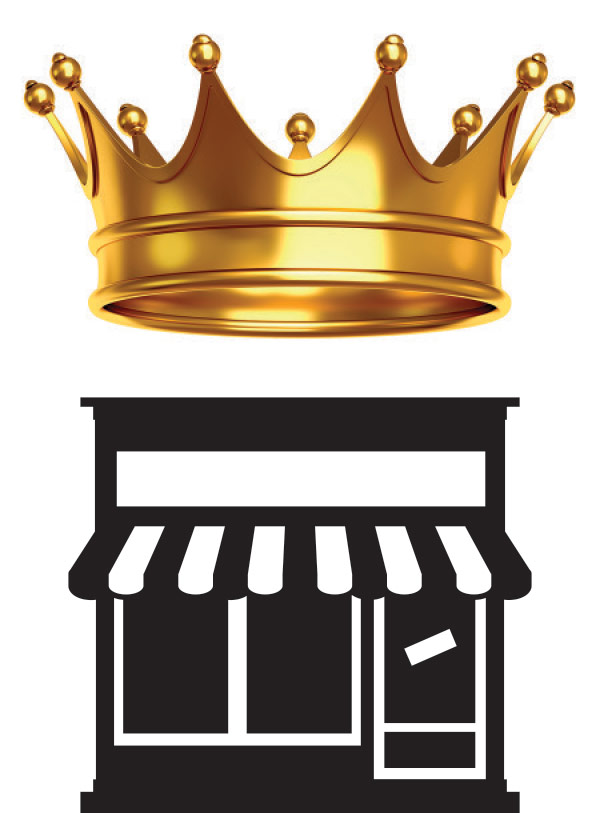 If brick-and-mortar stores have any shot at long-term survival, they must be destinations. In short, they must be worth the schlep. They must use their physical attributes to their advantage. Currently, however, shopping feels as if it's on life support. Too many stores are understaffed (if staffed at all), stale and carry inadequate inventory. Making shopping a form of entertainment is becoming a lost art as buyers focus on metrics rather than mix. The resulting sea of sameness and inevitable price wars are just two more incentives to shop from home/phone.
Retailers must make stores great again—like the new Nordstrom flagship in Manhattan on West 57th St. At 47,000 square feet and three levels, the department store's first location in New York (including its first-ever standalone men's department) is a shopping destination on steroids. A dazzling and differentiated merchandise assortment including many exclusives await shoppers along with an array of online-esque services and must-see entertainment extras. At the Levi's Tailor Shop, for example, shoppers can design custom embroidery on any item, heat press a shirt or get an express hem while they wait. The Samuelson Custom Suit Visualizer is an interactive digital made-to-measure experience at an accessible price. Eton Endless Aisle is a digital touchscreen offering an expanded assortment of dress shirts and ties. Le Labo creates personalized fragrances. Need a drink? Hit the Clubhouse Bar, which also serves meals, while offering views of Central Park. The Coffee Shop features a small batch blend based in Brooklyn. Draft beer is also on tap, as is a selection of local pastries.
The new Nordstrom mecca is all about convenience, speed and ease—a blend of the best of brick-and-mortar with online efficiencies. Express Returns kiosks are located at each entrance, there's buy online and pickup in store, reserve online and try in store, and three-hour same-day delivery anywhere in Manhattan. There's an onsite tailoring department, complimentary personal stylists, a cell phone charging station and a shoeshine stand. The men's store features an open floor plan that allows for evolving curation to create a sense of discovery of brands customers haven't seen before. Who wouldn't want to experience all that in person?
Saxon Shoes in Richmond, VA, has also doubled down on being a destination for shoppers. The 21,500-square-foot family shoe mecca housed in the area's A-list mall just finished a complete remodel. (See "Gut Check" on p. 18.) President Gary Weiner knew the business could use a jolt. He describes the new digs as delightful, not to mention a more cost-efficient layout. Billed under the tagline "Shoe shopping the way it should be," the recipe is heavy on service, an extensive selection (including the addition of a half dozen more exclusive brands) and community outreach efforts. Above all, the Saxon Shoes remodel is an inspiring story of a 65-year-old, second-generation-owned family business determined to succeed.
Studies show the survival of local stores such as Saxon Shoes is good for their communities. Locally owned businesses create communities that are more prosperous, entrepreneurial, connected and generally better off across a wide range of metrics. They recirculate a greater share of every dollar in the local economy than big box stores, as they create locally owned supply chains and invest in their employees. Locally owned businesses employ more people per unit of sales and retain more employees during economic downturns. Such businesses are linked to higher income growth and lower levels of poverty. A community's level of social capital, civic engagement and well-being are positively related to the share of its economy held by local businesses.
But no one is likely shop a locally owned store if it's bad. As Weiner says, the onus is on all retailers to improve the shopping experience in their stores. That starts with simply being better people. It's about "customers being greeted by someone who is nice, takes care of them, makes them feel good, makes them enjoy giving us their money because, if not, they can spend it someplace else," says Weiner.
It's always been as simple as that: Consumers decide where their hard-earned discretionary dollars go. The choices today are greater than ever. It's hard enough competing against Amazon. What happens when you toss in subscription services, direct-to-consumer efforts by wholesalers (Nike, for example) and voice-activated, in-home shopping devices? Brick-and-mortar retailers need greatness to survive. Mediocre just ain't worth the schlep these days.