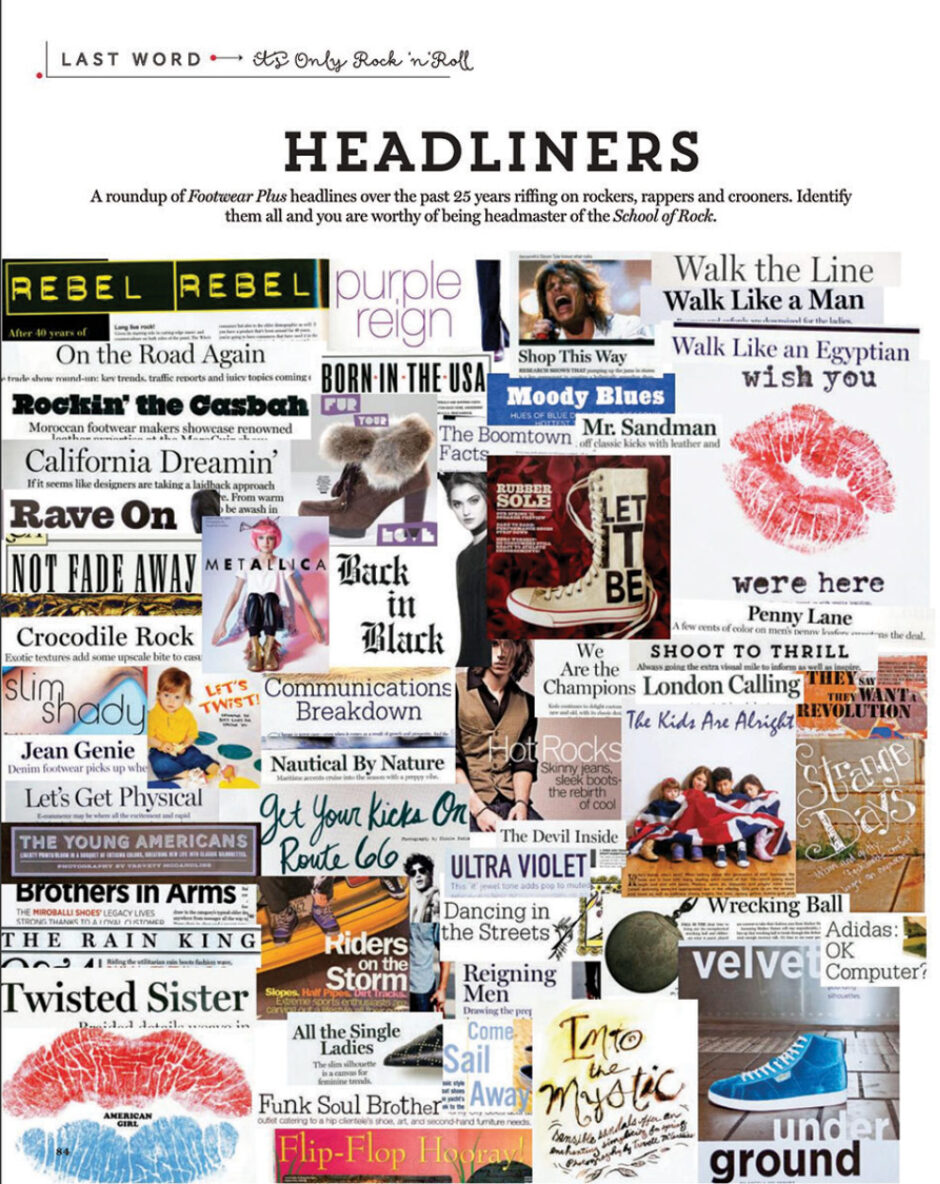 My wife of 25 years this September is my best friend. She's also my copy editor. She's the one (hint, hint) who pares down run-on sentences, catches typos and declutters whatever words of wisdom (another hint) I write in each issue. Recently, she admonished me for resorting to too many rock music references. Last month's column, "Faith No More"—which concluded with lyrics from a U2 song—was the point of no return for her, I guess.
Well, guilty as charged. Or, you might say, I fought the copy editor and the copy editor (finally) won. But then I thought, why not dial up the rock references to 11 this month. Why not go out with a bang? Or as Neil Young sings, "It's better to burn out than fade away." So let's get this party started and see how many songs strike a chord while I sing the praises of our latest issue.
Signs of reemergence from the pandemic are growing louder by the week. The drum beat of strong first quarter sales reports are encouraging, suggesting that many retailers are headed in the right direction. Granted, the figures are in comparison to last year's lockdown numbers, but in many instances they exceeded expectations, and some broke records. Maybe that stimulus cash is burning holes in consumers' pockets. Money changes everything, after all.
Maybe those who've been sporting athleisurewear 24-7 for the past year are also itching to diversify their wardrobes. For those returning to offices in the coming months, dressing for success (you gotta look sharp) might be a refreshing change of pace, or a mandate from the boss. On that note, be sure to check out our men's dress feature (p. 24); it shows an array of office-appropriate and night-on-the-town styles for fall.
Or maybe women just want to put on that party dress and killer heels and dance the night away. We oblige with our disco-inspired fashion feature, beginning on p. 26. It felt good curating a selection of snazzy heels that are completely pandemic-inappropriate! Along those lines, I sense a pent-up demand in the country to party like it's 1999—and dress the part. The desire to look fabulous doesn't even require a party at this point, says Leslie Bessent, co-founder of Agnes Bethel and the subject—along with her husband, Stephen—of our Designer Chat (p. 38). Bessent believes the pandemic has taught people to live in the moment because it can all be snatched away. "America is ready to get back to being fancy," she says.
On that high note, maybe it's time to venture into stores again to touch and try on the merchandise. Extended isolation has taught many of us that we need the human touch. Personally, I could use a break from the steady stream of boxes cluttering our apartment. Worse, I feel like I'm working eight days a week breaking all the boxes down for recycling, not to mention the added time suck of shipping back returns. Beyond that, shopping with all my senses is liberating. There's only so much a computer screen can reveal, and most customer reviews are about as reliable as Axl Rose hitting the stage on time.
Speaking of shows, another sign that the industry is getting back in the saddle again is the return of in-person events this August. Our trade shows preview (p. 14) reveals why our industry has Georgia on its mind with regard to The Atlanta Shoe Market; FFANY reports it's time to get back in the New York groove; Magic says viva, Las Vegas as it unveils its new format; and organizers of Outdoor Retailer seek a Rocky Mountain high of another kind by gathering again in Denver.
The beat goes on. This month's Q&A (p. 10) with Charlie Liberge, co-managing partner of Quoddy, tells the story of how a fateful phone call led to a new partnership dripping with rock star potential. The Quoddy playlist includes U.S. manufacturing (i.e. Born in the U.S.A.), a rich brand heritage, premium craftsmanship and strong margins, to cite a few. In his 30-plus years in the business, involving numerous executive stints on both the retail and wholesale sides of the aisle, Liberge has seen his share of brands come and go. Now, as one of the lead singers for Quoddy, he explains why this is no one-hit wonder.
I could go on making rock references when writing about fashion because there is endless crossover between the two industries. They've been dance partners ever since Elvis told listeners not to step on his blue suede shoes. In addition, the long and winding roads from garage startup to superstardom—complete with excessive highs and devastating lows, breakups and reunions—often mirror each other. So does the combination of talent, drive and ego that can burst just like a super nova or quickly fade away. For a fan like me, that means there's never a dull moment. I, for one, hope the song remains the same.