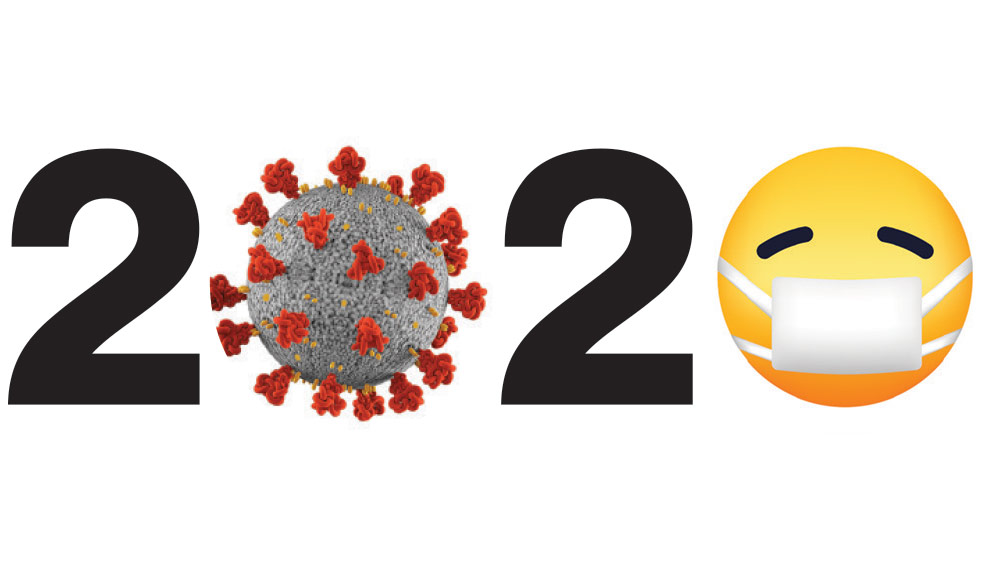 Why not cut to the chase? Editors of publications covering topics from accessories to zoology will run year-in-review columns in their December issues, but I can sum up 2020 now: No matter what happens over the next four months, the year will still absolutely suck. There's no need to wait to write its epitaph. Nothing short of a vaccine with zero side effects distributed free to everyone immediately, preferably in the form of M&Ms, will make it better.
The damage (mass carnage) is already done. A recent news release by the FDRA (Footwear Distributors and Retailers of America) called 2020 the worst year ever for our industry. President Matt Priest described the abyss we are hurtling into as "historic" and a "perfect storm." He cited recent data that paints a "dire picture" of evaporating profits and more job losses (on top of record losses already this year) through 2021, led by a double whammy of higher costs for production and lower retail prices. Typically, those prices rise and fall together, he says, but not in 2020. (Of course not.) President Trump's tariffs, he notes, have caused average import costs on shoes to surge, while fallout from the coronavirus is weighing down retail prices as shell-shocked consumers demand discounts of 30 percent or more. As for a potential lifeline, Priest says the government must eliminate burdens like import tax hikes. Failure to do so means "consumers will eventually see fewer companies selling shoes and less innovative and dynamic footwear in the marketplace as a result."
The die-off is already well under way. We've witnessed industry job losses as high as 60 percent during the height of the store closures this spring. While some jobs have returned, thousands are likely gone for good as businesses liquidate or will downsize significantly if they emerge from bankruptcy. On a broader retail scale, it's nearing extinction level. Of the tens of thousands of businesses that closed at the height of the pandemic, 132,580 listed on Yelp remained closed as of mid-summer and nearly 73,000 have closed for good. Worse, the rate of permanent closures is rising—more than 15,500 from mid-June to mid-July, according to one report.
This isn't something that's likely to be revived by a rumored pent-up demand—not while millions of American remain unemployed and there's a massive shift to ecommerce. Nor does it look like the government-issued Paycheck Protection Program (PPP) did much to stop the bleeding, not with (too many) reports about how small businesses—the ones most in need of assistance—didn't receive any. (There should be a special place in hell for the tech startup bros, awash in millions of venture funds, who had the audacity to apply for—and accept—millions in PPP loans. And one wonders why small business owners feel abandoned.)
One might argue that the nation was over-retailed, and the pandemic only accelerated the necessary thinning out of the herd begun by the retail apocalypse. There is plenty of truth to that. Many businesses were already on life support and, in a few instances, you could say the virus amounted to a mercy killing. Sometimes it's just time to go. Age, decay and staleness have taken their toll, and no amount of investment, blood, sweat and talent can turn it around. Millions have been sunk into trying to resuscitate Sears, for example. Is JCPenney's prognosis for a recovery much better? Could the brick-and-mortar department store concept itself be on its last legs? Nordstrom and Dillard's would surely beg to differ, but Stein Mart, on the low end, just threw in the towel and upscale Neiman-Marcus is now in bankruptcy.
Still, investors are more willing to gamble on established brand names, no matter how tarnished they might be. Payless marks one of the latest such attempts, as its new owners plan to open 300 to 400 (newly designed) stores nationwide over the next five years. It seems ambitious in this current climate. Then again, at its height, the chain was much more unwieldly at 2,100 stores. Brooks Brothers looks to be another redemption candidate, following its recent purchase by Authentic Brands for $325 million. Time will tell whether such venerable names have life left in them after they've received cash infusions and undergone makeovers. (I'd bet that few people are salivating over the prospect of exact replicas.) Debt load wasn't the only thing sinking these businesses.
Which brings me to Beck's Shoes, a relatively small chain of 17 stores (plus four trucks and an ecommerce site) based in the Silicon Valley and our retail profile (Opportunity Knocks, p. 18). Rather than succumb to the sky-is-falling sentiment, dynamic retailing duo Adam Beck and Julia Beck-Gomez, CEO and COO, respectively, are acquiring stores and doubling down on their brick-and-mortar business model. The passion behind this 101-year-old, fifth generation–run family business is uplifting. The strategy is equally sound: This is no nostalgia-driven tale. The cousins in charge have recently invested millions in upgrading stores and are committed to incorporating the latest sales training and talent retention practices. Indeed, Beck's Shoes may be ancient in retail years, but it is proof-positive that age is merely a number.