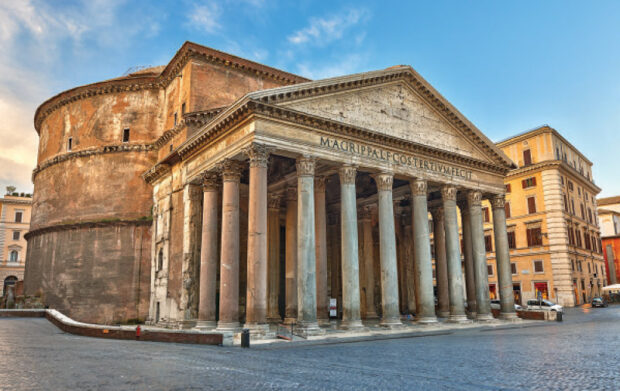 Rome wasn't built in a day, and a lot of what its ingenious engineers did build has stood for millennia. An array of magnificent structures have survived countless natural and manmade disasters, not to mention the relentless grind of time. But why do those structures—like the Library of Celsus in Turkey, the Roman Theater of Orange in France and, of course, Italy's Pantheon and Colosseum—still stand while the buildings many other great civilizations constructed have long since crumbled into oblivion? 
The answer lies in the concrete, according to a recent study. Specifically, the unique mix Roman structural engineers invented. This magic concrete lasts much longer than the modern equivalent, which can decay in mere decades. What's more, the secret Roman ingredient of white lime clast chunks (previously thought to be evidence of sloppy mixing) combined with a special hot mixing technique enables the concrete to self-repair. A study showed that after two weeks, water couldn't flow through concrete made the Roman way, whereas it passed right through modern mixes. The lime clasts apparently dissolve into cracks and recrystallize after exposure to water, resealing those structural weaknesses before they spread. Basically, Roman concrete is able to heal itself!
How exactly does this revelation relate to the footwear industry? Brands, both wholesale and retail, are structures too. The great ones have strong foundations able to withstand tectonic changes in the marketplace and repeated attacks by the competition. These foundations can also support many additional layers and extensions. The cement holding them together is a mix of authenticity, quality, ingenuity, adaptability (i.e. the ability to heal itself), consistency, creativity, tenacity and durability. While every great brand is a unique amalgam of those key ingredients—and a few secret ones—the combination cements it all and stands the test of time.
Take Nike, for example. From the start, the Swoosh's cement mix was heavily based in product creativity and ingenuity (think waffle soles) as well as tenacity. As shoe lore goes, founder Phil Knight went from track meet to track meet in the Oregon area selling shoes out of the trunk of his car to get the athletic giant up and (literally) running. Nike has never stopped strengthening and building onto that foundation, reinforcing it constantly through product innovation and marketing. The company founded as Blue Ribbon Sports serves as a blueprint for brand building.
The same, albeit on a smaller scale, can be said of The Heel Shoe Fitters in Green Bay, WI, the subject of this issue's retail profile (p. 16). In 2012, Owner Troy Dempsey took over the one-store operation and has been building out "The Heel" ever since. The exponential growth has been jaw-dropping, especially since the business moved from downtown to a 50-foot tall, A-frame structure in 2016. Dempsey's goal is to be the "best shoe store in the world." It's an endless labor of love that is always subject to additions and improvements. His dedication to creating what many in the industry consider the Pantheon of health-and-wellness destination stores—one that houses 100 or so brands and 70,000 pairs in inventory—is an inspiring read. If you can build it, customers will come!
Alen Mamrout, CEO of American Exchange Group (AEG) and the subject of this issue's Q&A (p. 10), is another brand builder in rapid growth mode. In January 2022, the company snapped up the 36-year-old Aerosoles brand and, last month, acquired the 44-year-old
White Mountain Footwear Group. It now boasts 30-plus brands, 12 of which make footwear. Mamrout is all about unlocking a brand's potential, primarily through product line extensions. To that end, Aerosoles has already expanded into several categories, including women's winter accessories, men's and women's flip-flops and slippers, men's socks, kids', and even roller skates. The exec is already ramping up to extend White Mountain's brands, and he's confident the division will double revenues in the next three years. Mamrout, who entered the footwear industry just five years ago (in 2018), has big growth plans for AEG's now second-largest division behind watches. These will likely include more acquisitions. The building, he says, has just begun.
Having spent my childhood watching my father, an architect, design all sorts of structures made from all sorts of materials, I learned early that without a sound plan, the buildings would never stand. He designed every inch of every house, restaurant or office tower from the ground up. No building code or measurement was overlooked. It was detailed and often painstaking work—a skillset, by the way, that I lacked entirely as evidenced by my epic failure as a student in Intro to Drafting in high school. It was a debacle.
I take some solace in being able to build a magazine from the ground up 10 times a year, word by word, photo by photo. The cement mix that supports Footwear Plus, and has for 33 years, is our staff's mix of creativity, talent, tenacity, accuracy and integrity, among other ingredients. It's a group effort, as were the great Roman structures. With each issue, we add another floor to our "house of shoes."