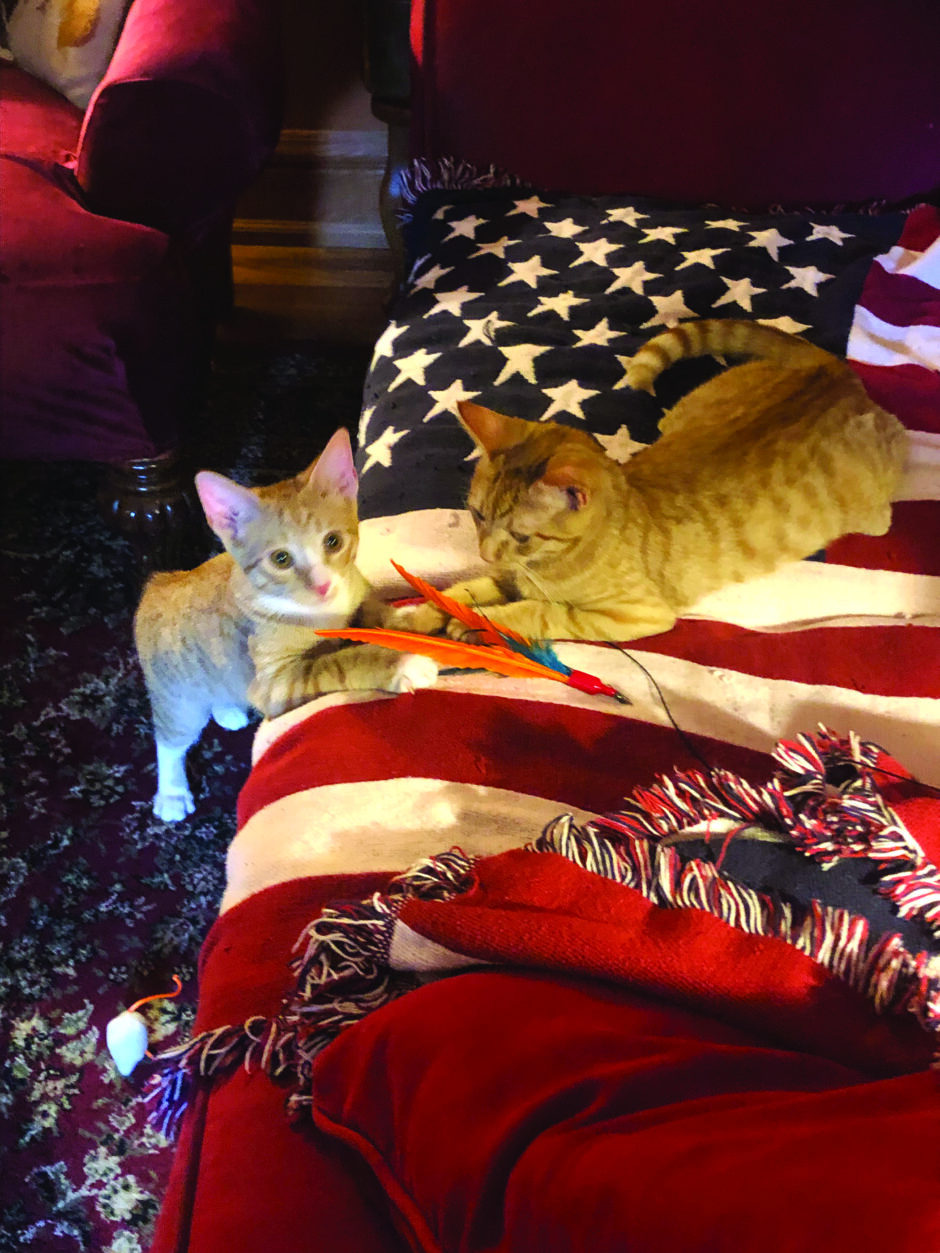 It feels good to feel better again, as it's been a long, rainy, and depressing summer. It kicked off with a devastatingly sad start in early June when our beloved family cat, Romeo, passed away just shy of 15 years of age. He was truly a prince. A ray of light and comfort, no matter how bad a day you might have had, especially for our daughter, who grew up with him. He was her faithful companion through the misery of middle school, the bully gauntlet of high school, and the fears and isolation brought on by the pandemic during college. The days of mourning that followed weren't made easier by the sky outside our Manhattan apartment turning an apocalyptic orange due to the choking smoke of Canadian wildfires hundreds of miles away. My wife, daughter, and I were trapped in our grief. It wasn't healthy, inside or out.
Serving as the backdrop to the summer of our family's discontent has been the 24-7 news onslaught of coverage that makes you want to hide your head in the sand. There are just so many stories about wars, social upheaval, climate-related catastrophes, economic woes, political divides, crime waves, bellicose despots, mass shootings, and ongoing opioid, mental health, and Covid crises a person can take before wanting to do as ostriches do. And while I wholeheartedly agree with Coach Lasso's advice to "be a goldfish" and not drown in the negatives, it's tough when it feels as if they're hitting you like a tidal wave.
So, yeah, I sure could use some good news. That's why I took great delight in the optimism that poured out of The Atlanta Shoe Market (TASM) last month. (See. P. 8 for our full review.) The overall sense among attendees is that business is good and the prospects for even better days ahead are strong. Perhaps helping to fuel the good vibrations was the fact that the gang was all there. TASM's record attendance represented the best cross section of wholesalers and retailers at a show since well before the pandemic. Many even reported a WSA Show-like buzz reminiscent of the late '90s.
Many attendees cited the optimism in the independent retail channel, especially. Consumers returning to stores coupled with a growing desire to shop local are contributing factors to the channel's success. Plus, these pandemic-proof retailers are just really good. They are savvy merchants backed by great staffs, and they've built deep relationships with their clienteles.
Rusty Hall, president and CEO of Mephisto USA and the subject of our Q&A (p. 12), reports that the brand's TASM booth was packed with many such retailers, nearly all of whom were looking to increase their buys for next season. It's just one of several reasons why the exec, who is fast-approaching his 50th industry anniversary, is bullish about the future prospects of Mephisto and the industry as a whole. At the same time, Hall, who has pretty much seen and survived it all, isn't one to be blinded by the optimism. His straightforward take on several key industry issues reveals there's work to be done.
Indeed, there are no guarantees that the good vibrations at TASM will all pan out. Nevertheless, I'll take it. It beats the rain cloud that has hovered Eeyore-like over our industry these past few years. Enough already! Let the sunshine in!
To that end, our fashion feature (p. 22) spotlights the emerging Ken trend. Barbie's beau is leading a fashion charge of bold and bright looks. There are more than Kenough style options to go around, running from sporty to sophisticated to, of course, sexy. The looks encompass slides, loafers, cowboy boots, and sneakers. It's a bolt of energy in what has been for far too long a dreary uniform market for men. Ken is a fashion beast that has finally been unleashed. So what if it took a movie ostensibly about Barbie to show the enormous potential of Ken-inspired style? Better late than never. Embrace the Kenergy! It could very well be a boon to a market segment that's in danger of becoming even more overly dependent on sneakers. The Ken trend is also just fun, and fashion is supposed to be fun, right?
Speaking of fun, our creative directors Nancy Campbell and Trevett McCandliss, stylist Mariah Walker, fashion editor Kathleen O'Reilly, photographer Mark Andrew, and model Tristan Paine had a blast creating this Kentastic story. They make it look effortless, but it took weeks of hard work and talent to bring Ken to life in our pages. Thanks for making Footwear Plus look great in this and every issue.
On the topic of looking great, the two adorable kittens pictured here are Jojo and Yorkie, the newest members of my family. We came across the stray brothers in desperate need of a home on Petfinder. They are named after the best friends in Jojo Rabbit, our daughter's favorite movie. It's nice to see her really smile again.
Here's to better days for us all.