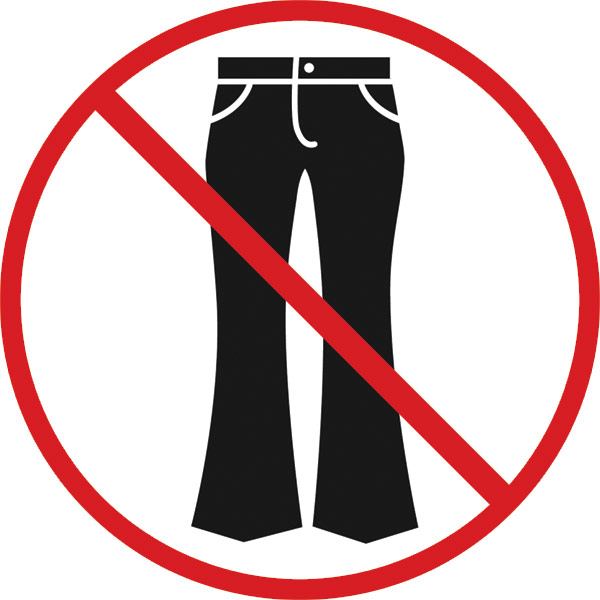 The '70s, the decade darling of designers for what seems like years longer than its actual timespan, has run its course. It's time to let go. It's time to let the era's notable looks lay fallow for a few years so any future revisits stand a better chance of capturing nostalgic appeal. Let's see if, in fact, absence makes the heart grow fonder.
The '70s muses, cultural milestones and fashions have been mined exhaustively for inspiration, reinterpretation and, more often than not, low-cost re-issue. We've been to boho and back—and back again. We've rewound fringe, shearling, bell-bottoms, graphic tees, etc. We've stepped back into platforms, clogs, gladiator sandals and joggers. Even the decade's color palette, rich in shades of brown and orange, is about as appetizing as the classic Burger King uniforms that combo so vividly brings to my mind. The point I'm making: What's old no longer feels new—not when we've been awash in the past for far too long. What's old is old.
I apologize if I sound like a '70s-hater. I have nothing against the decade I spent happily living out the all-American suburban kid's dream. (Think Stand By Me, the '70s-era remake.) But I believe our industry—and the fashion business as a whole—has reached a tipping point on how much we can continue to rely on the past in the hopes it will excite consumers about buying for the present. A cynic (surely not me) might say overly used product adjectives like heritage, vintage, original and classic are merely euphemisms for tired, old, unoriginal and clichéd. And while there have been plenty of younger people who viewed these retro styles as new, that gets old fast. More importantly, it lacks innovation, and that gets old even faster. Even the millions of consumers who wore these looks in real time and embraced the first few trips down memory lane have grown tired after the umpteenth trip.
I understand that when the economy tanked many decided to play it safe. It was the smart move—the only move, in some cases. Buyers weren't likely to stick their necks out testing new concepts, fashions and brands. What's more, the near-death of capitalism spooked millions of consumers about the future. The desire to go back to a less stressful and (perceived) happier era was the ideal consumer mindset to tap into via '70s-era fashion revivals.
So that's how we got here, and now it's time to move on because we are faced with a consumer who's been there/worn that and is increasingly hungry for fresh products. The overwhelming popularity of wearable and handheld technologies is evidence of that hunger. Similarly, Nike's innovative products (Flyknit being the latest) have fueled some of the best quarters in its history. Under Armour, Hoka One One and Skechers have all been on fire at retail the past few seasons because they've delivered innovative products. If not for the athletic market, where would the innovation in our industry be?
At least the conversation about needing to introduce freshness into the market has started in the brown shoe side of our business. Several wholesale execs I've spoken with recently have talked about how consumers are seeking something new. Or as Gary Champion, CEO of Earth Brands and the subject of this month's Q&A (p. 14), bluntly stated: "She's tired of looking down at her feet and seeing an oblique toe." The modern makeover Champion is overseeing at Earth Brands is encouraging. Likewise, our outdoor market preview, "Elements of Style" (p. 36), profiles an array of brands that are combining cutting-edge performance technologies with fashionable looks that re-envision a market that had boxed itself into a granola aesthetic for decades. Sorel, one of the aforementioned profiles and a leader of this rapidly growing fashion-meets-function category, has experienced record sales of late—further proof that offering something fresh can ring the cash register. Jambu, also profiled, has burst onto the scene over the past few seasons with its blend of outdoor chic as well. This trail-meets-the-runway story has picked up momentum for Fall '16 as evidenced by our fashion story, "Alpine Cool"
(p. 48). Performance and now fashion brands are coming at it from their respective roots, creating a versatile and wearable category with potential broad appeal.
The rise of haute hikers proves, once again, that consumers possess an insatiable appetite to buy the latest and greatest. If our industry succeeds in delivering innovations, shoppers are more than likely to get on board. Revisiting '70s fashions fed consumer demand for a while. Now it's time to update the menu. It's time to go back to the future.