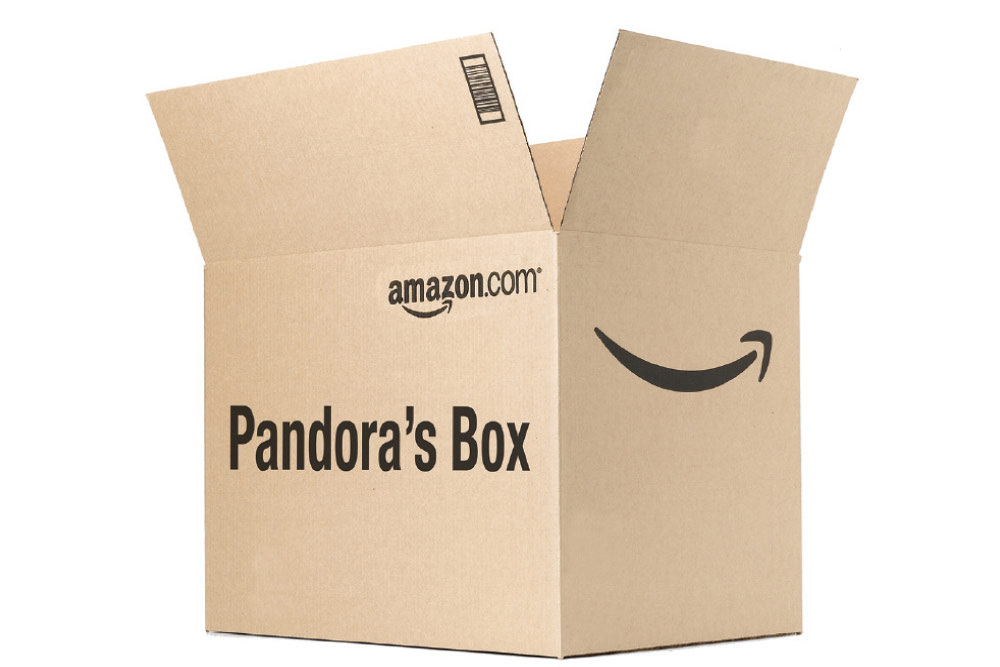 The tectonic shifts rumbling through the retail landscape in the past year were earthshaking enough, but these past few weeks have created shockwaves on a new level of the Richter scale. Nordstrom announced it may go private. Hudson Bay Company lopped off 2,000 employees (many of whom were senior-level executives at its portfolio, which includes Saks and Lord & Taylor). Retail icon Mickey Drexler threw in the towel at J. Crew. Macy's might have leased the rooftop of its iconic Manhattan flagship as a public park. And the jolt of jolts: Amazon offered $13.7 billion in cash to buy 400-plus prime (pun intended) storefronts across the U.S. with the pending acquisition of Whole Foods Market. Can a struggling department store chain be far behind?
Last but surely not least, there are reports that Nike will soon begin selling direct on Amazon. This caused several competing retailer stocks to lose a collective $1 billion in market value in a day! Guess investors think a walk down the aisle for these two Pacific Northwest darlings could be a walk on the plank for many mid-level national retailers long reliant on Nike as a top draw for their stores. J.C. Penney and Foot Locker, for example, saw single-day stock value declines of about 6 percent and 5 percent, respectively.
Swoosh, there it is…a new retail world order where Amazon sits atop the heap and Walmart continues to snap up online apparel sites—Bonobos being the latest, for $300 million—in what looks like a desperate attempt to be a bridesmaid. Lest someone else enjoy a moment in the spotlight, Amazon countered that acquisition with the test launch of its subscription box service, Prime Wardrobe, which lets customers try on clothes and shoes before they buy them and return any items they don't like—for free. The service will be available to Prime members at no extra charge. One Wall Street firm projected Amazon's share of the U.S. clothing market, currently 6.6 percent, will zoom to 16.2 percent by 2021.
Antitrust whispers regarding Amazon will surely grow louder. One industry analyst noted it would be a smart move for an ambitious politician to go after the company that may well put millions of Americans out of work. Perhaps, but Amazon's impact in the near term will continue to shake up the retail landscape across every sector, our industry included. One well-connected wholesale industry exec revealed, in strict confidence, that many leading brands are doing 20 percent or more of their total sales annually between Amazon and its third-party Marketplace. Guess who calls the shots.
Every pundit in the land is predicting more store closures in the months ahead for those fortunate retailers who haven't already gone six feet under. The long-teetering, over-retailed house of cards has come crashing down. The jig is up on reporting overall growth by opening more stores. Same goes for brands that gladly fulfilled orders to stock the shelves of less-and-less trafficked locations. Not only did the practice lead to regular end-of-season markdowns and make-good battles with so-called retail partners, but brands spread themselves too thin while feeding the malignant tumor that is too much sameness at retail.
Is this really the retail apocalypse that experts have long feared? Have consumers stopped wanting to shop in stores, preferring to purchase everything from toothpaste to T-shirts to tires to tomatoes on Amazon? Do eating out and spending money on experiences beat shopping for anything else? Has entering a store become so mundane and miserable that it simply isn't worth the effort? In these extreme times, one often hears extremist views—like the activist investor at Hudson Bay Company who recently urged the board to get rid of every brick-and-mortar location ASAP. While the epic real estate deal would generate billions in much-needed capital, might it be a bit radical to go entirely digital, especially given the fact that the world's largest online retailer is spending billions to add brick-and-mortar operations?
Amid the gasp-inducing changes sweeping retail, it's easy to lose perspective. But not one retailer or wholesaler I have spoken with in the past year believes brick-and-mortar stores will become extinct anytime soon. Nor will Amazon and Walmart become shoppers' only options. History has shown repeatedly that retail changes constantly. Just when a format seems on the verge of world domination, something new comes along that reinvents the shopping experience—again. Amazon rules now, just like Walmart, Macy's and Sears once did. Something new—perhaps extreme curation—will come along.