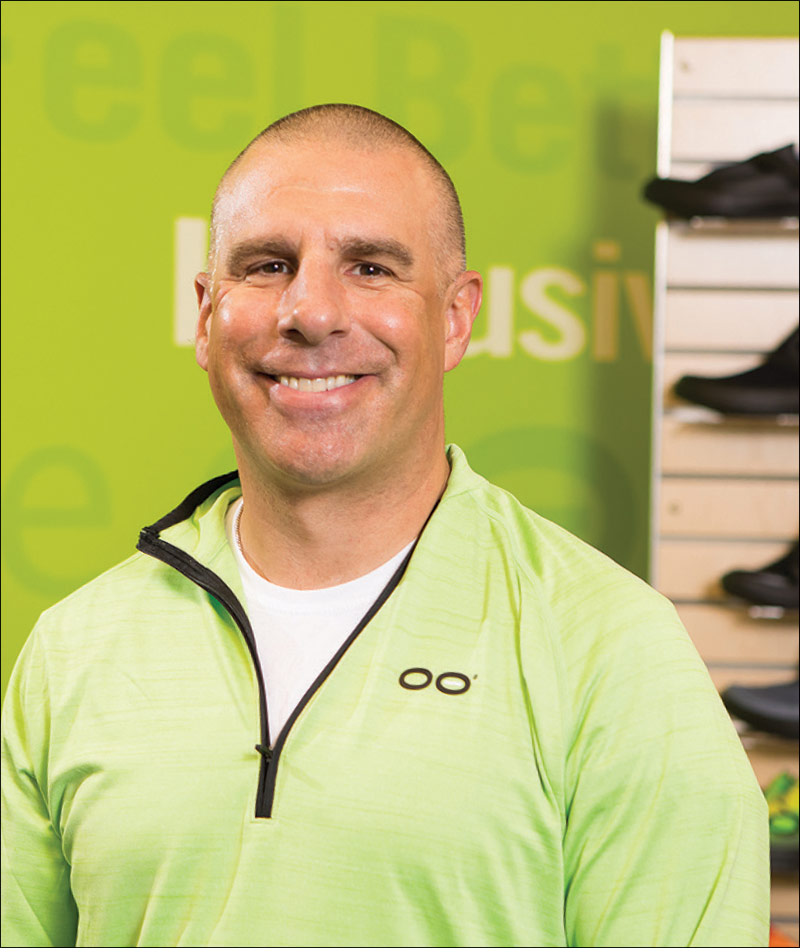 Dear Steve, When you read this note, you will just have graduated college with a degree in business and know two things for sure: 1. Find a job where you can apply your passion for sports and fitness. 2. Get to work ASAP, as you have a ton of student loan debt, no car and no money in the bank. (Good luck!)
You apply to every athletic company you can think of—and receive rejection letters from every one of them! (BTW, keep those letters, because they'll serve as motivation throughout your career.) You finally land a job at Raytheon in Waltham, MA, as an Assistant Project Manager. It's certainly not a sports and fitness company, but the rent is due! And while it's a cool first title, it's basically delivering mail around the building. You do a great job; they love your work ethic and teamwork, but you soon realize that you didn't put yourself through college to do something you're not passionate about. You get back to the job search.
After being a "nice pest" to many folks at Reebok—i.e. sending letters, cards and the occasional flower bouquets to senior management executive assistants—you finally receive an interview! You're super nervous and leave that morning for Reebok's headquarters, a 55-minute drive away, two-and-a-half hours prior to your appointment. Unfortunately, a an accident shuts down Rte. 128, you have no way to contact the manager (unfortunately, a cool gadget called cell phones don't yet exist) and you arrive two hours late! The manager refuses to see you. You tell him that you're not leaving the lobby until he does. He finally agrees to reschedule, but you get a call the next day informing you that there are no positions available. Still, you stay in touch and, three weeks later, you receive a call offering you a Tech Rep position. It's as if you've won the lottery! From there, you hit the fast track, getting promoted twice in one year! You'll move to the Midwest and then back east, take on several sales and product marketing roles that take you all over the world, where you'll meet incredible athletes, business people and celebrities, along the way. Not bad for a kid from Saugus, MA, who hadn't stepped on an airplane until he graduated from college!
You'll spend more than 15 great years at Reebok and then move on to Adidas, where you take on multiple senior management roles. During this time, you realize the importance to always be learning. You obtain an MBA, at age 40, as well as certificates from many of the top business schools within their executive education programs. These experiences are life-changing and make you a better leader and business person. The mentors you meet will be your greatest assets; several have a profound impact on your life. All they'll ask in return is that you pay it forward.
Then, after 30-plus years at two fantastic brands, you decide to take on a leadership role at OOfos. The team, the product, the recovery technology and the company's mission to give back match up perfectly with what you have come to realize makes a great organization and business. You've found your home—and it's back in your home state of Massachusetts, to boot!
Now for the most important piece of this letter and my two cents. Most people will tell you that they "wouldn't change a thing" about what they did or didn't do in their careers, especially if it's considered successful. I disagree! There are always things you can improve upon.
So here are my nine nuggets of wisdom: 1. Pay your dues and trust in the process. Just because you're promoted quickly early in your career, don't think that you know it all. 2. Have a continuous learning mentality. 3. Hard work and perseverance is critical to your success, but you also need to apply critical and strategic thinking, frameworks and learn from others' experiences. 4. Get your MBA sooner, but not too soon. What will make your MBA more effective is work experience. 5. Don't be afraid to apply to the better business schools. You can do it! 6. Embrace failures as necessary parts of the process. You'll get bogged down several times where you didn't achieve what you wanted. Don't wallow in them. Learn from the experiences. 7. Find balance in your life. You'll hear people talk at length about work/life balance, but I have yet to meet anyone who has done this successfully. It doesn't have to be perfect, though. Learn to compartmentalize. 8. Don't take your work attitude home. Be present with your family. 9. Focus on long-term goals but celebrate the victories along the way. 
I'm happy to inform you that you'll have a wonderful career in an industry that you will love, along with a fantastic wife and family that will inspire and support you every day. You truly are blessed!
Best Regards,
Your older (ancient) self