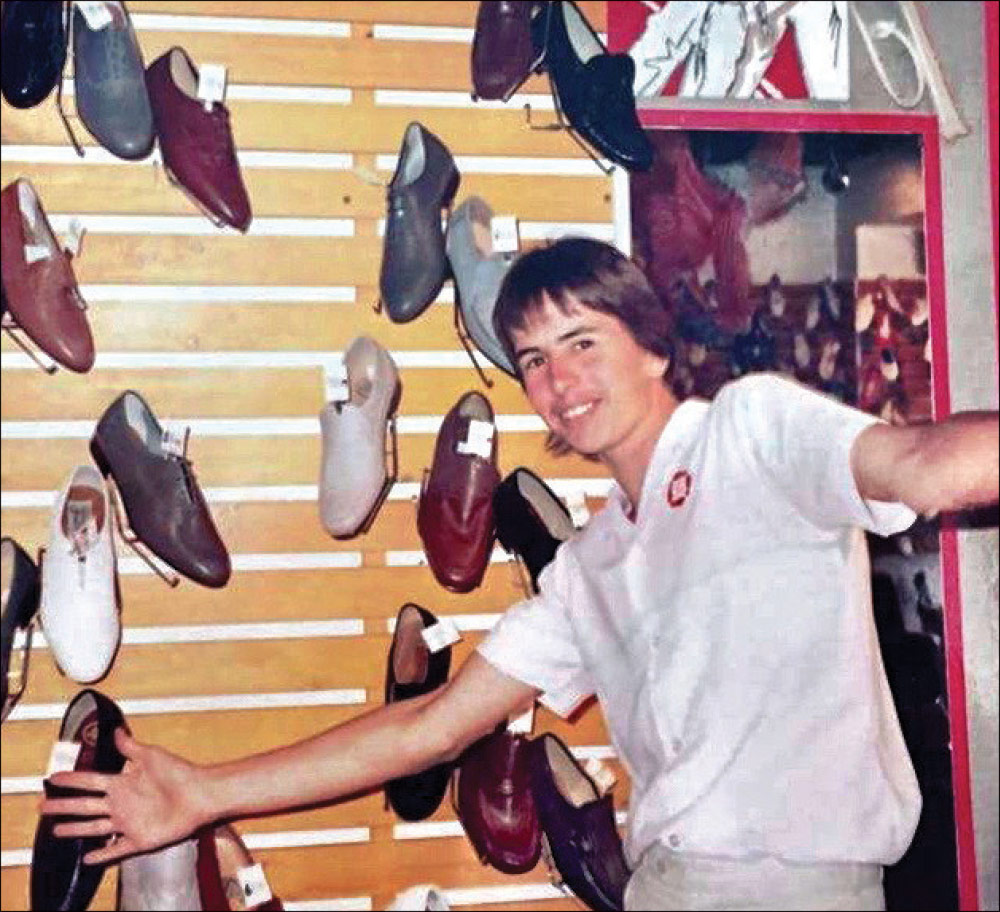 Dear Chris…When I look at this photo of you as a 16-year-old boy, I get goosebumps thinking about the life-long journey this kid is about to experience in the shoe industry. This might have been taken the day you sold your first pair of shoes—men's dressy leather slip-ons. You do look pretty happy with yourself! Your sister, Donna, who works weekends at Williams Shoes on the Gold Coast of Australia, told you about the full-time stockroom/sales floor position. Wear a tie for the interview; it'll make you look older and more professional.
Two weeks into your new job, store manager Cathy Grigg invites you for coffee. You're super-nervous, believing she's going to fire you. But when she asks about your goals, you go with your gut and say you'd love to be a store manager like her one day! The fact is you hate school and love the beach, but you also work hard, listen, learn and possess a "can-do" attitude. Cathy sees your potential. In just two years' time, you'll graduate from the chain's management trainee program, landing your first store manager role at only age 18! You take your training to heart. You learn to be accountable for your team and its results. You remain humble, learning from your wins and losses. You also take heed of a co-worker's sage advice: "Be nice to people on the way up as you may see them on the way down." You never forget it. That same person teaches you "the sales floor is a stage, and we're the actors." You enjoy every minute working for Williams Shoes. Within five years, you become the youngest executive in the company's history—and you finally get that company car! Your mum and dad are so proud.
You're happy and successful. So, while an opportunity to relocate 1,500 miles from your family to take on a larger responsibility within the company is daunting, you again go with your gut. You're only 25, but feel ready for the challenge. Sure, more-experienced execs tell people at your new gig, "You'll know Chris when you see him; he's the one with the big learner's permit on his back." You don't let it unnerve you. As always, you work hard and play fair. At the ripe age of 30, you're named president. The doubters now work for you!
You work long hours and travel the world building the business. Over the next six years, it grows into Australia's largest publicly-traded footwear and apparel group! You adore the company you've worked for since age 16. You're married and have a 4-year-old son, Joshua, with another baby on the way—a beautiful girl, Tenielle. Life is grand. But children grow up so fast. That's when it hits you: spend more time with your kids. At age 36, you leave Williams Shoes. It's time to just be "dad" for a while. That six-month sabbatical is one of the best decisions you'll ever make. It's also during this break when you meet two Aussies who become amazing business partners and friends. Together, you build amazing companies around the world with a focus on providing life-changing footwear.
Remember that 1,500-mile relocation? That's across the street compared to the move you make to launch Vionic shoes: Brisbane to San Francisco, 7,000 miles. Don't let the fact that you have no credit history—which will make it hard to get a cell phone, let alone buy a house—deter you. You'll meet amazing people who believe in you and your company's vision. Your Australian accent doesn't hurt—Americans love Australians. Use this to your advantage!
Nothing will stop your team from introducing Vionic to millions of Americans. Your dream of contemporary and stylish footwear infused with an amazing technology changes people's lives. You call yourselves "The Three Musketeers," attracting a merry band of co-workers along the way, building what quickly becomes a top 20 brand in the U.S.! Word spreads and retailers in Europe and Asia join the party. Vionic is growing exponentially. Another piece of advice: Read Blueprint to a Billion. It'll help you create a work culture based on personal experiences and values that recognize what's best for employees professionally and personally. Along those lines, trust your instincts when it comes to the people you employ and do business with. Remember what your dad taught you: "Your name and reputation in business are everything, and treat everyone with the same respect."
When one of the Musketeers is taken suddenly from this world, it's one of those setbacks you'd always been warned about. You're devastated. You need time to recover. During this mourning period, you must also remain strong to lead your team through a tragedy. Take solace in the many people you love and who love you in return, guide and support you through this difficult time. You find strength, wisdom and motivation from it like you've never known. You press on and Vionic, now a division of Caleres, continues to grow. The future is bright. You're a lucky man.
A parting piece of advice: Coming to America is the biggest leap/risk in your career, but get on that plane! If you don't, you'll miss out on an unforgettable adventure, one full of learning, relationships and wonderful experiences. You must always be open to opportunities as they arise, welcome risk and cover your downside. Do this and your shoes will take you all over the world—literally!