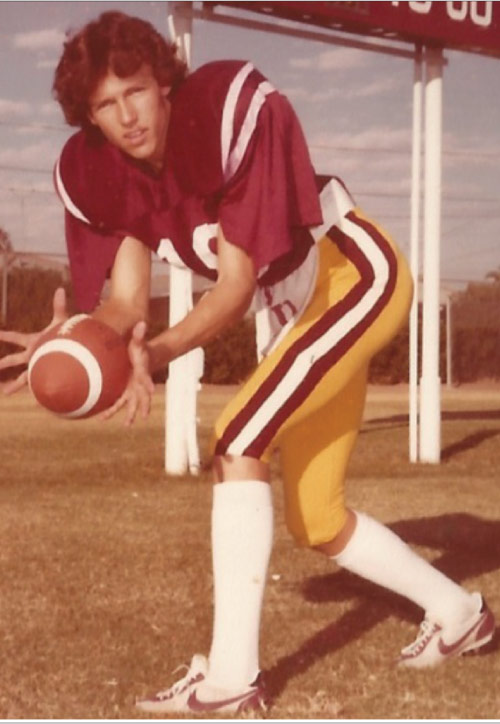 Dear Greg, Remember hanging out at the Christown mall on weekends in Phoenix? That was when you became infatuated with fashion and trying to look the part. Times were tight, with three siblings and a stay-at-home mother trying to get by on your father's police officer salary. You didn't always have the means to buy the coveted brands, but your burning desire for the best will serve you well in life.
Lesson Learned: Hungry dogs hunt best and no matter what your background is, you can be successful.
You will love what you do for a living. You are blessed because you will work in the exciting, creative world of fashion. You will rise through the footwear industry, working for leading companies and traveling the world to feed your passion for footwear and to chase its sourcing migration. The odyssey begins in Italy, France and Germany, then shifts to Brazil, followed by Japan, Taiwan, China, Vietnam and, last, Cambodia and Indonesia. Over your career, you will work in St. Louis; Dodgeville, NY; San Diego and Columbus, OH. Each experience will have challenges and triumphs. You will work alongside talented people who will help you grow as an executive and a human being. As president and CEO of two publicly held companies, you will even get to ring the morning bells on the Amex and Nasdaq stock exchanges!
Your journey starts in West High School, then considered the "most ethnically diverse school in the country." You are fortunate to experience the beauty of diversity during those years. You will excel in football, securing a scholarship and becoming the first in your family to attend college. But before that, you will serve a two-year mission for the Mormon Church in East St. Louis, MO. The experience will change your life. You will learn to lose yourself in the service of your fellow man and how to love people unconditionally. Upon your return home, you will enroll in Brigham Young University and play football. However, four knee surgeries over the following two years will set you on a path to pursue knowledge instead of touchdowns.
Lesson Learned: Loving, serving and helping people is the foundation for leadership and a happy life.
During your senior year, you will be named president of BYU's Retail Management Association. Upon graduation, you accept a position as an executive trainee with May Company. The year is 1986 and department stores rule the retail landscape. You fall in love with the company and believe you will work there the rest of your life. You have great mentors—Ken Hicks, Tom Kingsbury, Scott Ramsland and many more. Though 80-hour weeks are the norm, you're too young to think any different, and you thrive. You will be forever grateful to May Company for teaching you how to be a merchant.
Your hard work and long hours pay dividends. Brown Shoe Company offers you a position in its wholesale division. These are difficult years, however. The company will shut down 32 domestic factories during your first two years, laying off more than 30,000 employees as it restructures its business model. Nonetheless, you love working for Brown and, once again, believe you will work there the rest of your career. You work alongside wonderful and talented people. (The list is too long to include.) You learn about brand management, product development and critical relationships within the retail sector—another building block in your career.
Lesson Learned: Working with great people and good companies provides a foundation for a productive career.
As the youngest of Brown's management team by 20 years, you (mistakenly) assume you will eventually become "CEO by survival." Those aspirations end when Daniel Green Company offers you the position of president and CEO. Chairman Jim Riedman shares his vision of acquisitions, and you are all in. You move your wife and four children to a rural town in Upstate New York. Your industry friends say you are crazy to leave Brown and, at first, it seems they are right. At 35 years old, you are not prepared to be president of a publicly held company. It's a baptism by fire and while you make mistakes, you have the support of management through it all. Under your leadership, Daniel Green will acquire six companies in seven years and relocate to San Diego as the renamed Phoenix Footwear Group.
Lesson Learned: The journey is more important than the goal. Enjoy the ride, don't take yourself or your position too seriously.
For the first time, you are financially secure. You want to focus on the company's systems and operations, but the chairman wants to acquire more businesses faster. You learn the chairman is always right and sign a multi-year non-compete. You take a sabbatical, surfing and skiing with your family for a couple of years.
Lesson Learned: Presidents don't get fired in this industry; they have disagreements with their boards and move on to bigger opportunities.
Your sabbatical ends in 2005 while you're surfing in San Diego with your kids. RG Barry asks you to become president and CEO. Jim Riedman, a gentleman, releases you from the non-compete agreement. You relocate to Columbus armed with experience and lofty goals to change the corporate culture. With help from the Covey Institute to build strong work habits, efficiency, trust and discipline, RG Barry will generate more sales growth and profitability in the past 10 years than in its previous 60 years! While proud of those fiscal accomplishments, you are prouder of the corporate culture imbedded in RG Barry, and you believe it will sustain the company [now privately held] for decades after you move on.
Lesson Learned: Develop culture and people, and the rest of the business takes care of itself.
The relocations, the learning curves, the challenges, the triumphs—you will love all of it! Most of all, you will treasure the relationships you will make over the next 30 years. Best of all, it doesn't end here. New challenges, opportunities and relationships lie ahead!
Lesson Learned: If you love change, you will love the footwear industry.