Dear Fabrizio,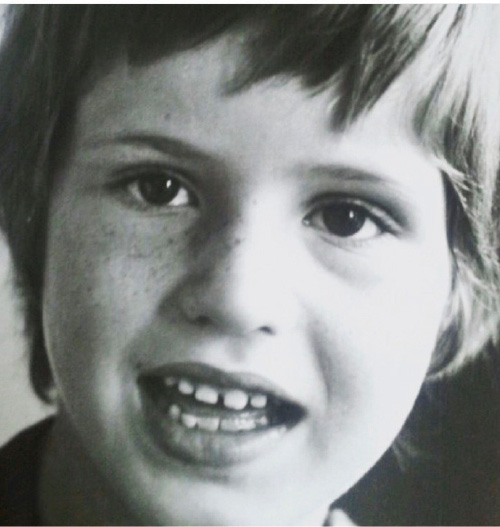 When I look at this picture, I see a young and, maybe a little scared, boy.
But it touches my heart to know that you're about to embark on an amazing and successful life journey. One that begins in Bologna, Italy, where you hail from a family with few resources and reside in a city where "moving" usually means traveling from the post office to the grocery store. But, rest assured, great adventures await after you graduate the University of Bologna. You'll soon travel the world and live in some of the grandest cities—
San Francisco, Boston and New York, to name a few—working for leading corporations, such as Hewlett-Packard, Nike, Marcolin and, since 2018, Vibram Corporation.
Credit your strong inner drive and a desire to emulate your heroes, both real and fictional, for bringing out that adventurous spirit and ability to succeed. Like James Bond, a character who exudes that elusive, inner drive to accomplish the mission impossible every time—all while traveling to exotic locals to ensure On Her Majesty's Secret Service keeps one step ahead of the world's most diabolical villains. Bond's daring dedication inspires you to take on challenges as you climb the corporate ladder—the first rung, in 1995, as a sales development manager for Hewett-Packard in Boise, ID. Despite initially fearing if you're worthy to work for one of the world's top tech companies, believe in yourself. You've done the work and preparation. Just show them who you are!
And you do! Over the course of the next decade, you climb to the position of Commercial Director for HP's Design-Jet product line, based in San Diego. It's where you'll get married and your daughter is born! Speaking of that wonderful city, you made the right choice moving to America—even though all your friends warned that you shouldn't. You'll find it to be a very good life, where you'll make loads of great friends while keeping your roots in Italy. 
Your next career adventure marks your first step into the footwear industry, first as DTC General Manager for Nike Italy and then moving to the company's HQ in Beaverton, OR, to serve as DTC General Manager of its Retail Americas region. There, you help develop many in-line, factory stores and shop-in-shop concepts. You pick the locations, design the stores, oversee visual merchandising and serve as leader of a large team. You introduce many new stores over these two years, most of which achieve double-digit growth during your tenure. Then you are promoted to Nike's General Manager Americas Football (soccer) division, where you again lead growth in the category while having a ton of fun (fútbol is life!) during that time.
Then, in 2008, it's time for your next big adventure: making the leap to the top of the corporate ladder as CEO of Marcolin USA. Over the next eight years, you oversee record growth for the innovative eyewear company, introducing successful collections from an array of the world's leading brands, including Tom Ford, Balenciaga, Emilio Pucci, Guess, Zegna, Mont Blanc, Kenneth Cole and Skechers. You also supervise the acquisition of a second company working with private equity. It's here that you look to two more childhood heroes, Captain Kirk and
Ed Straker, for management inspiration. Notably, it's the strong teamwork bonds Kirk develops with his key lieutenants, Dr. Spock and Dr. McCoy, as the Starship Enterprise boldly goes where no man has gone before. And it's the strategic way Straker, as SHADO's supreme commander, protects earth from sinister aliens—all while sporting nifty vests! (You will sport your share of those, too!)
By late 2017, your love of the shoe industry calls you back—first for a brief stint as CEO of Geox North America, followed by joining Vibram Corporation a year later, where you are currently leading all facets of the brand, only this time on a global scale. You oversee wholesale, DTC, marketing, sales…the works. It's your dream job! You get to use all the experience you've gained over the course of your 30-year career, working for an Italian-owned company, while living in the adopted country you adore. What's not to love?
Now back to the photo of this charming young boy. Those innocent freckles hide your steely determination to always be learning. It's a drive that will serve you well throughout your life. You can always get wiser, and you can learn from your mistakes. Gathering knowledge builds confidence, one learned lesson at a time. It's why you always embrace new challenges. In fact, it's what makes you happy.
Before I let you go, the most important advice I can bestow upon you is: trust your gut. Don't think too much. Don't spend nights reviewing moves and countermoves. Don't worry so much. If something isn't working out, it's easier than you think to get out and start again. Just continue to pursue your dreams, even if sometimes life gives you lemons. Like the time you move to San Francisco during your HP days, accepting a job to work for a friend, who then resigns two months later! Still, you have the best time living there—and the best oysters! Often, such bumps in the road of life lead to grander adventures! Enjoy the ride!
Take care,
 Fabrizio