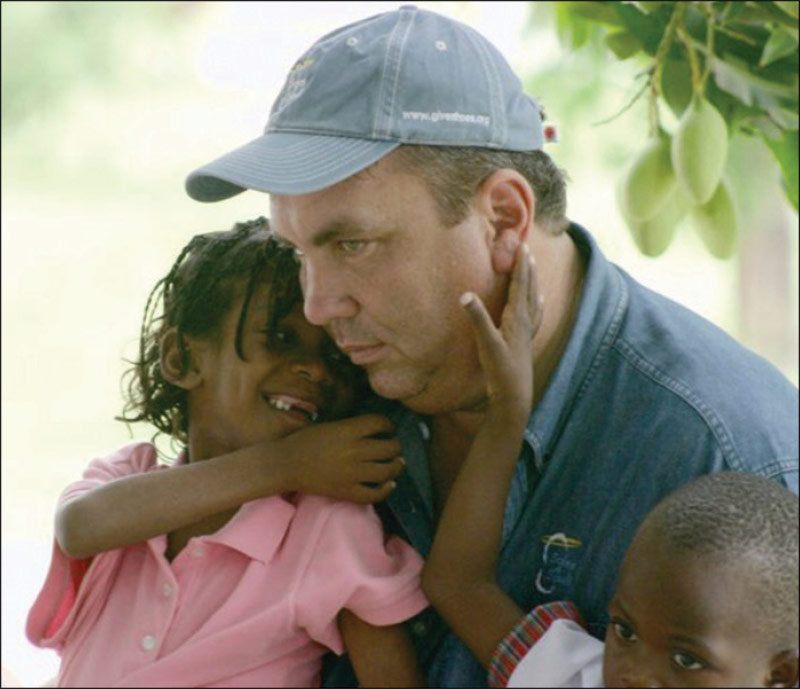 Dear Wayne,  1981 was a tough year for you. With the thought of suicide and down to the final few hours before you were going to execute your plan, the delusion was shattered by a school teacher who said, "You matter! You can do anything you want, if you put your mind to it, and don't let the world get you down."
To this day, those words have resonated and served as a guiding light. In fact, millions of people around the world have heard you express the very same sentiments through your writings, works and commitment to encouraging people always to rise and do the right thing. You matter, indeed.
Now for a life in the shoe business that you'll come to embrace and love…None of it is possible without Dennis Tiskiff and George Carter first believing in you and creating a fast-track career within GallenKamp Shoes. These two gentlemen (and that teacher) give you self-confidence and help you craft a trajectory to become a strong leader with a rapid growth path in the industry. It starts out on the salesfloor in 1981. You love retail—the pace, the excitement and working with customers to satisfy their needs. You rise the ranks to store manager while just a senior in high school. Life is good. But you want more. Specifically, you are looking for greater challenges. 
You join Stride Rite Corporation in 1985 as a District Manager. Jesse Giles, Bill Palozzi and Ralph LoVolo, to name a few of your managers, take a vested interest in you. They teach you the art of leadership. (It is impressive to see how people shine when they believe in you, isn't it!) And you do shine. You rise the ranks again, becoming regional vice president over the span of just three years. The experience shapes and trains you for the executive positions you will soon hold. That comes first with becoming president and CEO of Footwear Specialties Intl. From there you move to be president of Kodiak – Terra, USA. But then your life is forever altered—for the good.
It's a few days after the great Indian Ocean tsunami of Dec. 26, 2004, when watching coverage on TV, you spot a child's shoe washed up on a beach. It inspires you to literally "get up off the couch" and do something. That something is the creation of Soles4Souls (S4S), a charity that collets new and slightly worn shoes for donation to people in need around the world. S4S quickly becomes an industry go-to charity as well as a household name. Retailers, wholesalers, celebrities and people from all walks of life set up collection drives. Shoes pour in and people who've lost everything following natural disasters and others living in extreme poverty are given the gift of shoes. For many, it's their first steps to getting back on their feet. 
As head of S4S, you travel the world, delivering shoes and other aid firsthand. You organize trips for fellow shoe industry professionals to take part in these "vacation for good" excursions. It's exhausting work at times, but you never tire from helping people in need. S4S continues to flourish to this day because of your ideas and vision. It's changed the lives of millions worldwide. Great job! 
Getting back to those lifesaving words from your teacher…You've shouted those very words from the rooftops, written best-selling books on the topic and people are now even wearing #youmatter facemasks. You live by that credo—and the Golden Rule—every day. Your only hope is others walk a similar line.
Like teach said, "You can do anything you want, if you put your mind to it." Hard work, dedication and mentors are essential for your journey. Surround yourself with people that make deposits in your life versus withdrawals. Don't let the world get you down, which can be tough at times, as people can be nasty, critical and untruthful. You'll face much criticism by misinformed and self-interested folks who are just stroking their egos. But stick to the high road, retain your integrity and be transparent of every action in your life. Love your haters, too.
Finally, as you ready for early retirement, let me be the first to say, "Great job, man!" While you're not quite done working—you continue to impact the world with various startups, including Funds2Orgs, and have groomed influential leaders to take Wayne Elsey Enterprises to the next level, it's nearing that time for you to be a full-time "Doopda" for your three awesome grandkids and to enjoy the beach! You deserve it! The second chapter of your life awaits.
In parting, always put family first. Your daughter, Melissa, is a beacon of light, and her beautiful kids all carry forward a brightness that lend a spring to your step. Everyone says you glow whenever you talk about them. So keep being a great Doopda, as they all have your charisma and drive. Be proud. Your childhood dream of a beachfront penthouse and so much more has been fulfilled! #youmatter