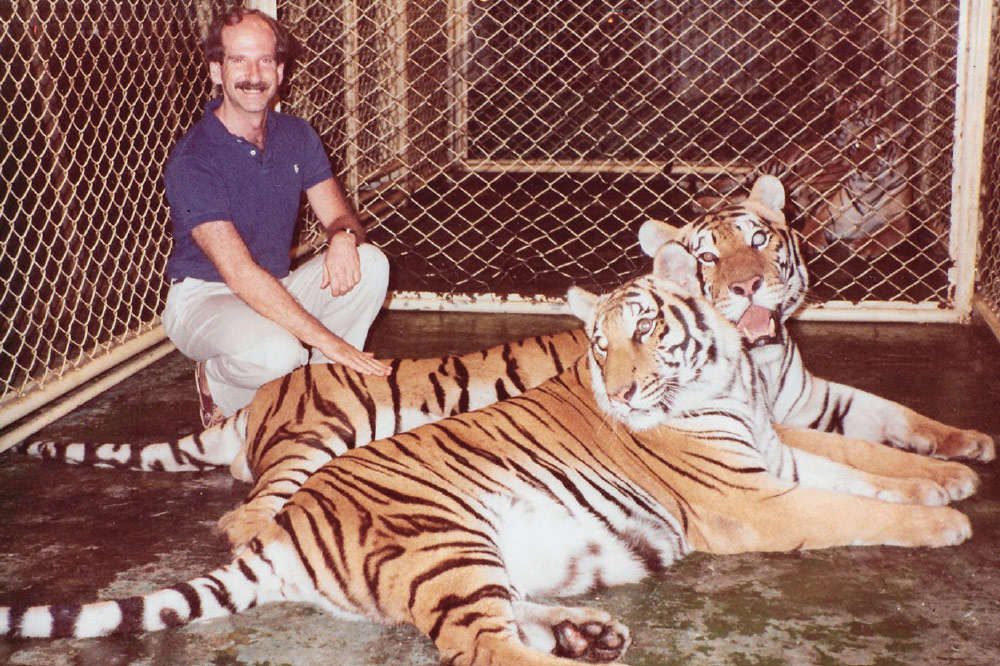 Dear Marty, First off, I'm pleased to inform you that you'll travel extensively, live in far-away places and make long-lasting friendships in all corners of the world. Your friends will embrace and help guide you, playing key roles in the seasoned Marty that you'll become. These treasured relationships determine how you overcome the challenges that cross your path. Your wife—your greatest friend of all—will serve as a guiding light that helps you navigate the ins and outs of business and the ups and downs of life. She's the yin to your yang that others (rightfully) envy. You're a lucky man.
I'm also happy to inform you that you'll reach your desired career goals—so long as you roll up your sleeves and work that much harder than the next guy. You determine your own fate. Do not expect anything from anyone. If someone delivers what you want, praise and thank them. Remember, the glass is always half full. Such a positive approach is a healthy use of your energy.
As for how you embark on a career in advertising only to wind up decades later in the shoe business, it's a fascinating journey best told chronologically. It all begins at Syracuse University, where you majored in advertising at the Newhouse School. There, a professor gives you an F on a project about disposal diapers: "Very creative but not a practical campaign." You save that paper and use it on your first job interview at Benton & Bowles where you happen to meet with the manager of the Pampers account. You show him your idea—as well as the F. He leaves the room and returns with a video of a similar concept they just shot for Pampers. You're hired before leaving his office! Best of all, you learn to follow your gut and trust your own judgment after taking advice from those who are more experienced.
Your next stop is at J. Walter Thompson, where you'll work the next 23 years. You live in Tokyo for four years, working on international accounts that include the introduction of the first side-by-side competitive ad campaign in Japanese history, the Pepsi Challenge. You introduce Listerine and create the mouthwash category. When you return to the U.S., you run operations and major accounts, including a partnership with New York Cares to start the first organized community service support group for New York businesses. New York Cares Day and the Annual Coat Drive are launched citywide. You are recognized by then-New York Governor Mario Cuomo for your commitment to community service.
You then decide it's time for a change, leaving the ad agency world for the fashion business. You learn that Calvin Klein wants to expand his in-house ad agency to become a global entity. You write a letter to Mr. Klein requesting an interview. You get the opportunity and draw an organizational chart right in front of him, explaining how you would build his global operation. The offer is made on the spot! For the next two years, you manage the global image of Calvin Klein, working 9 a.m. to midnight most days. Organizing a creative process from the ground up is a massive challenge, but working with a true visionary as Calvin Klein is a thrill. You help establish production timelines, a competitive bidding process, improve communications with licensees, negotiate talent agreements and open alliances with media and creative teams in Europe and Asia. By setting up a global advertising center in New York, you establish global image requirements that unify brand images across both retail and advertising.
Your next move is to Warnaco, a major licensee of Calvin Klein brands, where you have two desks—one in Hong Kong and the other in New York. You live two years in Hong Kong during the handover period to China. You develop several loyal relationships, one of which introduces you to ACL Footwear. It marks your next stage in life: working in the shoe business. It's here where your true entrepreneurial spirit flourishes as you introduce, with the support of the design and production teams at ACL, All Black to the North American market. You love everything about this business! The product, the people, the travel…It's the most satisfying time in your adult life. While you certainly aren't a Shoe Dog (yet), you credit All Black becoming an influential player in a very competitive industry to your years of business acumen backed by your boundless creativity. That and not having a shoe history to cloud your instincts!
The journey continues. You look forward to going to work each day. When looking back on your career, you recall a trip to the Philippines in the mid '80s as instrumental to your success. It's where you enter a cage and pet tigers. The unforgettable experience helps you deal with adversity and finding a balance between confidence and courage.
I'll leave you with three tips: 1. Evaluate the options and then make a final decision that you must own. 2: Embrace challenges. The busier you become, the easier it is for you to take on more responsibility. 3. You achieve results based on what you contribute to the effort. Nothing is easy in this world. You must work hard to succeed, and you will!