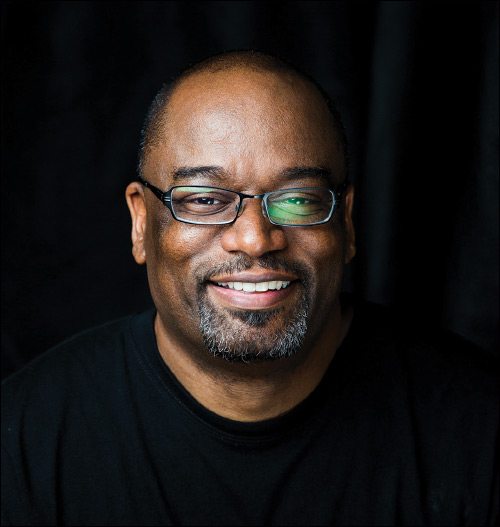 Dear D'wayne, We didn't get the job at Foot Locker in the Fox Hills mall—again! After six tries, we gave it our best shot, but maybe they knew we only wanted to work there for the employee discount. This past year was tough. Reebok passing on hiring us because, at age 17, we're too young. Mama enduring her twelfth back surgery and told she'll never walk fully upright again. Our guidance counselor telling us, "No black kid from Inglewood, California, will ever become a footwear designer." Plus the fact that we can't even afford college.
This note, however, is confirmation that the condolence card Mama gave us right after our brother Michael passed away will serve as the inspiration to change our lives. It stated: "Believe in yourself—in the power you have to control your own life, day to day. Believe in the strength that you have deep inside, and your faith will help show you the way. Believe in tomorrow and what it will bring, and let a hopeful heart carry you through. For things will work out if you trust and believe—there's no limit to what you can do!"
D, it sounds cheesy that a 25-cent card had such an impact, but it will. We always believed. Remember all the times we entered TV Guide competitions to draw Tippy the Turtle? We were only 12! Remember when we sketched sneakers on 3 x 5 index cards, instead of using them to study for English tests? Remember when we customized our Nikes with green shoe dye and duct tape so they'd match our Inglewood High School uniforms? Remember the countless times we dreamed of becoming a sneaker designer for Nike and would sketch versions of their styles in English and drafting classes? We believed one day we'd become a sneaker designer—and we eventually do!
It may seem like an impossible dream right now, but in just a year and a half after graduating high school, that same Foot Locker in the Fox Hills mall will carry the L.A. Gear "Street Hiker"—designed by us! We did it! Our dream came true! But this is just the beginning of our sneaker design career. We have not heard of these guys yet, but we'll design shoes worn by hip hop legends Tupac Shakur, Biggie Smalls, Puffy, Snoop, Nas and Dr. Dre—all before our 25th birthday! It gets better. We'll design for Nike—for real this time! Remember those "AJ2" Jordans we designed for fun in high school? Well, we'll design the "Nu Retro 2," 12 years later. It means we'll meet the legend himself, Michael Jordan! In fact, we'll hang out with MJ over the next 10 years! Crazy, right?
D, we're truly blessed. We're living our dream and have traveled to more than 40 countries doing what we love. We design sneakers for future hall of fame athletes, like Derek Jeter, Carmelo Anthony and Roy Jones Jr. Our shoes are worn during six Olympic medal victories! It's hard to believe that a young, black kid from Inglewood, without a college education, beats the odds. Sadly, a lot of kids like us never do. Too many aren't inspired to chase their dreams or believe in themselves. That's why I'm proud to inform you that we decide to do something about it. After 23 years of living our dream, we walk away from everything and open the Pensole Footwear Design Academy. (Pensole is a mashup of 'pen,' short for the yellow No. 2 pencil and 'sole,' in honor of the footwear industry that blessed us with the life we have.)
It's the school we wished we could have attended. And while teaching may not pay as well, it impacts lives in a way that's far more rewarding than money. Plus, we'll be teaching at some of the best schools in the world, including the ArtCenter College of Design, Parsons School of Design, MIT and Harvard. Pensole, consists of an amazing family of dedicated and talented people working to provide life-changing experiences for students. We work with the top brands. We've placed more than 400 students in jobs! The best part? Tuition is free for most students, and that's largely thanks to that chain that didn't hire us back in high school! Yep, Foot Locker partners with us! We finally get a job at Foot Locker! Our Foot Locker x Pensole classes give young kids in financial need an opportunity to work in the industry. To date, 30 students have secured jobs at leading brands—and that's just in three years!
D, much more awaits us in life. In the meantime, take solace knowing that our sneaker designer dreams come true—as well as for many young kids like us around the world. So tomorrow go to the Foot Locker in the Fox Hills mall and thank them for inspiring our future and helping other kids fulfill their dreams. Also, take pride knowing that our designs will be sold at those stores and many others worldwide for the next 29 years and counting. That feeling of accomplishment never gets old!
Love you, D.