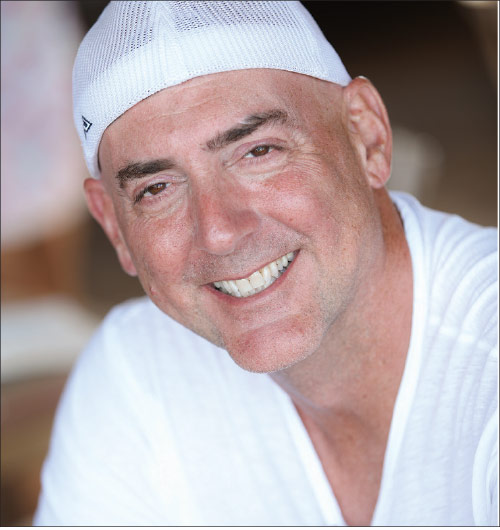 Dear Steve, Yep, still in the shoe business after all these years, but that's really no surprise. It's a business you learned to love from your father (Ralph) as kid growing up in New Jersey. Born from a love of being around him as often as possible and as far back as you can remember, his eponymous distribution company served as an early introduction to the world of shoes. And what an introduction it was! The early days of introducing Adidas into the U.S. market were an absolute blast, and you were so fortunate to be at your father's side for so many incredible experiences. Athlete meet-and-greets, attending Olympics Games, and countless business dinners and events, where you listened, learned and soaked it all in. You were hooked.
Next stop was Pony, where your father was named worldwide CEO. It's also where you were first bit by the travel bug—an itch that has yet to subside as this letter is being written from 35,000 feet flying from Los Angeles to the office in Cranbury, NJ. Over the years, you'll be fortunate to travel the world for business—Europe, Asia, Australia and so many amazing stops in between. There are (far worse) ways to make a living. Always remember and appreciate that.
After Pony, it was back to the Ralph Libonati Co. and our family's distribution roots. It's where you sit today, currently managing Blundstone in the North American market. The Aussie brand is hot and gaining momentum. The brand's iconic Chelsea work boot is having a moment, making appearances on Hollywood red carpets, Sundance Film Festival premieres and on the feet of everyday people in love with its rugged yet very wearable aesthetic. This is not your first rodeo, so you are prepared and excited to lead the charge.
In many regards, the past 25 years feel like a blur as so much has happened. Seasons come and go in rapid fire. That's the nature of this business. Sadly, dad passes away at an early age, and it's up to you to take over the family business. It's a sink or swim scenario, and there are no lifeguards. You must get up to speed—fast. Making matters more perilous: the distribution business model is a challenging one. You spend enormous amounts of time and resources building brands that you don't own. They can be pulled from your grasps, forcing you to start over from scratch. But this is the business model you have chosen—and have excelled at. The company's track record with Adidas remains your calling card. You've done it before, and you'll do it again.
Along the way, there are plenty of highs to celebrate as well as lows to lose sleep over. Again, that's just the nature of this business. It's why solid friendships and strong working relationships are the keys to long-term success. You maintain close ties with many people you first met decades ago. Your father taught you about the values of loyalty and integrity, and he led by (fine) example. Perhaps the best advice I can offer you is to do your best to live by those two creeds and trust that the people you do business with will act in kind.
Speaking of loyalty, your family plays a huge role in your career success. Fortunately, you learn early on that without their strength, love and support, there's no way for any of this work. They make you a better professional and person. Because this journey you are embarking on isn't only about business; it's about life. Your wife and two children open new doors and interests. You get involved in education, joining the board of your kids' fledgling elementary school in your adopted hometown of Los Angeles. Ultimately, you become board chair and make a difference in something other than shoes. It's an accomplishment you are very proud of.
From Adidas to Blundstone and all the brands in between, it's really about the journey, even if that may seem a tad cliché. Now could you have done a few things differently? Absolutely. There's no one career path, but sometimes unexpected detours lead you down the right path eventually. Just keep your head above water, work hard, do your best and you'll be fine. And remember to be thankful for the great friends you'll make, the fascinating people you'll meet, the wonderful experiences you'll have and even the mistakes you'll suffer. They're all a part of life. Be thankful for waking up happy and excited to enjoy each day. Be thankful to come home after a long business trip and share a glass of wine with your beautiful wife, to drive your kids to school, to share a cup of early morning coffee with your sister. Above all, be thankful for your upbringing and the values instilled in you by your father. All of this has prepared you well for "everywhere life takes you." Fittingly, that's Blundstone's tagline. Enjoy the trip!