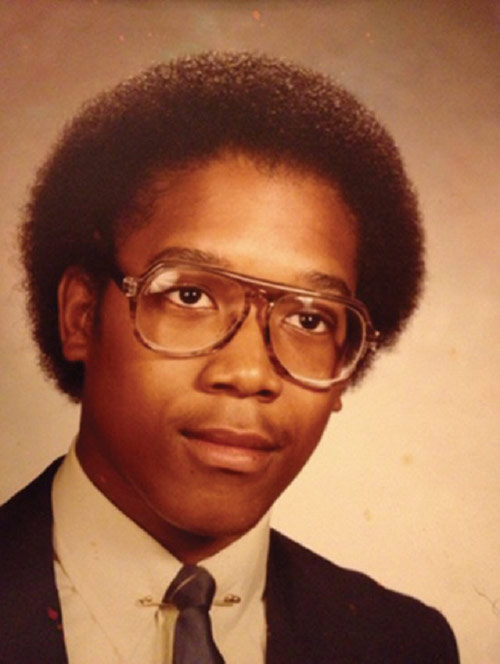 DEAR GEOFF, Do you remember your 10th grade teacher who said you wouldn't make it due to your personality and outlook on life? Well, he was wrong—big time. Believe it or not, you end up in corporate America and, over the course of your career, you never lose your identity. You continue being you, which in corporate speak is called maintaining your personal brand. You also marry that fine woman you met at the bottom of Jeff Hill. She's one of the smartest moves in a life filled with moves—many great, some tough and one or two regrettable. Allow me to walk you through a few highlights as well as offer a few tips that could make your journey safer.
First, the shocker: You're not a famous DJ like you dreamed. Right after you graduate Ohio University, that career comes to a halt as another lifelong one takes off. Instead of spinning records for a living, you enter the footwear business at U.S. Shoe Corporation. Your first job is an Assistant Manager for one of the company's Banister Shoes outlets in Columbus, OH. After a couple of years, you move to Washington, D.C. to become Assistant Manager of the chain's second largest store. A couple of years later, you make the move to Philadelphia to open and manage a new, larger Banister Shoes concept. While you enjoy living in the City of Brotherly Love, always keep your guard up, especially with the fellas you play ball with regularly. There's going to be a night before the store's grand opening where you'll be out celebrating with your boss. Do not try and find New Jersey! Just get your butt home. Trust me.
Philadelphia is where kid No. 1 is born. Shortly after, you move back to D.C. to be Banister Shoes' Assistant District Manager. It's also where kid No. 2 enters the picture. Your family is growing, and they are counting on you every day. You must always be responsible. And while you do plan on staying young forever, you don't want to have to work forever. Get involved with the company's 401K plan early. Yes, it stinks that if you borrow from it you must pay it back or be penalized. Get over it. It's a great investment over the long term. Speaking of which, when you hear about a company called Macintosh, buy as much stock as possible and sit on it until you retire.
Another good tip: Get involved in politics and policies early. Vote every chance you get, no matter where you live. Support politicians with the same values as yours. You'll even help make history. You may not think it's possible now, but you'll never believe who becomes president of the United States later in your life.
Your next career move is to Florida, as District Manager for Banister Shoes. It's not an easy learning curve at first. A former peer trains you and you frustrate the hell out of her, which she occasionally reminds you of to this day. Eventually, though, you get the hang of it and flourish in the position. After 11 months, you are promoted to Regional Manager, based in Chicago. A few years later, Nine West acquires U.S. Shoe Corp. You then decide to make some major life changes: You move back to Ohio (where kid No. 3 is born) to take a position at The Limited, switching from working in the field to helping recruit talent. Your love of people is an asset in this new role. But it's not long before you're pulled back to the footwear business, moving the family (again) to St. Louis to work in Brown Shoes' recruiting department. You love the job and the company. You stay for 10 years—longer than anywhere else you've lived. Your family might not like this move at first, but it will be the best thing for you and them, which now includes kid No. 4.
After decades working for others, you decide to start your own recruiting agency. It's exciting and fun, but corporate America comes calling again with an offer you can't refuse. This time it speaks to your hoops-playing roots: it's Foot Locker. And that's the story so far. It's been a wonderful, winding journey filled with many adventures and lots of love. You're a very blessed man.
Now before I go, here's a few more tips: 1. Don't go to that White Sox game. You don't even like baseball. 2. Don't make that u-turn while heading to Williamsburg. You were going in the right direction. 3. Don't buy that condo in Miami at the height of the market. If you hear "interest-only loan" say, "No thank you." 4. Enjoy life. While the moving from city to city and job to job is tough, you get to meet the world, up close and personal. Sunsets in Santorini, the Blue Grotto, the Northern Lights, the Eiffel Tower, Rio's Carnival, just to cite a few memorable stops. There's so much more to see and do. Keep going, kid!
P.S. Cleveland does finally win a championship. Just be patient.