Nike's Back to Future II Shoes on Display at MCA
For a limited time only, the Museum of Contemporary Art Store in Chicago is displaying one of the original pair of Back to the Future II Shoes, whose design is based on the pair worn by Michael J. Fox as Marty McFly in the film. The Nike Air Mag "Adjustable Fit" shoes are one of over 100 urban art objects on display in the MCA Store that combine traditional art concepts and new media. Some of the most popular names in art and street culture today are featured, including Daniel Arsham, Banksy, BE@RBRICK, Hebru Brantley, Ron English, Damien Hirst, KAWS, Jeff Koons, Yayoi Kusama, Takashi Murakami, Ai Weiwei, and skate decks by Supreme. The collectibles are on display as part of the Urban Art Pop-Up Trunk Show, a collaboration between the MCA Store and Heritage Auctions and are on view through Thursday, Apr. 11.
Back to the Future II was released in 1989, and in 2016 Nike released 89 pairs to commemorate the release with funds benefiting the Michael J. Fox Foundation. Valued between $30-$50,000, the Back to the Future II Shoes feature a unique auto-lacing system that fastens the shoe to the wearer's foot when it is put on, activated by placing weight on the sole. The ultra-high cut shoe also features a light-up sole and graffiti-speckled details.
"We're thrilled to collaborate with Heritage Auctions and showcase its fabulous streetwear and Urban Art collection in the MCA Store," states Helen Yi, MCA director of Retail Experience. "The Urban Art Pop-Up Shop is a natural way to bring our trendsetting audiences together for a unique blend of art, culture and retail."
MCA STORE HOURS
Friday, Apr. 5, 10 am to 9 pm
Saturday, Apr. 6, 10 am to 6 pm
Sunday, Apr. 7, 10 am to 6 pm
Tuesday, Apr. 9, 10 am to 9 pm
Wednesday, Apr. 10, 10 am to 6 pm
Thursday, Apr. 11, 10 am to 6 pm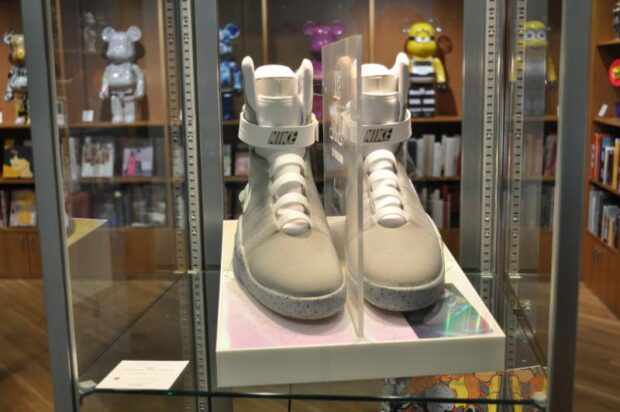 <!00.comments-->