Home Run Derby
A powerful lineup of projected best-selling comfort styles look to have retailers swinging for the fences this fall.
Just like at the dawn of every new baseball season, where hope springs eternal among every team that this will be the year, comfort brands put together seasonal lineups with equal thought, talent evaluation and analytical projections, with an overall goal of a competitive, winning lineup and a few home run styles that make for a memorable season.
With that goal in mind, here's a list of styles that leading shoe sabermetric specialists project will knock it out of the park this fall. It's a lineup featuring a mix of proven (updated) veterans and rookie-of-the-year candidates. Each possesses the necessary tools—style, comfort and versatility—to be winners.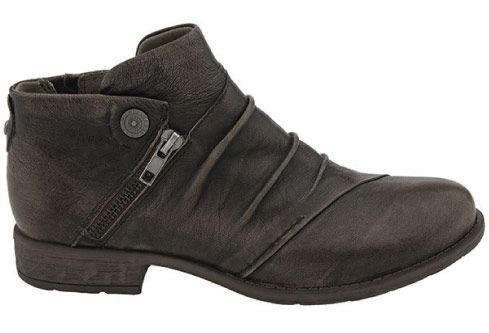 Team: Earth
Player: Ronan
Stats: It's all in the details—namely ruched, glove-soft leather uppers and a stylish side-zip give this shoetie everyday fashion playability. And the interiors are just as mindful: Premium leather insoles feature reinforced arch support, multi-density latex cushioning and an Earth Relief Pod for added shock absorption. Available in black, garnet or taupe (shown).
All-Star Qualities: "Like the perfect leather jacket you can wear every day, the Earth Ronan encompasses what the brand is all about: authentic comfort plus contemporary style with a twist," says President Phil Meynard. "This super wearable shoetie is the right heel height, the right shaft height and the right amount of trend-forward style to make it easy to understand and wear."
MSRP: $100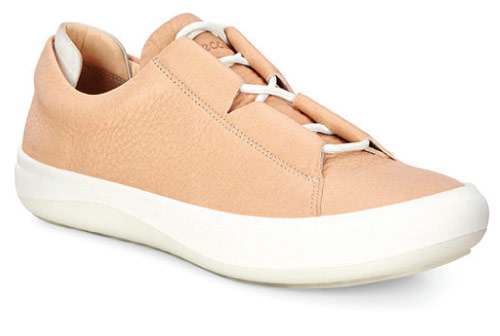 Team:Ecco
Player: Kinhin
Stats: Available in men's and women's in a low and hi-top silhouette, the Kinhin hits on comfort and styling with minimalistic Scandinavian design and athleisure aesthetics. Re-tanned leather uppers are met with removable leather-covered cork insoles and direct-injected, two-component PU/TPU outsoles. "Our cork footbed contains 99-percent cork and only one-percent latex for breathability and moisture-resistance," says Felix Zahn, product director. "Plus, the uppers are crafted with a natural tanning process for a grain that provides more breathability than embossed leather."
All-Star Qualities: "First and foremost, it's the look," Zahn asserts. "The real 'wow' effect will come when [consumers] put on the shoes."
MSRP: $160 for low; $180 for hi-top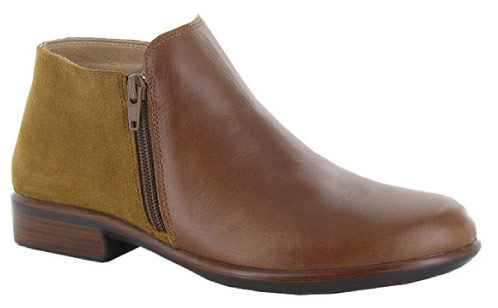 Team:Naot
Player: Helm
Stats: This bootie may look understated, but the inside has MVP-type features and benefits. Part of Naot's Aura collection, the Helm features a removable cork and latex leather-wrapped footbed, made with strobel technology to form to the wearer's foot shape. A padded heel cup and instep up the comfort ante while a padded lining provides warmth and moisture absorption. A 1.5-inch polyurethane outsole features a metal shank and is lightweight, durable and abrasive to prevent slipping. Five color combinations feature mixed-material leather and suede.
All-Star Qualities: "It is a shoetie, which makes it the perfect height year-round," says Ayelet Levy, vice president. "You don't need to commit to a bootie or a shoe!"
MSRP: $200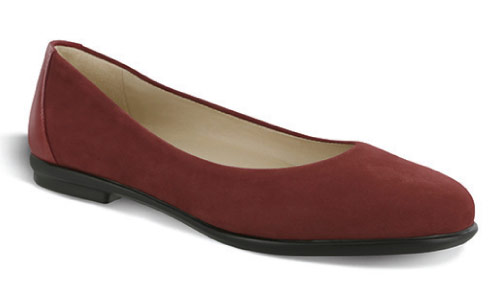 Team: SAS
Player: Scenic
Stats: For SAS's first ballet flat, Head of Design Becky Polina says the goal was to create "the most comfortable option out there." The Scenic delivers with a modern and versatile toe shape and comfortable, removable and washable memory-foam footbed. The forepart of the shoe features flex-strips and Poron cushioning, and the outsole is crafted from lightweight polyurethane for a combination that adds up to what Polina calls "a super lightweight and comfortable little flat."
All-Star Qualities: "You don't always get all those attributes in one shoe," Polina states. "The combination of the flex-strips and PU outsole make it flexible and lightweight."
MSRP: Upon request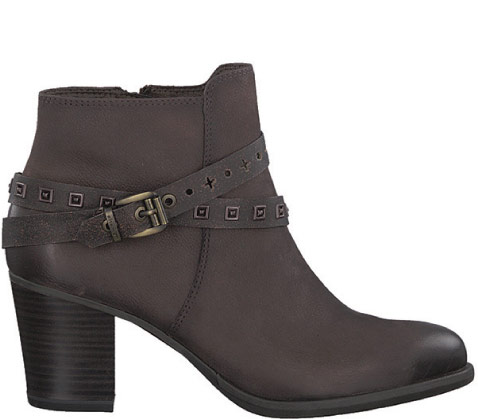 Team: Tamaris
Player: Tora B
Stats: All of the brand's proprietary technology—like ANTIshokk heels that reduce step-by-step impact to relieve the wearer's spinal column and TOUCHit soft insole cushioning that contours to body weight and foot positioning—are packaged into this fashion-forward bootie. Hand-finished Nubuck leather is met with soft velvet lining and crisscrossed decorative straps decorated with perforation and hardware, available in a black and cigar colorway.
All-Star Qualities: "It stands out with stunning appearance that fits into the continuing short boot trend," says Jan Brinkmann, president, Tamaris USA.
MSRP: $145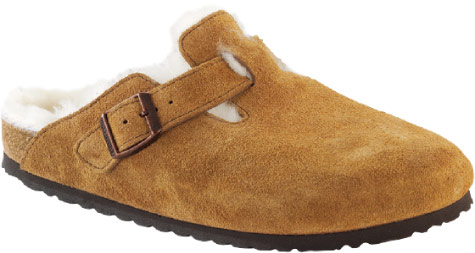 Team: Birkenstock
Player: Boston Shearling
Stats: Like every Birkenstock style, the Boston Shearling clog contains the ergonomic benefits of the brand's proprietary cork footbed. Plus, the clog's comfort is enhanced with the coziness of plush shearling lining, making this the "must-have Birkenstock that consumers will want next," assures Jacqueline Van Dine, vice president of marketing. The style is crafted from suede and shearling and comes in tone-on-tone mocha and black as well as a whimsical mink/natural color combination.
All-Star Qualities: "This iconic silhouette is setting trends in the fashion world by elevating its style with tone-on-tone shearling," Van Dine reports. "Consumers won't have to compromise comfort to look and feel great."
MSRP: $165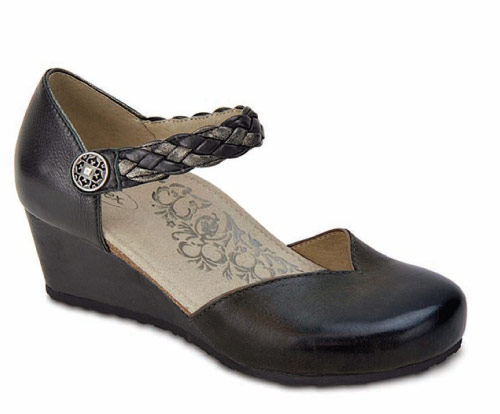 Team:Aetrex
Player: Mia
Stats: Lots of technical comfort features and benefits are wrapped up in this stylish heavy hitter by Aetrex. The Mia contains an ultra-light cork midsole, leather upper, adjustable strap and leather-wrapped heel at a comfortable 2.25 inches height. It also contains the Aetrex Healthy 3: Lynco orthotic footbed for support and alignment, memory foam cushioning and anti-microbial technology to combat odors.
All-Star Qualities: The trendy Mary Jane design can be dressed up or down, notes Product Manager Maggie Baumann, adding that the transitional style can be worn year-round. "The multi-color braid detail on the shoe gives it a pop of color and a fun detail," she adds.
MSRP: $150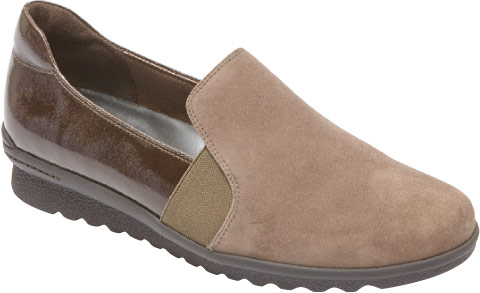 Team: Rockport
Player: TruFlex Chenole
Stats: A dressed-up alternative to athleisure, the Chenole's sleek, mixed-material upper is met by an ultra-flexible outsole, designed with a thin EVA platform. "The outsole is designed to promote flexibility and underfoot cushioning," affirms Sally Murphy, senior director, women's design. "Meanwhile, the interior spine provides stability and motion control." TruFlex also contains a molded anatomic footbed with a premium leather sockliner for additional support and all-day comfort. The patent-and-suede style is available in black, merlot and olive.
All-Star Qualities: "Women today want the underfoot comfort of a sneaker with the trendy appeal of fashion," Murphy says, noting that the Chenole offers both.
MSRP: $120–$130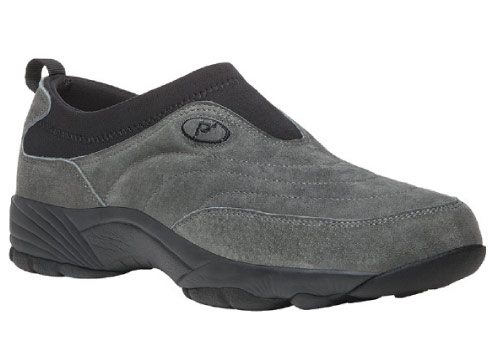 Team: Propet
Player: Wash N Wear Slip-on
Stats: This perennial bestseller for men and women gets a fall makeover with a newly designed slip-resistant outsole, firm heel counter, removable footbed (so shoes can be worn with or without orthotics) and a stretch neoprene gore sock-liner. Scotchgard-treated suede uppers are machine washable with a brushed-nylon lining while EVA midsoles offer optimum arch support and durability. Available in an array of suede colorways, Director of Marketing Jennifer Sosko reports this Pewter hue is already a key part of many retail lineups.
All-Star Qualities: "This shoe is now both washable and slip-resistant—perfect for this category," Sosko says.
MSRP: $80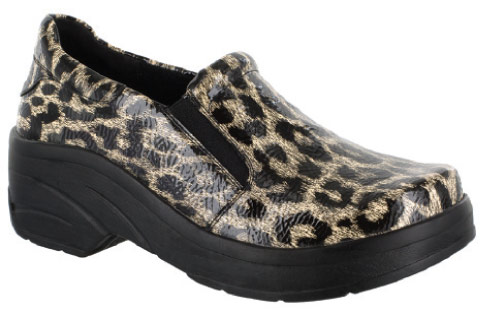 Team: Easy Works by Easy Street
Player: Appreciate
Stats: Part of a new ergonomic work line by Easy Street, the Easy Works Appreciate combines the brand's on-trend fashion capabilities with the technical comfort aspects needed for those on their feet all day. Slip-resistant outsoles are met with oil-resistant uppers that are anti-microbial and breathable. The brand's new exclusive technology—the Easy Motion Pro-Comfort system—includes impact-absorbing arch support, a suede heel-cup footbed and an anti-shock EVA outsole. The style is available in seven colors detailed in various materials, including this bold cheetah print.
All-Star Qualities: "The unique factor, as with every Easy Street style," states President Keith Gossett, adding that being available in 35 sizes (spanning medium, wide and wide-wide) enables retailers to fit just about any customer.
MSRP: $75
<!00.comments-->